(1) FUTURE TENSE. The September 2021 entry in the Future Tense Fiction series is "The Wait," by Andrea Chapela, translated by Emma Törzs—a story about disappearances, ubiquitous surveillance, and stultifying bureaucracy.
… When the bell chimes for the next appointment, you raise your eyes from the book you weren't really reading in the first place. 347. You're next. You shut the book, a poetry collection you brought intentionally because it lets you open any page and read a few verses before losing the thread and looking back up at the screen…..
It was published along with a response essay by biomedicine and genetics researcher Vivette García-Deister. "Who Wins When the State Appropriates Self-Defense Technologies Developed by Communities?"
… This registry was created in 2018, and it includes disappearances from all the recent violence associated with the nation's drug cartel wars. But it also includes cases that date back to the "dirty war" of the 1960s, when repressive governments ruthlessly targeted and eliminated revolutionary groups that had taken up arms against the state and anyone else whom they considered political threats, all under the auspices of U.S. anti-communist foreign policy.

Regrettably, therefore, the setting of Andrea Chapela's "The Wait"—a short story about a woman waiting indefinitely in a governmental office (the "National Institute of Citizen Registration and Geolocation") for news about Víctor, her missing brother—is painfully familiar to many people in Mexico. And indeed, much like in "The Wait," women are mainly the ones who do the inquiring of authorities or actually do the searching, sometimes as members of highly organized search collectives….
(2) ROSARIUM ZOOM. Bill Campbell and Rachelle Cruz discuss The Day The Klan Came To Town in a Facebook livestream on Tuesday, October 5 at 7:00 p.m. Pacific.
Join us for a Zoom talk with Bill Campbell, author and publisher at Rosarium Publishing. His latest work, The Day the Klan Came to Town, is a graphic novel based on historical events: The Ku Klux Klan attack on the Jewish, Catholic, Black, and southern and eastern European immigrant communities of Carnegie, Pennsylvania, in 1923, and how they rose up to send the Klan packing.

In dialog with Campbell will be Rachelle Cruz,Professor of Creative Writing in the Genre Fiction concentration at Western Colorado University, and author of Experiencing Comics: An Introduction to Reading, Discussing and Creating Comics.

This event is sponsored by the Orange Coast College Multicultural Center.
(3) LEARNING FROM THE BEST. The Speculative Literature Foundation has put up an index to its Deep Dives video series.
We like to think of Deep Dives as Khan Academy, but for creative writing. …

Each module is based on a clip from our featured interviews with masters of the field and concerns a specific aspect of the writers' craft (plot, character-building, establishing a setting, how to get published, copyrighting, and so on). Right now we're focused on posting individual modules, but as we continue to build this project we plan to create syllabi, study guides, and assignments for specific course structures (such as eco-literature for a science classroom, or a seminar on feminist dystopian fiction)….
(4) OH, THE INHUMANITY. [Item by Martin Morse Wooster.] In the September 21 Financial Times (behind a paywall). Isabella Kaminska, in a piece about whether homemade experimenters could genetically modify things at home for bad ends, interviewed Simon Wain-Hobson, a retired virologist who was the first to genetically sequence HIV.
Wain-Hobson "likens the scientific compulsion to tinker with fantasy novelist Terry Pratchett's observation that 'if you put a large switch in some cave somewhere with a sign on it saying "End of the world switch. Please do not touch," the paint wouldn't have time to dry.'"
(5) CLICKS FROM A DEAD MAN'S EYES. Alexandra Erin has a Twitter thread going about Asimov and the Foundation series' lack of decent women characters. Thread starts here.
In the thread there's a link to a blog post by Justine Larbalestier that reprints some letters from a teenage Asimov on the subject of women in SF stories: "Letters".
Dear Editor,

Three rousing cheers for Donald G. Turnbull of Toronto for his valiant attack on those favoring mush. When we want science-fiction, we don't want swooning dames, and that goes double. You needn't worry about Miss Evans, Donald, us he-men are for you and if she tries to slap you down, you've got an able (I hope) confederate and tried auxiliary right here in the person of yours truly. Come on, men, make yourself heard in favor of less love mixed with our science!

—Isaac Asimov, 174 Windsor Place, Brooklyn, N. Y.
Astounding Science Fiction September 1938 p. 161

Isaac Asimov was eighteen when this letter was published.
(6) GAMING COMPANY WILL SETTLE EEOC COMPLAINTS. "Activision Blizzard says it will pay $18 million to settle harassment claims" – CNN has the story.
Activision Blizzard will pay $18 million to settle a lawsuit by a US government agency alleging harassment and discrimination, the firm said Monday.

The gaming company, which owns hugely popular titles such as "Call of Duty," "World of Warcraft" and "Candy Crush," announced it had reached a settlement agreement with the Equal Employment Opportunity Commission (EEOC) in response to a complaint the agency filed earlier in the day.

As part of the settlement agreement, which is subject to court approval, Activision Blizzard (ATVI) said it will create an $18 million fund "to compensate and make amends to eligible claimants." Any remaining amount will either be donated to charities focused on harassment, gender equality and women in the video game industry, or will be used to create diversity and inclusion initiatives within the company, it added….

In a complaint filed earlier on Monday, the EEOC accused Activision Blizzard of subjecting female employees to sexual harassment, retaliating against them for complaining about harassment and paying female employees less than male employees. The company also "discriminated against employees due to their pregnancy," the complaint alleged.
(7) DAY AFTER DAY. [Item by Martin Morse Wooster.] In the September 22 Financial Times, behind a paywall, Tom Faber discusses video games based on Groundhog Day-style time loops.
These (time loop fames) follow in the footsteps of modern classic Outer Wilds, in which players explore a tiny galaxy which resets every 22 minutes when the sun explodes, the minimalist Minit, where you have just 60 seconds to adventure before the game restarts, and the compelling ancient Roman mystery The Forgotten City, in which a whole city is doomed to repeat a day as punishment for its sins. That's not to mention the macabre Loop Hero. murder mystery loop The Sexy Brutale, Hamlet-inspired riiff Elsinore, and even a VR game based on the Groundhog Day Ip called Like Father Like Son. There are more every year. What keeps drawing writers to this particular trope? And why do we never get bored witnessing the same scenes over and over?…

…Gamers have always been at home in loops; traditionally, game environments reset every time they are entered, with enemies respawning and treasure chests restocked with gold. Game designers speak of the 'gameday loop,' the central repeated action which keeps players engaged. Games are the perfect medium to unpack the pleasure in the patterns of a repeated timeframe. The loop becomes a puzzle that can be solved, while its cyclical nature suggests experimentation–try anything you like, because you can always reset and start again.
(8) VISION QUEST. The wait is almost over. Vox reports "The Webb Space Telescope is 100x as powerful as the Hubble. It will change astronomy". It will be launched into orbit on December 18.
…The Webb was originally supposed to launch in 2010 and cost around $1 billion. Its price tag has since ballooned to $10 billion, and it's way overdue. But the wait will be worth it, at least according to the scientists who expect new and revealing glimpses of our universe.

"We're going right up to the edge of the observable universe with Webb," says Caitlin Casey, an assistant professor of astronomy at the University of Texas at Austin. "And yeah, we're excited to see what's there."

The Webb will surpass the Hubble in several ways. It will allow astronomers to look not only farther out in space but also further back in time: It will search for the first stars and galaxies of the universe. It will allow scientists to make careful studies of numerous exoplanets — planets that orbit stars other than our sun — and even embark on a search for signs of life there….
(9) REFLECTION IN A GOLDEN VISOR. NASA's Astronomy Picture Of The Day for September 27, "Five Decade Old Lunar Selfie" turns around a well-known photo taken during the first Moon landing. See the picture here.
Here is one of the most famous pictures from the Moon — but digitally reversed. Apollo 11 landed on the moon in 1969 and soon thereafter many pictures were taken, including an iconic picture of Buzz Aldrin taken by Neil Armstrong. The original image captured not only the magnificent desolation of an unfamiliar world, but Armstrong himself reflected in Aldrin's curved visor. Enter modern digital technology. In the featured image, the spherical distortion from Aldrin's helmet has been reversed. The result is the famous picture — but now featuring Armstrong himself from Aldrin's perspective. Even so, since Armstrong took the picture, the image is effectively a five-decade old lunar selfie. The original visor reflection is shown on the left, while Earth hangs in the lunar sky on the upper right. A foil-wrapped leg of the Eagle lander is prominently visible.
(10) MEDIA BIRTHDAY.
1996 – Twenty-five years ago on CBS, the Early Edition first aired on this evening. The premise was What If tomorrow's newspaper arrived at your doorstep today? Our protagonist uses this knowledge to prevent terrible events every day. It was created by Ian Abrams, Patrick Q. Page and Vik Rubenfeld. It was the first major series for all three of them. It had a cast of Kyle Chandler, Shanésia Davis-Williams, Fisher Stevens, Kristy Swanson and Billie Worley. Set in Chicago, it was largely filmed there as well. It had a successful run of four seasons and ninety episodes.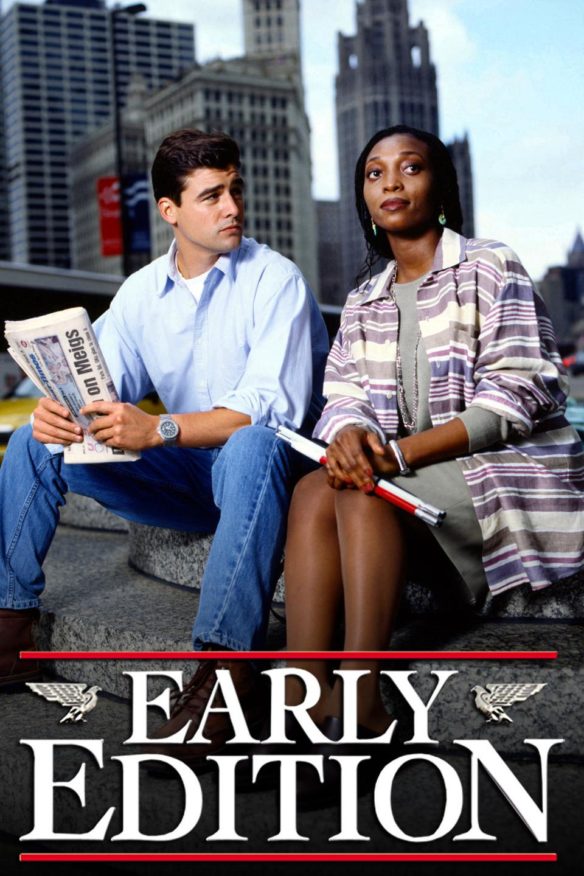 (11) TODAY'S BIRTHDAYS.
[Compiled by Cat Eldridge.]
Born September 28, 1909 — Al Capp. Cartoonist responsible of course for the Li'l Abner strip. Is it genre? Of course. A decade ago, IDW announced Al Capp's Li'l Abner: The Complete Dailies and Color Sundays as part of their ongoing The Library of American Comics series. The series would be a reprinting of the entire forty year history of Li'l Abner encompassing a projected twenty volumes. So far nine volumes have come out. (Died 1979.)
Born September 28, 1923 — William Windom. Commodore Matt Decker, commander of the doomed USS Constellation in "The Doomsday Machine" episode, one of the best Trek stories told. Norman Spinrad was the writer. Other genre appearances include being the President on Escape from the Planet of the Apes, The Major in "Five Characters in Search of an Exit" episode of Twilight Zone and Ben Victor in the "The Night of the Flying Pie Plate" story of The Wild Wild West. This is a sampling only! (Died 2012.)
Born September 28, 1935 — Ronald Lacey. He's very best remembered as Gestapo agent Major Arnold Ernst Toht in Raiders of the Lost Ark. He's actually in Indiana Jones and the Last Crusade as Heinrich Himmler though it's an uncredited role.  One of his first genre appearances was as the Strange Young Man in The Avengers episode "The Joker".  In that same period, he was the village idiot in The Fearless Vampire Killers which actually premiered as The Fearless Vampire Killers, or Pardon Me, But Your Teeth Are in My Neck. And he's in The Adventures of Buckaroo Banzai Across the 8th Dimension as President Widmark. This is but a thin wafer of his genre roles so do feel free to add your favorite. (Died 1991.)
Born September 28, 1938 — Ron Ellik. A well-known sf fan who was a co-editor with Terry Carr of the Hugo winning fanzine, Fanac,  in the late Fifties. Ellik was also the co-author of The Universes of E.E. Smith with Bill Evans which was largely a concordance of characters and the like. Fancyclopedia 3 notes that "He also had some fiction published professionally, and co-authored a Man from U.N.C.L.E. novelization." (ISFDB says it was The Cross of Gold Affair.) Encyclopaedia of Science Fiction says he died in an auto accident the day before his wedding. (Died 1968.)
Born September 28, 1950 — John Sayles, 71. I really hadn't considered him a major player in genre films but he is. He's writer and director The Brother from Another Planet and The Secret of Roan Inish; andhe wrote the scripts of Piranha, Alligator, Battle Beyond the Stars, The Howling, E.T. the Extra-Terrestrial, The Clan of the Cave Bear and The Spiderwick Chronicles.
Born September 28, 1963 — Greg Weisman, 58. Writer who's best remembered for Gargoyles, Spectacular Spider-Man and Young Justice. He also produced Gargoyles from early on. He also scripted some of Men in Black: The Series and Roughnecks: Starship Troopers Chronicles. He also wrote the children's novel World of Warcraft: Traveler, followed by a sequel, World of Warcraft: Traveler – The Spiral Path. Children's novels in the Warcraft universe? Hmmm… 
Born September 28, 1982 — Tendai Huchu, 39. Zimbabwean author who's the editor along with Raman Mundair and Noel Chidwick of the 2020 issue Shores of Infinity zine. He's also written a generous number of African centric stories of which "The Marriage Plot" won an African Speculative Fiction Society Nommo Award for African Speculative Fiction for Best Short Story. That issue of Shoreline of Infinity (Issue 18, Summer 2020) is available from the usual digital suspects. His newest novel, The Library of the Dead, is the first in Edinburgh Nights series.
Born September 28, 1986 — Laurie Penny, 35. They are the writer of one genre novella to date, Everything Belongs to the Future, published at Tor.com, and a generous number of genre short stories. They were a finalist for the Astounding Award for Best New Writer at Worldcon 75 won by Ada Palmer. "Vector at Nine Worlds: Laurie Penny", an interview with them by Jo Walton is in Vector 288. 
(12) BEHIND THE MAGIC 8-BALL. Books by Lincoln Michel, S.B. Divya, and Tade Thompson are praised in this CrimeReads roundup by Molly Odintz: "They've Seen the Future And They Don't Like It: The Year's Best Scifi Noir (So Far)".
The future is bleak, whether you're at the bottom of an underwater sea-scraper, in a spaceship headed to a distant galaxy, or just searching for plastic in the polluted rivers of Scrappalachia. More tech leads to more debt, and AI is as likely to compete with humans as to help them. The denizens of the future are buried in the trash of today, and doomed by the politics of yesterday and tomorrow. And yet, as is the surprisingly hopeful message behind any dystopian novel, life continues. Life will always continue. And sometimes, life even finds a way to thrive….
(13) SPIKE THE CANON. The New York Times finds that "In 'Star Wars: Visions,' Lucasfilm and Anime Join Forces, and Go Rogue".
What would happen if some of the most creative animation studios in Japan were let loose in a galaxy far, far away?

In the anime anthology series "Star Wars: Visions," Jedi warriors battle enemies with faces like oni (a kind of Japanese demon), and straw-hatted droids inhabit feudal villages straight out of Akira Kurosawa's classic samurai film "Yojimbo." There are Sith villains and rabbit-girl hybrids, tea-sipping droids (OK, it's really oil) and sake-sipping warriors. Lightsabers are lovingly squirreled away in traditional wrapping cloths called furoshiki and in red lacquer boxes.

And this being anime, there are over-the-top action sequences, stunning hand-painted backgrounds and computer-generated wonders. And of course, there's plenty of "kawaii," the distinctly Japanese form of cuteness….
(14) DISCH TRIBUTE. [Item by Ben Bird Person.] Artist Will Quinn did this piece based on the 1987 movie The Brave Little Toaster, an adaptation of Thomas M. Disch's 1980 novel.
(15) SEE MOVIE RELICS. The Icons of Darkness exhibit, which represents itself to be the most extensive privately-owned collection of sci-fi, fantasy and horror film artifacts on earth, has now moved to its new home on the corner of Hollywood Blvd. and Highland in Hollywood.
From "Star Wars" to "Jurassic Park", "Terminator" to "Harry Potter", "Batman" to "Iron Man", and so many more, the Icons of Darkness exhibition has something for everyone. You'll see screen-used props, original costumes, life casts, production-made maquettes, makeup effects heads, and artifacts from some of Hollywood's most famous sci-fi, fantasy, and horror classics. The exhibition will feature pieces from "Dracula", "Frankenstein", "The Wizard of Oz", "Spider-Man", "Edward Scissorhands", "Silence of the Lambs", "Lord of the Rings", "Game of Thrones", and more!
(16) GETTING CHIPPY. Gene Wolfe gets a one-line mention in "Julius Pringles gets a makeover to celebrate brands' 30th birthday in the UK" at Bakery and Snacks. Which the site is programmed to stop me from excerpting. You bastards!
(17) A GRAND MACHINE. The New York Times is there when "Amazon announces Astro, a home robot that it swears is more than Alexa on wheels".
"Customers don't just want Alexa on wheels," Dave Limp, the head of Amazon's devices, said at a company event on Tuesday. Then he proceeded to introduce a technology-packed home robot that looked a lot like … Alexa on wheels.

At least four years in the making, the small robot, called Astro, has a large screen and cameras attached to a wheeled base that can navigate a home…

Of all the products it showed, Amazon was clearly most excited about Astro, which was shown as the finale. And from the start, the company tried to sort out the differences between Astro and Alexa, the company's digital assistant. Amazon said Astro's large eyes on the screen, and the different tones it emitted, helped give the machine a "unique persona." (At a starting price of $1,000, Astro is also a lot more expensive than most Alexa-enabled devices.)

But the main uses Amazon presented seemed to mirror some of the abilities of its Alexa and related products, which already put voice and camera surveillance in different rooms of a house. It does move, though, and Mr. Limp said customers could send the robot to check on people and different pets — for example, raising a camera on a telescopic arm to see if the flame on a stove is still on….
(18) WILD PITCH. [Item by Martin Morse Wooster.] In 'James Bond; Die Another Day" on Screen Rant, Ryan George says that the last Pierce Brosnan Bond film features Bond escaping from a hospital by willing his mind into cardiac arrest,, a villain who becomes British, gets knighted, and builds a giant empire in 14 months, and characters who practice 'dNA remodeling by enlarging your bone marrow" which the producer thinks has enough science words for him.
[Thanks to JJ, Cat Eldridge, Andrew Porter, John King Tarpinian, Jennifer Hawthorne, Joey Eschrich, Ben Bird Person, Steven H Silver, Michael Toman, Mike Kennedy, and Martin Morse Wooster for some of these stories. Title credit goes to File 770 contributing editor of the day Daniel Dern.]