Longshot Press, run by Daniel Scott White, opened a new round of trolling its critics this weekend.
One avenue of attack was the email some received today (click for a larger image).
Two of White's magazines were the subject of complaints in February 2020, first publicly identified by Benjamin C,. Kinney. The opening paragraph of File 770's roundup "Is This Practice Unreal or Unfit? It's Both" recaps what the issues were at the time:
Unreal and Unfit magazines use Thinkerbeat Reader to "chart… the authors that we thought did really well with a story submission." But these are not stories they bought – six days ago they tweeted out a link to the list of stories they rejected. The page had names, titles, and a rating between one and five stars. One problem: none of the authors had given them permission to do so.
SFWA followed up with a statement on Facebook warning about these practices in March 2020. After that, Longshot Press owner Daniel Scott White spent the rest of the year attacking SFWA in a series of eight posts on his personal blog The Land of Words. In other posts he contended the public rejection ratings were really a form of award. On the Longshot Press website itself he sought to discredit SFWA in "A Clear Bias at the SFWA" [Internet Archive link].
Unfit Magazine's Twitter account has trolled Kinney and Jim C. Hines before (Hines, because in December he responded to the Longshot Press attack on SFWA in a Twitter thread that starts here.) Here are screencaps of Unfit's new round of attacks.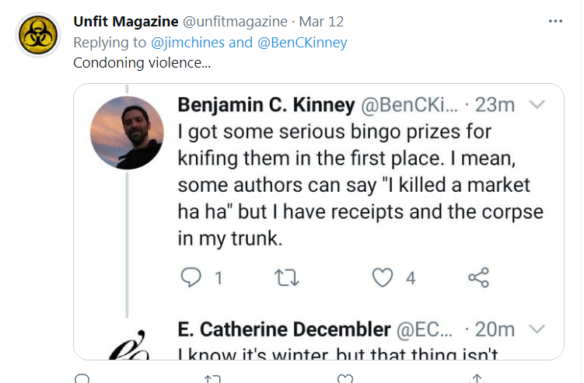 People's approach to trolls swings back and forth between denying them the oxygen of attention and exposing their abuses to the sunlight. This weekend the sun came out.
Jim C. Hines tweeted:
Benjamin C. Kinney acknowledged the attempt: