(1) WHAT DO WHILE THE POWER IS OUT. Ursula Vernon's ideas make scents.
So the package from the lovely people at @bpal arrived and I have a selection of medieval religious scents to sniff! They are very kind.

— The Wombat Resists (@UrsulaV) August 9, 2018
Hmm, "Veritas" definitely smells a bit like clean paladin. Add a little leather and metal and I'd let him check me for heretical leanings.

— The Wombat Resists (@UrsulaV) August 9, 2018
"The Devil" smells like used bookstore. These are very classical scents, so a fair number of people probably wandered around smelling like used books BEFORE THERE WERE USED BOOKS.

Mind. Blown.

— The Wombat Resists (@UrsulaV) August 9, 2018
Pretty sure that paladins of the Dreaming God smell like "Cathedral." At least until they go get sweaty and put on chainmail.

…I'll be in my bunk.

— The Wombat Resists (@UrsulaV) August 9, 2018
(2) I PRAY FOR ONE LAST LANDING. Adweek covers a company's creative message about sustainability: "An Astronaut Returns Home in This Gorgeous Film From Impossible Foods".
"There's life," he begins, traversing the varied terrain, from bustling thoroughfares to nearly silent, sun-soaked forest glades, in full spacesuit. "Everything is here. The colors. The beauty. The motion. It looks like a living, breathing organism. It's so beautiful here."

That planet, of course, is Earth, and the film launches this week to coincide with the release of Impossible Foods' first sustainability report. In that study, the creator of the plant-based Impossible Burger discusses its goal of eliminating the need for animals as a food source by 2035. Doing so will help cut greenhouse gas emissions while conserving natural resources.
(3) SOCIAL GRACES. Here's a helpful reminder.
Important Working Lunch instructional slide RE introducing yourself pic.twitter.com/b36mKleVnv

— ally mclean (@allymcleangames) August 9, 2018
(4) NO BOX FITS THIS GRAPHIC NOVEL. NPR's Etelka Lehoczky says "Spooky And Off-Kilter, 'Come Again' Shows Nate Powell's Virtuosity".
Earnest yet unpredictable, Nate Powell's graphic novel Come Again is a perfect example of what's possible when a creator roams outside of set conventions. Come Again fits no particular genre, though much of its style and tone resemble the slow-building, true-to-life narratives of Craig Thompson, Lucy Knisley and Mariko and Jillian Tamaki. But a touch of the mystical keeps this book off-kilter, raising the stakes on a story that might otherwise have seemed thin.
(5) 2017 #BLACKSPECFIC REPORT. Fireside Magazine has published its third annual report about the underrepresentation of black writers in sff magazines. There's a Twitter thread that starts here. And a narrative version here — "The 2017 #BlackSpecFic Report". The data is available in a spreadsheet here.
Some highlights:
2017

In 2017, the magazines in this dataset are, as with 2016's report, professional-rate magazines (as defined by the SFWA) that have been in existence for at least two years and are currently open to submissions. They published 1,112 stories by 816 unique writers, 38 of whom are Black and who wrote 48 of the stories. The unique Black author ratio is 4.7%, and the story ratio is 4.3%. Compared with 2015 data, Black representation in this aspect of the field has essentially doubled.
… When we began this initiative, many worried that the majority of the few stories published would be by Black authors with household names; that still is not the case.

They are, however, generally published in the same set of magazines.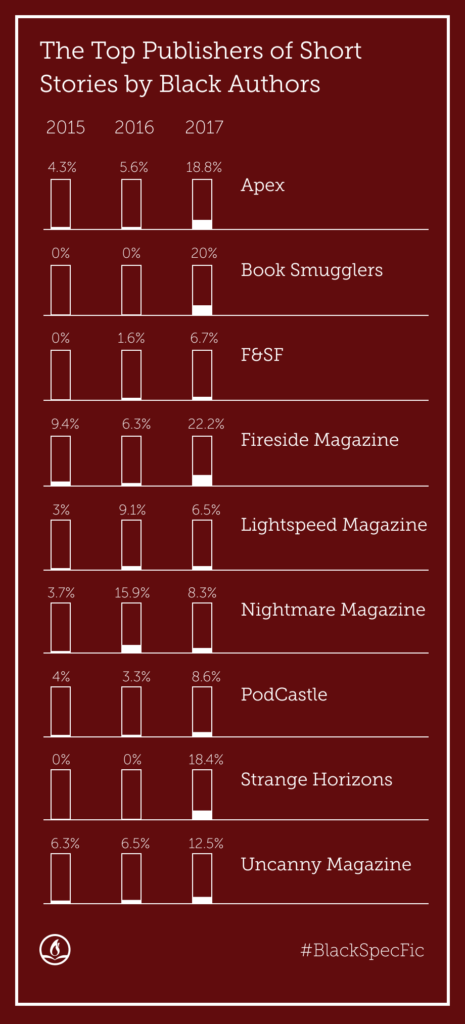 … Most of the magazines portrayed in this image doubled, tripled, or quadrupled their Black representation from 2015-6 to 2017. When combined with 2 magazines that already performed relatively well in publishing stories by Black authors, but that hadn't improved significantly — namely, Lightspeed and Nightmare — the magazines in this image published about one fourth of all stories in this dataset. Yet, they published close to 90% of this year's stories by Black authors. In other words, as with 2016, one quarter of the field is publishing the vast majority of its Black work. Field-wide submission rates can't explain that.

Furthermore, while these magazines' representation varies individually, when taken as a combined unit, their Black representation approximates U.S. population distribution at 13%. Five of them published Black authors at rates approximating or exceeding it.
(6) SCOOP NEWS. BBC says the world's largest ice cream parlor is officially Parque Coppelia, but Cubans call it la catedral de helado: "Cuba's communist ice cream cathedral".
We're at Parque Coppelia, the world's largest ice cream parlour and an iconic institution in Cuba. Taking up an entire block diagonally opposite the Hotel Habana Libre in the once-tony Vedado district, this state-run 'people's park' offers a for-pennies indulgence for the masses and serves an average of 30,000 customers a day – and up to 600 at any one time.

When Havana sizzles, the entire city seems to descend seeking relief. The helado – served with taciturn efficiency by waitresses in 1950s plaid miniskirts – wins no awards. But no other experience speaks so sweetly to Cuba's revolutionary idealism.
(7) CITY SECURITY. From the Black Hat cyber security conference, "Warning over 'panic' hacks on cities". Chip Hitchcock observes, "Katherine MacLean's 'Missing Man' spoke of 'city chess,' in which senior maintenance workers put up plausible point failures that usually ruin the city very quickly — and she was just talking about breakage, not about deliberate attacks."
Security flaws have been found in major city infrastructure such as flood defences, radiation detection and traffic monitoring systems.

A team of researchers found 17 vulnerabilities, eight of which it described as "critical".

The researchers warned of so-called "panic attacks", where an attacker could manipulate emergency systems to create chaos in communities.

The specific flaws uncovered by the team have been patched.

"If someone, supervillain or not, were to abuse vulnerabilities like the ones we documented in smart city systems, the effects could range from inconvenient to catastrophic," wrote Daniel Crowley, from IBM's cyber research division, X-Force Red.

"While no evidence exists that such attacks have taken place, we have found vulnerable systems in major cities in the US, Europe and elsewhere."

The team plans to explain the vulnerabilities at Black Hat – a cyber-security conference – on Thursday.
(8) 1994 HUGO CEREMONY VIDEO. Thanks to Kevin Standlee for the head's up:
The 1994 Hugo Awards video is online, thanks to us finding a videotape of it among the files here in Fernley, Lisa digitizing it, and Linda Ross-Mansfield on behalf of the parent of ConAdian giving permission to publish it. The quality isn't great, but that's in the original on our tape.
(9) BAEN FANTASY ADVENTURE AWARD. In addition to the grand prize winner reported here, "Dragon's Heart" by David VonAllmen, Baen today issued a press release naming the runners-up:
Second Place: "Deny the World with a Thought" by Benjamin Scott Farthing
Third Place: "The Lady of Pain" by Steve DuBois.
The press release says the winners were selected by Baen editorial staff.
(10) TODAY IN HISTORY
August 9, 1930 — Betty Boop premiered in the animated film Dizzy Dishes.
August 9, 2004 — Donald Duck received a star on the Hollywood Walk of Fame
(11) TODAY'S BIRTHDAYS
Born August 9 — Sam Elliot, 74. Genre roles include The Man Who Killed Hitler and Then The Bigfoot, the Land of the Giants series, the 1999 Hulk film, Ghost Rider, The Golden Compass and The Good Dinosaur animated series.
Born August 9 — Melanie Griffith, 61. Hebron roles in Cherry 2000, Alfred Hitchcock Presents series, voice work in the second Stuart Little animated film do likewise in the Back to the Jurassic film.
Born August 9 — Gillian Anderson, 50. The X-Files of course, roles also in the Harsh Realm, Hannibal and American Gods series.  Voice work in a number of animated series including Reboot as a character as a Data Nully.
Born August 9 — Thomas Lennon, 48. Appeared in Transformers: Age Of Extinction, but more commonly a voice actor with some of his credits being for Justice League Action (most excellent series), one of the computers in The Hitchhiker's Guide to The Galaxy film, The Dark Knight Rises, Archer, Rocky and Bullwinkle and Legend of the Three Caballeros.
Born August 9 — Rhona Mitra, 42. First genre role was in a sf update of Beowulf, later roles include Underworld: Rise of the Lycans, SGU Stargate Universe, The Gates, an urban fantasy set in a gated community where no one is human, The Last Ship post-apocalypse series and The Strain, a Guillermo del Toro vampire series.
(12) SLIGHT UPDATE. While his comments on what happened with Worldcon programming are apt, John Scalzi may not be reading the same sites I do. Thread starts here —
1. Hey, on the subject of Worldcon, I can't help notice that many of the people who went out of their way to tsk-tsk when it was having some programming issues have been silent now that those programming issues have been resolved and mostly everyone's happy.

— John Scalzi (@scalzi) August 8, 2018
Though I feel he's overly optimistic about the silence of people hoping the Worldcon will eat itself alive — I could list three bloggers who are still writing about that.
(13) PICK THE ROCKET FROM THEIR POCKET. Here's Russian retaliation for sanctions could include: "Russia targets the U.S. space program after latest round of 'draconian' sanctions" – Vice News has the story.
…On Wednesday the White House announced it would be imposing fresh sanctions on Moscow over its role in the poisoning of former Russian double agent Sergei Skripal and his daughter, Yulia, in the U.K. earlier this year.

The latest round of sanctions, due to take effect on August 22, will impose broad restrictions on technology exports to Russia, with further sanctions set to hit Russian airlines and banks. The latest round of sanctions could block hundreds of millions of dollars in exports.

The Kremlin has strenuously denied any involvement in the incident, and on Thursday morning Russian lawmakers fumed over the latest U.S. announcement, calling it "draconian" and "absurd."

One high-ranking Russian lawmaker then suggested hitting back at the U.S. where it hurts.

Sergey Ryabukhin, a senior Russian senator who is chairman of the Russian Federation Council's Committee for International Affairs, said Moscow could restrict exports of RD-180 rocket engines to the U.S.

RD-180 engines power the Atlas V rocket, which is used for military satellite launches, interplanetary missions and cargo runs to the International Space Station. The Atlas V has completed more than 75 launches with no major failures to date, and is key to the U.S. space program.

This isn't the first time RD-180s have been caught in the middle of strained U.S.-Russian relations. Back in 2014, U.S. lawmakers opted to exempt the rocket engine from a ban on Russian military technology due to it importance to the U.S. space program.
(14) GUESS AGAIN. Popular Mechanics shares the revelation: "Weird Prehistoric Plant Turns Out To Be Weird Prehistoric Animal".
Algae? Fungi? Some other type of plant? The Ediacaran organisms, ancient life forms that were common on in the Earth's oceans half a billion years ago, have puzzled scientists for decades. Now two paleontologists feel confident that the ancient species were something completely different: animals that were unlike any seen on Earth today.

Scientists have discovered nearly 200 different types of Ediacarans within ancient rocks around the globe since the first discovery in the 1940s. It's easy to identify an Ediacaran through their unique bodies, which are branched fronds taking the shape of fractals. Looking like long tubes that could grow up to six feet, Ediacaran fronds also had sub-fronds which replicated these patterns.

It's easy to mistake an Ediacaran for a plant. But Jennifer Hoyal Cuthill at the Tokyo Institute of Technology and the University of Cambridge in the United Kingdom, along with Jian Han at Northwest University in Xi'an, China, has found evidence that says otherwise. They came to their conclusion through studying Stromatoveris psygmoglena, a marine species first discovered in 2006 that dates back to around 30 million years after Ediacarans supposedly died out.
(15) THE BATTLE FOR THE UR-QUAN HIERARCHY. Olav Rokne of Edmonton's Hugo Award Book Club wanted to be sure I didn't miss this gaming litigation story:
"Cult classic video game Star Control 2, beloved for its science fiction storylines and diverse cast of alien characters, is the subject of a bitter legal feud over who has the rights to release an official sequel. Original Star Control creators Paul Reich and Fred Ford maintain that their author contract's rights-reversion clause was triggered more than a decade ago, while games company Stardock claim they bought the rights during Atari's bankruptcy sale.
"It's a feud that blazes more hotly than a Thraddash Torch, but is harder to understand than Orz dialogue. Thankfully, copyright lawyer Leonard French has created two excellent YouTube videos to explain it to the layperson."
Video One:
Video Two: 
[Thanks to JJ, Cat Eldridge, John King Tarpinian, Kevin Standlee, Chip Hitchcock, Mike Kennedy, Martin Morse Wooster, Carl Slaughter, and Andrew Porter for some of these stories, Title credit goes to File 770 contributing editor of the day Robert Whitaker Sirignano.]