(1) NYRSF READINGS. The New York Review of Science Fiction Readings presents "An Evening of 'Reckoning'" — creative writing on environmental justice – on October 14 with guest curator Michael J. DeLuca, featuring Emily Houk, Yukyan Lam, Krista Hoeppner Leahy, Marissa Lingen, Emery Robin, and Brian Francis Slattery. The event begins at 7:00 p.m. at The Brooklyn Commons Café, 388 Atlantic Avenue (between Hoyt & Bond St.). Full info on Facebook.
Michael J. DeLuca's roots are mycorrhizal with sugar maple and Eastern white pine. He's the publisher of Reckoning, an annual journal of creative writing on environmental justice. His fiction has appeared most recently in Beneath Ceaseless Skies, Three-Lobed Burning Eye, Strangelet and Middle Planet.

Emily Houk's short fiction has appeared previously in Conjunctions, and she has just finished her first novel. She is coeditor of Ninepin Press, and she thrives in the shade of the library stacks of Western Massachusetts.

Yukyan Lam is based in New York, NY, and works for a non-profit on environmental health and social justice. Her scientific writing has appeared in various academic journals. She loves reading and writing creative non-fiction and short stories, and currently serves as a prose editor for Typehouse Literary Magazine. Follow her @yukyan_etc

Krista Hoeppner Leahy is a poet, writer, and actor. Her work has appeared in Clarkesworld, Farrago's Wainscot, Lady Churchill's Rosebud Wristlet, Raritan, Shimmer, Tin House, Year's Best Science Fiction and Fantasy and elsewhere. Born in Colorado, Krista currently resides in Brooklyn with her family.

Marissa Lingen is a freelance writer living in the suburbs of Minneapolis with two large men and one small dog. Mostly she writes speculative fiction. She has a large collection of foliage-themed jewelry.

Emery Robin is an Oakland-born and New York-based writer, previously published on Tor.com and in Spark: A Creative Anthology. When not busy reading, Emery is interested in propaganda, marginalia, and rock 'n' roll, and can be found on Twitter @ emwrobin .

Brian Francis Slattery is the arts editor and a reporter for the New Haven Independent. He has written four novels and is currently on the writing team of Bookburners, a serial fiction project. He's also a musician and for a week out of every year, lives without electricity.
(2) JUNGLE CRUISE. Andrew Petersen, a student I met at Azusa Pacific University's Yosemite Semester in 2001, achieved his goal of becoming a driver on the Jungle Cruise Ride. If only he hadn't died last year – he would have gotten a kick out of this movie.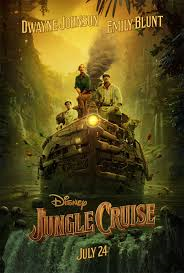 Inspired by the famous Disneyland theme park ride, Disney's JUNGLE CRUISE is an adventure-filled, Amazon-jungle expedition starring Dwayne Johnson as the charismatic riverboat captain and Emily Blunt as a determined explorer on a research mission. Also starring in the film are Edgar Ramirez, Jack Whitehall, with Jesse Plemons, and Paul Giamatti. Jaume Collet-Serra is the director and John Davis, John Fox, Dwayne Johnson, Hiram Garcia, Dany Garcia and Beau Flynn are the producers, with Doug Merrifield serving as executive producer. Disney's JUNGLE CRUISE opens in U.S. theaters on July 24, 2020.
(3) PRINCIPLES OF WARFARE. At The Angry Staff Officer, Matthew Ader exercises 20/20 hindsight in "Snatching Defeat from the Jaws of Victory on Wakanda".
Captain Roger's performance at the Battle of Wakanda has been widely and rightly panned. But nothing has been said about the profound failures of his enemy, the Thanosians. Despite every possible advantage in manpower, materiel, and circumstance, they still failed. All students of the military art should examine how they so masterfully snatched defeat from the jaws of victory.

Terrain Analysis

The Thanosians had complete freedom in the approach to battle. Nevertheless, they committed two grievous and unforced errors. First, they failed to identify the large energy shield protecting Benin Zana and its immediate environs. This information would have been known with even the most cursory reconnaissance. The mistake cost them at least a battalion worth of troops, when their dropship smashed into it. It is generally agreed that losing a sixth of your force before battle commences is a bad thing. ..
(4) KRAMER PLEADS NOT GUILTY. The Atlanta Journal-Constitution reports "Judge, others charged in Gwinnett hacking case enter not guilty pleas".
All four defendants charged in Gwinnett County's convoluted courthouse hacking saga entered not guilty pleas Thursday afternoon.

Each of the defendants — including sitting Superior Court Judge Kathryn Schrader and DragonCon co-founder Ed Kramer — were present for a brief arraignment hearing, scattered across the courtroom gallery as attorneys spoke on their behalf. Their not guilty pleas mean the case against them will move forward. The next hearing in the case is scheduled for Nov. 7….
(5) IMPERIAL SPONGEBOB. Holly M. Barker's article for The Contemporary Pacific, "Unsettling SpongeBob and the Legacies of Violence on Bikini Bottom", asserts the cartoon series normalizes an array or moral and ethical problems. Most of the piece is behind a paywall. Here is the abstract:
Billions of people around the globe are well-acquainted with SpongeBob Squarepants and the antics of the title character and his friends on Bikini Bottom. By the same token, there is an absence of public discourse about the whitewashing of violent American military activities through SpongeBob's occupation and reclaiming of the bottom of Bikini Atoll's lagoon. SpongeBob Squarepants and his friends play a role in normalizing the settler colonial takings of Indigenous lands while erasing the ancestral Bikinian people from their nonfictional homeland. This article exposes the complicity of popular culture in maintaining American military hegemonies in Oceania while amplifying the enduring indigeneity (Kauanui 2016) of the Marshallese people, who maintain deeply spiritual and historical connections to land—even land they cannot occupy due to residual radiation contamination from US nuclear weapons testing—through a range of cultural practices, including language, song, and weaving. This article also considers the gendered violence of nuclear colonialism and the resilience of Marshallese women.
Campus Reform's post "Prof: SpongeBob perpetuates 'violent, racist' acts against indigenous people" elaborates on some of the issues, for example:
… While Barker admits that the show's creators likely did not have "U.S. colonialism" in mind while developing the cartoon, she calls it "disturbing" that they did not realize that "Bikini Bottom and Bikini Atoll were not theirs for the taking." Consequently, Barker suggests that "millions of children" have "become acculturated to an ideology that includes the US character SpongeBob residing on another people's homeland."

In this way, colonialism is supposedly "produced, reproduced, and normalized" through the cartoon

As if fictionally "occupying" nonfictional land was not enough, Barker also accuses the cartoon of being biased against women.

The professor complains that "all of the main characters on the show are male," except for Sandy Cheeks the squirrel, whom she suggests was only created in order to boost the gender diversity of the show.

"The name 'Bob' represents the everyday man, a common American male, much like a 'Joe,'" Barker observes, concluding that "our gaze into the world of Bikini Bottom, as well as the surface of Bikini, is thus filtered through the activities of men."

Barker concludes her article by insisting that even though SpongeBob's writers likely did not mean "to infuse a children's show with racist, violent colonial practices," the show is part of a larger issue, an "insidious practice of disappearing Indigenous communities."
(6) DANIUS OBIT. Sara Danius has died due to breast cancer. She was the permanent secretary for the Swedish Academy during the MeToo era and who was forced out from it due to her determination to get rid of its toxic patriarchal working culture. She was 57 years old. (Swedish language news article here.)
(7) TODAY IN HISTORY.
October 12, 1987 — Ultraman: The Adventure Begins. This Japanese animated film stars the English voice lead talents of Adrienne Barbeau and Stacy Keach. Jr.
(8) TODAY'S BIRTHDAYS.
[Compiled by Cat Eldridge.]
Born October 12, 1875 — Aleister Crowley. Genre writer? You decide. But I've no doubt that he had a great influence upon the genre as I'm betting many of you can note works in which he figures. One of the earliest such cases is Land of Mist, by Sir Arthur Conan Doyle which was published in 1926. (Died 1947.)
Born October 12, 1903 — Josephine Hutchinson. She was Elsa von Frankenstein with Basil Rathbone and Boris Karloff in Son of Frankenstein. She was in "I Sing the Body Electric", The Twilight Zone episode written by Bradbury that he turned into a short story. (Died 1998.)
Born October 12, 1904 — Lester Dent. Pulp-fiction author who was best known as the creator and main author of the series of novels chronicling Doc Savage. Of the one hundred and eighty-one  Doc Savage novels published by Street and Smith, one hundred and seventy-nine were credited to Kenneth Robeson; and all but twenty were written by Dent. (Died 1959.)
Born October 12, 1916 — Lock Martin. His claim to fame was that he was one of the tallest humans that ever lived.  At seven feet and seven inches (though this was dispute by some), he was also quite stocky.  He had the distinction of playing Gort in The Day The Earth Stood Still. He was also in The Incredible Shrinking Man as a giant, but his scenes were deleted. And he shows up in Invaders from Mars as the Mutant carrying David to the Intelligence though he goes uncredited in the film. (Died 1959.)
Born October 12, 1924 — Randy Stuart. She's best remembered as Louise Carey, the wife of Scott Carey, in The Incredible Shrinking Man. She was also Frances Hiller in "Anniversary of a Murder" on One Step Beyond which conceived as a companion series to the Twilight Zone. (Died 1996.)
Born October 12, 1942 — Daliah Lavi. She's in Casino Royale as The Detainer, a secret agent. In the same year, she was in Jules Verne's Rocket to the Moon as Madelaine. She was Purificata in The Demon, an Italian horror film.  If you're into German popular music, you might recognize her as she was successful there in Seventies and Eighties. (Died 2017.)
Born October 12, 1943 — Linda Shaye, 76. She's been an actress for over forty years and has appeared in over ninety films, mostly horror. Among them is A Nightmare on Elm Street, Critters, Insidious, Dead End, 2001 Maniacs and its sequel 2001 Maniacs: Field of Screams, Jekyll and Hyde… Together Again, Amityville: A New Generation, Ouija, and its prequel Ouija: Origin of Evil. She even appeared in The Running Man as a Propaganda Officer
Born October 12, 1965 — Dan Abnett, 54. His earlier work was actually on Doctor Who Magazine,  but I'll single out his co-writing Guardians of the Galaxy #1–6 with Andy Lanning, The Authority: Rule Britannia and his Border Princes novel he did in the Torchwood universe as great looks at him as a writer. 
Born October 12, 1968 — Hugh Jackman, 51. Obviously Wolverine in the Marvel film franchise. He's also been the lead character in Van Helsing as well as voicing him in the animated prequel Van Helsing: The London Assignment. One of his most charming roles was voicing The Easter Bunny in The Rise of The Guardians. And he played Robert Angier in The Prestige based off the novel written by the real Christopher Priest.
(9) COMICS SECTION.
Rich Horton says about today's Dilbert: "I don't know if Scott Adams nicked this idea from Fred Pohl or Greg Egan or someone else, but I think of Daniel Galouye's Simulacron-3 (filmed as The Thirteenth Floor)."
(10) THE ANSWER IS. Heather Rose Jones replies to the latest question on the Alpennia FAQ: "Are the Alpennia books historical?"
The setting deviates from real-world history in two major ways. Magic exists. And the country of Alpennia does not correspond to any real-world place or nation…. [More at the link.]
(11) WITH RESERVATIONS. CNET: "Addams Family fans can book 'creepy, kooky' night in replica mansion". The "mansion" is in Brooklyn. Tagline: "Booking.com is offering a scary stay. Get a witch's shawl on and a broomstick you can crawl on."
…The exterior of Booking.com's Addams Family mansion doesn't look spooky, but the inside makes up for it.

The [3700 square foot] mansion rents for just $101.10 per night, but not everyone interested will get in. [It will be available for only four one-night bookings starting the 29th of this month.] Mark your calendars now if you want to try to be one of the lucky ones. Bookings open on Oct. 28 at 9 a.m. PT, and they'll probably disappear as fast as you can snap your fingers.
(12) KINGS AND MONSTERS. LitHub learns from Joe Hill, "When Stephen King is Your Father, the World is Full of Monsters".
We had a new monster every night.

I had this book I loved, Bring on the Bad Guys. It was a big, chunky paperback collection of comic-book stories, and as you might guess from the title, it wasn't much concerned with heroes. It was instead an anthology of tales about the worst of the worst, vile psychopaths with names like The Abomination and faces to match.

My dad had to read that book to me every night. He didn't have a choice. It was one of these Scheherazade-type deals. If he didn't read to me, I wouldn't stay in bed. I'd slip out from under my Empire Strikes Back quilt and roam the house in my Spider-Man Underoos, soggy thumb in my mouth and my filthy comfort blanket tossed over one shoulder. I could roam all night if the mood took me. My father had to keep reading until my eyes were barely open, and even then, he could only escape by saying he was going to step out for a smoke and he'd be right back.
(13) THOUGHT YOU SHOULD KNOW. Behind a paywall at The Wall Street Journal: "Streaming Is Killing Physical Media. Here's Why You Won't Miss It ". Tagline: "With Samsung's decision to stop making Blu-ray players, now even discs are going extinct. One writer reminisces about all we'll lose. Another looks forward to an all-digital future."
(14) FUTURIUM. Aa "house of futures" museum opened in Berlin last month called the Futurium, and their website is futurium.de. The home site is in German, however, they also offer an English language version.
Futurium celebrated its opening on 05 September 2019. Since then, the interest in the house of futures has exceeded all expectations. In the first month, 100,000 visitors already came to Futurium and devoted themselves to the question: How do we want to live?
(15) NOSFERATU. [Item by Steve Vertlieb.] Every generation has its incarnation of the vampire mythos – Dark Shadows, Twilight, True Blood, and more. But it all cinematically began with F.W. Murnau's 1922 silent movie masterpiece Nosferatu. Ninety-four years after its inception, North Hollywood's Crown City Theater Company unleashed an astonishing live stage presentation entitled Nosferatu: A Symphony in Terror. In "Nosferatu", film historian Steve Vertlieb takes us aboard a dark yet wonderful cinematic time machine, delving into the creation of Murnau's seminal horror film, examining it's influence on generations (from Lugosi and Lee, to Salem's Lot, Harry Potter and more), then reviews the startling stage presentation from a few years ago.
(16) ONE LESS BRICK IN THE WALL. CNN says "You can feel good about ditching your LEGO bricks thanks to this new program".
…Gather the LEGO bricks, sets or elements that you want to part with; put them in a cardboard box; and print out a free shipping label from the LEGO Replay website. At the Give Back Box facility, they'll be sorted, inspected and cleaned.

"We know people don't throw away their LEGO bricks," Tim Brooks, vice president of environmental responsibility at the LEGO Group, said in a Tuesday news release. "The vast majority hand them down to their children or grandchildren. But others have asked us for a safe way to dispose of or to donate their bricks. With Replay, they have an easy option that's both sustainable and socially impactful."
(17) MUSHROOM MANAGEMENT. Car ownership and use are dropping, so they're "Turning Paris's underground car parks into mushrooms farms" – the BBC has video.
What do you do with an old car park that no-one wants to park in? Why not use them to grow mushrooms – or even salad?

Paris built too many underground car parks in the 1960s and 70s. Falling car ownership means many are standing empty, or finding new and surprising uses.
(18) VIDEO OF THE DAY. In "Lauren Gunderson Is Taking On J.M. Barrie" on YouTube, Lauren Gunderson discusses her adaptation of Peter Pan, which will be produced by the Shakespeare Theatre in Washington in December.
[Thanks to Nancy Collins, Andrew Porter, Michael Toman, Mike Kennedy, Martin Morse Wooster, Chip Hitchcock, JJ, John King Tarpinian, Karl-Johan Norén, Steve Vertlieb, and Cat Eldridge for some of these stories. Title credit goes to File 770 contributing editor of the day Anne Sheller.]