(1) HWA 2023 OFFICER AND TRUSTEE ELECTION RESULTS. The Horror Writers Association (HWA) held its annual election in September. The offices of Vice President and Treasurer ran unopposed.

HWA's new Vice President is Lisa Wood, and their new Treasurer is Michael Knost.
Lisa Kröger, Brian Matthews, and Angela Yuriko Smith were re-elected as Trustees; Brian Keene is a newly-elected Trustee.

The elected officers hold their respective offices for terms of two years, beginning on October 31 at midnight. (It's HWA – what other date would they choose than Halloween?)
(2) INTERZONE GOES ON HIATUS. Gareth Jelley, Editor & Publisher of Interzone and IZ Digital, today sent readers an announcement that Interzone will be suspending publication for a period.
Unfortunately, Interzone is going to be on a (hopefully temporary) hiatus for the next few months. I do not know when I will be able to publish Interzone #296.

I have seen some resubscriptions come in, but the vast majority of subscriptions that lapsed with IZ 294 and IZ 295 have not been renewed, yet. I am optimistic in the long-term, and I intend to get Interzone to #300 and beyond. I am optimistic about the future of IZ. But at the moment, looking at the numbers, it simply isn't possible for me to say when the next 5 to 10 issues will be published.

Many people made huge contributions in July this year, and these contributions helped to get Interzone #295 out into the world. Thank you for that help. The enthusiasm and passion for Interzone I saw then was staggering. Thank you very much, to each and every subscriber.

Interzone #296 will come out, and it will be a brilliant issue. And I hope that Interzones #297, #298, #299, and #300 will follow at roughly two-month intervals. As soon as I have a date for IZ 296, I will let you know.

If you would like to make a one-off donation to Interzone, the IZ Digital Ko-fi is here:

– https://ko-fi.com/izd

You can renew or extend your subscription, or convert your lifetime subscription to a regular subscription) here:

– https://interzone.press
(3) BIGGEST SCANDINAVIAN BOOK FAIR TO SPACE IN 2024. [Item by Ahrvid Engholm.] The yearly Gothenburg book fair is the biggest in Scandinavia and a major one in Europe. Every year has a theme, and in 2024 the fair goes into space! Having space as theme will surely give science fiction a lot of attention. (Most books dealing with space are undoubtedly sf.) Next year's fair run from September 26-29, 2024. The site is what is called the Swedish Exhibition & Congress Centre.
Secondary 2024 theme is Sapmi. That is the northernmost part of Scandinavia with roaming reindeer herders, known as Sami, who call the land Sapmi.
As if they were anticipating this the cultural section of the major newspaper Aftonbladet just published a "literary manifesto" of interest. Through Google Translate: "Now we are changing our way of monitoring the literature".
Even if the manifesto wasn't exactly an A-bomb, it hit culture defense lines like a heavy mortar shell. Competing papers and even TV pundits exploded in comments against the manifesto's message about reviewing more of what people actually read. It mentions science fiction several times. The critics who are not amused peek over the trenches in fear, as the bunker complexes of the traditional highbrow authors now are threatened. One critic even threw away his arms and retreated from Aftonbadet in protest. This saber-rattling adds an extra spice to the 2024 book fair.
There's also a natural connection between space and Sapmi. The Swedish Space Corporation has upgraded the launch pads — used for sounding rockets, so far — of the Esrange research base for satellite launches. Esrange is in northern Lapland, a part of Sapmi. It may be the first satellite launch from European soil, not counting Russia. Esrange Space Center, Swedish Space Corporation. The first Sapmi sputniks are expected next year, probably well ahead of the book fair.
There's a lot happening around space right now! Even the cultural sphere enters orbit.
(4) RUBY SLIPPERS. AP News says the person who stole the ruby slippers changed his plea to guilty today: "Man admits stealing 'Wizard of Oz' ruby slippers from museum in 2005, but details remain a mystery".
A man charged in the museum heist of a pair of ruby slippers that Judy Garland wore in the "The Wizard of Oz" pleaded guilty Friday in a deal that could keep him out of prison due to his failing health, but only cleared up some of the mystery that dates back 18 years.

Terry Jon Martin, 76, pleaded guilty to a single count of theft of a major artwork. The shoes were stolen in 2005 from the Judy Garland Museum in the late actor's hometown of Grand Rapids, Minnesota, and recovered by the FBI in 2018….

…"Terry has no idea where they were and how they were recovered," Martin's attorney, Dane DeKrey, said afterward. "His involvement was that two-day period in 2005."

Under the plea agreement, DeKrey and federal prosecutor Matt Greenley recommended that Martin not face any time behind bars because of his age and poor health. Martin, who appeared in court in a wheelchair with supplemental oxygen, has advanced chronic obstructive pulmonary disease and struggles to breathe, DeKrey said. The proposed sentence would let Martin die at home, the attorney said….
(5) SANDWORM TEMPO. [Item by Rob Thornton.] Pitchfork did an interview-type article with Toto about doing the soundtrack for Lynch's adaptation of Dune.
… With A Masterpiece in Disarray, [Max] Evry reevaluates the movie by telling its full story with the help of those who were there, including stars Kyle MacLachlan and Sean Young, and even Lynch himself. Every aspect of Dune is put under the microscope, including its surprisingly quiet and moody score courtesy of the 1980s rock band Toto, best known for their No. 1 hit "Africa." In the following excerpt, members of Toto recount their experience working with Lynch, Brian Eno's involvement in the soundtrack, and why they maybe should have just written a song for Footloose instead….

David Paich: I was able to play my main theme for David Lynch. They loved it and hired us on the spot. He had a Walkman, and put this set of phones on me and said, "Tell me if you can make this kind of music for my movie?" He put on two Shostakovich symphonies. He made me listen and said: "I want this music low, and I want it slow." I thought, Well, I can handle that. This isn't Star Wars. He's making the anti-Star Wars movie. He wanted me to avoid anything that's uplifting, that's happy, that's joyous, that's compelling. He hates popular movies that make people come and eat popcorn and stuff. Super-nice guy, though. He wanted it low and slow….
(6) CHENGDU WORLDCON ROUNDUP. [Item by Ersatz Culture.]
Worldcon train launch, and photos of stations and travel card
The Weibo account of the Chengdu train system has posted several Worldcon-related updates.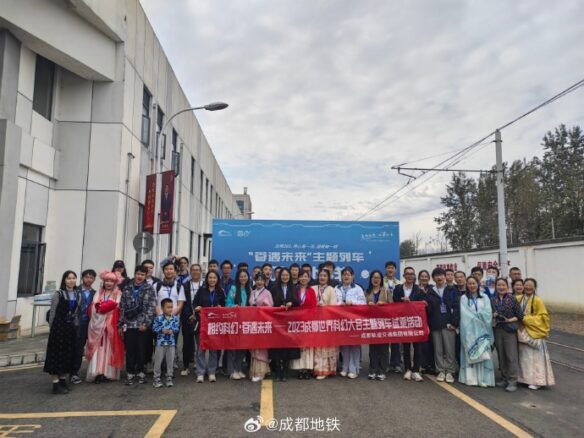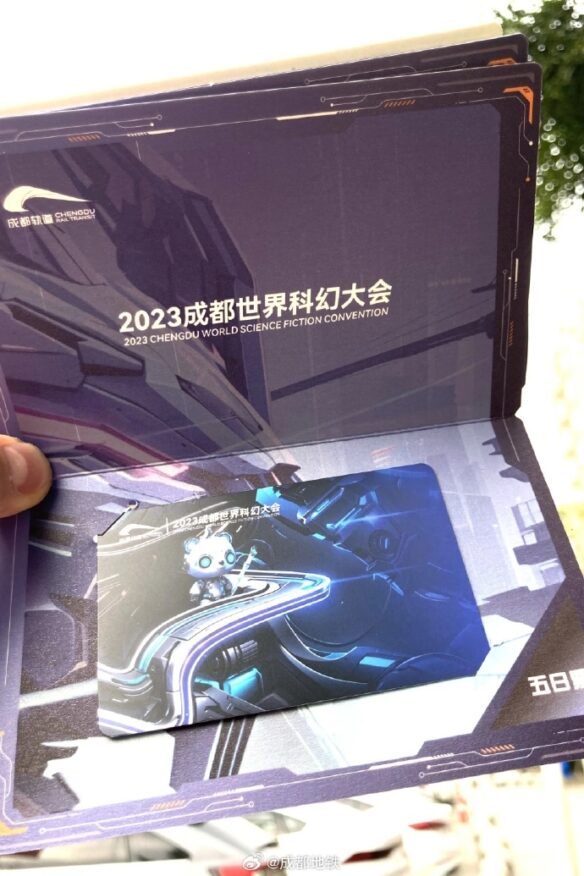 A couple of videos and photo galleries showing the local area
In this 4-minute Bilibili video, a local from another district of Chengdu has a walk around the main road to (I think) the south of the con venue. Amongst other things, you can see Worldcon signage on the block across the road (0'27") and the school that was mentioned in yesterday's Scroll (3'00"). From around 2'40" you can get a feel for the distance between the museum and the Sheraton hotel.
Urban blogger skyxiang1991 posted a new set of photos to Weibo, showing the construction of a sculpture across the lake from the museum. The post's text says they have a Three-Body Problem theme; I think they refer to (vague spoilers) something that happens in The Dark Forest, the second book?
This Xiaohongshu video opens with a different view of the topiary that was in a recent Scroll; there seems to be a clock incorporated into the design. It then moves on to various footage of the interior of the museum.
Miscellaneous videos
Ben Yalow and Carolina Gomez Lagerlof visit the Hua'ai school (video subtitled in English and Chinese)
A six-and-a-half-minute unboxing and taste-test video on Bilibili of the SF World bean paste box-set tie-in that was featured in a Scroll a week or two ago.
(7) CHANGE-UPS. Amal El-Mohtar reviews three new books by Malon Edwards, Melinda Taub and Karen Lord for the New York Times: "P.O.V.: You're a Jane Austen Character in an Alternate Universe".
The point-of-view meme has had a steady presence in our social media landscape over the past few years. You've probably scrolled past posts that read "P.O.V.: You're [a specific character doing something wacky]," accompanied by images or videos that supposedly capture said perspective. P.O.V.: You're a spotted lanternfly sunbathing. (Close-up of shoe tread.) P.O.V.: It's 1996 and you're trying to teach kids about irony when Alanis Morissette drops a new single. (Video of cartoon heads exploding.)

In fiction, of course, tinkering with point of view has a long history, as different narration styles have gone in and out of fashion. Here are some recent books where perspective is a site of experiment, subversion and play….
(8) OCTOBER COUNTRY. Meanwhile, Lisa Tuttle reviews Out There Screaming edited by Jordan Peele; A Haunting on the Hill by Elizabeth Hand; Lamb by Matt Hill; and My Brother's Keeper by Tim Powers for the Guardian: "The best recent science fiction, fantasy and horror – reviews roundup".
"I view horror as catharsis through entertainment," says writer-director Peele (Nope, Get Out) in the foreword to this impressive American anthology. The 19 contributing Black authors offer a wide range of literary nightmares, varying in subject from the horrors of slavery and segregation to ancient evil spirits and newly minted monsters….
(9) GREG CRONAU DIES. Past ConFusion ConChair Greg Cronau has passed away. Michael McDowell reported on Facebook:
Greg's mother called me this afternoon to tell me that Greg passed away last weekend in hospital near his home in Irwin, Pennsylvania. He'd been hospitalized for less than a week, but had been ill much longer. The cause of death was complications from an unchecked bone infection.
(10) TIM UNDERWOOD (1948-2023). Publisher Tim Underwood died October 11 from malignant melanoma. Underwood, then a book and art dealer, and used book dealer Chuck Miller, founded the Underwood–Miller small press in 1976. They published works by Jack Vance, Philip K. Dick, Harlan Ellison, Robert Silverberg and Roger Zelazny. In several such cases, the books in question printed recently done stories that either appeared only in magazine form or only in paperback, with no previous hardcover edition. They dissolved the partnership in 1994. That same year Underwood-Miller received a World Fantasy Special Award.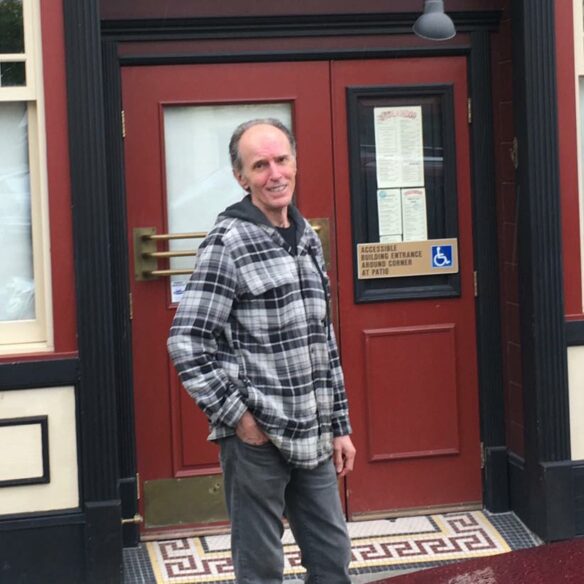 (11) TODAY'S BIRTHDAYS.
[Compiled by Cat Eldridge.]
Born October 13, 1906 — Joseph Samachson. In 1955, he co-created with artist Joe Certa the Martian Manhunter in the pages of Detective Comics #225. Earlier he penned a couple of Captain Future pulp novels around 1940 under a house name. (House names often blur who did what.) He also wrote scripts for Captain Video and His Video Rangers, a late Forties to mid Fifties series. (Died 1980.)
Born October 13, 1923 — Meyer Dolinsky. He wrote the script for Star Trek's "Plato's Children" plus for Mission: Impossible, Science Fiction Theater, World of Giants (which I never heard of), Men into Space, Invaders, Mission: Impossible and The Outer Limits. (Died 1984.)
Born October 13, 1936 — Robert Ingpen, 87. Australian graphic designer, illustrator, and writer. Winner of the Ditmar Award for the charmingly named Australian Gnomes. His other work in that series was The Poppykettle Papers with Michael Lawrence.
Born October 13, 1956 — Chris Carter, 67. Best known for the X-Files and Millennium which I think is far better than X-Files was, but also responsible for Harsh Realm which lasted three episodes before being cancelled. The Lone Gunmen which was a good concept poorly executed managed to last thirteen episodes before poor ratings made them bite the bullet. He retired from doing anything creative after The X-Files: I Want to Believe.
Born October 13, 1969 — Aaron Rosenberg, 54. Children's books author and games designer according to Siri. He's written novels for Star Trek, StarCraft, Warcraft, Exalted, Stargate Atlantis, and Warhammer, as well as other franchises. He's even written a novel set In the Eureka 'verse, Eureka: Roads Less Traveled, under the house name of Cris Ramsay. The Eureka novels sound fascinating.
(12) COMICS SECTION.
Mostly Harmless prompts Lise Andreasen to question: "This shows a universal problem? Do we have to change Drake's equation now?"
Bizarro uses ancient art to make a horrible modern pun.
Bliss shows what can happen when you least expect it.
(13) THE PROTO-PRO. At Bradbury 100, Phil Nichols looks at an early year of the author's career: "Chronological Bradbury, 1939".
Here's a new episode of my Bradbury 100 podcast – and it's another in my occasional series, "Chronological Bradbury". Last time I covered 1938, so this time it's onward to 1939.

1939 finds Ray Bradbury writing under a variety of names:
(14) NBA SUBSTITUTION. "LeVar Burton replaces Drew Barrymore as National Book Awards host" NPR explains why.
Actor, podcaster, and reading advocate LeVar Burton will be the host of this year's National Book Awards ceremony.

In a statement Friday, Burton, who also hosted the ceremony in 2019, said, "It's an honor to return as host of the biggest night for books, especially in a moment when the freedom to read is at risk."

Drew Barrymore was originally slated to host the awards show – commonly referred to as the Academy Awards for literature. That offer was rescinded by the National Book Foundation after she announced she'd return to doing her talk show during the Writers Guild of America's strike. She eventually reversed that position after strike supporters picketed her show, but not before losing out on the hosting job….
(15) THEY SNAPPED. "'Goosebumps' Is Back on TV. Here's What to Know" says the New York Times.
"Say cheese!" a boy shouts in the first episode of "Goosebumps," a new series on Disney+ and Hulu, jumping out of a closet as he snaps a Polaroid photo of his friend's startled face.

The image is familiar to anyone who has read — or just seen the cover — of "Say Cheese and Die!," one of the most beloved of R.L. Stine's "Goosebumps" books. The best-selling children's horror book series, first published in 1992 and still regularly rolling out, follows the adventures of tweens and teens who find themselves in supernatural circumstances.

But now there are a few differences: Unlike in the novels, in which almost every single essential character is white, the boy is Black. The characters are in high school, not middle school. The series is set in the present, not the 1990s. (There's a "Hamilton" reference in the pilot.)

"We want to make sure the show appeals to the widest audience possible," said Rob Letterman, who directed the 2015 "Goosebumps" film and created the new show with Nicholas Stoller. (They previously collaborated on the film adaptation of "Captain Underpants.") The first half of the new 10-episode series premieres, appropriately, on Friday the 13th. (New episodes will arrive every Friday through Nov. 17.)

The first season is based largely on five of the books, including "Say Cheese and Die!"Scholastic Inc….
[Thanks to Chris Barkley, Cat Eldridge, SF Concatenation's Jonathan Cowie, Rob Thornton, Arnie Fenner, Kathy Sullivan, Ahrvid Engholm, Lise Andreasen, Mike Kennedy, Andrew Porter, Ersatz Culture, and John King Tarpinian for some of these stories. Title credit belongs to File 770 contributing editor of the day Daniel Dern.]