(1) HALL H EMPTIES OUT. "The last few big Hollywood blockbusters have now dropped out of Comic-Con" reports Yahoo!
The weirdest Comic-Con in years continues to get weirder, today: Legendary has announced that its upcoming sci-fi sequel Dune: Part Two, one of the last live-action blockbusters scheduled for a panel at this year's version of the long-running convention, has now dropped out. (Ditto the glimpse the studio was planning at the next installment of its Monsterverse franchise of films.) At the same time, at least three TV shows that were still holding out hope for the convention—Amazon's Wheel Of Time, Freevee's Jury Duty, and ABC's Abbott Elementary—have all confirmed that they're canceling their panels.

The reason, obviously, is the SAG-AFTRA actors strike: There's not a lot of point in paying for an expensive panel in the Con's famed Hall H if you don't have any stars on hand to fill it out and pump up the crowds.
(2) SPEAKING OF MURDERBOT. NPR taps into the Nerdette podcast to learn "How audiobooks are made".
GRETA JOHNSEN, BYLINE: Meet Sarah Jaffe. She's an executive producer at Penguin Random House Audio.

SARAH JAFFE: What that actually means is mostly – I think my 10-year-old self would be thrilled – I get paid to read books all day, talk to really brilliant authors and then do sort of the dream casting that I think we all do in our heads of like, OK, what kind of voice would I need to play this character? And then I get to find and hire that voice.

JOHNSEN: One of my favorite voices is this guy.

KEVIN R FREE: I am Kevin R. Free. I am a multi-hyphenate artist, and I suppose I'm on the Nerdette podcast because I am an audiobook narrator. That is the hat for which you are interviewing me.

JOHNSEN: Kevin has been wearing that hat since 2000. I love him because he narrates Martha Wells' "Murderbot Diaries"…
(3) RESISTING OUR AI OVERLORDS. "'Not for Machines to Harvest': Data Revolts Break Out Against A.I." reports the New York Times.
For more than 20 years, Kit Loffstadt has written fan fiction exploring alternate universes for "Star Wars" heroes and "Buffy the Vampire Slayer" villains, sharing her stories free online.

But in May, Ms. Loffstadt stopped posting her creations after she learned that a data company had copied her stories and fed them into the artificial intelligence technology underlying ChatGPT, the viral chatbot. Dismayed, she hid her writing behind a locked account.

Ms. Loffstadt also helped organize an act of rebellion last month against A.I. systems. Along with dozens of other fan fiction writers, she published a flood of irreverent stories online to overwhelm and confuse the data-collection services that feed writers' work into A.I. technology.

"We each have to do whatever we can to show them the output of our creativity is not for machines to harvest as they like," said Ms. Loffstadt, a 42-year-old voice actor from South Yorkshire in Britain.

… At Archive of Our Own, a fan fiction database with more than 11 million stories, writers have increasingly pressured the site to ban data-scraping and A.I.-generated stories.

In May, when some Twitter accounts shared examples of ChatGPT mimicking the style of popular fan fiction posted on Archive of Our Own, dozens of writers rose up in arms. They blocked their stories and wrote subversive content to mislead the A.I. scrapers. They also pushed Archive of Our Own's leaders to stop allowing A.I.-generated content.

Betsy Rosenblatt, who provides legal advice to Archive of Our Own and is a professor at University of Tulsa College of Law, said the site had a policy of "maximum inclusivity" and did not want to be in the position of discerning which stories were written with A.I.

For Ms. Loffstadt, the fan fiction writer, the fight against A.I. came as she was writing a story about "Horizon Zero Dawn," a video game where humans fight A.I.-powered robots in a postapocalyptic world. In the game, she said, some of the robots were good and others were bad.

But in the real world, she said, "thanks to hubris and corporate greed, they are being twisted to do bad things."
(4) YOUR CHRIS BARKLEY HUGO PACKET. Chris M. Barkley has put links to the columns that will make up his entry in the packet here on Facebook.
I have submitted my selections of columns from File 770 for the 2023 Hugo Award Packet in the Best Fan Writer category. Although it will be a few weeks before the complete packet is released to members of the Chengdu World Science Fiction Convention to consider, I am pinning links to my columns from today until the close of voting period, September 30th.
(5) BUSINESS IS BOOMING. [Item by Steven French.] In advance of Oppenheimer hitting the cinemas, the Guardian presents its latest list, this time of 'best' films about the atomic bomb. Sadly there's no mention of 1950 Brit movie Seven Days Until Noon (which recently appeared on TV here in the U.K.) About a scientist whose moral qualms about the atomic bomb lead him to threaten the destruction of half of London, it won an Academy Award for writers Paul Dehn and James Bernard. Dehn was a well regarded poet and referred to by John LeCarre as an 'assassin' following his war service in the SOE. He went on to co-author not only the movie version of The Spy Who Came in From the Cold but also several of the Planet of the Apes sequels. "Streaming: the best films about the atomic bomb".
…But the legacy of the atom bomb, from its development to its impact to its all-round political aura, is a rich one, spanning everything from esoteric arthouse films to genre B-movies. For decades after the horrifying outcome of the Manhattan Project, through the long-lingering chill of the cold war, anxiety over nuclear warfare was the driving force behind any number of thrillers and war films. Comedies, sci-fi and even the odd film noir – see Robert Aldrich's blistering Kiss Me Deadly (1955; Internet Archive), which culminates in a literally explosive allegory – got in on the paranoia….
(6) GREGG T. TREND OBITUARY. Longtime fanzine fan Gregg T. Trend passed away in hospice this morning Sunday, July 16 his wife Audrey announced on Facebook.
A Detroit fan active since at least the early 1960s, Gregg attended the 1963 Worldcon, Discon 1. He was a member of the Wayne Third Foundation and edited some issues of its clubzine Seldon's Plan. He was a member and one of the OEs of MiSHAP.
The last time I saw him was during Renovation, the 2011 Worldcon, at the Faneds' Feast in the Purple Parrot coffee shop, attended by Ed and Sandra Meskys, Katrina Templeton, Andrew Porter, Cathy Lister-Palmer, Murray Moore, Mary Ann Moore, Gregg and Audrey Trend, me, Milt Stevens, Alan Stewart, Marcy Maliniewicz, Jerry Kaufman, Mike Ward.
Andrew Porter adds, "I bought a piece of his artwork on the sketch table at Discon 1 in 1963, my first Worldcon, and knew him for many decades."
(7) MEMORY LANE.
1971 – [Written by Cat Eldridge from a choice by Mike Glyer.]
R. A. Lafferty is the writer of our Beginning, so let's talk about him. A much loved writer in fandom with almost fifty Award nominations in over his fifty-year career (though only three Awards resulted — a Hugo at Torcon II for his "Eurema's Dam" along with a Phoenix Award and a World Fantasy Award for lifetime achievement.
I personally think that all of his fiction is worth a read but I'll single out The Devil is Dead trilogy as one of his better works. Also worth noting is that he was a first rate writer of short fiction as noted by his having thirty-five collections published. Yes, thirty-five.
Mike picked his Past Master novel. It was published by Rapp & Whiting fifty-five years ago. It was nominated at St. Louiscon for a Hugo and garnered Ditmar and Nebula nominations as well.
AT THE TWENTY-FIFTH HOUR
THE THREE big men were met together in a private building of one of them. There was a clattering thunder in the street outside, but the sun was shining. It was the clashing thunder of the mechanical killers, ravening and raging. They shook the building and were on the verge of pulling it down. They required the life and the blood of one of the three men and they required it immediately, now, within the hour, within the minute.
The three men gathered in the building were large physically, they were important and powerful, they were intelligent and interesting. There was a peculiar linkage between them: each believed that he controlled the other two, that he was the puppeteer and they were the puppets. And each was partly right in this belief. It made them an interlocking nexus, taut and resilient, the most intricate on Astrobe.
Cosmos Kingmaker, who was too rich. The Heraldic Lion.
Peter Proctor, who was too lucky. The Sleek Fox.
Fabian Foreman, who was too smart. The Worried Hawk.
"This is Mankind's third chance," said Kingmaker. "Ah, they're breaking the doors down again. How can we talk with it all going on?"
He took the speaking tube. "Colonel," he called out. "You have sufficient human guards. It is imperative that you disperse the riot. It is absolutely forbidden that they murder this man at this time and place. He is with us and is one of us as he has always been."
"The colonel is dead," a voice came back. "I am Captain John Chezem the Third, next in command."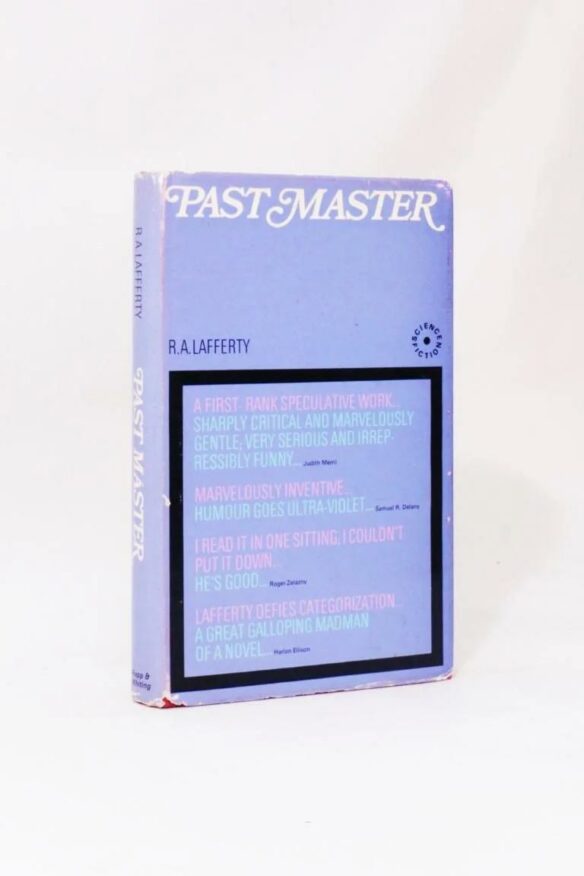 (8) TODAY'S BIRTHDAYS.
[Compiled by Cat Eldridge.]
Born July 16, 1882 — Felix Locher. He is considered the oldest Star Trek actor of all time by birth year, appearing in "The Deadly Years" episode. 0ther genre appearances included Curse of the Faceless Man, The Twilight Zone, Frankenstein's Daughter, The Munsters, House of the Damned, The Man from U.N.C.L.E. and Mission Impossible. His entire acting career was from 1957 to 1969. (Died 1969.)
Born July 16, 1928 — Robert Sheckley. I knew that his short story "Seventh Victim" was the basis of The 10th Victim film but I hadn't known 'til now that Freejack was sort of based of his Immortality, Inc. novel. I've read a lot by him with Bring Me the Head of Prince Charming (written with Zelazny) being my favorite work by him. Sheckley is very well stocked on the usual suspects. He had two Hugo nominations, at NYCon II for his "Spy Story" short story, and at Detention for his Time Killer novel. His Seventh Victim novel was nominated for a Hugo at the 1954 Retro Hugos at Noreascon 4. (Died 2005.)
Born July 16, 1929 — Sheri S. Tepper. I think I'm going to start with her Marianne Trilogy (Marianne, the Magus and the Manticore; Marianne, the Madam and the Momentary Gods; Marianne, the Matchbox and the Malachite Mouse) as her best work. Both the setting and the characters are unique, the story fascinating. Nominated for an Astounding Award way back when, she had a long career, so I'm going to note Beauty, The Gate to Women's Country, Six Moon Dance and The Companions as my favorites knowing very well that yours won't be the same. (Died 2016.)
Born July 16, 1956 — Jerry Doyle. Now this one was depressing. Dead of acute alcoholism at sixty, his character Michael Garibaldi was portrayed as an alcoholic, sometimes recovering and sometimes not on Babylon 5. (Died 2016.)
Born July 16, 1951 — Esther Friesner, 72. She's won the Nebula Award for Best Short Story twice with "Death and the Librarian" and "A Birthday". I'm particularly fond of The Sherwood Game and E.Godz which she did with Robert Asprin. She won the 1994 Edward E. Smith Memorial Award for Imaginative Fiction, for lifetime contributions to science fiction, "both through work in the field and by exemplifying the personal qualities which made the late 'Doc' Smith well-loved by those who knew him," presented by the New England Science Fiction Association. She's well stocked at the usual suspects.
Born July 16, 1963 — Phoebe Cates, 60. Ok, her entire genre appearance credit is as Kate Beringer in Gremlins and Gremlins 2: The New Batch. (Well and romantic fantasy Date with an Angel.) It's two films that I have an inordinate fondness for that the Suck Fairy cannot have any effect upon. She retired from film acting as she said there were no good roles and is doing theatre work.
(9) SOLDIER'S ICON. [Item by Susan de Guardiola.] Apparently Baby Yoda on body armor is becoming a thing in Ukraine, as shown on this volunteer of the Georgian Legion.
Also: "may feathers grow in the throats of our enemies" is a really excellent curse. No idea whether it's a Georgian thing or a cultural reference I'm just oblivious to.
(10) ACTRESS PROTESTS BODY SCAN TECH. "Snowpiercer Star Breaks Silence Over Body Scan Tech Used in Season 4" at MovieWeb.
In an industry where the boundary between reality and virtualization is increasingly blurred, a recent wave of controversy has hit the Hollywood sphere. A central figure in this ongoing discourse is none other than Lena Hall, the illustrious Tony Award winner and Grammy nominee, best known for her role in TNT's Snowpiercer.

On the cusp of the show's fourth season, Hall took a public stand on Twitter, lambasting the opaque nature of the utilization of full-body scan technology. The thespian recounted her experiences with the procedure, expressing her dismay at the lack of transparency and her perceived violation of consent.

Hall shared,

"So… Snowpiercer season 4 did a full body scan and full range of emotion capture of all the series regulars on the show not ever telling us the real reason why. NOW I know why and it's really disturbing because I didn't consent."

"P.S. they told us it was for special effects but were very vague!"
(11) SOUVENIR FROM SPACE. "French Woman Allegedly Hit By Meteorite While Having Coffee With Friends" at HotHardware. Daniel Dern sent the link with the quip, "I'm Not Having What She's Having."
… It's not every day that someone is hit by a meteorite while trying to enjoy a cup of coffee with friends. In fact, it is an extraordinarily rare occurrence for someone to be struck by a meteorite anywhere on their body. But such was the case for the woman in France recently, and if confirmed would be the first person on record to be struck by a meteorite in nearly 70 years.

"I heard a big 'Poom' coming from the roof next to us. In the second that followed, I felt a shock on the ribs. I thought it was an animal, a bat!" the lady proclaimed in an interview with the French newspaper Les Dernières Nouvelles d'Alsace (DNA). She continued, "We thought it was a piece of cement, the one we apply to the ridge tiles. But it didn't have the color."…
(12) WHAT HARM COULD AI DO? [Item by SF Concatenation's Jonathan Cowie.] Over at BBC Radio 4, there has been a series of short (14-minute) episodes on artificial intelligence. The latest episode concerns whether or not we can control AI? and has some SFnal references. "Can we control AI?"
When so-called "generative" Artificial Intelligences like Chat GPT and Google's Bard were made available to the public, they made headlines around the world and raised fears about how fast this type of AI was developing. But realistically, what harm could AI do to people? Is it an existential threat, or could it become one? And if things got really bad, couldn't we just switch it off or smash it up with a hammer?
(13) VIDEO OF THE DAY. Here's a trailer for a trailer for the new Beauty and the Beast adaptation: Belle.
Belle would do anything to save her ailing father. She journeys in search of a mythical rose believed to be a cure. As payment for the rose, she must surrender herself to a vicious beast and battle his spell.
[Thanks to Chris Barkley, Michael Toman, Cat Eldridge, Joyce Scrivner, Daniel Dern, Susan de Guardiola, SF Concatenation's Jonathan Cowie, Mike Kennedy, Andrew Porter, and John King Tarpinian for some of these stories. Title credit belongs to File 770 contributing editor of the day Daniel Dern.]
Update 07/17/2023: Replaced a photo of Gregg Trend. The one originally provided by Andrew Porter was of someone else.