Six suggestions from AudioFile Magazine of new and classic sff audiobooks for fans to enjoy this fall.
DON'T PANIC: Douglas Adams and The Hitchhiker's Guide to the Galaxy
by Neil Gaiman | Read by Simon Jones, Neil Gaiman [Intro.]
[Harper Audio]
If you're a superfan of Douglas Adams and The Hitchhiker's Guide To The Galaxy, you've likely already encountered this book, first written in 1987 (and revised several times since) by young journalist Neil Gaiman. However, with the narration of Simon Jones—who starred in the original Hitchhiker's radio drama—this audio version offers something new. The real joy comes when Jones gets the chance to perform script excerpts from various incarnations of Hitchhiker's—and play all of the parts.
ALLIANCE: Devotion Duology
by E.B. Bridenstine | Read by Kirby Heyborne
[Bridenstine Books] Winner of AudioFile Earphones Award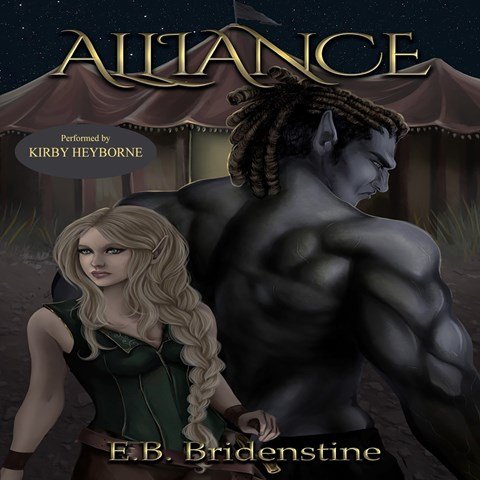 Kirby Heyborne narrates a captivating fantasy romance centered on an unlikely place: a magical circus in which creatures are forced to perform for humans. Elven Ranamayve, who stands out even among her kind, finds herself thrust into a world of brutality. But she finds solace in the warm heart of a half-orc named Bozek. Heyborne commands listeners' attention with a careful tone that captures the ear before unleashing a bevy of strange and wondrous accents, including the thundering voice of Bozek.
THE DEVIL IN AMERICA
by Kai Ashante Wilson | Read by Janina Edwards
[Macmillan Audio]
Narrator Janina Edwards's compelling tone draws listeners into Wilson's searing narrative as a family reckons with a supernatural legacy. Chilling events and mythology are interspersed with descriptions of historical events. As Easter and her family wield old magic against sinister forces, these elements illustrate how the evils of this story persevere into today's world. Immersive world-building heightens skilled characterizations of Easter's loving, courageous family and friends, the fervently whispering Angels, and the slippery, unyielding Devil.
MALORIE
by Josh Malerman | Read by Cassandra Campbell
[Random House Audio]  Winner of AudioFile Earphones Award
Narrator Cassandra Campbell exquisitely evokes the existential dread that permeates Malerman's well-wrought follow-up to his popular sci-fi suspense novel, BIRD BOX. America remains rife with creatures that drive viewers insane. Blindfolded and hooded, Malorie has kept her now-teenage children safe for 16 frightening years. Campbell's vivid audio portraits of fierce Malorie, rebellious Tom, and conflicted Olympia heighten the drama and draw listeners into a story that takes place as much inside the protagonists' heads as in the action.
THE SANDMAN
by Neil Gaiman, Dirk Maggs [Adapt.] | Read by Riz Ahmed, Kat Dennings, Taron Egerton, Neil Gaiman, James McAvoy, Samantha Morton, Bebe Neuwirth, Andy Serkis, Michael Sheen, and a Full Cast
[Audible, Inc.]   Winner of AudioFile Earphones Award
James McAvoy leads an all-star cast in narrating this magnificent audio adaptation of Neil Gaiman's iconic graphic novel series, The Sandman. McAvoy, who portrays Morpheus, the King of Dreams, leans hard on his polished English accent, the embodiment of the Brits' determination to keep calm and carry on—no matter what. As listeners are swept up in a saga, special mention goes to the production staff. The sound effects are immersive, and there is a wonderful cinematic score. Listeners won't be able to pause once they hit play.
TROUBLE THE SAINTS
by Alaya Dawn Johnson | Read by Shayna Small, Neil Shah
[Macmillan Audio]
Narrators Shayna Small and Neil Shah transport listeners to 1940s New York in this dark fantasy set against a backdrop of racial tension and brewing war. In a world in which people of color are sometimes born with magical powers that manifest through their hands, three characters struggle to survive in the city's seedy underbelly. Small portrays Phyllis, a Black woman whose hands make her a master assassin. Shah is equally outstanding as her lover, Dev, an Indian man whose hands sense threats. His tone is lighter and often tinged with longing and humor. This audiobook is a fully immersive experience.
---
"Best New Sci-Fi & Fantasy Audiobooks Summer 2020" was curated by AudioFile. AudioFile is an independent source of audiobook reviews and recommendations with a clear focus on the performance and listening experience.