(1) SUPERMAN MOTTO CHANGED. The motto associated with Forties radio Superman, and the George Reeves TV show, and sporadically used since then, has been swapped for something else. The Daily Beast has the story: "DC Comics Changes Superman Motto, Swaps 'American Way' With 'Better Tomorrow'". Normally one would say "something new", except this sounds like it was lifted from old GE advertising.
After more than 50 years of upholding "truth, justice, and the American way," Superman is changing his motto.

The superhero will now stand for "truth, justice, and a better tomorrow," DC Comics announced during its DC FanDome event Saturday. In a press release, the company said the motto will "better reflect the global storylines that we are telling across DC."

"Superman has long been a symbol of hope who inspires people from around the world, and it is that optimism and hope that powers him forward with this new mission statement," Jim Lee, the company's publisher and chief creative officer, said….
Hard as it is to believe, alt-right Bounding Into Comics does not yet have a post up about the change.
(2) HOLLYWOOD AGREEMENT AVERTS STRIKE. AP reports "Strike dodged with deal between film and TV crews, studios". Details of the new contracts were not immediately revealed.
An 11th-hour deal was reached Saturday, averting a strike of film and television crews that would have seen some 60,000 behind-the-scenes workers walk off their jobs and would have frozen productions in Hollywood and across the U.S.

After days of marathon negotiations, representatives from the International Alliance of Theatrical Stage Employees and from the studios and entertainment companies who employ them reached the three-year contract agreement before a Monday strike deadline, avoiding a serious setback for an industry that had just gotten back to work after long pandemic shutdowns.

Jarryd Gonzales, spokesman for the Alliance of Motion Picture and Television Producers, which represents the studios and other entertainment companies in negotiations, confirmed the agreement to The Associated Press.

The union's members still must vote to approve the tentative agreement….
(3) THE JURY IS IN. In the "2021 Hugo Short Story Panel of Awesomeness", Hugos There podcaster Seth Heasley is joined by Cora Buhlert, Ivor Watkins, Alan Bailey, Lise Andreasen, Sarah Elkins, JW Wartick, Lori Anderson, Haley Zapal, and Amy Salley to discuss the 2021 nominees for the Hugo Award for Best Short Story. (The podcast version is here.)
(4) EATING THE FANTASTIC. Scott Edelman invites listeners to join the marvelous Sam Maggs for drinks on episode 156 of his Eating the Fantastic podcast.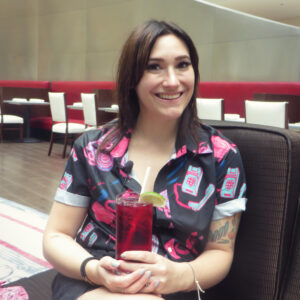 This time around, you'll get to eavesdrop on my chat with Sam Maggs, a writer with whom I share an artistic bond, even though we're from entirely different generations of comic book creators.

That's because Sam wrote the adventures of the she/her Captain Marvel in 2019 — 42 years after I wrote about he/him Captain Marvel in 1977. She's also written comics about Jem and the Holograms, Rick & Morty, My Little Pony, Transformers, and Invader Zim. She's published pure prose as well, including her first book The Fangirl's Guide to the Galaxy, and the young adult novel The Unstoppable Wasp: Built on Hope. Her games writing includes Spider-Man: The City that Never Sleeps, Ratchet & Clank: Rift Apart, and many others.

We discussed the Stargate SG-1 convention that was her gateway drug for fandom, why her debut comic book story turned out to be a Star Trek tale, the way the arcs of our careers ran in completely opposite directions, what it was like releasing six books during a pandemic, how The Fangirl's Guide to the Galaxy was born though complete serendipity, the audition that got her the gig to write an Unstoppable Wasp novel, how she dreamed up her pitch for Captain Marvel, and much more.
(5) OFFICE IN THE OBSERVATORY. Brother Guy Consolmagno appears this week in Nature's "Where I work" feature, including a photo of him peering through an antique telescope.
SF Concatenation's Jonathan Cowie sent the link, proud to remember Brother Guy is someone with whom he'd in the past (years ago) appeared with on a Worldcon panel:
(6) RUN THE NEBULA CONFERENCE. SFWA says "We Need You! SFWA is Hiring a Nebula Conference Manager!". Full guidelines at the link.
The SFWA Nebula CPM would be responsible for all project management activities associated with the annual SFWA Nebula Conference. In 2022, the organization will be offering a hybrid model of the conference, with both an online component and in-person event. The CPM would be leading the entire 2022 Conference, supervising and working closely with the online conference project manager. 
(7) NO HOLDING BACK. Tim Kirk shared Harlan Ellison's special coffee recipe in a public post on the Harlan Ellison Facebook Fan Club page.
Back in the 1970s I made numerous trips up to Ellison Wonderland. Harlan had asked me to illustrate "The Last Dangerous Visions," and I spent many Saturdays reading manuscripts in his living room; and I drank many cups of a delicious coffee mixture Harlan had concocted himself: "Cafe' Ellison Diabolique." This recipe was published in Anne McCaffrey's very entertaining collection of recipes by SF and fantasy authors, "Cooking Out of This World" (Ballantine Books 1973). Harlan left out one Mystery Ingredient, which he later revealed to me: Ovaltine. Pictured here is the official Little Orphan Annie Ovaltine Mug that Harlan gave me….
(8) SPEAKEASY. In the Washington Post, Steven Zeitchik says that AI has advanced to the point that instantaneous translation of films is possible leading to a future without dubbing and subtitles. "Every movie and TV show could soon be dubbed into any language you want".
… Traditional dubbing often works like this. A studio or local distributor, having decided it wants a local-language release, pays to translate a script, hire a set of voice actors to play the characters, rent out engineering equipment, put the actors through numerous voice takes, record them and then splice their readings back into the original video — a mighty grapple to achieve a smooth final product. The whole process can take months.

Auto-dubbing can work like this. The original actor records five minutes of random text in their own language. Then the machines take over: A neural network learns the actor's voice, a program digests that vocal information and applies it to a digital translation of the script, then the AI spits out perfectly timed lines from the film in the foreign language and drops them into the action. The whole process could take weeks…
(9) RECLASSIFIED? [Item by Martin Morse Wooster.] The first argument I've seen that Dhalgren is a horror novel. Andy Marino in "Under Your Skin: The Horror of the Inexplicable" on CrimeReads.
Consider the moment you wake from a nap into disorientation so pure, the first thing you see when you open your eyes—a lamp, a windowsill—is distorted and unfamiliar. You glitch. Draw a blank.

Imagine a distillation of this perception as an elusive high. I'd argue that the kind of fiction that bottles up this feeling and pours it down your throat is more terrifying than any haunted house, vengeful ghost, or Little Kid Who Sees Things.

That's not to say that the time-honored elements of horror can't be used to great and satisfying effect, or reconfigured into something wholly fresh. I'm not one to mess with the staples that make up so much of the horror I love. But it's the off-kilter portrayal of the mundane, where reality comes unstitched in a vaguely sickening way, that really gets under your fingernails and lays its quivering eggs….
(10) MOUDRY OBIT. Southern fan Joe Moudry died October 15 reports Guy H. Lillian III. Moudry was a member of many amateur press associations (apas) over the years – the Southern Fandom Press Alliance (SFPA, where he once served as Official Editor), PAAPA, the Hyborian Legion, PEAPS, and was a member of the Esoteric Order of Dagon and its Official Editor in 1981.
(11) MEDIA BIRTHDAY.
1950 – Seventy-one years on this day, C.S. Lewis' The Lion, the Witch and the Wardrobe was  first published in the United Kingdom by Geoffrey Bles who would publish the first five of this series.  It is the first published and best known of seven novels in The Chronicles of Narnia. Among all the author's books, it is also the most widely held in American and British libraries. It would be illustrated by Pauline Baynes who would later do the artwork for some of Tolkien's work.  It was extremely popular, despite the fears of the publisher that it wouldn't be, from the moment it was published, and has remained so to this day. The movie of sixteen years vintage also enjoys an equally popular reception with a box office just behind Revenge of the Sith, and audience reviewers at Rotten Tomatoes currently giving it an eighty percent rating. 
(12) TODAY'S BIRTHDAYS.
[Compiled by Cat Eldridge.]
Born October 16, 1854 — Oscar Wilde. Writer, Journalist, Playwright, and Poet from Ireland whose only novel, The Picture of Dorian Gray, has been translated into more than a dozen languages, made into countless radio plays, musicals, TV films and movies — the 1945 version of which was awarded a Retro Hugo at CoNZealand — and had enduring influence on modern popular culture as an examination of morality. His long list of short fiction credits includes some fairy tales and genre stories, of which the best known is "The Canterville Ghost", which has likewise undergone a copious number of translations and adaptations into various media. (Died 1900.)
Born October 16, 1925 — Dame Angela Brigid Lansbury, 96. She first shows up in a genre work as Sibyl Vane in The Picture of Dorian Gray. A few years later, she's Queen Anne of France in The Three Musketeers. Somewhat later, she's Miss Eglantine Price in Bedknobs and Broomsticks. She voices Mommy Fortuna in The Last Unicorn, and is Granny in A Company of Wolves which won the  BSFA Award for Best Film and it's based off Angela Carter's A Company of Wolves. And yes she's in Mary Poppins Returns as The Balloon Lady. And I'll toss in the stage production of The King and I where she was Anna Leonowens as that was at least genre adjacent.
Born October 16, 1940 — Barry Corbin, 81. Actor whose face will be familiar from his many character roles — frequently as gruff military officers or crusty eccentrics — including those in genre movies WarGames, My Science Project, Ghost Dad, Race to Space, Dawn of the Crescent Moon, Curdled, Critters 2, and Timequest, which appears to be an uncredited version of Greg Benford's Timescape (which provided the name for the Pocket Books line of science fiction novels helmed by David G. Hartwell in the early 1980s). He narrated Moon Shot: The Inside Story of America's Race to the Moon, based on the book by Mercury Seven astronaut Alan Shepard.
Born October 16, 1956 — Mary Elizabeth McGlynn, 65. Aside from appearing on Xena: Warrior Princess, Star Trek: Voyager, and Quantum Leap, she's lent her voice acting to The Avengers: Earth's Mightiest Heroes, Ghost in the Shell: Stand Alone Complex, Naruto, X-Men, and Bleach to name but a few of her roles. She was a Guest of Honor at Anime Expo 2007, Long Beach.
Born October 16, 1963 — Glenn Glazer, 58. Conrunner and Fan who has been on the concoms for many Worldcons and regional conventions, chaired a Smofcon and a Westercon, and was one of three vice-chairs for Sasquan, the 2015 Worldcon. He has been involved in a number of APAs, including SWAPA, Mutations, The Calling, LASFAPA, APA-69, and APA-FNORD.
Born October 16, 1971 — Lawrence Schimel, 50. Writer, Editor, Poet, and Translator. He is a founding member of The Publishing Triangle, an organization promoting fiction by LGBTQ authors and/or with LGBTQ themes, which inform many of his short fiction works. He has edited, mostly in collaboration with Martin H. Greenberg, at least 10 anthologies. His solo anthology, Things Invisible to See, and one of his short fiction collections were both recognized with Lambda Award nominations, and his speculative poetry has garnered a Rhysling Award nomination and a win. 
Born October 16, 1917 — Claire Necker. This might be going a little astray from genre birthdays but I think not, given most of us have SJW creds. A librarian by trade, she wrote a number of feline related academic works including The Natural History of Cats, Supernatural Cats: An Anthology which includes writers such as Fritz Lieber and H.P. Lovecraft , Four Centuries of Cat Books and Cat's Got Our Tongue which is are feline cantered proverbs. She unfortunately has not made into the digital realm. (Died 2010.)
Born October 16, 1973 — Eva Röse, 48. Most likely best known for her role as the android Niska in Season 1 of the Swedish Äkta människor  (Real Humans) upon which AMC's Humans was based. She also was one of the voice cast for the animated Creepschool series, and was Jasmie on The Befallen, a supernatural series that lasted one season there. 
(13) COMICS SECTION.
Speed Bump shows a famous monster with a terrible problem.
(14) GACHAPON. "A Tiny Gas Meter? The More Mundane the Better for Japan's Capsule Toys" says the New York Times.
… Isolated in their plastic spheres, the tiny reproductions feel like a metaphor for Covid-era life. On social media, users — as gachapon designers insist on calling their customers — arrange their purchases in wistful tableaus of life outside the bubble, Zen rock gardens for the 21st century. Some have faithfully recreated drab offices, outfitted with whiteboards and paper shredders, others business hotel rooms complete with a pants press.

For Mr. Yamanishi, whose company, Toys Cabin, is based in Shizuoka, not far from Tokyo, success is "not about whether it sells or not."

"You want people to ask themselves, 'Who in the world would buy this?'" he said.

It's a rhetorical question, but in recent years, the answer is young women. They make up more than 70 percent of the market, and have been especially active in promoting the toys on social media, said Katsuhiko Onoo, head of the Japan Gachagacha Association. (Gachagacha is an alternative term for the toys.)…

The products are not particularly profitable for most makers, but they offer designers a creative outlet and find a ready customer base in a country that has always had a taste for whimsy, said Hiroaki Omatsu, who writes a weekly column about the toys for a website run by the Asahi Shimbun, a Japanese newspaper.

"Creating gachapon for adults is all about devoting yourself to making something that's worthless," he said. "'This is ridiculous' is the highest form of praise."
(15) TODAY'S TIME TRAVEL FAQ. Courtesy of Keaton Patti.
I was going to have to revoke the previous joke til I confirmed he wasn't talking about Gene Wolfe in this tweet —
(16) ZERO SUM GAME. Eater reports on how a "Robot Cafe Considers Itself Pro-Worker by Not Hiring Any Workers".
Despite fully automated luxury communism sounding pretty sweet, Western workers have mostly felt haunted the specter of our jobs being taken by robots. Take RC Coffee, Canada's first "robotic cafe," aka an "unattended espresso machine," which is basically a glorified version of whatever spat sludge and foam into a cup for five quarters in your college dorm's lounge. But it is probably aware of that association, and the fear that kiosks like it could actually replace a barista, so it's trying a new tactic; robots as pro-worker….
(17) FESS UP. They'd still like to get it back. "Rock. Paper. Pranksters." At University of Oregon's "Around the O."
OK, mystery pranksters. It's been 43 years since the Great Halloween Meteorite Caper of '78. Your identities have never become widely known. Time to come forward.

Halloween night that year, a group calling itself the Meteorite Cleaning Service staged a distraction at Prince Lucien Campbell Hall. "A strangling man appeared to be hanging from a window of PLC. Campus security went to investigate only to discover the man was in fact a balloon, a shirt, and some pants," student reporter Jock Hatfield wrote in the Oregon Daily Emerald.

While campus security responded to PLC, the pranksters headed to the Museum of Natural History, then located in what is now Pacific Hall. Their target was on display out front: a life-size, plaster-and-chicken-wire replica of the sixth-largest meteorite found on Earth, the Willamette Meteorite or "Tomanowos," as named by the Clackamas people.

The next day, "it was immediately evident the meteorite replica was gone," remembers Alice Parman, then the museum director. Eight hundred pounds of mock rock, 12 feet wide and 6 feet tall, gone, leaving nothing but questions: Why? How? And who?…
(18) CHINA SENDS CREW TO THEIR SPACE STATION. [Item by Mike Kennedy.] "China launches 6-month crewed mission as it cements position as global space power" reports CNN. Crew includes Wang Yaping, first female taikonaut on the station and first scheduled to do a spacewalk.
China launched a three-person crew into space in the early hours of Saturday — a major step for the country's young space program, which is rapidly becoming one of the world's most advanced.

The three astronauts lifted off on the Shenzhou-13 spacecraft just past midnight local time, launched by a Long March 2F rocket from the Jiuquan Satellite Launch Center in the Gobi Desert, located in Inner Mongolia.

They will dock at China's new space station, Tiangong (which means Heavenly Palace), six and a half hours after launch. They will live and work at the station for 183 days, or just about six months — the country's longest mission yet….
(19) WOOF, WOOF, BANG, BANG. [Item by Mike Kennedy.] While they look like cousins, don't confuse this robodog with Boston Dynamics' Spot. The much-less-aptly-named canid-like bot Vision 60 is made by Ghost Robotics out of Philly. A version of Vision has been demonstrated carrying a sniper rifle, albeit one that is aimed and fired by a remote operator. Unarmed versions of Vision 60 have been used in military exercises. The article doesn't address whether Ghost Robotics has any customers for the armed version. "Welp, Now We Have Robo-Dogs With Sniper Rifles" at Popular Mechanics.
Science fiction has seeped into science reality this week, as a robotics company showed off its sniper rifle-equipped robo-dog at the Association of the U.S. Army's annual convention in Washington, D.C.

Sure, the quadruped robot might resemble a good boy, but it's packing a built-in sniper rifle capable of engaging targets from three-quarters of a mile away. The service could operate this robotic weapon system remotely. Importantly, it would only engage targets with permission from a human being….
(20) VIDEO OF THE DAY. "Extent" is an sff short film distributed by DUST.
Time stands still as two old friends attempt to grapple with a question that defines their very existence. If you could live forever, would you?
[Thanks to John King Tarpinian, Andrew Porter, Michael Toman, Rich Lynch, Cora Buhlert, SF Concatenation's Jonathan Cowie, Jeffrey Smith, Cat Eldridge, Mike Kennedy, Martin Morse Wooster, and JJ for some of these stories. Title credit belongs to File 770 contributing editor of the day Rob Thornton.]