Editor's Note: My ISP took the site down for several hours to do database maintenance. I was notified earlier today it would happen and put the info in a comment, however, I doubt many people saw it. We're back now!
(1) HOW TO SUCCEED AS A PANELIST Delilah S. Dawson's thread "So You're On Your First Panel As A Writer" tells participants how to sharpen their skills. Thread starts here.
(2) RINGING THE REGISTER. "How Many Copies Did Famous Books Sell in the First Year?" LitHub says from two to two million. Here's the number for the first genre work on their list –
Aldous Huxley, Brave New World (1932): 13,000 copies (UK); 15,000 copies (US)
(3) STOP THAT TRAIN. The New York Times says the Justice Department lawsuit is supported by The Authors Guild and PEN America: "2 Big Book and Magazine Printers Face Suit to Block Their Merger".
In a lawsuit filed last week in federal court in Chicago, the Justice Department asked for a halt to Quad/Graphics's planned $1.4 billion purchase of LSC Communications. Lawyers in the department's antitrust division argued that the merger would decrease competition and drive up prices.

Quad publishes every Condé Nast title, including The New Yorker and Vogue, most publications from Hearst Magazines, including O: The Oprah Magazine, and Scholastic books. LSC Communications publishes two magazines from AARP that claim to have the largest circulations in the world, Penguin Random House books and more.

…In its attempt to block the deal, the Justice Department had two allies from the community of writers: The Authors Guild and PEN America. "The lack of competition among book printers has already caused a bottleneck and increased publishing costs, and a merger between these two companies could exacerbate this situation by creating a monopoly," the Authors Guild said in a statement in March.

That same month, the Authors Guild and PEN America joined the Open Markets Institute, an antitrust think tank based in Washington, in sending a letter to the Justice Department recommending that the merger be blocked.

It was imperative that the government act, the letter said, because magazines and books "are fundamental to the ability of citizens to freely express and share their thoughts, ideas, opinions and works of art."
(4) ROCKET'S RED GLARE. ScienceFiction.com learned "Marvel Monsters REALLY Want Lady Gaga To Voice Rocket Raccoon's Love Interest In 'Guardians Of The Galaxy, Vol. 3'" and kicks off its coverage with a referential pun:
Are Marvel fans a "Shallow" lot?  They are lobbying hard for James Gunn to cast Lady Gaga as the voice of Lylla, a sentient otter from the comic books who winds up being the love interest of Rocket Raccoon, who is voiced by Bradley Cooper in the movies.  This is after Film Updates posted a tease on Twitter that Gaga was under consideration, and that Lylla was "set to make an appearance" in Gunn's upcoming 'Guardians of the Galaxy, Vol. 3'.
(5) DESTROYING THE INTERNET. On reason.com, Mike Godwin of the R Street Institute, in "What If Widespread Disinformation Is the Solution to Fake News?" interviews Neal Stephenson about his idea, expressed in Fall, that the solution to fake news on the Internet is to hire people to perform "libel service," flooding the Net with so many slanderous articles about a subject that no one could believe anything on the Net about a particular person.
I confess I haven't yet finished Stephenson's latest 800-plus-page tome, which so far might be characterized, although not necessarily captured, by the term "near-future dystopia."  But when I came across Stephenson's depiction of how automated disinformation could actually remedy the damage that internet-based "doxxing" and fake news inflict on an innocent private individual, I paused my reading and jumped down the rabbit hole of tracing this idea to its 1990s roots. 

…This whole chapter rang many bells for me, not least because it paralleled a discussion I had with a law professor at a conference last year when I pitched the idea of a "libel service." Basically, you'd hire a "libel service" to randomly defame you on the internet, so that whenever anyone says something bad about you on Twitter or Facebook, or in the comments area of some newspaper, you could just say "that's probably my libel service." No one would know whether the defamatory statements were true or not, and people would be predisposed to doubt anything too terrible that's said about you.
(6) MARVEL ONE-ACT PLAYS. Samuel French and Marvel Entertainment have launched Marvel Spotlight, a collection of one-act plays "telling the stories of ordinary people doing extraordinary things."
Developed specifically for teenagers, these one-act plays star the iconic Super Heroes Ms. Marvel, Thor, and Squirrel Girl. The scripts are now available for purchase as well as licensing within the educational theatre market at MarvelSpotlightPlays.com.
Here's the abstract for Mirror of Most Value: A Ms. Marvel Play:
Kamala attempts to boost Ms. Marvel's fledgling super hero profile by writing her own fan fiction. But when building a fandom becomes an obsession, Kamala's schoolwork and relationships begin to suffer. To become the Jersey City hero of her dreams, Kamala must learn to accept herself just as she is – imperfections and all.
(7) ALL BRADBURY ALL THE TIME. Camestros Felapton points out the connections between Bradbury's fiction and the Elton John biopic: "The Rocket Man versus Rocketman".
Both the song and story feature a man who pilots an interplanetary rocket as a routine job that takes him away from his family for large stretches of time. However, the song places the perspective with the pilot (the titular rocket man) but the story focuses on the feelings and experiences of the pilot's son.

Bradbury is such a powerful writer. Even though the sci-fi trappings of the story are of the gee-whiz 1950s style shiny technology, the story itself is focused on emotional connections and that signature Bradbury sense of the past and memory.
(8) TODAY IN HISTORY.
June 25, 1953 — Robot Monster debuted — the one where the guy in the gorilla suit wore a divers helmet with antennae.
June 25, 1965 — Dr. Who And The Daleks was released in London. The film featured Peter Cushing as Dr. Who. Cushing would do one more film, Daleks' Invasion Earth 2150 A.D. a year later.  Cushing was the First Doctor, so Roberta Tovey was cast as his granddaughter. 
June 25, 1975 — Rollerball premiered
June 25, 1982 — Blade Runner arrived in theaters.
(9) TODAY'S BIRTHDAYS.
[Compiled by Cat Eldridge.]
Born June 25, 1903 — George Orwell. Surprised to learn he only lived to be forty-seven years old. Author obviously of Animal Farm and 1984, both of which I read a long time ago. Best use of the 1984 image goes to Apple in their ad where a female runner smashes the image of Big Brother. (Died 1950.)
Born June 25, 1925 — June Lockhart, 93. Maureen Robinson on Lost in Space which amazingly only ran for three seasons. She has a number of genre one-offs including Voyage to the Bottom of the Sea, The Man from U.N.C.L.E., The Greatest American Hero and Babylon 5. She appeared in the Lost in Space film as Principal Cartwright. 
Born June 25, 1935 — Charles Sheffield. He was the President of the Science Fiction and Fantasy Writers of America and of the American Astronautical Society. He won both the Nebula and Hugo Awards for his novelette "Georgia on My Mind," and a John W. Campbell Memorial Award for Best SF Novel for Brother to Dragons which is an amazing read. Much of his fiction is in his Heritage Universe series; the linked short stories of space traveller Arthur Morton McAndrew are a sheer comic delight. (Died 2002.)
Born June 25, 1956 — Anthony Bourdain. That's a death that hit me hard. Partly because he's round my age, partly because, damn, he seemed so interested in everything that I couldn't conceive him committing suicide. And yes, he was one of us with three works to his credit: Get Jiro!,  (with Joe Rose and Langdon Foss), Get Jiro: Blood and Sushi (with Joe Rose and Ale Garza) and Hungry Ghosts (with Joel Rose, Alberto Ponticelli, Irene Koh, Paul Pope). The first two are on DC, the latter's on Berger Books. (Died 2018.)
Born June 25, 1960 — Ian McDonald, 59. Now here's an author that I've read a lot of starting with his first novel, Desolation Road, and following through to his most recent, The Luna series. I do have favorites — Desolation Road and the other Mars novel, Ares Express, plus the Everness series are the ones I like the best. Chaga I think is the one I need to read again as I was annoyed by it the first time. 
Born June 25, 1981 — Sheridan Smith, 38. She makes the Birthday list for being Lucie Miller, a companion to the Eight Doctor in his Big Finish audio adventures starting in 2006 and running through at least this year. Her only video genre work was being in The Huntsman: Winter's War as Mrs Bromwyn.
(10) WHAT A KINDNESS. Actor Michael Sheen answered a request in character as Aziraphale:
(11) STAN LEE NOVEL COMING. Per Entertainment Weekly, "Stan Lee's posthumous project A Trick of Light to be published as a book".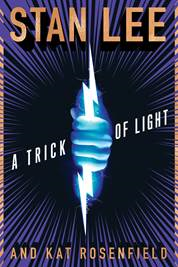 Stan Lee's posthumous creative project A Trick of Light, initially announced as the beginning of a new series for Audible, will be published as a hardcover finished book this fall, EW has learned exclusively. The book will be classified as Lee's first-ever novel for adult readers, and marks the first foray into his new Alliances universe, which was created in partnership between Stan Lee's POW! Entertainment, Ryan Silbert's Origin Story, and Luke Lieberman. Houghton Mifflin Harcourt is set to publish A Trick of Light, with Kat Rosenfield serving as co-author.
A Trick of Light is a superhero origin story about the unlikely friendship between Cameron, a gifted young man struggling with newfound fame after a freak accident gives him the ability to manipulate technology with his mind, and Nia, a hacker and coding genius with a mysterious past. The two must combine their powers to fight the dangerous physical and online forces threatening to wipe out the human race. Audible's original launches June 27; it's narrated by Grown-ish star Yara Shahidi.
… The novel version publishes on Sept. 17, 2019, and is available for pre-order.
(12) THE FLEET. Ethan Mills is finally won over to Chambers' series, as he explains in "Space Chillwave, Not Space Opera: Record of a Spaceborn Few by Becky Chambers" at Examined Worlds.
The setting was really interesting and philosophically fruitful: a fleet of generation ships dating back to a time before contact with aliens who possess advanced technology that made generation ships useless.  Instead of traversing the inky depths of interstellar space, the Fleet orbits a planet.  Still, the people continue to live there.  Why? It's complicated.  But it prompts the existential question: What are we, the readers, doing on a rock hurtling through space heading nowhere in particular, destined to die?  It starts off subtle but it all gets pretty deep (we're talking meaning-of-life type stuff, some of it – damn it – coming from the angsty teen).  This really surprised me considering a lot of the novel feels pretty… light and fluffy.  You could totally read this as a light and fluffy space romp and enjoy it just fine, but there are depths if you're willing to look into the subtleties.
(13) WILLITS TRIBUTE. Alan White's Skyliner #7 is a wonderful collection, even if it is "a sad one, being dedicated to the late, great Malcolm Willits, Author, Fannish Mogul, Citizen Kane of Mickey Mouse, and one of the early fen who actually did something worthy of the fannish pantheon." It includes long autobiographical pieces, such as "Gottfredson and Me" about Willits' appreciation for the artist who produced Disney's Mickey Mouse comics.
I have long loved Floyd Gottfredson, even though I did not know his name. But I knew him through his work, through his wonderful Mickey Mouse stories, and especially through his wonderful artwork. I knew it first through the Big Little Books, those miniature jewels that came out during the Depression and reprinted Mickey's great adventures. I remember them from the ten cent store; whole counters full, all spine out and a dime apiece

A few years later all my Big Little Books disappeared, along with the comic books I had carefully protected from the wartime paper drives, thereby prolonging World War II a microsecond. My father was a YMCA Secretary, and he had given all of them to the children of Japanese-American families being relocated to internment camps. In vain was my protest that the 10¢ war stamp I purchased each week in the 2nd grade was sacrifice enough. Nor was my offer to substitute my school books even considered. I soon found myself in a staging area looking at sad-eyed Japanese-American children being held in wire cages. Dad informed me they were as American as I. It was then I began to suspect his grasp of world affairs. Didn't he know who Captain America was fighting; had he slept through that Don Winslow serial we had seen a week or two before and neglected to notice who the villains were? But I acted properly contrite and was rewarded with some new comic books on the way home, so the world turned bright again. When my father turned 90, he was honored for his work with the Japanese-Americans during World War II. My contribution remains unheralded.

…Do artists such as Carl Barks and Floyd Gottfredson really need their friends? John W. Campbell, legendary editor of astounding science-fiction once said that if all the fans stop buying his magazine he would never know. He meant the fans that filled the letter columns, attended the conventions, published the fanzines, and badgered the authors. They probably compromise 1% of the readership, and 90% of the headaches. By being so vocal they could manage from orbit the general policies of the magazine that were keeping the rest of the readership contented. Yet where would Barks and Gottfredson be today if it were not for the godsend that two fans, Bruce Hamilton, and Russ Cochran, we're born to collect and publish the works of these two artists? How difficult it would be to place a historical perspective on them without the pioneering works Tom Andrae, Donald Ault, Bill Blackbeard, Geoffrey Blum, Barbara Botner, Mark Evanier, Alan Dean Foster, Bob Foster, Frank & Dana Gabbard, Gottfreid Helnwein, Gary Kurtz, George Lucas, Leonard Maltin, John Nichols, Tor Odemark, Mark Saarinen, Horst Schroeder, David Smith, Kim Weston, myself, Mark Worden, and many others both here and abroad.
(14) THE HORROR OF IT ALL. Nick Mamatas' affection for the Lovecraftian storytelling style is manifest in his review of "Toy Story 4", a post made public to encourage readers to sign up for his Patreon.
…The uncanny and the unworthy populate the film. Woody, ignored by his new owner, feels valueless and thus assigns himself the task of attempting to keep Forky alive. The antagonists are antique store dolls–there a Chatty Cathylike figure whose voice box was damaged at her creation, so her pull-cord "I love you!" sounds like a twisted dream calling forth from the bottom of a tar pit. She commands a quartet of ventriloquist dummies who cannot speak and who do her bidding while flopping around on their twisted limbs. She desires Woody's innards for her own….
(15) ASTRONAUT HEIRLOOM. All kinds of things are going under the hammer during The Armstrong Family Collection III Space Exploration Auction (July 16-18) – even "Neil Armstrong's Childhood Toy Teddy Bear Directly From The Armstrong Family Collection".
(16) TRANSPORTATION SENTENCES. Felicity McLean explores "Australian Gothic Literature" at CrimeReads.
Of course the Germans have a wonderful word for 'Gothic novel'. Schauerroman. Literally: "shudder-novel". A story that makes you shiver with fear. Because Gothic is the literature of the menacing and the macabre.

It's the stuff of nightmares.

But how does such a dark art translate in sunny Australia? How do you cause your readers to shiver when the temperature sits stubbornly above 80 degrees?

Gothic influence has been loitering creepily in Australian literature ever since European settlement. In 1788, when the British began shipping their convicts to Australia, Horace Walpole's The Castle of Ontranto had recently been published in England and so the British transported the Gothic mode along with their very worst criminals.
(17) DEADLY TROPE. Also at CrimeReads, Caroline Louise Walker analyzes "Why Doctors Make for the Most Terrifying Villains in Fiction".
SIR WILLIAM GULL in From Hell, by Alan Moore (art by Eddie Campbell)

In Moore's brilliant graphic novel, we're asked to bend all we know about a serial killer we all know: Jack the Ripper. The details and research embedded in the conspiracy theory that unfolds are haunting, staggering, and so well done. If the infamously gruesome homicidal maniac was one and the same as a highly respected royal physician, then we must consider who we are trusting with our lives, and why.
(18) ON THE CLOCK. Details on the Falcon Heavy's key payload: "Nasa puts up deep-space atomic clock".
Nasa has put a miniaturised atomic clock in orbit that it believes can revolutionise deep-space navigation.

About the size of a toaster, the device is said to have 50 times the stability of existing space clocks, such as those flown in GPS satellites.

If the technology proves itself over the next year, Nasa will install the clock in future planetary probes.

The timepiece was one of 24 separate deployments from a Falcon Heavy rocket that launched from Florida on Tuesday.

The other passengers on the flight were largely also demonstrators. They included a small spacecraft to test a new type of "green" rocket fuel, and another platform that aims to propel itself via the pressure of sunlight caught in a large membrane; what's often called a "lightsail".

But it is the mercury-ion atomic clock, developed at Nasa's Jet Propulsion Laboratory (JPL), which has had most attention.
(19) REMOTE LAB. "'Jet in a box' powers remote Halley Antarctic base" – article resonates with discussions about whether we should ever send crews rather than robot labs to other planets.
The UK has managed to get one of its major Antarctic bases operating in an automatic mode for the first time.

Halley base, on the Brunt Ice Shelf, is remotely running experiments that include the monitoring of the ozone layer and of "space weather".

The station would normally be crewed year-round, even through the permanent darkness of winter.

But staff have had to be withdrawn because of uncertainty over the stability of nearby ice.

A giant berg the size of Greater London is about to break away from the Brunt, and officials from the British Antarctic Survey (BAS) consider it prudent to keep people away from the area, at least until the light and warmth of summer returns.

That's prompted the UK's polar research agency to develop an innovative set-up that can continue the station's priority science activities in what is now the third winter shutdown on the trot.
(20) TOOL FOR SF WRITERS? BBC unpacks "The simple rule that can help you predict the future". Note Le Guin quote near end, and signup for Forecast Challenge at the top.
What will remain in 100 years' time of the city or town where you were born: which landmarks or buildings? What about in 500 years? The controversial author Nassim Nicholas Taleb offers a counter-intuitive rule-of-thumb for answering questions like this. If you want to know how long something non-perishable will endure – that is, something not subject to the limits of a natural lifespan – then the first question you should ask is how long it has already existed. The older it is, the more likely it is to go on surviving.

…The logic of Taleb's argument is simple. Because the only judge that matters when it comes to the future is time, our only genuinely reliable technique for looking ahead is to ask what has already proved enduring: what has shown fitness and resilience in the face of time itself, surviving its shocks and assaults across decades, centuries or millennia. The Tower of London may seem modest in comparison to the Shard skyscraper – which sits across the Thames at 11 times the height – but it has also proved its staying power across 94 times as many years. The Shard may be iconic and imposing, but its place in history is far from assured. When it comes to time, the older building looms larger.
(21) MUPPET HISTORY. DefunctTV: Jim Henson is a six-part series chronicling the life and works of the man behind the Muppet mayhem. Here's the first of four installments.
[Thanks to Carl Slaughter, Cat Eldridge, Chip Hitchcock, JJ, John King Tarpinian, Andrew Porter, Michael Toman, Martin Morse Wooster, Brian Z, and Mike Kennedy for some of these stories. Title credit goes to File 770 contributing editor of the day Daniel Dern.]