(1) PETER JACKSON MUSEUM PROJECT AT RISK. The New Zealand Herald says the Wellington City Council got a long grumpygram from the famed director: "Peter Jackson threatening to pull plug on Wellington's movie museum". There are 55 things he's unhappy about.
The Wellington City Council is refusing to comment on reports Sir Peter Jackson is threatening to pull the plug on the capital's $150 million Movie Museum.

The famous director has been working with the council to create the new attraction i but a report this morning claims that relationship could be on rocky ground after Sir Peter sent an angry letter to the council.

Councillors have described it as a "divorce letter", according to Fairfax.

Fairfax reports Jackson sent the letter out of anger over how the council has been managing the museum plans.
(2) MIRRY CHRISTMUS. Adweek tells how "Air New Zealand's Christmas Ad Takes the Piss Out of Its Own Country's Accent".
Deck the halls! It's yet another ad in which the fictional inner workings of Santa's workshop are imagined in elaborate detail. This time around, Santa is a kind of corporate virtuoso, seated behind a desk, where he takes direct calls from kids and manages linguistic switching with finesse while a fawning elf takes notes on a tablet.

Chinese? No sweat.

Then the New Zealanders start dialing in. What kind of kid asks for a new beard, a biscuit ball or an ear plane?
(3) MARKET DAY. The "SFWA Market Report For December" begins with —
NEW MARKETS
(4) DON'T GET 'LOST IN SPACE'. "This Spacesuit Comes with a "Take Me Home" Button" — a patent has been filed.
The system can operate the jet pack autonomously or give the astronaut directions with a combination of visual, auditory and sensory cues through a web of sensors and a helmet visor display. If something were to happen during a spacewalk (also known as an Extravehicular Activity, or EVA) the self-return system can be initiated by the astronaut, a space station crewmember or mission control.

Draper's "take me home" system features options. According to the patent, the spacesuit's sensors can be configured to monitor movement, acceleration and relative position of the crewmember to a fixed object, such as an accompanying orbiting spacecraft. The navigation, guidance and control modules can also accommodate various scenarios. For instance, the navigation module can be configured using GPS, vision-aided navigation or a star-tracker system. To improve the astronaut's positioning and orientation, Draper has developed software that fuses data from vision-based and inertial navigation systems and benefits from the advantages of both sensing approaches.
(5) NPR PICKS. The 374 books in "NPR's Book Concierge, Our Guide To 2017's Great Reads" include 54 in the science fiction and fantasy category.
(6) WINTER JACKETS. Six SFF wrappers made a Bookish list of "The Best Book Covers of 2017".
People say you shouldn't judge books by their covers, but here at Bookish we're not just readers—we're cover-judging-rebels. As 2017 draws to a close, we wanted to pay homage to the incredible designs that stood out on bookstore shelves like works of art. Are you a rebel too? Let us know what your favorite covers of 2017 were!
But where are the covers from McEdifice Returns, I ask you?
(7) DID YOU HEAR THAT? As John Brunner said in The Shockwave Rider, "The Future arrived too soon and in the wrong order." Gizmodo's Adam Clark Estes argues "Don't Buy Anyone an Echo".
Let me make this point dreadfully clear, though: Your family members do not need an Amazon Echo or a Google Home or an Apple HomePod or whatever that one smart speaker that uses Cortana is called. And you don't either. You only want one because every single gadget-slinger on the planet is marketing them to you as an all-new, life-changing device that could turn your kitchen into a futuristic voice-controlled paradise. You probably think that having an always-on microphone in your home is fine, and furthermore, tech companies only record and store snippets of your most intimate conversations. No big deal, you tell yourself.

Actually, it is a big deal. The newfound privacy conundrum presented by installing a device that can literally listen to everything you're saying represents a chilling new development in the age of internet-connected things. By buying a smart speaker, you're effectively paying money to let a huge tech company surveil you. And I don't mean to sound overly cynical about this, either. Amazon, Google, Apple, and others say that their devices aren't spying on unsuspecting families. The only problem is that these gadgets are both hackable and prone to bugs.
(8) DARK INSIDE, Find out more about the new Netflix Dark series, including spoilers, in Camestros Felapton's "Dark Debrief".
I've finished watching the German Netflix show Dark and it was indeed Dark. I also bought and ate a Twix today without thinking. Spoilers below as this post is for me to take stock and make notes of the twisty turns – particularly if there is a second season as the ending implies.

A fold and then don't continue unless you like spoilers or have watched it all already.

To make life easier, characters get a year after their name so you know who is when. If I've got names wrong please correct me!
(9) TODAY'S STAR WARS CLICKBAIT. According to CheatSheet, "'Star Wars: The Last Jedi' New Trailer May Have Answered This 1 Lingering Question".
Fans will recall that in the main trailer for Star Wars: The Last Jedi, Luke Skywalker says, "I've seen this raw strength only once before. It didn't scare me enough then. It does now." This comes after a scene in which Rey cracks the ground while training on Ahch-To, so it communicates the idea that Luke is actually scared of Rey because she is so powerful and does not want to train her.

But when Luke makes reference to seeing raw strength "once before," who is he talking about, exactly? In the trailer itself, he doesn't specify, and this is something fans have been in disagreement about.
(10) TODAY IN HISTORY
December 5, 1980 – Flash Gordon was released
(11) TODAY'S BIRTHDAYS
Born December 5, 1890 – Fritz Lang
Born December 5, 1901 – Walter Elias Disney
(12) COMICS SECTION.
(13) SIR PAT. Brent Lang of Variety, in "Patrick Stewart on 'Logan,' Harvey Weinstein and Returning to 'Star Trek'", learned that Sir Pat Stew was very proud of his work on Logan but "I cannot think of another chance" to play Jean-Luc Picard.
How did you prepare to play an aged Charles Xavier in "Logan"?

I lost 20 pounds. I've always been blessed by being able to lose weight easily, and I spread this out over the span of a few months so that it was easier to take. When I lose weight, it tends to be most noticeable in the face, and that's what I wanted. I wanted to look sick and undernourished and stressed and frail and vulnerable. Hugh had to carry me in the movie, and I assured him that I would do my damnedest to make sure I was carry-able.

Is this your last "X-Men" movie?

Oh, yes. Hugh had been on record that this would be his last time before "Logan" even started shooting. I hadn't given it a thought until I saw the film for the first time with an audience at the Berlin Film Festival. It was Hugh and James Mangold and myself, and when it got to the last 10 minutes of the movie, it was emotional and intense, and I could feel myself getting choked up. Then I looked over at Hugh and he was wiping his eyes, and I thought if Wolverine can weep at a movie, Charles Xavier can do the same thing. Then Hugh reached over and grabbed my hand and we held hands for the rest of the movie.
(14) DYSTOPIC CHOW. An author and a chef imagine how we'll eat if bees and fish vanish in "A Dinner at the End of Our World" at Atlas Obscura.
…The results were unfamiliar. Moss-green spirulina ice cubes kept diners' drinks cool. Spirulina is super-nutritious microalgae that grows quickly, perfect for a food-scarce world. A soup of mussels and seaweed came with a lump of shrimp paste and encouragement to stir it in. This was intended to be a hopeful dish, symbolizing shrimp farms in small ponds that might be a vibrant future food source…
(15) PUPPY POWER. Milo Yiannopoulos is turning John C. Wright into the Hieronymous Bosch of the op-ed page at his new site Dangerous, in a biweekly feature titled Wright On What's Wrong. The first 2,000-word opus, "This Christmas, Give Thanks or Get Stuffed", asks —
Last week, did you notice Thanksgiving is dying?
I challenge you to find a line of thought which leads from that beginning to this sentence later in the essay: "His anus is turned inward."
(16) EDIFICE COMPLEX. The BBC visits "The awe-inspiring buildings created as temples of tech":
Each year, more than 100,000 visitors trek through and around a cluster of solemn, hauntingly impressive late-18th Century buildings on the hem of England's Peak District National Park. This is Cromford Mill, Derbyshire, founded in 1771 by the entrepreneurial inventor Richard Arkwright. Here, long before Henry Ford was born, mass production began.

In these buildings – their floors free of partitions and with windows on all sides – water-mills powered looms that spun reams of cotton, 24 hours a day, the chattering machinery attended by children as young as seven, working 12-hour shifts. Cotton ceased spinning here in the 1840s as the great mills in and around Manchester took on the challenge of making and shipping cotton to the world. The massively ambitious Houldsworth Mill in Reddish, designed by Abraham Stott, was one of the mightiest temples yet devoted to industrial technology when it opened in 1865.
(17) SLOW VERNE. Galactic Journey's Lorelei Marcus says your time machine can skip this first run movie: "[December 4, 1962] Like Five Weeks in a Theater (Five Weeks in Balloon)"
Everything before the balloon's take off (the first 20 minutes or so) was funny, clever, and fast paced. The first scene, in which the professor and his inventor friend take reluctant investors on a demonstration flight, and then the next bit in which the professor prepares for the expedition and collects funds and crew, was quite fun to watch!

But once he'd picked up the American reporter, and the balloon took to the skies, the movie ground to a sudden halt. Unfortunately it never seemed to pick back up again either. The entire movie was: the balloon flies around, lands someplace; the crew gets out and gets into trouble, they run back to the balloon and fly away. There were no real conflicts, because they could always just retreat to the balloon and escape danger. Moreover, many of these scenes went on for 'way too long. There was never any real tension through the whole movie, and without tight pacing of events, the movie felt like it was really dragging on for five weeks!
(18) DID IT HIMSELF. Move over, MIT: "Bored teen in Kentucky builds his own rollercoaster". (Video.)
Logan Moore, 16, surprised family and neighbours when he quickly built a wooden structure in his backyard.
Chip Hitchcock comments, "I'm forgetting whether you ran the story about the MIT dorm that built a rollercoaster as part of freshman welcoming. Theirs was just a straight shot, even simpler than the one this guy built — but there are pictures of people riding the MIT coaster."
(19) PLONK YOUR MAGIC TWANGER. App calls on citizen scientists for Australia's frog count.
Croaks and chirps. Even whistles and barks.

These are some of the sounds that Australian frogs make, and local biologists are hoping members of the public will help record them on a new app called FrogID.

It is part of a conservation effort to better track 240 frog species around Australia.

Scientists also believe the crowd-sourced mapping could lead to the detection of new species.

Australians are encouraged to record and upload the sounds of frogs they hear anywhere, from their suburban backyard to the outback.
(20)TODAY'S 10,000. Google pledges 10,000 staff to tackle extremist content.
Google will dedicate more than 10,000 staff to rooting out violent extremist content on YouTube in 2018, the video sharing website's chief has said.

Writing in the Daily Telegraph, Susan Wojcicki said some users were exploiting YouTube to "mislead, manipulate, harass or even harm".

She said the website, owned by Google, had used "computer-learning" technology that could find extremist videos.

More than 150,000 of these videos have been removed since June, she said.
(21) WOLVERINE DRAMA PODCAST COMING. Marvel New Media and top podcast listening service Stitcher today announced "Wolverine: The Long Night" , the first-ever Marvel scripted podcast, launching in spring 2018.
The 10-episode series will be available exclusively on Stitcher Premium until fall 2018, when it will see a wide release across all podcast platforms….

The show's cast includes notable actors Richard Armitage ("The Hobbit"), Scott Adsit ("30 Rock"), Bob Balaban ("Moonrise Kingdom") and Brian Stokes Mitchell ("Mr. Robot").

The "Wolverine: The Long Night" story is a captivating hybrid of mystery and the larger-scale fantasy of the Marvel Universe. It follows agents Sally Pierce (Celia Keenan-Bolger) and Tad Marshall (Ato Essandoh) as they arrive in the fictional town of Burns, Alaska, to investigate a series of murders and quickly discover the town lives in fear of a serial killer. The agents team up with deputy Bobby Reid (Andrew Keenan-Bolger) to investigate their main suspect, Logan (Richard Armitage). Their search leads them on a fox hunt through the mysterious and corrupt town….

Also cast in the series are actors Zoe Chao, Chaske Spencer, Jordan Bridges, David Call, Michael J. Burg and Lannon Killia. Chris Gethard, host of the popular "Beautiful Stories from Anonymous People" podcast, also will make a cameo appearance.
(22) RENAISSANCE FARE. Zero emissions will soon be the new standard: "Electric black cabs hit London's roads"
The cab costs £55,599 up from £45,000 for the newest petrol equivalent.

Chris Gubbey, boss of manufacturer the London Electric Vehicle Company (LEVC) insists the cab will "play a major role in helping to improve air quality".

The launch comes weeks ahead of rules requiring new cabs in the capital to be capable of emitting zero emissions.

More than 9,000 such taxis, roughly half the current black cab fleet, are expected on London's roads by 2021.
Chip Hitchcock adds, "Did you know that the late Peter Weston's firm (where the Hugos are made) makes the hand bars that make getting into and out of these cabs easier?"
(23) LETTER MAN. BBC meets the designer of "The typeface that helps dyslexics read".
Dyslexie is a font that aims to overcome some of the problems that people with dyslexia can have when reading. Due to the way their brains process visual information, they will often subconsciously switch, rotate and mirror letters, making it harder to recognise the characters.

It is thought that their brains start treating two-dimensional letters as three-dimensional objects that can be freely manipulated.

When this happens, the letter "b" can look like a "d"… or a "p" or a "q". It is easy to see why this can quickly become confusing.

"Traditionally in typeface design, there are 'rules' that say it is best to make the letters as uniform as possible," says Boer, now 36. "If you make the arch of an "h" the same as an "n", it produces a typeface that is clean and quiet for ordinary readers. For me, these letters become three dimensional so you can turn them around and they begin to look alike. What I wanted to do was to slap these 3D letters flat."
(24) JURASSIC APPETIZER. Here's the teaser for the full trailer coming on Thursday –
(25) MORE PLAUDITS FOR MARLOWE. Francis Hamit takes another prize — "Christopher Marlowe Screenplay Wins Grand Jury Award At Sherman Oaks Film Festival".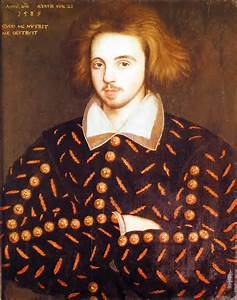 Francis Hamit's "based on a true story" screenplay for the forthcoming feature film CHRISTOPHER MARLOWE has won the prestigious Grand Jury Award at the Second Annual Sherman Oaks Film Festival held in November.  This is the fourth major award for this unproduced screenplay.  Previous wins were at the GO Independent International Film Festival in Washington DC, The New Renaissance Film Festival in London, England and the 2016 Hollywood Book Festival.

The well-researched script about the Elizabethan-ere poet, playwright and secret agent for the Crown is a classic tragedy about a brilliant man undone by his own fatal flaws in the form of a spy thriller.
(26) TRAVELER FROM AN ANTIC LAND.  Another testimony to TSA screening!
Got the row on the plane to myself again. Any implication that I strangled my row mate and stuffed their body into the luggage compartment to get it is ignoble.

— John Scalzi (@scalzi) December 3, 2017
[Thanks to John King Tarpinian, JJ, Chip Hitchcock (who really has something in today's Scroll), Hampus Eckerman, Cat Eldridge, Brian Z., Carl Slaughter, Martin Morse Wooster, Francis Hamit, and Andrew Porter for some of these stories, Title credit goes to File 770 contributing editor of the day Bill.]