(1) POET FOR TODAY. In the LA Times profile of inauguration poet Amanda Gorman she references the influence of an LA sff author — "Who is Amanda Gorman, Biden inauguration day poet from L.A.?".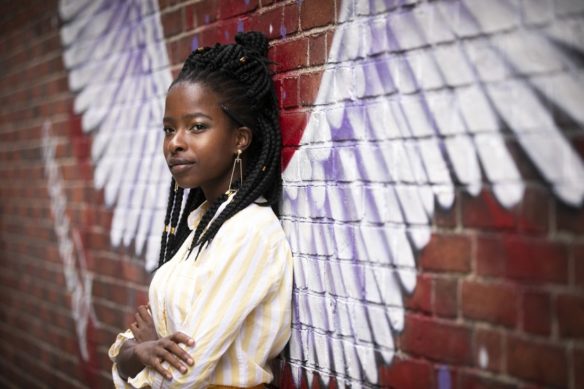 …Her relationship with poetry dates at least to the third grade, when her teacher read Ray Bradbury's "Dandelion Wine"to the class. She can't recall what metaphor caught her attention, but she remembers that it reverberated inside her….

…Gorman, all of 22, became the youth poet laureate of Los Angeles at age 16 in 2014 and the first national youth poet laureate three years later. On Wednesday, she became the youngest poet to write and recite a piece at a presidential inauguration, following in the considerably more experienced footsteps of Maya Angelou and Robert Frost…
In Bradbury's book, Zen in the Art of Writing, Bradbury recommended that everyone start off their morning by reading poetry.
(2) TIME TO EXHALE. Connie Willis shared "Some Thoughts On Inauguration Day" on Facebook:
…Seeing the Capitol with broken windows, smashed doors, blood streaked on statues, and feces smeared on the floors and walls was something I never thought I'd see in my lifetime, even having watched Trump in action for four years, so it's no wonder I've been holding my breath ever since January sixth and especially watching the inauguration, afraid something even worse would happen.

When Biden finished taking the oath of office, I took my first easy breath in four years. I thought of John Adams in 1776 murmuring, "It's done. It's done," after the Declaration of Independence was passed.
(3) NEW BEGINNING. N.K. Jemisin was momentarily surprised:
(4) IN HIS WAKE. John Scalzi lists the legacies of "The Unlamented Man" at Whatever.
…Not just bad, of course: In fact, the worst. A recitation of his moral failures and actual probable crimes would have us here all day, so let's pick just one: 400,000 dead, so far, from COVID during his presidency. He is not responsible for the virus. He is responsible for denying its seriousness; for choosing to downplay it because he thought it would make him look bad; for making something as simple and useful as wearing a mask a political issue; for bungling a national response to it and then the distribution of medical supplies and, later, vaccines; for spreading misinformation and lies about it; for, fundamentally, not caring about his fellow Americans, and viewing the pandemic through the lens of him, not us. Hundreds of thousands of Americans who are now dead would be alive under a better president. Their deaths are on his hands, and he simply doesn't care. He never will.
(5) TALKIN' ABOUT MY REGENERATION. Radio Times speculates "Why the next Doctor could be a surprise".
… While the BBC has yet to officially confirm Whittaker's exit, the regeneration rumour mill has already begun, with all sorts of actors (Michaela Coel! Kris Marshall!) put forward by fans to succeed her ahead of any official recasting.

Assuming, of course, that the next Doctor is announced – because recently, we've been wondering. Could the next Doctor actually, for the first time in history, be a total surprise in Whittaker's last episode, only revealed to viewers when he or she first appears?

… Sadly, production considerations have meant that this has never really been possible, with the new Doctor usually filming their first series publicly before the previous Doctor has moved on (and so making it nigh-impossible to keep secret). But this year, something's a little different.

When Doctor Who kicked off series 13 filming in November 2020, many assumed that the 10-month shoot would debut in early 2022, giving the series plenty of postproduction time before it came to screens. But surprisingly, the BBC have instead confirmed that series 13 will kick off in late 2021 (presumably in October/November), giving quite a quick turnaround between the end of filming (estimated to be around August) and the airing.

With this in mind, assuming a new Doctor is revealed in Jodie Whittaker's final episode it's extremely unlikely that filming for the next series would have begun already. Filming on series 13 would have only wrapped a few months before and the production team would likely be on a break.

In other words, the next Doctor wouldn't be at as much risk of discovery – and this could offer a golden opportunity.
(6) IS SCIENCE FICTON PLAID? Scotland's Press and Journal calls 19th-century writer Robert Duncan Milne "The Victorian sci-fi pioneer who imagined our world then vanished in time". I didn't know he was the "father of American science fiction." I'm not sure I know it now, but with some Milnes in my family tree I'm willing to listen.
Based in San Francisco at the height of his writing career, Milne has been hailed as the father of American science fiction and is now the subject of intensive research at Dundee University to restore his place in Scotland's literary history and landscape – including republishing his stories.

"If he didn't exist you would have to invent him because there is this kind of Milne-shaped gap between Scotland and the history of science fiction which he fits into absolutely perfectly," said Dr Keith Williams, a Reader in English at Dundee University's School of Humanities.

"Scotland appears to punch way below its weight in relation to early science fiction pioneering, yet in actual fact it has this really extraordinary and amazingly rich, lost presence who has just slipped through the cracks of the canon by a series of historical accidents."

First and foremost was an actual accident. Milne, who had published most of his stories in San Francisco literary journal The Argonaut was on his way to a meeting to discuss bringing out his magazine works as a book.

"Then during one of his spectacular benders, because he was a heroic drunk, he was run over by one of San Francisco's new electric street cars. He had this head-on collision with modernity himself.

"Ironically, that cut his career short and basically meant his work was never edited together into a single volume or even a selection of material in his lifetime."

This tragedy meant Milne and his trailblazing work – he inspired not only the science fiction genre but some actual scientific advancements as well – was all but forgotten, while writers who came after him are still lauded to this day.
(7) CARBON COPIES. [Item by Martin Morse Wooster, Designated Financial Times Reader.] In the January 12 Financial Times, gaming columnist Tom Faber looks at how game developers deal with environmental issues.
Games have flirted with environmentalism over the years. In 1990, a decade after Will Wright made the first Sims game, he incorporated global warming into Simearth, threatening players' planets with rising temperatures that could melt ice caps and cause oceans to boil away. The next year, in the first Civilisation, rising pollution levels could turn plains into deserts, a concept revisited in 2018's Gathering Storm expansion for Civilisation VI. A recent add-on for Minecraft introduced carbon dioxide to the game, which rises to dangerous levels if you smelt ore, but diminished when you plant trees. Several new games set for release this year also tackle environmental themes: We Are The Countdown tasks players with protecting huge animals in its Afrofuturist world, while Endling casts you as a mother fox protecting her cubs from threats such as climate change and pollution.

There are also games that prioritize environmental messaging over the fun of their gameplay. These include Plasticity, an elegant platformer where you traverse a world drowning under plastic waste, and the work of Earth Games, a studio which releases educational projects with laboured titles such as Soot Out At The O C Corral, in which you attempt to catch falling soot particles before they contaminate the snow.
(8) BEYOND STOP-MOTION AND GO-MOTION. A recent acquisition for the Academy Museum's collection, a Jurassic Park T. rex Dinosaur Input Device will be on display inside "Invented Worlds & Characters," a set of galleries dedicated to the history of animated films, special and visual effects: "Making Digital Dinosaurs: The Dinosaur Input Device".
Few pieces of filmmaking technology encapsulate their particular moment as thoroughly as the Dinosaur Input Device. Developed for Steven Spielberg's groundbreaking Jurassic Park (1993), the Dinosaur Input Device (or DID, pronounced dee eye dee) was an innovative answer to that film's core creative problem: how to bring an array of prehistoric creatures to life on screen in a way that felt fresh and believable.

Jurassic Park's DID provided a physical interface that allowed traditional stop-motion animators to produce the seeds of digital graphics. Like many innovations, the DID was born on the fly. With the film already underway, an interdisciplinary effects team created and used it to push the boundaries of then-established practice. Today, almost 30 years later, the DID continues to claim our attention, not only because of the awe-inspiring images it helped create, but also because it marked a paradigm shift in visual effects, bridging practical and digital techniques in a way few tools had before—or since….
(9) SAHLIN OBIT. Olle Sahlin (1956-2021), a Swedish translator, editor, graphic designer, and photographer died January 9. Regarded as a "nerd icon," he was active in RPG, LARP, SCA, Forodrim (the Stockholm area Tolkien society), and fanzines. From 1986-1993 Sahlin worked at Target Games (Adventure Games) as editor. Over the years he was editor-in-chief of Sinkadus magazine, and later published the journals Centurion and Fëa Livia. His literary translations include Stephen Donaldson's Mordant series, Philip Pullman's The Dark Matter series, and nine of Terry Pratchett's novels.
Hospitalized in a coma several years ago, Sahlin never fully recovered, and lost his life earlier this month. He is survived by his wife, Karolina, for whom a GoFundMe has been started:.
And for Karolina, these are difficult times. She has not only lost her lifelong partner, she is alone with all the practical things that must be taken care of, and a broken financial situation. Being freelancing translators is a challenge and income varies, and with Olle being ill for a long period, they have not been able to work as much as usual.
(10) TODAY'S BIRTHDAYS.
[Compiled by Cat Eldridge and John Hertz.]
Born January 20, 1884 — A. Merritt. His first fantasy story was published in 1917, "Through the Dragon Glass" in the November 14 issue of All-Story Weekly. His SFF career would eventually consist of eight novels and fifteen (I think) short stories. I'm sure that I've read The Moon Pool, his novel, and much of that short fiction, but can't recall the other novels as being read by me. In the digital release, Apple Books is clearly the better place to find his work as they've got everything he published whereas Kindle and Kobo are spotty. (Died 1943.) (CE)
Born January 20, 1920 — DeForest Kelley. Dr. Leonard "Bones" McCoy on the original Trek and a number of films that followed plus the animated series. Other genre appearances include voicing Viking 1 in The Brave Little Toaster Goes to Mars (his last acting work) and a 1955 episode of Science Fiction Theatre entitled "Y..O..R..D.." being his only ones as he didn't do SF as he really preferred Westerns. (Died 1999.) (CE)
Born January 20, 1926 — Patricia Neal. Best known to genre buffs for her film role as World War II widow Helen Benson in The Day the Earth Stood Still. She also appeared in Stranger from Venus, your usual British made flying saucer film. She shows up in the Eighties in Ghost Story based off a Peter Straub novel, and she did an episode of The Ghost Story series which was later retitled Circle Of Fear in hopes of getting better ratings (it didn't, it was cancelled). If Kung Fu counts as genre, she did an appearance there. (Died 2010) (CE)
Born January 20, 1934 — Tom Baker, 87. The Fourth Doctor and my introduction to Doctor Who. My favorite story? The "Talons of Weng Chiang" with of course the delicious added delight of his companion Leela played by Lousie Jameson. Even the worse of the stories were redeemed by him and his jelly babies. He did have a turn before being the Fourth Doctor as Sherlock Holmes In "The Hound of the Baskervilles", and though not genre, he turns up as Rasputin early in his career in "Nicholas and Alexandra"! Being a working actor, he shows up in a number of low-budget films early on such as The Vault of Horror, The Golden Voyage of Sinbad, The Mutations, The Curse of King Tut's Tomb and The Zany Adventures of Robin Hood. And weirdly enough, he's Halvarth the Elf in a Czech made Dungeons & Dragons film which has a score of 10% on Rotten Tomatoes. (CE)
Born January 20, 1948 — Nancy Kress, 73. Best known for her Hugo and Nebula Award winning Beggars in Spain and its sequels. Her latest novel is If Tomorrow Comes: Book 2 in the Yesterday's Kin trilogy. (CE)
Born January 20, 1958 — Kij Johnson, 63. Writer and associate director of The Center for the Study of Science Fiction at the University of Kansas English Department which is I must say a cool genre thing to be doing indeed. If you've not read her Japanese mythology based The Fox Woman, do so now as it's superb. The sequel, Fudoki, is just as interesting. The Dream-Quest of Vellitt Boe is a novella taking a classic Lovecraftian tale and giving a nice twist. Finally I'll recommend her short story collection, At the Mouth of the River of Bees: Stories. She's will stocked at the usual digital suspects. (CE)
Born January 20, 1964 — Francesca Buller, 57. Performer and wife of Ben Browder, yes that's relevant as she's been four different characters on Farscape, to wit she played the characters of Minister Ahkna, Raxil, ro-NA and M'Lee. Minister Ahkn is likely the one you remember her as being. Farscape is her entire genre acting career. (CE)
(11) CREATOR BIOPIC. Moomin.com cheers because "Tove Jansson's first biopic TOVE heading to US".
The first ever bio-pic drama about Moomin creator Tove Jansson, TOVE, has been sold to over 50 territories across the world and is heading to the U.S., Canada and the United Kingdom amongst others….

TOVE broke box office records in Finland in 2020 in spite of the pandemic, and now ranks as the highest grossing Swedish-language Finnish film in the last 40 years.

TOVE is also Finland's official Academy Award entry and will be a part of the Nordic Competition at the 2021 online edition of Göteborg Film Festival.
(12) BYTE-SIZED COMICS POPULAR. Publishers Weekly reports "Tapas Sees Big Gains for Digital Comics".
Digital comics delivered via mobile devices are starting to take significant creative and commercial steps forward. Last year Webtoon, owned by Korean tech giant Line, posted dramatic user and revenue growth, driven by large investments in attracting new customers. That was not a fluke: Tapas, a smaller U.S.-based mobile comics startup, has also announced impressive recent growth, along with plans to partner with traditional print publishers like Scholastic.

Founded in 2012, Tapas has grown a dedicated community of readers and creators through a popular mobile app, Tapas.io, which features "snackable" vertical-scroll episodic webcomics and stories. In the last year, the privately-held company announced it had reached 100 million episode-unlocks (paid content transactions) and saw total 2020 payments to Tapas creators rise to $14 million….
(13) NERDS OF A FEATHER. Cora Buhlert covers one of the top sff review sites in "Fanzine Spotlight: nerds of a feather, flock together".
Who are the people behind your site or zine?

The site's founder The G started the site in 2012 with co-editor Vance K, and we've added co-editors Joe Sherry and Adri Joy in the last few years. In addition to the editors, who also contribute content, our current team of writers includes Aidan Moher, Andrea Johnson, Chloe N. Clark, Dean E. S. Richard, Mikey, Paul Weimer, Phoebe, Sean Dowie, Shana DuBois, and Spacefaring Kitten.

Why did you decide to start your site or zine?

At the time, I was reading a lot of SF/F and – being an opinionated person – felt the need to blast those opinions out into the ether. But I also didn't think running a blog on my own sounded like as much fun as running one with other people. So I asked Vance if he wanted to start one with me (it didn't take him long to say yes). After that we gradually added more people – some we knew personally, and others we met online. — The G, founder

G and I were next door neighbors in Los Angeles for about three years — both transplants from places with robust and storied BBQ traditions. There was a lot of grilling in our shared courtyard as a result, and over the course of many beers and cooked meats, we talked a lot of sci-fi and fantasy. After we'd both moved to new spots, he got the idea for a blog, and I think the night he reached out about it, I had just watched a deeply odd French psychological horror movie, and I was like, "I know just what to write about." — Vance K
(14) ACROSS THE CHANNEL. "Review: Lupin (Netflix)" at Camestros Felapton.
The obvious comparisons made about Netflix's French language hit is with Sherlock: a modern day re-imagining of a turn-of-the-century character. The first episode suggests a slickness of form suggestive of Sherlock but Lupin as a show is less impressed with its own cleverness and more interested in the central character. The bold choice is that central character is not Arsène Lupin Gentleman Burglar but Assane Diop, the son of a Senegalese immigrant who has reshaped his life to emulate the famous (at least in France) character….
(15) NOISY RED PLANET. We'll soon know "What Mars sounds like" says CNN.
Mars is about to be a very busy place when three separate missions arrive at the red planet in February.

One of those missions includes NASA's Perseverance rover. When it lands, we'll be able to hear the sounds of Mars for the first time, thanks to microphones riding on the rover.

A new interactive experience shared by the agency will prepare our ears for a key difference in the sounds of Mars: the atmosphere. The thin Martian atmosphere has only 1% of the density that we experience of Earth's atmosphere at the surface. It also has a different atmospheric composition. Mars is also much colder than Earth. All of these factors will affect sound on Mars, even though the differences may be subtle.

The NASA interactive compares sounds as we hear them on Earth versus how they may sound on Mars, like birds chirping or music. If you were speaking on Mars, your voice would sound more muffled and it would take longer for others to hear you.

So what will we be able to hear on Mars? The microphones are expected to pick up the sounds of the rover landing and working on Mars, as well as ambient noises like wind. One of the microphones is located on top of the rover's mast, so it can pick up natural sounds and even activity by the rover — like when the rover's laser zaps rock samples and turns them into plasma to learn more about their composition.
The NASA webpage about the "Sounds of Mars" has full details.
…The Perseverance rover carries two microphones, letting us directly record the sounds of Mars for the very first time. One, an experimental mic, may capture the landing itself. The other mic is for science. Both mics may even capture the sounds the rover makes.

Even though Earth and Mars are entirely different planets, it may be comforting to know that if you were on Mars, you might still sound pretty much like yourself. If you were standing on Mars, you'd hear a quieter, more muffled version of what you'd hear on Earth, and you'd wait slightly longer to hear it. On Mars, the atmosphere is entirely different. But, the biggest change to audio would be to high-pitch sounds, higher than most voices. Some sounds that we're used to on Earth, like whistles, bells or bird songs, would almost be inaudible on Mars….
(16) BIG BONED. CNN says "Dinosaur fossils could belong to the world's largest ever creature".
…Paleontologists discovered the fossilized remains of a 98 million-year-old titanosaur in Neuquén Province in Argentina's northwest Patagonia, in thick, sedimentary deposits known as the Candeleros Formation.

The 24 vertebrae of the tail and elements of the pelvic and pectoral girdle discovered are thought to belong to a titanosaur, a diverse group of sauropod dinosaurs, characterized by their large size, a long neck and tail, and four-legged stance.

In research published in the journal Cretaceous Research, experts say they believe the creature to be "one of the largest sauropods ever found" and could exceed the size of a Patagotitan, a species which lived 100 million to 95 million years ago and measured up to a staggering 37.2 meters (122 feet) long….
(17) BEHIND THE SCENES. Slate's Riley Blackis surprisingly enthusiastic that "We Finally Know What a Dinosaur's Butthole Looks Like".
For the entirety of my career as a journalist covering paleontology, I've been wanting to know: What does a dinosaur's butthole look like? When I wrote My Beloved Brontosaurus, a book about dinosaur biology, the chapter on reproduction required a lot of time imagining the nature of a Jurassic behind; one had yet to be found preserved. Even dinosaur models and sculptures often demur on the point of the dino butt, leaving the terrible lizards with terrible constipation.

Now I finally have a clearer view, thanks to a fossil of a horned dinosaur called Psittacosaurus, described in a paper online earlier this month…
Of course, Chuck Tingle was sure he knew already.
(18) TAKE AWAY. "Little Free Art Gallery in Seattle tells patrons to take a piece and leave one" – the Washington Post tells how it works.
Stacy Milrany probably runs the only art gallery in the country where visitors are encouraged to walk away with the art.

And as far as she knows, her Little Free Art Gallery in Seattle's Queen Anne neighborhood is likely the only museum where all of the works will fit neatly in a pocket.Milrany's miniature gallery, which opened for public view on Dec. 13, sits five feet off the ground inside a white wooden box in front of her house.

The head curator and painter said she based her idea on the popular Little Free Libraries in neighborhoods coast to coast.

"The idea is pretty simple — anyone is welcome to leave a piece, take a piece or just have a look around and enjoy what's inside," said Milrany, a painter who runs a small, appointment-only gallery featuring her works. … Nearly 100 pieces have come and gone since the gallery opened last month, she said, with most small enough to be displayed on tiny shelves or seven-inch easels.
I've heard the name of this neighborhood before and wouldn't be surprised if some fans live nearby.
[Thanks to Andrew Porter, Mike Kennedy, Hampus Eckerman, John King Tarpinian, Michael Toman, JJ, John Hertz, Cat Eldridge, and Martin Morse Wooster for some of these stories. Title credit goes to File 770 contributing editor of the day Daniel Dern.]