The Seattle-based Museum of Pop Culture today announced the new inductees to its Science Fiction + Fantasy Hall Of Fame Class. The four are Star Wars, and Watchmen as creations, and Ted Chiang, and D.C. Fontana as creators. They join more than 100 previous honorees. Here are the citations:
Starting with Episode IV: A New Hope in 1977, the Star Wars saga launched a revolution in big-budget science fiction filmmaking. One of the highest-grossing media franchises of all time, the series, set "a long time ago, in a galaxy far, far away," brought science fiction to the forefront of popular culture. The beloved series has spanned over 40 years, and spawned 11 original films.

Created by George Lucas, the space Western/epic/opera takes place in a massive universe inspired by the American West. With phrases like "may the Force be with you" and "evil empire" embedded in popular lexicon, Star Wars' cultural impact extends beyond the scope of fans.
Written by Alan Moore and drawn by Dave Gibbons, Watchmen is a deconstructed super hero story set primarily in an alternative version of the 1980s. Both a critique and a reinvention of traditional comic book tales, Watchmen is dark, gritty, and it used emojis before emojis.

Watchmen's alternate take on history, nonlinear story structure, and deconstruction of the superhero narrative make many critics consider the series to be one of the best and most transgressive comics in modern history.
Acclaimed science fiction and fantasy short story writer Ted Chiang has won numerous Hugo and Nebula Awards for his work. The 2016 film Arrival was adapted from his short story "Story of Your Life." Chiang holds a degree in computer science from Brown University, and previously worked as a technical writer for a tech company in Bellevue, Washington.

Chiang's work is known for its intricate, introspective style. While the fantastic is the genre he writes in, he never fails to leave out humanity in an ever-evolving world of technology.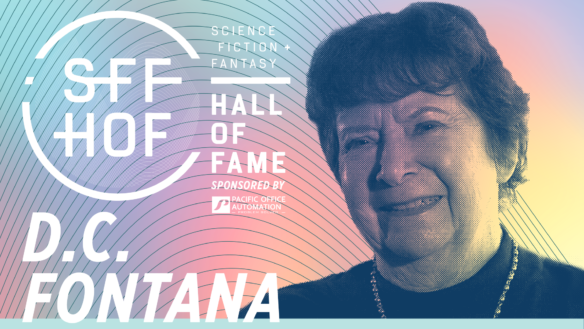 Born in Sussex, New Jersey, screen and television writer D.C. Fontana knew she wanted to be a writer at age 11, when she began writing horror stories featuring her and her friends as characters. She got her start working as a secretary for famed American writer Samuel A. Peebles. Initially hired to be his secretary, Fontana sold him her first story.

Fontana's achievements include writing for the original Star Trek franchise, of which she was involved from the developmental stages of the series. Fontana has been praised writing believable female characters at a time when television writers were mostly men. She contributed to other genre television and film as a writer and a producer, including Logan's Run and Buck Rogers.
---
Founded in 1996 and relocated from the Gunn Center for the Study of Science Fiction at the University of Kansas to its permanent home at MoPOP in 2004, the Science Fiction and Fantasy Hall of Fame honors the genre's leading creators and most impactful creations. Each year, MoPOP puts out a call to the public inviting it to weigh in on which creators and creations should be included next.
The latest inductees were chosen after a month-long voting process where the public was asked to choose among these nominees for inclusion: Babylon 5, Teenage Mutant Ninja Turtles, and Xenomorph (fr. Alien), as well as Star Wars and Watchmen, which wound up earning the most votes. The most recent creators considered included Lois McMaster Bujold, Rick Baker, and Sigourney Weaver, plus D.C. Fontana and Ted Chiang, which ultimately won the favor of MoPOP's audience.
The physical hall displaying the names of the honorees and artifacts related to them is currently closed, as is the museum as a whole during the pandemic. But it's got some wonderful items, some of which are detailed here. The museum's exhibits explore the lives and legacies of all current inductees through interpretive films, interactive kiosks, and more than 30 artifacts.
[Thanks to Frank Catalano for the story.]