(1) FAN HISTORY PROJECT ZOOM SERIES RESTARTS. Fanac.org is resuming their Fan History Project Zoom series this month. They'll begin by interviewing Juanita Coulson on September 25 at 2:00 Eastern (11:00 a.m. Pacific, 7:00 p.m. in London). For reservations, send an RSVP to [email protected]. See the rest of the Zoom FanHistory schedule here.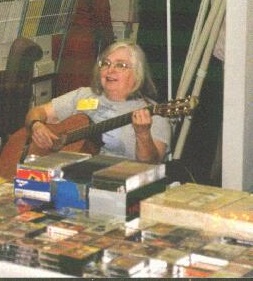 Juanita Coulson on fandom, filkdom, fanzines, Star Trek and other aspects of her life in fandom.

Juanita Coulson has been a marathon fanzine editor, a mainstay of the filk community, and a professional writer. She's a little bit larger than life, and among other honors, has been a DUFF winner (2014), a Hugo winner (1965), Worldcon Fan GoH (1972), NASFiC GoH (2010), Filk Hall of Fame inductee (1998) and a Big Heart Award winner (2012). Juanita has been widely known in filk music circles since the 1950s for both her singing and her songwriting, and was instrumental in establishing filk as a part of SF conventions.

For thirty-three years, she co-edited the fanzine Yandro with her husband Buck, publishing a massive 259 issues. Yandro was nominated for a Hugo Award every year for ten years in a row, from 1958–1967. It won the award in 1965, thus making Juanita Coulson one of the very first women editors to be so honored.

Juanita's first novel, Crisis on Cheiron, came out in 1967.

In this zoom history discussion, expect stories of 60+ years of fandom, how Juanita beat the steam boat whistle at NaSFic, mimeography, her Star Trek fanzines, and maybe even a song or two.
(2) A RACE BETWEEN EDUCATION AND CATASTROPHE. The Guardian published an abridged version of Elif Shafak's PEN HG Wells Lecture, delivered on September 17 at the Ripples of Hope festival: "How the 21st century would have disappointed HG Wells".
… In his writings, Wells conveyed a plethora of futuristic prophecies, from space travel to genetic engineering, from the atomic bomb to the world wide web. There was no other fiction writer who saw into the future of humankind as clearly and boldly as he did.

Were he to have been alive at the very end of the 20th century, what would he have made of that world? I am especially curious to know what he would have thought about the unbridled optimism characteristic of the era, an optimism shared by liberal politicians, political scientists and Silicon Valley alike. The rosy conviction that western democracy had triumphed once and for all and that, thanks to the proliferation of digital technologies, the whole world would, sooner or later, become one big democratic global village. The naive expectation that, if you could only spread information freely beyond borders, people would become informed citizens, and thus make the right choices at the right time. If history is by definition linear and progressive – if there is no viable alternative to liberal democracy – why should you worry about the future of human rights, or rule of law, or freedom of speech or media diversity? The western world was regarded as safe, solid, stable. Democracy, once achieved, could not be disintegrated. How could anyone who had tasted the freedoms of democracy ever agree to discard it to the winds?

Fast forward, and today this dualistic way of seeing the world is shattered….
(3) GILLER PRIZE. The Scotiabank Giller Prize longlist was released September 8. There is one work of genre interest:
The complete longlist is here.
(4) RIGHT OUT OF YOUR MOUTH. Jill Zeller outlaws "10 Words/Phrases I Never Want to Hear or See Again" at Book View Café. For example:
Cancel culture. (Circling back to "culture".) Despise this phrase. Just. Simply. Despise. Another example of "cultural appropriation", largely pulled out on Twitter by the right, again, to describe being deleted from Twitter for trolling and spreading theories about nanobots in vaccines. A popular song is given the prize for its origin in what is called "African-American Vernacular English" (Wiki). Sound familiar? (See "woke" above).
(5) LIGHT ON, LIGHT OFF. "The Most Important Device in the Universe – Blinking Tubes Without Function New Compilation" shared by YouTuber Major Grin. (Via Craig Miller.)
This Device has been spotted in numerous science-fiction movies and tv shows. It is the ultimate re-used prop, and there is not a single of its numerous appearances where its purpose would be explained or hinted at. The prop is described as "dual generators with rotating neon lights inside an acrylic tube; light-controlled panel with knobs and buttons." or simply as "blinking tubes without function". The first time we see it is in the Regula lab in "Star Trek II Wrath of Khan". They are also visible in the Enterprise-A's shuttlebay in "Star Trek V" They also appear in a number of Star Trek Episodes…. The tubes appear in other science fiction series and movies as well, such as "V" (the 1983 miniseries), "The Last Starfighter". "The Incredible Hulk Returns" (1988 TV movie), "The Flash: The deadly Nightshade" (1990) , "Star Crystal" 1986 "Alien Nation", as well as "Airplane II" (with William Shatner, who would again encounter it in Star Trek V: The Final Frontier which he directed and starred in. It also appeared in "Lois & Clark" episode 2×08 with Denise Crosby.
(6) MEDIA BIRTHDAY.
1952 – Sixty-nine years ago on this evening, the Adventures of Superman first aired in syndication. It was syndicated by Motion Pictures for Television, now known as Warner Bros. Television. It was developed by Whitney Ellsworth, DC Golden Age editor and writer, and Robert Maxwell, best known by acquiring the rights to what became Lassie and becoming very wealthy by doing so. Primary cast were George Reeves playing Clark Kent/Superman, with Jack Larson as Jimmy Olsen, Phyllis Coates as Lois Lane and John Hamilton as Perry White. It would last six seasons totaling one hundred four episodes. Half were in color, half weren't. Reception was generally was quite positive with Variety noting that the "Filming is top-notch." The suicide of George Reeves led to the end of the series. And yes, I know the conspiracy theories that he didn't shoot himself.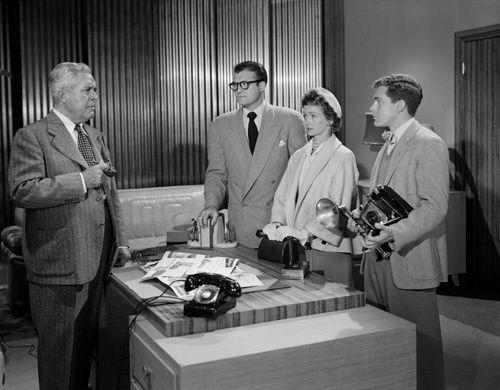 (7) TODAY'S BIRTHDAYS.
[Compiled by Cat Eldridge.]
Born September 19, 1911 — William Golding. Though obviously best known for the Lord of The Flies novel, I'm more intrigued by the almost completed novel found in draft after his death,The Double Tongue which tells the story of the Pythia, the priestess of Apollo at Delphi. (Died 1993.)
Born September 19, 1922 — Damon Knight. Author, editor, critic. Kate Wilhelm who was his wife is also regrettably no longer with us either. His 1950 short story, "To Serve Man" was adapted for The Twilight Zone. His first story, "The Itching Hour," appeared in the Summer 1940 number of Futuria Fantasia which was edited and published by Ray Bradbury. It's hard to briefly sum up his amazing genre career but let me note he was a member of the Futurians and and a reviewer as well as a writer. Novels of his I'll single out are Hell's Pavement, The Observers and Special Delivery but don't think I'm overlooking his brilliant short stories. The Encyclopedia of SF notes that "In 1995, he was granted the SFWA Grand Master Award – which from 2002 became formally known, in his honour, as the Damon Knight Grand Master Award. He was posthumously inducted into the Science Fiction Hall of Fame in 2003." (Died 2002.)
Born September 19, 1928 — Adam West. Best known as Batman on that classic Sixties series, he also appeared in 1964's Robinson Crusoe on Mars as Colonel Dan McReady. He last played the role of Batman by voicing him in two animated films, Batman: Return of the Caped Crusaders and Batman vs. Two-Face. He also played The Gray Ghost in an episode of the Kevin Conroy voiced Batman: The Animated Series, "Beware the Gray Ghost". (Died 2017.)
Born September 19, 1933 — David McCallum, 88. His longest running, though not genre, role is pathologist Dr. Donald "Ducky" Mallard on NCIS where he appeared in every episode of the first fifteen seasons. Genre wise, he was Illya Kuryakin on The Man from U.N.C.L.E., and the British series Sapphire & Steel where he was Steel and Joanna Lumley was Sapphire. He played the lead in a short-lived U.S. version of The Invisible Man. He was Dr. Vance Hendricks on Babylon 5's "Infection" episode.
Born September 19, 1936 — Hilary Bailey. Co-writer of The Black Corridor novel with Michael Moorcock, to whom she was married at the time. She wrote four other genre novels, and a double handful of short fiction. She edited three issues of the Seventies New Worlds anthology with Charles Platt. (Died 2017.)
Born September 19, 1947 — Tanith Lee. I hadn't realized that she wrote more than ninety novels and three hundred short stories in her career. She even wrote two of the Blake's 7 episodes as well. I am more fond of her work for children such as The Dragon Hoard and The Unicorn Series than I am of her adult work. She has garnered Stoker and World Fantasy Awards for Lifetime Achievement. (Died 2015.)
Born September 19, 1952 — Laurie R. King, 69. She's on the Birthday Honors list for the Mary Russell series of historical mysteries, featuring Sherlock Holmes as her mentor and later partner. Hey it's at least genre adjacent. She's also written at least one genre novel, Califia's Daughters.
Born September 19, 1972 — N. K. Jemisin, 49. Her most excellent Broken Earth series has made her the only author to have won the Hugo for Best Novel in three consecutive years. Her "Non-Zero Probabilities" was nominated for the Best Short Story losing out to Will McIntosh's "Bridesicle" at Aussiecon 4. "Emergency Skin" I'm pleased to note won the Best Novelette Hugo at CoNZealand. Yeah I voted for it.
(8) NEW MESSAGE. In the Washington Post, Michelle Ye Hee Lee and Julia Mio Isuma profile Mamoru Hosada, director of Belle, an anime whose message of "female empowerment" is designed to be contrasted with the message in many anime and manga that "often portrays women as weak, vacuous, and hypersexualized." "In Japan's anime world, 'Belle' creates rare space for female power".
… The message has resonated in Japan during a time when growing numbers of women are calling for change — most recently laid bare through a string of sexist comments by high-ranking Olympic officials that drew fierce backlash….
(9) FASHION STATEMENT. An observation about tonight's Emmy Awards:
(10) GOM JABBAR. At IGN, "Dune: Exclusive Scene Breakdown with Denis Villeneuve" – video at the link.
Dune director/co-writer Denis Villeneuve exclusively breaks down the pivotal Gom Jabbar test scene featuring Paul Atreides (Timothée Chalamet) and Reverend Mother Gaius Helen Mohiam (Charlotte Rampling). Dune opens in the US on October 22, October 21 in the UK and in Australia on December 2, 2021.
(11) VIDEO OF THE DAY. [Item by Martin Morse Wooster.] In "Percy Jackson: Sea of Monsters Pitch Meeting" on Screen Rant, Ryan George says the second Percy Jackson film is just as loosely connected to the original novels as the first film, and features a prophecy that the producer skips over because it's just like every other prophecy in a YA movie, a son of Poseidon who gets seasick, and a brother of Percy Jackson who is a Cyclops but wears sunglasses which mean his single eye is covered by the bridge of the glasses.
[Thanks to Martin Morse Wooster, JJ, Michael Toman, Craig Miller, John King Tarpinian, Cat Eldridge, Mike Kennedy, and Andrew Porter for some of these stories. Title credit belongs to contributing editor of the day Daniel Dern.]