(1) GAMES HUGO RESOURCES. If hard work makes a difference – and the example of Jared Dashoff's efforts leading to the Best Series Hugo is already before us – Ira Alexandre is going to change some minds with the content of their ever-evolving Games Hugo website.
Here are a couple of excerpts from the exhaustive discussion on the "Games Hugo – FAQ".
Would a medium-neutral award create such a broad spread that nominees cannot effectively be compared or get enough votes?

There are two parts to address: Comparing disparate works and having such a broad field that no productive consensus can be reached in terms of too wide a spread of votes.

…In terms of a lack of consensus, our research has shown that within each most common genre of games (video, analog, and interactive fiction) there is a strong drive towards consensus on what the "best games" of any given year are. Each year, across the five most major video game awards, about two dozen games are finalists in at least 5 categories (out of over 100 titles that are finalists in just one or more categories). These top two dozen games consistently take home 60% of the total possible honours every year….

How can Hugo voters evaluate games they can't or don't want to play?

For reasons of financial or logistical accessibility; lack of co-players; player ability/game difficulty; or frank preference, many WSFS voters will not want to or be able to play every finalist title. This is indeed a notable barrier in many ways unique to games.

While this is not an ideal solution, watching someone else play is a time-honoured means of experiencing video games, especially if one can influence the choices or gameplay….
(2) SCAN, SHRED, OR WHAT? Stuff gets a status report from New Zealand's National Librarian about an unresolved hot-button issue: "'Help us': The National Library's unsolvable dilemma". (See background in earlier post, "National Library of New Zealand Reconsiders Agreement with Internet Archive".)
Rachel Esson has run out of ideas. "We've tried book fairs. We've tried donating."

After plans to ship 600,000 rarely-used books overseas were halted after months of pushback from the book sector, the National Librarian has a plea to save the books from the pulping machine: "We really don't want to recycle them… help us."

Esson will not waver? on her view that the books from the Overseas Published Collection will be officially removed from the library – she just doesn't know what to do with them after that.

… Esson says she's in the process of setting up a dialogue with stakeholders after pressing pause on the ongoing saga at the end of last year.

She plans to ask the sector about their main concerns, and for their ideas, after the library was met with major resistance on plans to donate the books to the offshore Internet Archive, which is embroiled in a copyright lawsuit.

Esson will not reconsider keeping the rarely-used overseas books, which will make way for a larger Maori and Pacific collect. But sending them to the recycling bin is the library's "absolute last resort".

"People care so passionately. But the world's moved on, and we don't need to keep these," she says. "It's not good for New Zealand, and for us, to keep them. And they're not being used. And they're available elsewhere. All those arguments. We'll find a way through, but I'm not sure that we can please everyone."
(3) BUTLER IS CONSTANTLY RELEVANT. The Atlantic's Lovia Gyarkye says "Octavia Butler's Final Novel Shows Us How to Coexist".
Octavia E. Butler spent most of her life excavating the past and observing the present to construct stories attuned to society's woes and grim futures. She wrote about a Black woman in 1970s Los Angeles repeatedly transported to the antebellum South; about a teenage girl who establishes a religion to save her community from climate destruction; and about the alien colonization of Earth. She was obsessed with broad, gnarly themes: intimacy and sex, hierarchy and power, the link between ancestral knowledge and eventual survival. There is always, it seems, a Butler book for our times. And as the world plods through the third year of the pandemic, one of her most peculiar works might be the most resonant today.

Fledgling, the last novel Butler published before her death in 2006, is a propulsive story about Shori, an amnesiac 53-year-old Black vampire who must reconstruct her past after she wakes up shrouded in darkness, alone and with no memories….
(4) STEALTH ON THE SHELF. "An 8-Year-Old Wrote a Book and Hid It on a Library Shelf. It's a Hit." The New York Times interviews a trailblazer in self-published sff.
During his Christmas break, Dillon Helbig, an 8-year-old boy from Boise, Idaho, wrote a book that he wanted everyone to read.

He had spent a long time on it — four days to be exact — and filled 81 pages of an empty journal with a richly illustrated tale about how he gets transported back in time after a star atop his Christmas tree explodes.

But he did not have a book deal. (He's only in second grade, after all.) So when his grandmother took him to the Lake Hazel branch of the Ada Community Library in Boise at the end of December, he slipped the sole copy of his book onto a shelf containing fiction titles….

…In his "Crismis" tale, Dillon, the protagonist and the author, goes on a time-traveling adventure after the star on the tree explodes.

"Santa comes," he said, explaining the next part of the plot. After that, Dillon comes across five trees, and one of them "was like a tree portal."

The portal takes him back in time to the "first Thanksgiving" in 1621, a date that he had to confirm with his mother, Ms. Helbig said.

"His imagination is just incredible," she said.

Dillon has been writing "comic-style books" since he was 5, his mother said, but this one is certainly his most successful. The library gave him its first-ever "Whoodini Award" for best young novelist, an award they created for him….
(5) PULP EPICENTER. PulpFest 50 will be held in Pittsburgh from Thursday, August 4 through Sunday, August 7. The theme will be "Action for a Dime!" As for "Why PulpFest?" – let Sara Light-Waller explain it to you.
…Why PulpFest? It's an immersion. As with any niche convention, you're surrounded by people speaking the same language. There's no need to explain about a popular author or artist when talking to vendors. They already know! And probably know much more about the subject than you do. You're rubbing elbows with professionals in all fields, very bright and interesting people. The presentations are always inspiring and I learn a lot from them. And the chance to see original artwork is simply outstanding. There are things you can see in the original art that you just can't make out in reproductions….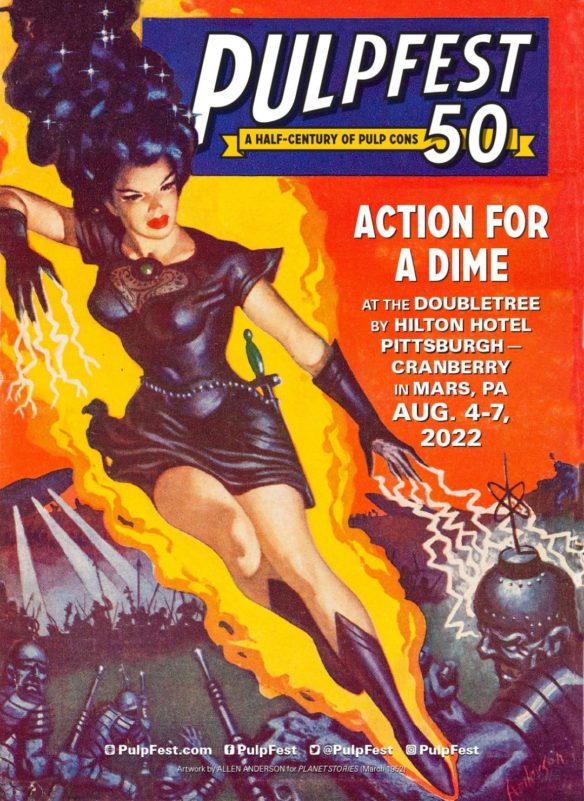 (6) WHAT'S NEXT AFTER WORDLE (WHICH I DON'T DO). [Item by Daniel Dern.] Dunno if I'm the first to come up with this. As just posted to my FB page:
I'm working on a math-oriented sequel to Wordle: Gödle.

(Probably a good home for it would be Amazon Prime?)
* With a tip of the hat to Fred Pohl's The Gold At The Starbow's End
(7) SLYTHERIN TO BEAM UP. "Starfleet Academy Series In Works For Expanded Star Trek Universe" – Deadline has the story.
…A new offshoot, Star Trek: Starfleet Academy, is in development at CBS Studios and Alex Kurtzman's studio-based Secret Hideout for the ViacomCBS streamer, sources said. Sharing a name with the late 1990s video game, the series is set among the college of cadets mentored for leadership roles in the United Federation of Planets space force.

We hear Absentia co-creator Gaia Violo is currently working on a take for the project. With the long-gestating Star Trek spinoff Section 31 starring Michelle Yeoh expected to get a pickup soon, Starfleet Academy is believed to be next in the Star Trek development pipeline behind it. It will be pitched to Paramount+ shortly, and the hope is to get it going in the next year, sources said….
(8) ONE TO SADDLE UP. And much sooner than that, you can view Star Trek: Strange New Worlds, which begins airing on Paramount+ beginning May 5.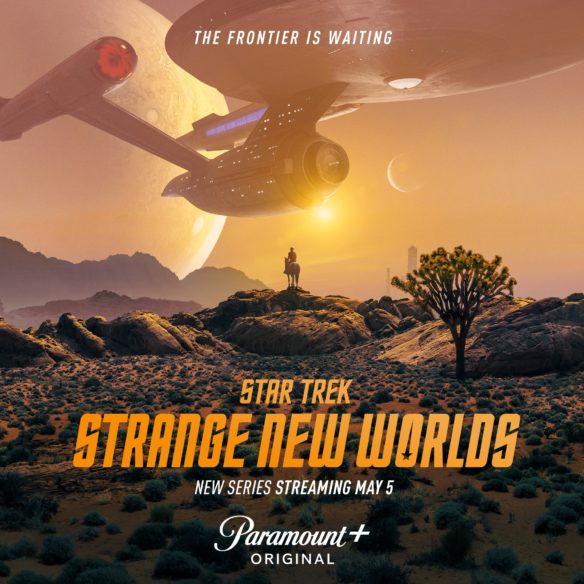 (9) GO AHEAD AND TOUCH THAT DIAL. "Foundation TV Series Season 2 New Characters Announced" and Gizmodo's Rob Bricken is grumpy.
Apple TV+'s loose adaptation of the classic Foundation sci-fi novels has just gotten a little looser. Ten new actors have been added to the cast to play 10 new characters on the show—and six of them appear to be very new, having not appeared in any of Isaac Asimov's seven Foundation novels.

I've written off the TV series and thus refuse to get further upset about how it mangles the source material, but I think it is… interesting to see how much further Foundation is willing to deviate from its infamously difficult-to-adapt source material. Here are the actors, characters, and quick bios, all courtesy of Apple TV+…
(10) MOSES J. MOSELEY (1990-2022). Actor Moses J. Moseley died last week reports Deadline. The 31-year-old was best known for his appearances in six episodes of The Walking Dead. His other genre roles included The Hunger Games: Catching Fire (uncredited), Volumes of Blood: Horror Stories, Southern Fried Zombies, and an episode of TV's Watchmen.
(11) RICHARD L. TIERNEY (1936-2022). Writer, poet and scholar of H. P. Lovecraft, Richard L. Tierney died February 1. Wikipedia finds him notable for his heroic fantasy, including a series of Red Sonja novels co-authored with David C. Smith. Some of his standalone novels utilize the mythology of Lovecraft's Cthulhu Mythos. He is also known for his Simon of Gitta series (which cross historical Gnosticism with Lovecraft's Cthulhu Mythos), his Robert E. Howard completions, and fiction utilizing such Howard-invented characters as Cormac Mac Art, Bran Mak Morn and Cormac Fitzgeoffrey.
(12) MEMORY LANE.
1939 — [Item by Cat Eldridge] Eighty-three years ago on this date, the Buck Rogers serial, produced by Universal Pictures, first aired. It starred Buster Crabbe (who had previously played the title character in two Flash Gordon serials and would return for a third.) Buster was sometimes billed as Larry Crabbe as well as you will note in the poster below.
I don't think I need to say that it's is based on the Buck Rogers character as y'all know that as created by Philip Francis Nowlan but for the sake of the few Filers who will nitpick if I don't I will.
It was directed by Ford Beebe was Saul A. Goodkind as written by Norman S. Hall, Ray Trampe and Dick Calkins. It would run for twelve chapters of roughly twenty minutes each.
As I said Buck Roger was Larry "Buster" Crabbe with Constance Moore was Wilma Deering, and Jackie Moran was "Buddy" Wade, an original character who was based on the Sunday strip character Buddy Deering.
It had a really small budget and re-used film footage from the futuristic Thirties musical Just Imagine.
In 1953, it was edited into the film Planet Outlaws and twelve years it was edited again into Destination Saturn, not to stop there, the late Seventies saw the latter release of the latter as Buck Rogers. All three were feature films.
Not surprisingly, you can watch it online — here is the first chapter.
(13) TODAY'S BIRTHDAYS.
[Compiled by Cat Eldridge.]
Born February 2, 1933 — Tony Jay. Oh, I most remember him as Paracelcus in the superb Beauty and the Beast series even it turns out he was only in for a handful of episodes. Other genre endeavors include — and this is lest OGH strangle me only the Choice Bits — included voicing The Supreme Being In Time Bandits, an appearance on Star Trek: The Next Generation as Third Minister Campio In "Cost of Living", being in The Adventures of Brisco County, Jr. (and yes, I loved the series) as Judge Silot Gato in "Brisco for the Defense." (Died 2006.)
Born February 2, 1940 — Thomas M. Disch. Camp Concentration, The Genocides, 334 and On Wings of Song are among the best New Wave novels ever done.  He was a superb poet as well, though I don't think any of it was germane to our community. He won the Nonfiction Hugo for The Dreams Our Stuff Is Made Of at Aussiecon 3, a critical but loving look on the impact of SF on our culture, and was nominated for a number of other Hugos for his short fiction. (Died 2008.)
Born February 2, 1944 — Geoffrey Hughes. He played Popplewick aka The Valeyard in the Fifth Doctor story, "The Trial of The Time Lord". Intriguingly he was also the voice of Paul McCartney in Yellow Submarine which surely is genre. (Died 2012.)
Born February 2, 1947 — Farrah Fawcett. She has a reasonably good SFF resume and she's been in Logan's Run as Holly 13, and Saturn 3 as Alex. (Does anyone like that film?) She was also Mary Ann Pringle in Myra Breckinridge which might I suppose be considered at least genre adjacent. Or not.  Series wise, she shows up on I Dream of Jeanie as Cindy Tina, has three different roles on The Six Million Man, and was Miss Preem Lila on two episodes of The Flying Nun. (Died 2009.)
Born February 2, 1949 — Jack McGee, 73. Ok, so how many of us remember him as Doc Kreuger on the Space Rangers series we were just discussing not long ago? I've also got him as Bronto Crane Examiner in The Flintstones in Viva Rock Vegas, as a Deputy in Stardust, Mike Lutz in seaQuest, Doug Perren in Buffy the Vampire Slayer and a Police Officer on Person of Interest, to name some of his genre roles.
Born February 2, 1949 — Brent Spiner, 73. Data on more Trek shows and films than I'll bother listing here. I'll leave it up to all of you to list your favorite movements of him as Data. He also played Dr. Brackish Okun in Independence Day, a role he reprised in Independence Day: Resurgence, a film I've not seen yet. He also played Dr. Arik Soong/Lt. Commander Data in four episodes of Enterprise.  Over the years, he's had roles in Twilight Zone, Outer Limits, Tales from the Darkside, Gargoyles, Young Justice, The Avengers: Earth's Mightiest Heroes and Warehouse 13. 
Born February 2, 1986 — Gemma Arterton, 36. She's best known for playing Io in Clash of the Titans, Princess Tamina in Prince of Persia: The Sands of Time, Strawberry Fields in Quantum of Solace, and as Gretel in Hansel and Gretel: Witch Hunters. She also voiced Clover in the current Watership Down series. 
(14) COMIC SECTION.
Frank and Ernest work out their own Variety cliché headline.
Speed Bump has a "ripped from the headlines" version of "The Three Little Pigs."
(15) THE PROOF IS IN THE READING. Ursula Vernon couldn't stand it any longer. Thread starts here.
(16) TODAY'S BURRITO FILLING. There's a review here with an award campaign wrapped around it: "Please give the German android gigolo movie a Hugo nod" urges the Hugo Book Club Blog.
…Despite an initial clinical detachment, Dr. Felser begins to be enticed by the android's meticulous focus on being the ideal romantic partner. But she can't fully buy into the experience because she knows that every perfect moment is the product of research, psychology, and algorithms. Simultaneously, she's challenged emotionally by her ex-husband and his new girlfriend's decision to have a baby together. This is all, of course, standard plot tension for a romance film.

What's refreshing, for both AI and romance films, is that I'm Your Man feels like a deeply personal movie, comfortable both with its own awkwardness, and with tackling the difficulties of relationships and the contradictory desires of humans. This is not a movie that follows standard Hollywood narrative patterns, or focus-grouped easy satisfaction conclusions, but rather tells a story that one person wanted to tell. And it's stronger for that. Writer-director Maria Schrader is probably best-known in North America for directing the Netflix drama Unorthodox, for which she won an Emmy…
(17) ARRIVAL. The New York Times' Dennis Overbye philosophizes about "The James Webb Space Telescope and a Quest Every Human Shares".
On Monday, NASA announced that the James Webb Space Telescope had reached the perch from which it could spend as much as 20 years in surveillance of the cosmos. It traveled about a million miles since launching on Dec. 25, and what a journey that has been.

The telescope was launched from French Guiana as a tightly wrapped package of wires, plastic and slabs of gold-plated beryllium. As it journeyed toward its destination, it had to unfold like a robot from the "Transformers" movies and shape-shift into, well, a telescope with a golden 21-foot-wide mirror gliding atop a silver sunshield.

There were 344 things that could have gone wrong during that month — what NASA calls "single point failures" — that would have doomed the mission.

The astronomers were on the edge of their seats.

And so were I and my colleagues. We knew that at any moment a call or a tweet saying something on the telescope had snagged or ripped or frozen, gone offline or just started sending gibberish would plunge us into a heartbroken crisis investigation: Interviewing disappointed and baffled astrophysicists, begging engineers for better explanations about tiny bits of metal or computer algorithms we'd never heard of, covering rounds of commissions, tiger team reports, congressional hearings and outside critics.

Everything about the Webb would be up for grabs: What shortcuts were taken during the decades of effort, by whom? Who had an idea or a suspicion that was ignored? What was the road not taken?

At the risk of jinxing the whole thing, not to mention my journalistic objectivity, I have to say I'm glad it didn't happen that way. NASA did what it had to do.

And we as humans, temporary inhabitants of a dust mote, as Carl Sagan said, did what we had to do. The Webb telescope is designed to ferret out the very first stars and galaxies that lit up the foggy aftermath of the Big Bang and initiated the grand crescendo of evolution that produced us, among other things, as well as to search for clues to whether the conditions might be right for other creatures' emergence, on nearby exoplanets….
(18) SYNCH OR SWING. A Boston Dynamics Robot dances to "BTS' IONIQ: I'm On It" on the Tonight Show with Jimmy Fallon.
(19) VIDEO OF THE DAY. [Item by Martin Morse Wooster.] In "Honest Game Trailers: Deep Rock Galactic," Fandom Games says this game lets you dig into the earth with your fellow dwarfs to fight bug monsters for a soulless corporation. But make sure you're playing this with friends, because there are "much cheaper and less sad ways to have a good time" than playing this game alone.
[Thanks to Andrew Porter, Michael Toman, Cat Eldridge, Daniel Dern, Olav Rokne, Cora Buhlert, Bill, Mike Kennedy, Martin Morse Wooster, JJ, and John King Tarpinian for some of these stories. Title credit belongs to File 770 contributing editor of the day Daniel Dern, with an assist from a big monkey.]