The 2020 Prix Imaginales finalists were announced on May 2.
The Prix Imaginales recognize the best works of fantasy of the year published in France in six categories, with a prize of 1,000 euros for the first five categories and 500 euros for the last two.
A jury composed of critics, journalists and specialists selected the nominees: Jacques Grasser (Président), Stéphane Wieser (Directeur du Festival), Christophe de Jerphanion, Natacha Vas-Deyres, Lloyd Chéry, and Frédérique Roussel.
The awards would have been given at Imaginales, the Festival of the Imaginary Worlds in Épinal, France, this weekend, however, it is one of the myriad events cancelled due to the coronavirus outbreak.
[NOTE: The Prix Imaginales is a different award than the Grand Prix de l'Imaginaire.]
Catégorie roman francophone / French novel
Jean-Luc A. D'ASCIANO, Souviens-toi des monstres (Aux Forges de Vulcain)
Jean-Laurent DEL SOCORRO, Je suis fille de rage (ActuSF)
Catherine DUFOUR, Danse avec les lutins (L'Atalante)
Franck FERRIC, Le Chant mortel du Soleil (Albin Michel)
Alex NIKOLAVITCH, Trois coracles cinglaient vers le couchant (Les Moutons électriques)
Catégorie roman étranger traduit / Foreign Novel translated into French
Katherine ARDEN, L'Ours et le rossignol [The Bear and the Nightengale] (Denoël) Translated into French by Jacques COLLIN
Brian CATLING, Vorrh [The Vorrh] (Fleuve) Translated into French by Nathalie MEGE
Marina and Sergueï DIATCHENKO, Vita Nostra – Les Métamorphoses 1 (L'Atalante) Translated into French by Denis SAVINE
Shaun HAMILL, Une cosmologie de monstres [A Cosmology of Monsters] (Albin Michel) Translated into French by Benoît DOMIS
Jo WALTON, Pierre-de-vie [Lifelode] (Denoël) Translated into French by Florence DOLISI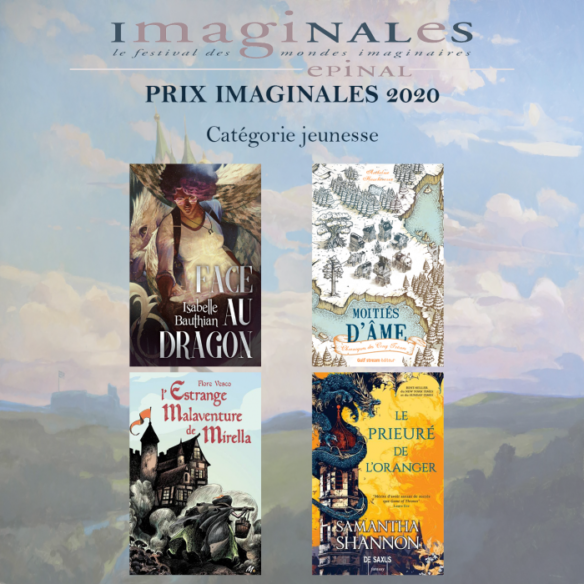 Catégorie jeunesse / Youth category
Isabelle BAUTHIAN, Face au dragon (Projets Sillex)
Anthelme HAUCHECORNE, Moitiés d'Ame – Chroniques des cinq trônes (Gulf Stream)
Samantha SHANNON, Le Prieuré de l'oranger (De Saxus) Translated into French by Benjamin KUNTZER et Jean-Baptiste BERNET
Flore VESCO, L'Estrange malaventure de Mirella (L'École des loisirs)
Catégorie illustration / Illustration
François BARANGER, Les Montagnes hallucinées 1 (Bragelonne)
Daniel CACOUAULT, Alice au pays des merveilles (Bragelonne)
Armel GAULME, Les Carnets Lovecraft (Bragelonne)
Jesper EJSING, Elsewhere (Caurette)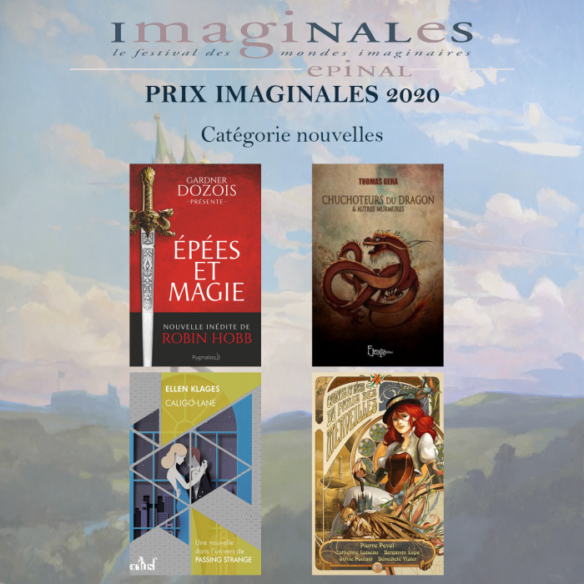 Catégorie nouvelle / Short Story
Gardner DOZOIS, Épées et magie (Pygmalion)
Thomas GEHA, Chuchoteurs du dragon et autres murmures (Elenya)
Ellen KLAGES, Caligo Lane, Passing Strange (ActuSF)
Pierre PEVEL, Contes et récits du Paris des merveilles (Bragelonne)
Catégorie prix spécial du Jury / Special Jury Award
Christelle DABOS, La Passe-miroir (Gallimard)
S.T. JOSHI, Lovecraft je suis providence tomes 1 et 2 (ActuSF)
Roland LEHOUCQ, Loïc MANGIN, Jean-Sébastien STEYER, Tolkien et les sciences (Belin)
Alexandre SARGOS, Tolkien à 20 ans (Au diable Vauvert)
Jean-Sébastien STEYER, Anatomie comparée des espèces imaginaires de Chewbacca à Totoro (Le Cavalier bleu)