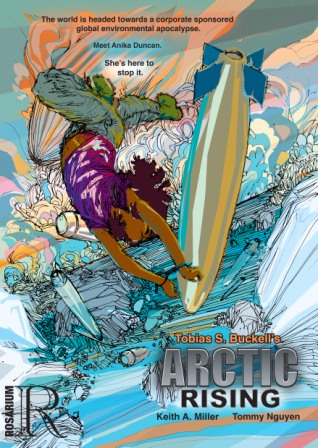 Tobias S. Buckell's near-future thriller Arctic Rising will soon be adapted as a comic book by Rosarium Publishing.
Set in a future possibly mirroring our own where the polar ice caps have all but melted, Arctic Rising centers around a United Nations Polar Guard pilot, Anika Duncan. She finds herself caught in the middle of an international battle between corporations, ecoterrorists, and global powers to stop a plot that could very well decide the fate of Mother Earth.
The first of twelve issues of Tobias S. Buckell's Arctic Rising will be released digitally in February 2016. Keith A. Miller (Manticore, Triboro Tales, and Infest) is writing the adaptation and the art is being done by comics newcomer, Tommy Nguyen.
Buckell states, "I believe in creating diverse futures, and writing Arctic Rising was important to me because it attempts to tackle both the ecological issues I see just around the corner and the diverse peoples who will be affected (and who will be trying to solve the problems we leave them). Partnering with Rosarium to create the graphic novel is a tremendous opportunity, as I think they share a similar yearning for more diverse futures. I can't wait to see what happens next."
"Arctic Rising is such an action-packed thrill ride, turning it into a comic book seemed like a no-brainer almost as soon as I cracked the cover," says Rosarium Publishing head, Bill Campbell. "This adaptation is a dream come true."