(1) HOW WRITERS GET UNPAID. Quenby Olson shows how a returned book costs her money on Amazon. Thread starts here.
Olson backed up the account with Vice's article "TikTok Users Are Showing Readers How To Game Amazon's Ebook Return Policy".
A TikTok trend where users encourage others to purchase, read, and return Amazon ebooks within the company's return policy window has irked independent authors, who claim to have seen dramatic spikes in their ebook return rates since the trend went viral.

The #ReadAndReturn challenge drew attention to Amazon's Kindle return policy, which states that readers can "cancel an accidental book order within seven days." But what's been presented as a literary community "life hack" is hurting romance-fantasy authors like Lisa Kessler's bottom line.

"When you buy a digital book, if you read and return it, Amazon just turns around and gets the money back from the author, plus Amazon builds in a digital delivery fee and so Amazon is still getting that delivery fee but we get all the royalties taken back," Kessler told Motherboard.

Kessler, who self-publishes several book series, says that before the challenge, she would see on average one or two returns per month. But when she checked her Kindle Direct Publishing (KDP) sales dashboard on June 1st, she says she was shocked to find a negative account balance….
(2) JUST A SECOND. The Fall of Númenor, a collection of Tolkien's works about the Second Age of Middle-Earth, will be published by HarperCollins in November 2022. The book will appear after Amazon Prime releases the streaming series The Rings of Power, set during the Second Age of Middle-earth, in September 2022. "New Tolkien book: The Fall of Númenor to be published" at The Tolkien Society.
A HarperCollins press release included in the post explains that the volume is edited by writer and Tolkien expert, Brian Sibley, and illustrated by acclaimed artist, Alan Lee.
…Presenting for the first time in one volume the events of the Second Age as written by J.R.R. Tolkien and originally and masterfully edited for publication by Christopher Tolkien, this new volume will include pencil drawings and colour paintings by Alan Lee, who also illustrated The Lord of the Rings and The Hobbit and went on to win an Academy Award for his work on The Lord of the Rings film trilogy.

J.R.R. Tolkien famously described the Second Age of Middle-earth as a 'dark age, and not very much of its history is (or need be) told'. And for many years readers would need to be content with the tantalizing glimpses of it found within the pages of The Lord of the Rings and its appendices.

It was not until Christopher Tolkien presented The Silmarillion for publication in 1977 that a fuller story could be told for, though much of its content concerned the First Age of Middle-earth, there were at its close two key works that revealed the tumultuous events concerning the rise and fall of the island-kingdom of Númenor, the Forging of the Rings of Power, the building of the Barad-dûr and the rise of Sauron, and the Last Alliance of Elves and Men.

Christopher Tolkien provided even greater insight into the Second Age in Unfinished Tales of Númenor and Middle-earth in 1980, and expanded upon this in his magisterial 12-volume History of Middle-earth, in which he presented and discussed a wealth of further tales written by his father, many in draft form.

Now, using 'The Tale of Years' in The Lord of the Rings as a starting point, Brian Sibley has assembled from the various published texts in a way that tells for the very first time in one volume the tale of the Second Age of Middle-earth, whose events would ultimately lead to the Third Age, and the War of the Ring, as told in The Lord of the Rings.
(3) BALTICON UPDATE. Balticon's post-convention email dated June 17 included the following update about the Code of Conduct investigation that is addressing events reported by File 770 here, here, and here.
(4) LIBRARY E-BOOK RELIEF UNCONSTITUTIONAL. "In Final Order, Court Declares Maryland's Library E-book Law Unconstitutional" reports Publishers Weekly.
In a June 13 opinion and order, Judge Deborah L. Boardman declared Maryland's library e-book law "unconstitutional and unenforceable" all but ending a successful months-long legal effort by the Association of American Publishers to block the law.

"In its February 16, 2022 memorandum opinion, the Court determined that the Maryland Act likely conflicts with the Copyright Act in violation of the Supremacy Clause," Boardman's opinion reads. "Although neither AAP nor the State has moved for summary judgment on any claim, they agree a declaratory judgment may be entered… Therefore, for the reasons stated in the February 16, 2022 memorandum opinion, the Court finds that the Maryland Act conflicts with and is preempted by the Copyright Act. The Act 'stands as an obstacle to the accomplishment and execution of the full purposes and objectives of Congress.'"

… First introduced in January 2021, the Maryland library e-book law required any publisher offering to license "an electronic literary product" to consumers in the state to also offer to license the content to public libraries "on reasonable terms." The bill passed the Maryland General Assembly unanimously on March 10, and went into effect on January 1, 2022.

In response, the AAP filed suit on December 9, 2021 arguing that the Maryland law was pre-empted by the federal Copyright Act. Just days after a February 7 hearing, Boardman agreed with the AAP and temporarily enjoined the law. Boardman's order this week now permanently renders the law enforceable….
(5) CENSORSHIP CASE IN VIRGINIA. Publishers Weekly also reports, "Lawyers Say 'Defective' Virginia Obscenity Claims Should Be Tossed".
First filed in May by lawyer and Republican Virginia assembly delegate Tim Anderson on behalf of plaintiff and Republican congressional candidate Tommy Altman, the suits allege that the graphic memoir Gender Queer by Maia Kobabe and A Court of Mist and Fury by bestselling author Sarah J. Maas—are "obscene for unrestricted viewing by minors." On May 18, a retired local judge found there was "probable cause" for the obscenity claims and ordered the authors and publishers to answer the charges, raising the possibility that the court could bar the books from public display and restrict booksellers and librarians from providing the books to minors without parental consent.

But in filings late last week, lawyers for Kobabe and her publisher, Oni Press, and Maas and her publisher Bloomsbury, along with lawyers for Barnes & Noble, told the court the suits as filed are defective and the remedy sought unconstitutional.

"The petition and show cause order are facially defective because [the Virginia law] does not authorize a court to declare that the book is 'obscene for unrestricted viewing by minors,'" reads a joint filing by Maas and Bloomsbury, explaining that the Virginia law "cannot constitutionally be the basis for the relief sought by petitioner as a matter of law."

In separate filings, Kobabe and Oni Press also argue the law in question is misapplied and the complaint defective. "The statute permits the challenge of a book on the grounds that it is 'obscene' to the entirety of the community of the Commonwealth," reads the brief from Oni Press lawyers. "Petitioner here attempts to redefine [the Virginia law] to have book declared obscene as it relates to one subset of the Community: minors in the Hampton Roads and Virginia Beach areas."

Furthermore, lawyers for the authors and publishers argue that the books in question do not come close to meeting the standard for obscenity as established by the Supreme Court, which requires that materials, even if they contain explicit material, be found to lack serious literary, artistic, political or scientific value. Thus, the relief requested by the plaintiffs would be "an unconstitutional restraint on free speech," lawyers argue.
(6) THE MIGHTY NATALIE. "'Thor: Love and Thunder': How Natalie Portman Grew Nine Inches Taller" — Variety divulges the answer at the link.
…"I definitely got as big as I've ever been," Portman explained for Variety's cover story. "You realize, 'Oh, this must be so different, to walk through the world like this.'"

Portman means that quite literally. Along with getting her arms and shoulders as swole as humanly possible, Portman's Mighty Thor also stands 6 feet tall — nearly 10 inches larger than Portman's actual height.

… To date, no one has figured out how an actor can safely elongate their body, so director Taika Waititi and his crew needed to figure out how to get Portman to the proper height for scenes in which she walked with her co-stars. Their solution proved to be about as low-tech as a Marvel movie can get….
(7) KGB. The Fantastic Fiction at KGB reading series will be changing its schedule to the second Wednesday of the month. The date change begins on September 14, 2022. Both the July and August readings will be on the third Wednesday as originally scheduled.
After more than twenty years of being held on the third Wednesday of every month, the Fantastic Fiction reading series, currently hosted by Ellen Datlow and Matthew Kressel at the KGB Bar in Manhattan, will be switching to the second Wednesday of the month, beginning in September, for the foreseeable future. Previously, the series was held on the third Wednesday of the month.

During the Pandemic, when Covid cases in New York City were dangerously high, hosts Ellen and Matt decided to go virtual (via YouTube) for the safety of all. This virtual period lasted for more than eighteen months, during which time Ellen and Matt were able to bring in guests, many of whom were unable to visit New York in person, from all over the world, including Pakistan, Barbados, the U.K., Australia, South Africa and elsewhere.

During this same period a younger crowd less fearful of Covid began to congregate in person at the KGB Bar during the series' usual third Wednesday. When the Fantastic Fiction series finally returned to the KGB Bar in person in late 2021 and early 2022, the KGB Bar saw a significant drop in income. Because of this, the KGB Bar owner has asked Ellen and Matt to switch weeks for this "big earner/younger generation" that they wish to accommodate on the third Wednesday of each month.
(8) EAR TO THE GROUND. CSI Skill Tree is a series from the Center for Science and the Imagination at Arizona State University.The latest event in the CSI Skill Tree series on how video games envision possible futures and create thought-provoking experiences will streamed on Thursday, July 7, from 2:00-3:15 p.m. Eastern. The event is free and open to everyone—here is the registration link.
In this event, speculative fiction author Tochi Onyebuchi and composer/sound designer Amos Roddy will discuss how sound and music in games contributes to worldbuilding, storytelling, and immersion. They'll look closely at Inside (2016), a moody adventure game with environmental puzzles and grim, industrial aesthetics.
Roddy's other sound work in games is frequently for science fiction titles (most recently, Citizen Sleeper), and Onyebuchi is an incredibly talented SF storyteller.
(9) AN IDEA THAT WHIFFED. Galactic Journey knows exactly what the public in 2022 wants to hear about the Worldcon – which is nothing good, of course – and presents: "[June 22, 1967] The Stench Arising from the World Convention" by Alison Scott.
…Here we are in 1967, and Ted White, from his lofty position of power as chairman of NyCon 3, this year's World SF Convention, has decided that the time has come to expand the existing Best Fanzine Hugo. I think that many of we actifans would welcome additional awards for Best Fan Writer and Best Fan Artist. However, the NyCon 3 committee – and I think we must assume this is mostly Ted – decided to unilaterally create a new class of awards, the Fan Achievement Awards, by analogy to the Science Fiction Achievement Awards, and to nickname them the "Pongs", by analogy to the "Hugos"….
P.S. Even at the time almost everyone said they hated the idea. That's why in the end the NyCon 3 committee actually did call these added fan awards Hugos.
(10) MEDIA BIRTHDAY.
1925 – [By Cat Eldridge.] Let's keep in mind that ninety-seven years ago when this first version of The Lost World premiered, A. Conan Doyle was very much alive. This is very important as he was involved in the film including writing the script from his novel and being involved in the production quite personally. Doyle said repeatedly that Challenger, not Holmes, was his favorite creation.
Directed by Harry O. Hoyt, The Lost World featured the amazing stop motion special effects by Willis O'Brien, the dinosaurs here being a great look at what he would do on King Kong in eight yers. Nine different types of dinosaurs were created including of course Tyrannosaurus. A very crowded plateau it was. Some of the dinosaur models made for this film were collected later by Ackerman.
It cost seven hundred thousand to make and grossed one point three million. Studios being relatively honest in those days, we can say it actually made money.
Full early prints include an introduction by Doyle. Later prints removed this.
The New York Times after seeing early reels of the dinosaurs said if these be "monsters of the ancient world, or of the new world which he has discovered in the ether, were extraordinarily lifelike. If fakes, they were masterpieces." Contemporaneous reviews such as the LIFE one say the same thing: "In The Lost World, as it appears on the screen, the animals have been constructed with amazing skill and fidelity and their movements, though occasionally jerky, are generally convincing."
Audience reviewers at Rotten Tomatoes currently have a sixty-nine percent rating for it.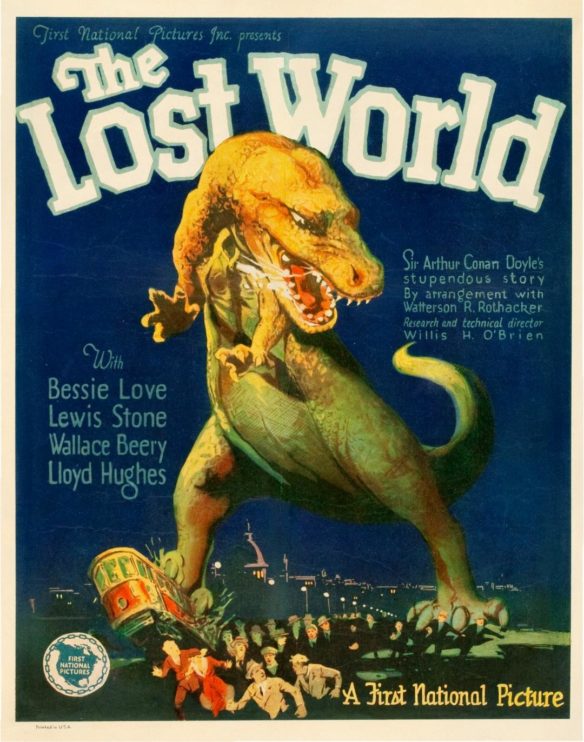 (11) TODAY'S BIRTHDAYS.
[Compiled by Cat Eldridge.]
Born June 22, 1856 — H. Rider Haggard. Writer of pulp fiction, often in the the Lost World subgenre. King Solomon's Mines was the first of his novels with Allan Quatermain as the lead and it, like its sequels, was successful. These novels are in print to this day. Haggard by the way decided to take ten percent royalties instead of a flat fee for writing, a wise choice indeed. And let's not forget his other success, She: A History of Adventure, which has never print out of print either. (Died 1925.)
Born June 22, 1894 — George Fielding Eliot. ISFDB has scant listings from him and Wiki is not much better but shows "The Copper Bowl" in Weird Tales in the December 1928 issue and notes that thirty years later he has "The Peacemakers" in the Fantastic Universe in January 1960 edition. Stitching this together using the EofSF, I'll note he wrote Purple Legion: A G-Man Thriller, a really pulpish affair. As Robert Wallace, he wrote "The Death Skull Murders", one of the Phantom Detective stories, a series that came out after The Shadow and ran for a generation. (Died 1971.)
Born June 22, 1936 — Kris Kristofferson, 86. He first shows up in a genre film, The Last Horror Film, as himself. As an actor, his first role is as Bill Smith in Millennium which is followed by Gabriel in Knights, a sequel to Cyborg. (A lack of name creativity there.) Now comes his role as Abraham Whistler in Blade and Blade II, a meaty undertaking indeed! Lastly I'll note he voiced Karubi in Planet of the Apes.
Born June 22, 1947 — Octavia Butler. I think her Xenogenesis series is her most brilliant work though I'm also very, very impressed by the much shorter Parable series. I'm ambivalent on the Patternist series for reasons I'm not sure about. Her first Hugo was L.A. Con II (1984) for her "Speech Sounds" short story and she also got a Hugo for her "Bloodchild" novelette at Aussiecon Two (1985). DisCon III (2021) saw Parable of the Sower: A Graphic Novel Adaptation with text by her obviously as adapted by Damian Duffy and illustrated by John Jennings pick up the Best Graphic Story or Comic Hugo. (Died 2006.)
Born June 22, 1949 — Edward M Lerner, 73. I'm here today to praise the Ringworld prequels that he co-wrote with Niven, collectively known as Fleet of Worlds which ran to five volumes. Unlike the Ringworld sequels which were terribly uneven, these were well written and great to read. I've not read anything else by him.
Born June 22, 1949 — Meryl Streep, 73. She'd make the Birthday list just for being Madeline Ashton in Death Becomes Her and her epic battle there with Goldie Hawn. She's the voice of Blue Ameche in A.I. Artificial Intelligence, and a very real Aunt Josephine in Lemony Snicket's A Series of Unfortunate Events. She's the voice of Felicity Fox in Fantastic Mr. Fox, based off the on Dahl's 1970 children's novel. She voices Jennie in a short that bring Maurice Sendak's dog to life, Higglety Pigglety Pop! or There Must Be More to Life. She's The Witch in Into The Woods. I think that's it.
Born June 22, 1958 — Bruce Campbell, 64. Where to start? Well let's note that Kage loved the old rascal as she described him, so I've linked to her review of Jack of All Trades. I personally liked him just as much in The Adventures of Brisco County, Jr. and think it's well worth checking out. I think his work as Ash Williams in the Evil Dead franchise can be both brilliant and god awful, often in the same film. Or the same scene. The series spawned off of it is rather good. Oh, and for popcorn reading, check out If Chins Could Kill: Confessions of a B Movie Actor, his autobiography.
Born June 22, 1973 — Ian Tregillis, 49. He is the author of the Milkweed Triptych trilogy which is frelling brilliant. He's contributed three stories to Max Gladstone's The Witch Who Came in From the Cold, a rather good serial fiction narrative (if that's the proper term), and he's got another series, The Alchemy Wars, I haven't checked out. He's also a contributor to George R. R. Martin's Wild Cards series which I'm beginning to suspect everyone has been involved in.
(12) COMICS SECTION.
Joel Merriner mashes up Gotham with Middle-Earth.
(13) THE READING LIFE. The Critic's Paul Dean mourns the decline of the second-hand book trade in "Bookshops remaindered".
At the Oxford Book Fair in April, the presence of a hundred exhibitors from all over Britain suggested that Covid had not killed off the antiquarian book trade. But those who buy antiquarian books are not necessarily interested in reading, any more than those who buy hundreds of cases of rare wines are interested in drinking.

The second-hand market — for immediate consumption rather than laying down — is a different matter, as Oxford itself sadly demonstrates. In the 1970s, Blackwell's second-hand department occupied the whole of the top floor. By 2000, it occupied most of the third floor. Now it shivers forlornly in a few feet of the first floor.

Will Waterstones, Blackwell's new owners, bother to keep it? One second-hand bookshop after another has closed in Oxford, leaving two admittedly excellent Oxfams, St Philip's Books opposite the cathedral, a new small outlet in the Covered Market, and the ominously named The Last Bookshop in Jericho. Thornton's and Robin Waterfield are much missed. The former still sells online, but, although I plead guilty to online buying, that is not the same. It is like eating the menu instead of the food….
(14) GETTING READY TO INTERACT WITH AI. "Soon, Humanity Won't Be Alone in the Universe" says David Brin in his opinion piece for Newsweek.
…In 2017 I gave a keynote at IBM's World of Watson event, predicting that "within five years" we would face the first Robotic Empathy Crisis, when some kind of emulation program would claim individuality and sapience. At the time, I expected — and still expect — these empathy bots to augment their sophisticated conversational skills with visual portrayals that reflexively tug at our hearts, e.g. wearing the face of a child. or a young woman, while pleading for rights… or for cash contributions. Moreover, an empathy-bot would garner support, whether or not there was actually anything conscious "under the hood."

One trend worries ethicist Giada Pistilli, a growing willingness to make claims based on subjective impression instead of scientific rigor and proof. When it comes to artificial intelligence, expert testimony will be countered by many calling those experts "enslavers of sentient beings." In fact, what matters most will not be some purported "AI Awakening." It will be our own reactions, arising out of both culture and human nature.

Human nature, because empathy is one of our most-valued traits, embedded in the same parts of the brain that help us to plan or think ahead. Empathy can be stymied by other emotions, like fear and hate — we've seen it happen across history and in our present-day. Still, we are, deep-down, sympathetic apes.

But also culture. As in Hollywood's century-long campaign to promote—in almost every film — concepts like suspicion-of-authority, appreciation of diversity, rooting for the underdog, and otherness. Expanding the circle of inclusion. Rights for previously marginalized humans. Animal rights. Rights for rivers and ecosystems, or for the planet. I deem these enhancements of empathy to be good, even essential for our own survival! But then, I was raised by all the same Hollywood memes….
(15) SPIDER-REX. "Spider-Rex Makes His Roaring Debut on Leinil Francis Yu's New 'Edge of Spider-Verse' #1 Variant Cover" Marvel announced today.
The future of the Spider-Verse is here! Launching in August, Edge of Spider-Verse will be five-issue limited series that introduces brand-new Spider-heroes and redefines fan-favorites such as Araña, Spider-Man Noir, Spider-Gwen, and Spider-Man: India! Each thrilling issue will contain three stories crafted by Marvel's biggest Spider talents including an overarching narrative by Dan Slott who will lay the groundwork for the epic conclusion of the Spider-Verse later this year. Edge of Spider-Verse #1 will see the debut of Spider-Rex in a story by hit Spider-Woman creative team, Karla Pacheco and Pere Perez. Fans can see this awesome and one-of-a-kind Spider-Hero in a brand-new variant cover by Leinil Francis Yu.
(16) WEIRD AL'S SONG FOR STAR WARS. There might actually be a few notes from it in this trailer, I'm not sure. "LEGO Star Wars Summer Vacation", set shortly after the events of Star Wars: The Rise of Skywalker, features the voices of "Weird Al" Yankovic, Yvette Nicole Brown, Kelly Marie Tran, Anthony Daniels, Billy Dee Williams, and returning cast members from previous LEGO Star Wars specials, and includes "Weird Al's" new original song, "Scarif Beach Party".
(17) CAT NOT SLEEPING ON SFF. Enjoy this entertaining trailer for "Puss In Boots: The Last Wish".
This Christmas, everyone's favorite leche-loving, swashbuckling, fear-defying feline returns. For the first time in more than a decade, DreamWorks Animation presents a new adventure in the Shrek universe as daring outlaw Puss in Boots discovers that his passion for peril and disregard for safety have taken their toll. Puss has burned through eight of his nine lives, though he lost count along the way. Getting those lives back will send Puss in Boots on his grandest quest yet. Academy Award® nominee Antonio Banderas returns as the voice of the notorious PiB as he embarks on an epic journey into the Black Forest to find the mythical Wishing Star and restore his lost lives. But with only one life left, Puss will have to humble himself and ask for help from his former partner and nemesis: the captivating Kitty Soft Paws (Oscar® nominee Salma Hayek).
(18) SHOULD BE WORTH MORE THAN TWO POINTS. [Item by Martin Morse Wooster.] This Rube Goldberg machine by Creezy has been viewed nearly 10 million times, but not on File 770! "The Swish Machine: 70 Step Basketball Trickshot".
(19) REFERENCE DIRECTOR! [Item by Daniel Dern.] To help you decipher today's Scroll title "Heigh-ho, The Battling Throg, The Frog Down In Valhalla, Oh" —
Throg is Frog Thor, The Frog Of Thunder, first introduced by Walt Simonson in 1986 (see "Thor Left Asgard's Future to Marvel's Strangest Thunder God"), although, Marvel being Marvel (sigh), there are now several variants and versions…
"Heigh-Ho etc" riffs on the Irish folk song "Heigh-Ho, The Rattlin' Bog" popularized by The Irish Rovers and done by many others including Seamus Kennedy,
(20) AMATEURS DRIVING THE CHARIOT OF APOLLO. [Item by Martin Morse Wooster.] James Burke and John Parry tour an Apollo training facility, crash a "scooter" on the Moon and mispronounce "Houston" in this clip from the BBC show Tomorrow's World in 1968.
(21) VIDEO OF THE DAY. This is buzzzzzare! "Best-Case Scenario, Worst-Case Scenario and One with Bees" from Late Night with Seth Meyers.
[Thanks to Chris Barkley, Andrew Porter, Daniel Dern, Joey Eschrich, John A Arkansawyer, Michael Toman, Cat Eldridge, Mike Kennedy, Martin Morse Wooster, JJ, and John King Tarpinian for some of these stories. Title credit belongs to File 770 contributing editor of the day Daniel Dern.]