(1) CANON SALUTE. "Spock Gets New Canon Full Name In Star Trek Strange New Worlds" reports Gizmodo. And that name is S'Chn T'Gai Spock.
…[This] is not an unfamiliar name to fans of classic Star Trek novels. Barbara Hambly's Pocket Book novel Ishmael, first released in 1985, gave S'Chn T'Gai as Spock's name. It was established that, in a similar manner to how the Bajorans naming conventions work—where, for example, Deep Space Nine's Major Kira Nerys' given name is Nerys, not Kira—Vulcan names are inverted, and S'Chn T'Gai is actually Spock's family name. Spock had previously alluded to having a first name in the Star Trek season 1 episode "This Side of Paradise," where he described it as "unpronounceable." Not any more, apparently!…
A watermarked version of the forthcoming poster with Spock's full name can be seen here at TrekCore.com.
Naturally, Barbara Hambly is ecstatic. As she told Facebook followers: "Now, classic Star Trek fiction is having its legacy live on in TV once more with the canonization of S'Chn T'Gai. And that makes me Mr. Spock's godmother! This delights me as much as winning a Hugo or a Nebula. Maybe more."
(2) A CRUEL CAREER. "'Unlivable and Untenable.' Molly McGhee on the Punishing Life of Junior Publishing Employees" – a Literary Hub podcast.
Fiction writer and former Tor assistant editor Molly McGhee joins co-hosts V.V. Ganeshananthan and Whitney Terrell to discuss details of her recent resignation from a position she'd fought for in the industry she loves. She also talks about what's behind #PublishingBurnout for junior employees and what that means for the future of publishing.

… Molly McGhee: I had a lot of people reach out privately to me, and publicly, and express that this is something they felt as well, but that they were really nervous to burn any bridges. The thing about publishing is that no matter how high you are, especially if you're in editorial, you had to start from the bottom. And so you have been experiencing this struggle for years and years, and then find yourself in a position of frustration where you cannot alleviate that struggle for other people below you….
(3) THE FOOD OF AFROFUTURISM. Eat the Culture presented an array of recipes in their "2022 Black History Month Virtual Potluck".
We collaborated with more than 30 Black recipe developers as we celebrate Black History Month 2022. This Virtual Potluck explores Black food through the lens of Afrofuturism. Our collaboration of recipes explores the intersection of the Black diaspora via culture, future, geopolitics, imagination, liberation, culture, and technology…
What is Afrofuturism?

"Afrofuturism evaluates the past and future to create better conditions for the present generation of Black people through the use of technology, often presented through art, music, and literature."

–Taylor Crumpton, "Afrofuturism Has Always Looked Forward," Architectural Digest, August 24, 2020

We tasked participants with developing recipes that honor the culinary ingenuity of our past and stretch towards an innovative culinary future.  We sought out to take familiar cultural foods and reimagine them with the ingredients we use, flavors we develop, textures we mold, and visually the way we present….
(4) CAN'T GET IT FIXED. Chad Orzel tells about a writer's heartbreak from "The Persistence of Errata" at Counting Atoms.
… [The] problem of errors creeping in and somehow making it past the seemingly endless rounds of editing is a pretty universal one. I've had a few over the years, and in fact just this week got another email pointing one out. The biggest of the errors that I've been alerted to are:

— I'm shocked to realize that this was ten years ago, now, but all the way back in How to Teach Relativity to Your Dog, we ended up with a typo in Maxwell's equations (on page 34 of the paperback)— there's an incorrect sign in the Ampere-Maxwell law. In my defense, in the first round of proofs, basically every symbol in there had been replaced by some random dingbat because of a font issue, so it took quite a bit of effort to even get them close. I think the Kindle edition was still rendering a lot of them as empty boxes a few months after publication. I've gotten a bunch of emails about this one over the years, starting with one from Bill Phillips….
(5) NO VISIBLE MEANS OF SUPPORT. And here's another little mistake that made it past quality control: "'The Northman' Subway Posters Trolled For Excluding Title" at Comic Sands.
If you've been anywhere near the internet or TV lately, you've likely heard about the new film The Northman as commercials have hit the airwaves and the film's star-studded cast have begun walking red carpets at various glitzy premieres.

The sweeping Viking epic from director Robert Eggers star-studded cast includes Alexander Skarsgård and Nicole Kidman, making the film pretty hard to miss as its opening weekend approaches.

But if you get most of your advertising from the New York city subway? …[The] film's marketing team seems to have forgotten to put the film's title on its poster….
Twitter is helpfully filling in the blank. This might be the best of them:
(6) EAVESDROPPING. In case you haven't listened to BBC Radio 4's encounter between the Archbishop and Stephen King, linked here last month, there is now a webpage with the highlights: "Ten things we learned when the Archbishop of Canterbury met author Stephen King".
1. King's versatility surprises people

The Archbishop confesses that he didn't know that King wrote The Green Mile and Shawshank Redemption. He's not alone.

"The thing that I remember best about those books," says King "is being in the supermarket one day and going up an aisle where this woman was looking at me, and she said, 'I know who you are. You write all those scary stories. And that's all right. For some people, that's fine. I don't read those scary stories. I like uplifting things like that Shawshank Redemption.' And I said, 'I wrote that,' and she said, 'No, you didn't.' So that was it. That was our whole conversation!"
(7) SCRIBNER OBIT. Australian fan Edwin A. "Ted" Scribner who edited the web version of the Australian SF Bullsheet (second series) has died. The editor of the email/print version Edwina Harvey announced the news today. He and Harvey were nominated six times for the Ditmar Award for their work on the newzine, winning in 2004, 2005, and 2006. Scribner also was a member of the Sydney Futurians.
Edwina Harvey's personal tribute to her co-editor and friend is here on Facebook.
(8) MEDIA BIRTHDAY.
1950 — [Item by Cat Eldridge.] I'm reaching way back into the history of the genre this time as the Dimension X radio show premiered seventy-two years ago this evening on the NBC radio network. It was preceded by Mutual's 2000 Plus which as the name suggests was another SF series with episodes like "Men from Mars". That series lasted two years.
The Dimension X radio show was, according to all the articles I read, not the first SF radio series but it benefited from the deep stock of writers involved and I'm going to list all of them here: Isaac Asimov, Robert Bloch, Ray Bradbury, Fredric Brown, Robert A. Heinlein, Murray Leinster, H. Beam Piper, Frank M. Robinson, Clifford D. Simak, William Tenn, Jack Vance, Kurt Vonnegut, Jack Williamson and Donald A. Wollheim. Holy frell!
If I may single out an episode, I will by noting June 10, 1950's "The Green Hills of Earth", based upon the Heinlein story of the same name, relates the life of "Noisy" Rhysling whose story y'all know. It's wonderful to hear it told.
The stories of course had already been published, be it in Astounding Science Fiction or the Saturday Evening Post. It was really the Golden Age of Science Fiction for these authors as they'd get paid for these stories again when they were used on the X Minus One series that followed not long after. Remember Heinlein's adage about filing the serial numbers off.
With a five-month hiatus from January to June of 1951, the series spanned seventeen months. Quite remarkably all fifty episodes of the series have survived and can be heard today. I've profiled at least six episodes of this series on File 770. Do a search here if you want to listen to one of them.
(9) TODAY'S BIRTHDAYS.
[Compiled by Cat Eldridge.]
Born April 8, 1942 — Douglas Trumbull. Let's call him a genius and leave it at that. He contributed to, or was fully responsible for, the special photographic effects of Close Encounters of the Third Kind, 2001: A Space Odyssey, Star Trek: The Motion Picture and Blade Runner, and directed the movies Silent Running and Brainstorm. And Trumbull was executive producer for Starlost which we will forgive him for. (Died 2022.)
Born April 8, 1943 — James Herbert. Writer whose work erased the boundaries between horror and sf and the supernatural in a manner that made for mighty fine popcorn reading. None of his work from his first two books, The Rats and The Fog, to his latter work such as Nobody True would be considered Hugo worthy in my opinion (you may of course disagree) but he's always entertaining. I will note that in 2010 Herbert was greatly honored by receiving the World Horror Convention Grand Master Award which was presented to him by Stephen King. (Died 2013.)
Born April 8, 1967 — Cecilia Tan, 55. Editor, writer and founder of Circlet Press, which she says is the first press devoted to erotic genre fiction. It has published well over a hundred digital book to date with such titles as Telepaths Don't Need Safewords and Other Stories from the Erotic Edge of SF/Fantasy (Wouldn't Bester be surprised to learn that. I digress), Sex in the System: Stories of Erotic Futures, Technological Stimulation, and the Sensual Life of Machines and Genderflex: Sexy Stories on the Edge and In-Between. She has two series, Magic University and The Prince's Boy. 
Born April 8, 1974 — Nnedi Okorafor, 48. Who Fears Death won a World Fantasy Award for Best Novel.  Lagoon which is an Africanfuturism or Africanjujuism novel (her terms) was followed by her amazing Binti trilogy. Binti, which led off that trilogy, won both the Nebula and Hugo Awards. Binti: The Night Masquerade was a Hugo finalist at Dublin 2019. She was also a 2019 Hugo finalist for her work on the most excellent Black Panther: Long Live the King. Several of her works have been adapted for video, both in Africa and in North America. She wrote LaGuardia, winner of the Best Graphic Story Hugo at CoNZealand, and won a Nommo Award for writing Shuri, another graphic novel.  
Born April 8, 1977 — Sarah Pinsker, 45. A nine-time finalist for the Nebula Award, her first novel A Song for a New Day won the Nebula for Best Novel while her story Our Lady of the Open Road won the award for Best Novelette. Her short story, "In Joy, Knowing the Abyss Behind", won a Sturgeon Award, and "Two Truths and a Lie" won Best Novelette at DisCon III. Another novelette, "The Blur in the Corner of Your Eye" was nominated at ConNZealand, and a novella, "And Then There Were (N-One)", was nominated at Worldcon 76. Very impressive indeed.
Born April 8, 1980 — Katee Sackhoff, 42. Being noted here  for playing Lieutenant Kara "Starbuck" Thrace on the rebooted Battlestar Galactica though I must confess I've only seen in her excellent role as Deputy Sheriff Victoria "Vic" Moretti on Longmire which is now streaming on Peacock. She also played Amunet Black, a recurring character who showed up on the fourth season of The Flash. To my pleasant surprise, I see her on Star Wars: The Clone Wars in a recurring role of voicing Bo-Katan Kryze.
Born April 8, 1981 — Taylor Kitsch, 41. You'll possibly remember him  as the lead in John Carter which I swear was originally titled John Carter of Mars. He also played Gambit in X-Men Origins: Wolverine, and was Lieutenant Commander Alex Hopper in Battleship which was based off the board game.
(10) COMICS SECTION.
(11) BUCHA AND BOYCOTT. [Item by James Bacon.] The Will team continue to inform fans of what they are seeing and doing, as they are faced with daily news that is upsetting and horrifying.
The massacre in Bucha has stunned many, and artist Igor Kurilin created a piece of art,
And there is one raising awareness of Russian supporters in our midst.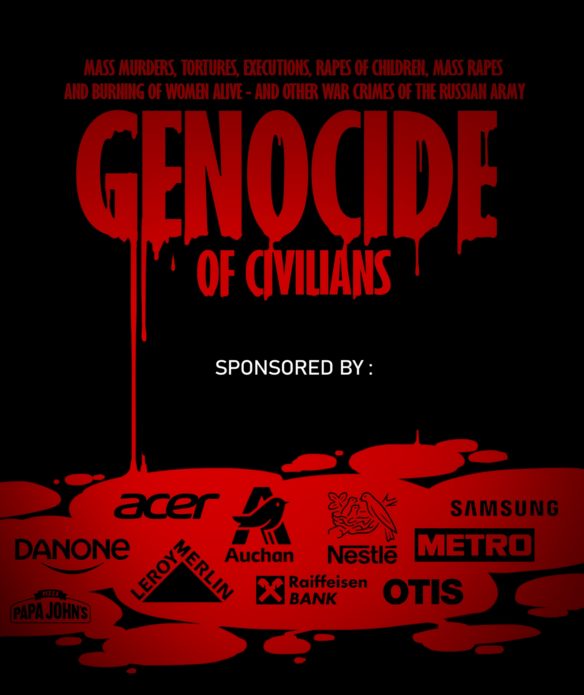 Art by Igor Kurilin & TheWillProduction
(12) ALL ABIRD! "Whoopi Goldberg joins Anansi Boys TV series as Bird Woman" reports Entertainment Weekly.
… Goldberg has boarded the cast of Anansi Boys, the TV series adaptation of Gaiman's acclaimed 2005 book at Amazon. And she's playing a key antagonistic role that Gaiman himself promises is "going to be scary."

Amazon revealed the actors who will portray the pantheon of deities on the show, including Goldberg's Bird Woman, a.k.a. the God of Birds. She is the embodiment of birds, and not just the more beautiful, stately avian animals, but the dangerous ones, as well. Long ago, Anansi, the African trickster God of Stories did her dirty, and now she might finally have her chance to turn the tables….
(13) SPLICING GENRE GENES. James David Nicoll introduces Tor.com readers to "5 Captivating SFF Mystery Novels".
I've noticed that many of my friends who read SFF also read mysteries. Not only that—authors who publish in SFF sometimes publish mysteries as well (which are often more profitable). Indeed, some authors even write SFF mysteries. Here are five recent SFF mysteries I liked.
One of his picks is A Study in Honor by Claire O'Dell (2018).
(14) POSSIBLE NEW FORCE IN PHYSICS. [Item by SF Concatenation's Jonathan Cowie.] Back in the day, at our occasional dinners, the bioscientists on the SF2 Concatenation team would always rib our physicist, Graham Connor (who was prone to saying that physics was the> key science), by asking him had physicists found anti-gravity yet? Or, broken the speed of light? etc. Well, now it just may be the BBC News reports that a new force in physics may have been discovered…
The new research from Fermi Lab has been published in the journal Science and it may upset the standard model of physics.
(15) SF CINEMA SFX. [Item by SF Concatenation's Jonathan Cowie.] Another chance to hear Unreal: The VFX Revolution.
This is a three-part BBC Radio 4 documentary, first broadcast last year, that largely focuses on SF film special effects. It is now being repeated on BBC Radio 4 but you can access all three episodes on BBC Sounds.
Yesterday's Part 2 episode was particularly interesting.
Oscar winner Paul Franklin explores how film entered the digital realm.

The 1970s saw the very first onscreen digital effects in films like Westworld. Those first pioneers of CGI already spoke of digital humans, indeed of entire films being made within the computer, but Hollywood was unconvinced. By 1979, some of those visionaries like Ed Catmull and Alvy Ray Smith, later founders of Pixar, were working for filmmaker George Lucas, who primarily wanted new digital tools for editing and compositing and to explore computer graphics. Their first all-digital sequence created life-from lifelessness with the Genesis effect for Star Trek II: The Wrath of Khan. Meanwhile Disney itself was creating TRON, a spectacular mix of state-of-the art animation and pioneering digital effects that took audiences into cyberspace for the first time. In their different ways these two films were the true harbingers of the digital revolution that would bring profound change to moviemaking within little more than a decade. And then came Terminator 2's chrome shape shifter-the T1000. The revolution was underway.
(16) FROM LOTR TO UFO. Mashable declares "Stephen Colbert's latest 'Lord of the Rings' rant is beautiful to witness".
Stephen Colbert has nerded out over Lord of the Rings many times before on The Late Show, and frankly it'll never get old.

The latest glorious example came on Thursday during a segment on space news, when the discovery of a new star name Earendel prompted Colbert to launch into a truly impressive rundown of the name's importance in Tolkien's world….
"Space News: Hubble Finds A New Star, Bret Baier Warns Of Alien Pregnancies" on YouTube.
Outer space enthusiast Stephen Colbert shares updates from beyond our world, including news about a newly-discovered star with a name borrowed from "The Lord of the Rings," and an explosive report on unexplained alien phenomena from our buddy Bret Baier at Fox News.
[Thanks to Mike Kennedy, Martin Morse Wooster, JJ, John King Tarpinian, Rob Thornton, Chris Barkley, James Bacon, Lise Andrerasen, SF Concatenation's Jonathan Cowie, Andrew Porter, Michael Toman, and Cat Eldridge for some of these stories. Title credit belongs to File 770 contributing editor of the day Jim Janney.]