(1) RHYSLING REVAMP SURVEY REPORT. The Science Fiction and Fantasy Poetry Association (SFPA) surveyed members about potential changes to their Rhysling Award. See their feedback here: "Rhysling Revamp" at the SPECPO blog. From the introduction:
The Rhysling Awards are in their 45th year of recognizing excellent speculative poetry, presented by The Science Fiction and Fantasy Poetry Association (SFPA). Leaders have been monitoring the Rhysling Anthology as it grew along with membership numbers. The anthology has ballooned from 42 poems in 2002 to 180 poems in 2022. Continued growth would result in an anthology that is not feasible to print or read.
Here's an excerpt from the survey results.
CATEGORIES
A continual discussion point among members is the question of "double dipping" on awards. Most respondents support that Elgin-length poems not be considered for the Rhysling (64%). A slight majority agree at setting a maximum line length for the Rhysling (53%), which would be consistent with considering extra-long poems being only eligible for the Elgins. On the other side of the spectrum, there is generally support (49%) for Dwarf Stars to be the only award that can catch the 1-10 line poems. Only 25% of respondents disagreed about keeping Dwarf-Stars-eligible poems out of the Rhyslings.

There was very little support for adjusting the length definitions, but lots of ambivalence showing in the swell of neutral responses (44%).
(2) CHICON 8 POCKET PROGRAM. In a manner of speaking. The 392-page Pocket Program is now available on the Chicon 8 website. There are two versions, (1) a single page version best viewed on phones and tablets, and (2) a two-page version which is best for printing.
(3) ALERT: FAUX CHICON 8 MERCHANDISE. The Worldcon committee issued a heads up that some t-shirt sites are selling Chicon 8 branded merchandise and saying they are official. They are not.
"Our only official site for Chicon 8 merchandise at this time is Redbubble. If you buy from anywhere else, it does not benefit the convention. Please shop wisely!"
(4) THE OTHER WORLD. This World Fantasy Award winner's new book isn't genre, but when speaking about her research she says things like this — "So I went on this fantastic two-week trip into a time and place that doesn't really exist now." "Sofia Samatar Brings a Second Coming" at Publishers Weekly.
Sofia Samatar has a way with a sentence. No matter what she's writing—whether it's short stories, like her quietly devastating Nebula- and Hugo-nominated "Selkie Stories Are for Losers," or novels, like her World Fantasy Award–winning debut, A Stranger in Olondria—her work has a way of pairing the mundane and sublime with casual aplomb.

Her latest, The White Mosque (Catapult, Oct.), is a mosaic memoir that juxtaposes history, culture, religion and regionalism, tracing the journey of a group of German-speaking Mennonites into the heart of Khiva in Central Asia—now modern-day Uzbekistan—on a quest that promised no less than the second coming of Christ.

Samatar's own journey to the site where the group's church once stood started in 2016, when her father-in-law gave her a book titled The Great Trek of the Russian Mennonites, by Frank Belk. "This guy, who's sort of a cult leader, predicts Christ is returning, and these people just uproot their lives to follow him," she says, speaking via Zoom from her office at James Madison University in Harrisonburg, Va., where she's an associate professor of English. "Of course, nothing happens. But they stayed for 50 years, until they were deported by the Bolsheviks."

Samatar, the child of a Black Somali Muslim and a white Mennonite, became obsessed with the story….
(5) CON OR BUST. Dream Foundry, which previously announced that Con or Bust is "folding into our (dragon) wing," shared the program's new logo designed by Dream Foundry contest winner Yue Feng.
Applications for grants are open, and they've already begun reviewing and issuing grants. If you want to help creatives and fans of color have access to conventions and other opportunities, donate here. To stay in the loop on Con or Bust news, sign up for the program's quarterly newsletter.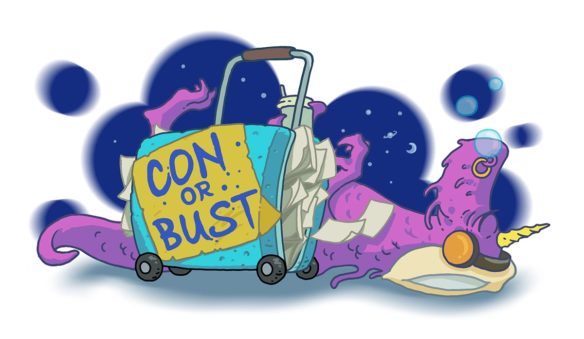 (6) BACK TO THE MOON. This NASA promo about the Artemis mission dropped yesterday. "Artemis I: We Are Ready".
The journey of half a million miles – the first flight of the Artemis Generation – is about to begin. The uncrewed Artemis I mission will jump-start humanity's return to the Moon with the thunderous liftoff of NASA's powerful new Space Launch System rocket and Orion spacecraft. This critical flight test will send Orion farther than any human-rated spacecraft has ever flown, putting new systems and processes to the test and lighting the way for the crew missions to come. Artemis I is ready for departure – and, together with our partners around the world, we are ready to return to the Moon, with our sights on Mars and beyond.
(7) WHERE'S THE LOOT? [Item by Martin Morse Wooster.] In the Financial Times behind a paywall, Tom Faber looks at the problems game designers have giving users rewards.
Most games interface short, mid- and long-term rewards that trigger at different times. the short-term rewards often take the form of sensory feedback; the bright 'ding' when you get a coin in Super Mario, an enemy's head exploding in a shower of gore in Grand Theft Auto. These get boring after a while–behavioural psychologists learned that repeating the same rewards generates diminishing returns. So developers offer midterm rewards: new levels, items, skills, characters, locations or narrative beats. The longterm rewards are often related to social competition and prestige, such as difficult high-level team challenges or rare cosmetic items which players can show off to their friends.

Loot boxes lean into several of these techniques. They have been employed in all manner of games ranging from FIFA to Star Wars, and they're very profitable. Yet they have also faced a backlash: a recent report from consumer bodies in 18 European countries called them 'exploitative.' Although they have been banned in Belgium since 2018, most governments have been wary of legislation–the UK recently decided not to ban loot boxes after a 22-month consultation. Still, some developers have heard gamers are unhappy–loot boxes were removed from Star Wars Battlefront 2 after an outcry and Blizzard recently announced they won't feature in upcoming shooter Overwatch 2."
(8) AGAINST ALL ODDS. The New York Times drills deep into one writer's experience in "How to Get Published: A Book's Journey From 'Very Messy' Draft to Best Seller". The author's novel The School for Good Mothers is set in the near future.
…"I'd like people to know that it's possible for a debut author in her 40s, a woman of color, a mom, who led a quiet life offline with no brand building whatsoever to have this experience," said Jessamine Chan.

And yet Chan's "The School for Good Mothers" was published in January 2022 — and soared to the best-seller list, catapulting her to literary stardom. Last month, former President Barack Obama featured it on his summer reading list.

How does a debut novel go from a "very messy" draft on a writer's desk to a published book, on display in bookstores around the country?

Here, we take you behind the scenes to see how a book is born — the winding path it takes, the many hands that touch it, the near-misses and the lucky breaks that help determine its fate.
(9) WHEATON SIGNING SCHEDULED. "Wil Wheaton presents and signs Still Just a Geek: An Annotated Memoir" at Vroman's Bookstore in Pasadena, CA on August 31 at 7:00 p.m.
From starring in Stand by Me to playing Wesley Crusher on Star Trek: The Next Generation to playing himself, in his second (third?) iconic role of Evil Wil Wheaton in The Big Bang Theory, to becoming a social media supernova, Wil Wheaton has charted a career course unlike anyone else, and has emerged as one of the most popular and well respected names in science fiction, fantasy and pop culture.

Back in 2001, Wil began blogging on wilwheaton.net. Believing himself to have fallen victim to the curse of the child actor, Wil felt relegated to the convention circuit, and didn't expect many would want to read about his random experiences and personal philosophies.

Yet, much to his surprise, people were reading. He still blogs, and now has an enormous following on social media with well over 3 million followers.

In Still Just a Geek, Wil revisits his 2004 collection of blog posts, Just a Geek, filled with insightful and often laugh-out-loud annotated comments, additional later writings, and all new material written for this publication. The result is an incredibly raw and honest memoir, in which Wil opens up about his life, about falling in love, about coming to grips with his past work, choices, and family, and finding fulfillment in the new phases of his career. From his times on the Enterprise to his struggles with depression to his starting a family and finding his passion–writing–Wil Wheaton is someone whose life is both a cautionary tale and a story of finding one's true purpose that should resonate with fans and aspiring artists alike. (William Morrow & Company)
(10) VIKING FUNERAL FOR BATGIRL? The Guardian hears "'Secret' screenings of cancelled Batgirl movie being held by studio – reports".
The Hollywood Reporter confirmed with multiple sources that a select few who worked on the film, including cast, crew and studio executives, would be attending the screenings this week on the Warner Bros lot in California. One source described them as "funeral screenings", as it is likely the footage will be stored forever and never shown to the public.

…The Hollywood Reporter reported there was a chance Warner Bros would make "the drastic move of actually destroying its Batgirl footage as a way to demonstrate to the IRS that there will never be any revenue from the project, and thus it should be entitled to the full write-down immediately."

On Tuesday, in an interview with French outlet Skript, Batgirl directors Adil El Arbi and Bilall Fallah said they no longer had any copy of the film, recalling the moment they found they could not longer access the servers that held the footage.

…El Arbi said it was unlikely they'd have the studio's support to release it in the future or that there could be an equivalent of "the Snyder cut" – Zack Snyder's four-hour director's cut of the DC film Justice League, which added an extra $70m to a $300m budget film.

"It cannot be released in its current state," said El Arbi. "There's no VFX … we still had some scenes to shoot. So if one day they want us to release the Batgirl movie, they'd have to give us the means to do it. To finish it properly with our vision."
(11) TRANSFORMATIVE RULES OF ENGAGEMENT. Seekingferret posted a "Panel Report" from Fanworks where the topic was "Ethical Norms in Fanworks Fandom".
… I presented three models for fandom's approach to copyright- the It's All Transformative model, the It's Illegal but I Do It Anyway model, and the It's Not Illegal Because the Copyright Holders' Inaction is an Implicit License model, and then the audience argued with me for a while about whether the second two models are essentially the same, which was a good, clarifying argument to have….
Also of interest is the panel's accompanying slideshow.
(12) WARNING. [Item by Daniel Dern.] Since, fan-wise, many cons use Discord… "Roblox and Discord Become Virus Vectors for New PyPI Malware" at The New Stack.
If you can communicate on it, you can abuse it. This was proven again recently when a hacker using the name "scarycoder" uploaded a dozen malicious Python packages to PyPI, the popular Python code repository. These bits of code pretended to provide useful functions for Roblox gaming community developers, but all they really did was steal users' information. So far, so typical. Where it got interesting is it used the Discord messaging app to download malicious executable files.
(13) BOOK PORN. [Item by Bill.] Whenever I see a photograph on the web that has a bookshelf in the background, I spend way too much time trying to figure out what the books are. For example:
Blogger Lawrence Person has posted photos of his SF book shelves, and there are a lot of titles I'd love to have in my own collection. A few years old, but perhaps worth a look …. "Overview of Lawrence Person's Library: 2017 Edition". He provides regular updates to the collection (see the "books" tag).
(14) MEDIA BIRTHDAY.
1989 – [By Cat Eldridge.] Thirty-three years ago, the first installment of the Bill & Ted franchise, Bill & Ted's Excellent Adventure premiered.
Starring William "Bill" S. Preston Esq. and Ted "Theodore" Logan, portrayed by Alex Winter and Keanu Reeves as, and not giving a frell about spoilers here, time travelling slacker high schoolers assembling the ultimate history report. And let's not forget Rufus as portrayed by George Carlin. I met him some forty years ago — a really neat gentleman.
Stephen Herek directed here. He had previously written and directed the horror/SF Critters film. Nasty film it was. Chris Matheson who wrote all three of the franchise films co-wrote this with Ed Solomon who co-wrote the third with him and, more importantly, was the Men in Black writer.
By late Eighties standards, it was cheap to produce costing only ten million and making forty in return. Critics for the most part were hostile —- the Washington Post said "if Stephen Herek has any talent for comedy, it's not visible here." And the Los Angeles Times added, "it's unabashed glorification of dumbness for dumbness' sake."
It spawned not one but two television series named – oh, guess what they were named. Bill & Ted's Excellent Adventure, an animated series that started out on CBS and ended on Fox, lasted twenty-one episodes over two seasons, and Bill & Ted's Excellent Adventure, the live version, lasted but seven episodes on Fox. Evan Richards and Christopher Kennedy played Bill and Ted.
DC did the comic for the first film, Marvel for the second. It did well enough that it led to the Marvel series Bill & Ted's Excellent Comic Book which lasted for just twelve issues. And there was a sort of adaptation of the animated series that lasted for a year by Britain's now gone Look-In Magazine.
Audience reviewers at Rotten Tomatoes give it a most bodacious seventy-five percent rating.
(15) TODAY'S BIRTHDAYS.
[Compiled by Cat Eldridge.]
Born August 25, 1909 — Michael Rennie. Definitely best remembered as Klaatu in The Day the Earth Stood Still. He would show up a few years later on one of The Lost World films as Lord John Roxton, and he's got an extensive genre series resume which counts Lost in Space as The Keeper in two episodes, The Batman as The Sandman, The Time Tunnel, The Man from U.N.C.L.E. and The Invaders. (Died 1972.)
Born August 25, 1913 — Walt Kelly. If you can get them, Fantagraphics has released the complete Pogo in twelve stunning hardcover editions covering up to 1973. Did you know Kelly began his career as animator at Walt Disney Studios, working on Dumbo, Pinocchio and Fantasia? Well he did. (Died 1973.)
Born August 25, 1930 — Sean Connery. Worst film? Zardoz. Best film? From Russia with Love very, very definitely. Best SF film? Outland. Or Time Bandits you want to go for silly. Now remember these are my personal choices. I almost guarantee that you will have different ones. (Died 2020.)
Born August 25, 1940 — Marilyn Niven, 82. She was a Boston-area fan who now lives in LA and is married to writer Larry Niven. She has worked on a variety of conventions, both regionals and Worldcons. In college, she was a member of the MITSFS and was one of the founding members of NESFA. She's also a member of Almack's Society for Heyer Criticism.
Born August 25, 1947 — Michael Kaluta, 75. He's best known for his 1970s take on The Shadow with writer Dennis O'Neil for DC in 1973–1974. He'd reprise his work on The Shadow for Dark Horse a generation later. And Kaluta and O'Neil reunited on The Shadow: 1941 – Hitler's Astrologer graphic novel published in 1988. If you can find them, the M. W. Kaluta: Sketchbook Series are well worth having.
Born August 25, 1955 — Simon R. Green, 67. I'll confess that I've read pretty much everything he's written except that damn Robin Hood novel that made a NYT Best Seller. Favorite series? The Nightside, Hawk & Fisher and Secret History were my favorite ones until the Ismael Jones series came along and I must say it's a hell of a lot of fun as well. Drinking Midnight Wine and Shadows Fall are the novels I've re-read the most.
Born August 25, 1958 — Tim Burton, 64. Beetlejuice is by far my favorite film by him. His Batman was, errr, interesting. Read that comment as you will. Charlie and the Chocolate Factory is definitely more Dahlish than the first take was which I think is a far better look at the source material, and Sleepy Hollow is just too damn weird for my pedestrian tastes. (Snarf.)
Born August 25, 1970 — Chris Roberson, 52. Brilliant writer. I strongly recommend his Recondito series, Firewalk and Firewalkers. The Spencer Finch series is also worth reading. He won two Sidewise Awards, first for his "O One" story and later for The Dragon's Nine Sons novel. He's had five Sidewise nominations.
(16) COMICS SECTION.
(17) HORROR WRITERS HAVE OPINIONS. Midnight Pals did a sendup of John Scalzi and his purchase of a church building. And his burritos. Can't overlook those. Thread starts here.
(18) SPACE OPERA. "Friday's Rag Tag Crew: Shards of Earth by Adrian Tchaikovsky", a review by Camestros Felapton.
… I found myself in the mood for a big space opera the other day and with the novel also being a Dragon Award finalist, it seemed like a natural choice. I wasn't wrong in my initial assessment. It is in many ways a more conventional space opera than the books I'd read. Humanity is a spacefaring species with its own factions, in a galactic society with a range of aliens. There's hyperspace (or rather "unspace"), a cosmic threat, mysteriously vanished advanced civilisations, space spies, space gangsters, badass warriors and epic space battles. This is all good but if you are hoping for the millennia-long deep dive into the evolution of a sapient spider civilisation this book doesn't have anything like that. Which is fine because that gives Tchaikovsky more space and time to attend to a cast of characters….
(19) A CITY ON A HILL. Paul Weimer reviews Stephen Fry's Troy at Nerds of a Feather: "Microreview [book]: Troy, by Stephen Fry". There may be surprises in store for some readers – at least there were for Paul.
…In any event, Fry is here to help you. He starts at the beginning, as to how Troy was founded, and why, and brings its history up to date as it were. The delight in the depth of research and scholarship he brings is tha there is a fair chunk here I didn't know about. Fun fact, the Trojan War is not the first time that Troy gets attacked in its mythological history, and you will never guess who did it before the Greeks got it into their heads to take back Helen, nor why….
(20) GOING PUBLIC. "Tom Lehrer: The Public Domain Tango", a Plagiarism Today post from 2020.
…However, it seems likely that Lehrer may be set for yet another major revival as news spread yesterday that Lehrer, now 92, had released his lyrics and much of his music into the public domain. This has already sparked a great deal of interest in possible covers and recreations of his most famous songs.

Note: It's worth stating that the declaration deals with his compositions and his lyrics, not the recordings. Those are most likely not owned by Lehrer.

However, the statement isn't wholly true. Tom Lehrer didn't actually release his songs into the public domain. While it may be pedantry given that there is no practical difference, the lengths Lehrer had to go to release what he did in the way that he did only further highlights Lehrer's genius and is well worth exploring.

If this is truly to be Lehrer's final musical act, it makes sense to see it for both the effort it took and the intellect required to conceive of it….
(21) AI GIVES ASSIST TO MUSIC VIDEO. [Item by Dann.] Someone recently made a video using the lyrics to "Renegade" by Styx. The lyrics were fed, line by line, into AI art software to create the images used in the video.
While the lyrics aren't explicitly genre centered, the AI created several images that evoked sci-fi/fantasy themes. The rhetorical progeny of Edgar Allen Poe shows up a few times as well. "Renegade – Styx – But the lyrics are Ai generated images".
(22) VIDEO OF THE DAY. [Item by Martin Morse Wooster.] In "Harry Potter and the Deathly Hollows Part I Pitch Meeting," Ryan George says the producer in the seventh Harry Potter film mourns when several beloved minor characters die. He is bored by the very long camping scenes (where the characters camp and camp and camp some more" but gets excited when Harry Potter gets to duke it out with Voldemort only to discover that this is the end of Part I and we have to wait for Part II.
[Thanks to JJ, John King Tarpinian, Andrew Porter, Dann, Jennifer Hawthorne, Daniel Dern, Bill, Chris Barkley, Michael Toman, Cat Eldridge, Mike Kennedy, and Martin Morse Wooster for some of these stories. Title credit belongs to File 770 contributing editor of the day Daniel Dern.]