(1) DATLOW Q&A. "Curating Horror: An Interview with Ellen Datlow" conducted by Sadie Hartmann at LitReactor.
Your anthologies are all invite-only, correct?

Generally yes, unless I'm co-editing and the other editor wants to screen slush for a week or two. Nick Mamatas wanted to have a two week open reading period for Haunted Legends and so we did—and he passed on about 20 stories to me. Interestingly, although we took a few stories from that period, only one—maybe—was from someone we'd never heard of.

And the HWA anthology Haunted Nights that I co-edited with Lisa Morton had several open slots for an open reading. We had a few volunteers from HWA reading what came in and they passed a few stories on to us. The reason is that I don't have time to read hundreds of submissions, and for a theme anthology, I don't want dozens of rejected stories on the same theme floating around.
(2) HEAR HIM. Neil Gaiman will have a cameo role in BBC 4's production of Lud-in-the-Mist, which will air October 30. "Visit Lud-in-the-Mist for Halloween" at SciFi Bulletin.
Doctor Who writer Joy Wilkinson has adapted the groundbreaking fantasy novel Lud-in-the-Mist into a play for BBC Radio Drama, which airs in October.

The novel by Hope Mirrlees was published in 1926 and is considered a pioneer of the fantasy genre that is all too often overlooked. Wilkinson aims to put that right – with the help of one of the book's greatest advocates, Neil Gaiman, who has a star cameo in the production.

…Gaiman has long championed Lud-in-the-Mist as "a little golden miracle of a book" that is among his top 10 favourite novels. Wilkinson was absolutely thrilled when he agreed to play a pivotal role in the cast, which is led by Richard Lumsden, Olivia Poulet and Lloyd Hutchinson, and includes Doctor Who audio drama alumni Ellie Darvill and Jane Slavin.
(3) WALT LOVED TRAINS. [Item by Martin Morse Wooster.] This video (which dropped two weeks ago) has Disney historian Don Hahn join with Bill Farmer, who has voiced Goofy and Pluto since 1987, to visit Walt Disney's train barn, which is now in Griffith Park. Hahn and Farmer learn that Walt Disney was a major rail fan, and discuss how Disney's love of trains helped to shape Disneyland. "Exploring Walt Disney's Railroad Barn With A Disney Legend".
(4) DEADLY. This animated marvel series on Hulu is about a monkey assassin. George Takei voices one of the characters – not the title character, however. Marvel's Hit-Monkey.
After a Japanese snow monkey's tribe is slaughtered, he joins forces with the ghost of an American assassin, and together, they begin killing their way through the Yakuza underworld. Marvel's Hit Monkey Season 1 premieres on Hulu on November 17, 2021, with all ten episodes. The Voice cast includes George Takei, Jason Sudeikis, Olivia Munn, Ally Maki, Nobi Nakanishi, and Fred Tatasciore.
(5) WRANGLE OVER DRAGON CON MASK POLICY. Author Michael Z. Williamson, who doesn't favor required mask-wearing, and anyway says his medical situation precludes it, has been exchanging accusations with the Dragon Con committee where he was going to be on the program and have his usual tables to sell knives: "DragonCon: Racism, Lies, and Borderline Fraud" at The Sacred Cow Slaughterhouse.
About two weeks before event, DragonCon suddenly started posting on social media that everyone over age 2 would have to wear a mask, have proof of vaccine (except under 16 can't get it?), or have a specific test 3 days before (and that last is ridiculous, when an attendee might stop at 12 truck stops on the way there).

Now, my political position on masks aside, I can't wear one.  That's literally why I was retired from the military.  Covering my face drops my blood oxygenation to COPD levels.  My wife hits every exemption there is, but good luck getting documentation that anyone considers "Acceptable."

I inquired with both vendor relations and guest relations, and got told, "Ignore social media, we haven't heard this and we don't actually have a policy yet, that will be Thursday."

Thursday rolls around and the email is, "The policy remains…"

Wait, I thought you didn't have one yet? "Remains" means that was your policy, but you tried to pretend it wasn't.

I told them I'd need a rollover by preference or a refund.

"Unfortunately, per policy, it's too late for a refund or rollover."

Yet, they were able to change their COVID policy.

So my choice was find someone to cover the show, or forfeit several thousand dollars to the poor, starving, corporate owners of DragonCon.

I withdrew as a guest, and made a public announcement to that effect. I was the 100th.  That seemed notable. In fact, by the end they lost 203 of 641 guests and professionals, or over 30%.

Now, I'm sure a case could be made in court for this being classic bait and switch, and refusing refunds or rollovers to be fraud. But I can't state that as a fact without a court case.  It certainly smells that way, though….
He got his daughter to run his tables instead. Since the con, Williamson says this is what he's heard:
…After the show I was told they were so very unhappy that I publicly boasted of being the 100th cancellation. Well, sorry about your feelings, but what about the feelings of 203 guests and families you screwed over by waiting for the last moment? What about the public threats to harass "plague rats" (perfectly healthy people not wearing masks) on your social media, that remained for days before being taken down?  We're supposed to worship you, but you don't need to respect the professionals in the field?

Then they unleashed this whopper, claiming the statement was made about me:

" there was a vendor this year who is making an incredibly racist remarks trying to sell his wares. Including things like "buy a knife from someone who speaks American" and "this is made with real metal, not 'Chineseium'." Worse than all of that however, was singling out another person in the vendors hall who is also selling knives. It was an Indian couple, and apparently that was why he wanted to specify that he does speak "American", letting anyone who passed by know another vendor had people who spoke English as a second language at their table "

I'm going to explain why this is complete, unmitigated bullshit…
His explanation follows at the link.
(6) MEMORY LANE.
1969 – Fifty-two years ago this week, the pilot of Randall and Hopkirk (Deceased) premiered on two different British broadcasters though it ran on ITV, the producing network. In the pilot, Hopkirk is murdered during an investigation but returns as a white-suited ghost. It was created by Dennis Spooner who had previously scripted for The Avengers and Doctor Who.  He also created Department S with Marty Berman. It starred Mike Pratt, Kenneth Cope and Annette Andre. It ran for one season of twenty-six episodes.  In the States, it was given the really awful title of My Partner the Ghost. The series was remade thirty years later and is notable as the Fourth Doctor actor had an important role in it. It's currently available on Amazon Prime.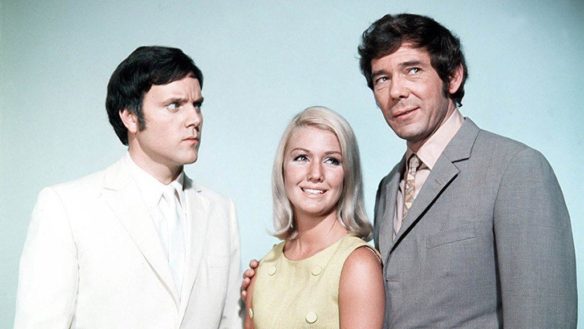 (7) TODAY'S BIRTHDAYS.
[Compiled by Cat Eldridge.]
Born September 21, 1866 — H.G. Wells. Writer of The Time Machine, a novella in 1895, being his first genre work. Way, way too many genre works to list here so I'll single out The War of The Worlds, The Island of Doctor Moreau and The Invisible Man as works by him that influenced the genre in a very noticeable manner. He also wrote an impressive amount of short fiction and non-fiction as well. (Died 1946.)
Born September 21, 1912 — Chuck Jones. He wrote, produced and directed many Looney Tunes and Merrie Melodies cartoons starring Bugs Bunny, Daffy Duck, Wile E. Coyote and the Road Runner among many others. His work won three Oscars, and the Academy also gave him an honorary one in 1996. He's responsible for television adaptations of Dr. Seuss' How the Grinch Stole Christmas! and Horton Hears a Who!, and of course Norton Juster's The Phantom Tollbooth. Oh, and yes, Duck Dodgers in the 24½th Century. (Died 2002.)
Born September 21, 1947 — Stephen King, 74. I once saw him leaning up against a wall in Bangor outside his favorite breakfast spot nose deep in a paperback novel. I didn't approach him to see what he was reading so intently. That's how his native city treated him. Favorite by him? I'm not fond of his novels but I love his novellas and shorter fiction, so Different Seasons, Four past Midnight and Skeleton Crew are my picks. His only Hugo was a Best Related Non-Fiction Book one for Danse Macabre at Chicon IV though Carrie was nominated at Suncon, and his "Obits" novelette was nominated at MidAmeriCon II. 
Born September 21, 1947 — Nick Castle, 74. He  co-wrote with director John Carpenter the scripts for Escape from New York and Escape from L.A., but he's best remembered for directing The Last Starfighter. He was Michael Myers in Halloween, a role he'd later reprise in, errr, Halloween.  His other interesting genre cred was performing the title song of Big Trouble in Little China as The Coup De Villes with Carpenter and Tommy Lee Wallace.
Born September 21, 1950 — Bill Murray, 71. Scrooged is my favorite film by him by a long shot followed by the first Ghostbusters film. I'm also fond of his voicing of Clive the Badger in Fantastic Mr. Fox. 
Born September 21, 1961 — Mark Allen Shepherd, 60.  Morn, the bar patron on Deep Space Nine. Amazingly he was in Quark's bar a total of ninety three episodes plus one episode each on Next Gen and Voyager. Technically he's uncredited in almost all of those appearances. That's pretty much his entire acting career. I'm trying to remember if he has any lines. He's also an abstract painter whose work was used frequently on DS9 sets. For all practical purposes, this was his acting career. 
Born September 21, 1983 — Cassandra Rose Clark, 38. Her contributions to The Witch Who Came in from the Cold, a serial fiction piece coauthored with Max Gladstone, Lindsay Smith, Ian Tregillis, and Michael Swanwick, are  superb. The Mad Scientist's Daughter was nominated for the Philip K. Dick Award, and her YA novel, The Assassin's Curse, was nominated for Young Adult Library Services Association's Best Fiction for Young Adults. She was nominated for an Elgin Award by the Science Fiction Poetry Association for her Sacred Summer collection.
Born September 21, 1990 — Allison Scagliotti, 31. One of the primary cast of Warehouse 13, a show that I really, really loved. Her first first genre role was as Jayna, one of the Wonder Twins, on the Smallville series. And she showed up in a crossover episode of Eureka called appropriately "Crossing Over".  Her last gig is as Camille Engelson on Stitchers. I've not seen it but it's also gotten really great reviews. 
(8) MARVEL FIRES BENNETT. The Mary Sue reports "Marvel Fired Joe Bennett After Alleged Anti-Semitic Cartoons".
Marvel Comics fired Brazilian artist Joe Bennett and vowed not to hire him for "any future Marvel projects," following allegations of anti-Semitism and troubling imagery in his artwork. Bennett had previously worked for Marvel Comics for nearly thirty years, beginning in 1994.

… This isn't the first time Bennett has seemingly attacked members of marginalized communities. He previously mocked the 2019 assault of gay journalist Glenn Greenwald by a far-right Bolsonaro supporter. And just last year, Bennett "liked" transphobic comments on his public Instagram page. He is also an outspoken supporter of Brazil's president Jair Bolsonaro, a fascist Trump-like leader currently overseeing the devastating spread of Covid-19 throughout his country.
SYFY Wire writer Mike Avila adds:
…But here's the question I have: Why did it take so long? This isn't the first time Bennett has been accused of drawing offensive material. It's not even the first time this year it's happened. 

Back in February, he was forced to apologize after readers of his and Al Ewing's hit Immortal Hulk series noticed that Issue #43 had a panel with a jewelry store. In the background, the name of the store is written backward and reads "Cronemberg Jewery" with a Star of David below it. The reason why the lettering was insulting is obvious. But perhaps even more offensive was the Star of David on the jewelry store's window. It had no bearing on the story at all and there was no indication it was a Jewish-owned business. For some, it was just the perpetuation of a Jewish stereotype in that situation….
(9) SHALKA DOCTOR. [Item by Ben Bird Person.] Based on the 2003 animated serial The Scream of the Shalka, artist Lophial did this piece on Richard E. Grant's Shalka Doctor. Source: Commission of Shalka Doctor for @DrWho42 !
(10) A DECK OF CREDENTIALS. Daniel Dern brings to our attention these Cats Bicycle Playing Cards.
This is THE deck of cards for cat lovers! Cats from Bicycle Playing Cards features illustrated cards by the renowned artist Lisa Parker. This unique playing card deck includes custom cat illustrations on every Ace, Face Card, and Joker. This deck of cards is a must-have for anyone looking to spice up their card game game night and makes the perfect gift for the cat lover in your life!
(11) IRRESISTABLE TITLE. Mark Yon reviews "The Cat Who Saved Books by Sosuke Natsukawa" at SFFWorld.
…After the death of his grandfather, Rintaro is devastated and alone. It seems he will have to close the shop. Then, a talking tabby cat called Tiger appears and asks Rintaro for help. The cat needs a book lover to join him on a mission. This odd couple will go on three magical adventures to save books from people have imprisoned, mistreated and betrayed them. Finally, there is one last rescue that Rintaro must attempt alone . . ."

If that hasn't grabbed your attention, this book is not for you. It involves bookshops and masses of books in piles and on shelves that appear to go on forever, the descriptions of which will make a bibliophile sigh in admiration. There's also some lovely characterisation, especially of Rintaro the acutely shy bookish teenager referred to as a hikikomori here, but also of his wise friend Sayo Yuzuki and the cat named Tiger the tabby. And credit must go here to the sympathetic translation made by Louise Heal Kawai from the original Japanese novel, first published there in 2017.
(12) MARKET NOT OPENED YET. "'Shang-Chi' Wins a Warm Asia Greeting. Then There's China." The New York Times
Marvel released "Shang-Chi and the Legend of the Ten Rings" with China in mind. Simu Liu, the film's Canadian lead actor, was born in China. Much of its dialogue is in Mandarin. The cast includes Tony Leung, one of the biggest Chinese-speaking movie stars in history.

The studio's first Asian superhero movie is a hit, drawing praise and ticket sales in East Asia and other global markets. Perhaps the only place where the movie has not been well received — in fact, it has not been received there at all — is mainland China.

Disney, which owns Marvel, has yet to receive clearance from Beijing's regulators to show the film in the vast but heavily censored movie market. While the reasons aren't clear, "Shang-Chi" may be a victim of the low point in U.S.-China relations.

China is also pushing back against Western influence, with increasingly vocal nationalists denouncing foreign books and movies and the teaching of English. They have even criticized Mr. Liu for his previous comments about China, which he left in the mid-1990s, when he was a small child.

Lack of access to the world's largest movie market could limit how much money the film makes. But in other parts of Asia, the movie has been greeted warmly by audiences for how it depicts a Chinese superhero burdened by a racist back story.

"I was really expecting the movie to be racist," said David Shin, a Marvel fan in Seoul. "I was surprised at how well they touched upon Asian culture."…
(13) VIDEO OF THE DAY. [Item by Martin Morse Wooster.] In the spoiler-filled "Honest Trailers: Jungle Cruise" on YouTube, the Screen Junkies say that, like the ride it is based on, Jungle Cruise is "five percent colorful adventure and 95 percent corny jokes," that this is the third movie (after Jumanji 2 and The Rundown) where Dwayne Johnson goes into the jungle to capture a bright, shiny object, that Emily Blunt has two Ph.D.'s–in botany and parkour, and that villain Jesse Plemons is "not exactly a Nazi, but not exactly not, see?"
[Thanks to Michael Toman, John King Tarpinian, Cat Eldridge, Ben Bird Person, Rob Thornton, Chris Barkley, Cora Buhlert, Daniel Dern, Mike Kennedy, Andrew Porter, Martin Morse Wooster, and JJ for some of these stories. Title credit belongs to contributing editor of the day Soon Lee.]