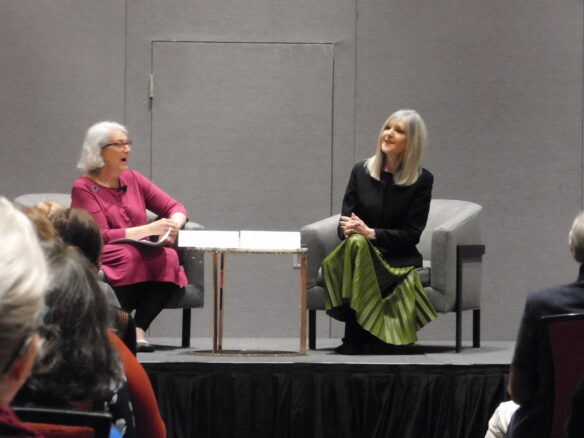 By Teresa Peschel: Bill and I are Peschel Press. This was our third Malice Domestic. If you're a fan of cozy mysteries and looking for your tribe, Malice is the place to be.
Officially, it runs Friday morning through Sunday afternoon at the end of April. This year's dates were April 28-30. Unofficially, Malice gets started on Thursday evening when Maureen Jennings hosts a showing of a current Murdoch Mysteries episode. In this case, she wrote the episode we saw but I don't know if that's always true. Afterwards, Maureen Jennings answers questions from the audience about the episode, how TV adapts her books, and similar topics.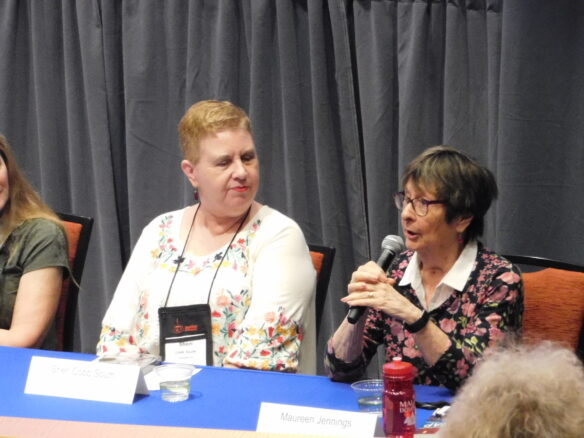 Malice runs about 600 people attending, roughly divided between true-blue fans and authors. The authors range wildly from debut authors (including indies) to longtime stalwarts in the mystery world. There's always a guest of honor, lifetime achievement guest, international guest of honor, fan guest of honor, toastmaster, Poirot award (sometimes), Amelia award, toastmaster, and of course, the Agatha awards in five categories.
Events start promptly Friday at 9 a.m. with the first round of panels on dozens of subjects. At the same time, the Dealer Room, Hospitality Suite, and Silent Auction Room open for the day.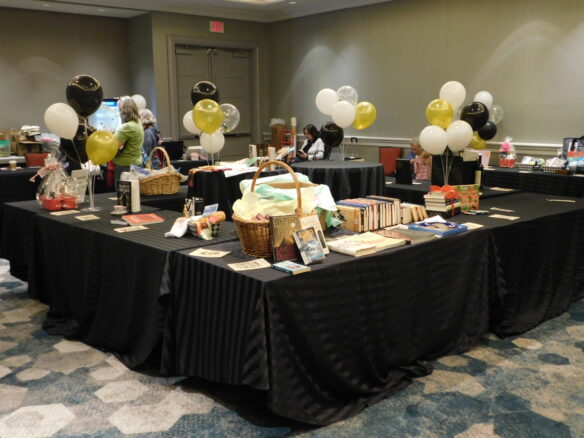 Other programs include introducing Malice to first-time attendees, volunteer information, speed-dating with authors, and Kensington handing out armloads of free books. During the day, a rotating cast of authors show up in the Dealers' Room to sign books.
Having the authors sign in the Dealers' Room means more traffic and a better chance of sales.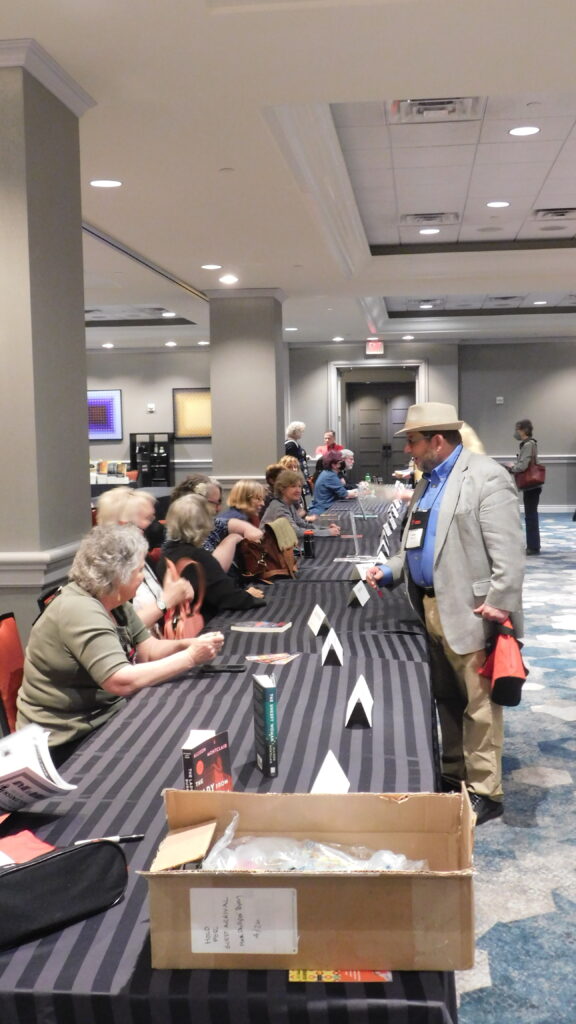 Saturday and Sunday have a similar, fully-packed schedule with panels, interviews, signings, speed-dating, and swag galore.
Friday's evening events include Opening Ceremonies, Dinner on your own, a memorial program for Elizabeth Peters, and the live charity auction with an exquisite array of fancy pastries on each table. Many people attend for the auction. Others of us attend to scarf up the pastries.
Saturday morning started with a fancy breakfast (The Last Croissant Disappears at Nine). The evening events started with cocktails in the grand foyer, followed by the Agatha Awards Banquet including awarding the prize teapots to the winners, followed by the Agatha Afterward party.
Saturday evening events had a musical background courtesy of Georgetown Prep's prom going on in the ballroom next door. You could really tell the difference between the Malice crowd and Georgetown Prep. Our average age was 60. Theirs was 18.
Sunday began with a free breakfast sponsored by Kensington to promote all the debut authors. The day ended on Sunday afternoon with the Agatha tea and closing ceremonies.
There are Malice attendees who've been to all 35 conventions. It's a fun crowd, full of old friends meeting each other again. Attendees come from across the U.S., along with Canada and a few from further away.
You never know who you will meet. I got a picture of myself with noted local author, Misty Simon (aka Gabby Allan). We took the picture with me holding The Sun, ensuring we'll get our picture in The Sun (circulation is about 7,000+).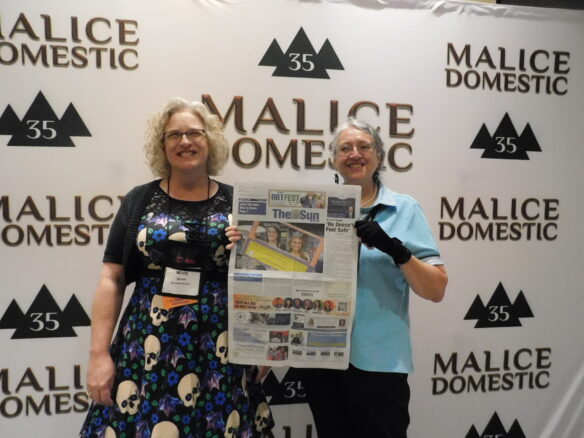 Will we go next year? Yes, we will. It's fun and we sell books. We debuted Agatha Christie, She Watched: One Woman's Plot to Watch 201 Agatha Christie Movies Without Murdering the Director, Screenwriter, Cast, or Her Husband and it did well.
Should you go? If you like mysteries and you're in the area, you can dip your toe in the water by buying a day pass on Friday, Saturday, or Sunday and getting a feel for the convention.
Visit Malice's website for more details covering everything from registration to advertising.