(1) SEE CC37. A three-minute video of "The Art of Costume at Costume-Con 37" has been posted on the International Costumers Guild YouTube channel.
A music video featuring costumes worn both on stage and in the halls at Costume-Con 37, in Danvers, MA, 2019, where it's all about costumes, all the time!
(2) NEW FAAN AWARDS VOTING DEADLINE. John Purcell has extended the deadline for receiving FAAn Awards ballots to Sunday, February 23. See the Corflu website for rules and forms.
(3) LITIGATION ENDS AS AUDIBLE RESTRICTS CAPTIONS PROGRAM. Publishers Weekly reports "In Captions Settlement, Audible Will Not Use AAP Member Content Without Permission".
In a filing this week in federal court, Audible has agreed not to include the copyrighted works of seven plaintiff publishers in its "Captions" program without express permission. The draft order comes nearly three weeks after Judge Valerie Caproni, on January 14, dismissed the contentious, months-long copyright infringement lawsuit between publishers and the Amazon-owned audiobook provider, after being informed by the parties that they'd reached a settlement.

… Audible sources confirmed to PW that the company currently has no plan to move forward with the Captions program beyond its limited pilot with public domain works for students. Further, Audible officials said the company has in fact decided not to include any copyrighted works in the Captions program without securing permission, regardless of whether or not the parties are AAP members—though the company was careful to stress that they've not formalized that decision with any party outside of this litigation.

First filed in August of 2019 by seven publishers (including all of the Big Five, Scholastic, and Chronicle Books), the suit claims that Audible's proposed Captions program, which scrolls a few words of an AI-generated transcription alongside an audiobook's narration in the Audible app, amounts to blatant copyright infringement.
(4) SFWA READINGS. There will be two chances to hear Jasmine Gower, Corry L. Lee, and Carolyn O'Doherty read from their work when the Pacific Northwest's SFWA Reading series visits Seattle and Portland in April. Full details at the links.
The Pacific Northwest is home to a Tardis-Full of Science Fiction and Fantasy writers, a fact celebrated every quarter with the Pacific Northwest Reading Series. These free quarterly events provide the Northwest Science Fiction and Fantasy community a chance to gather, network and enjoy readings from local and visiting authors in Portland and Seattle.
(5) PRESSED DOWN AND OVERFLOWING. In The Full Lid – 7th February 2020, Alasdair Stuart dives into Starfleet's long dark night of the soul on Picard in "Admiral Clancy Regrets." He takes a look at the first part of Big Finish's relaunch of Adam Adamant and he talks PodUK and The Tundra Project. He also signal boosts colleague Jason Pitre's new RPG Palanquin, season 3 of the new radio adventures of Dan Dare and Sandra Odell's Oddfellow Creations.
Adam Adamant Lives! Again!

Regular readers of The Lid will know my fondness for audio drama in all it's forms and TV drama in all its oddest forms. It's a surprise then to admit this is my first exposure to legendarily odd short-run series Adam Adamant. However, this is by far the best possible introduction to the show.

Written by Guy Adams, it's a whip-smart, fiercely clever and deeply kind modification of the original idea. Adam is an Edwardian adventurer, who finds himself in '60s London. Confused and traumatized, he falls under the care of Georgina Jones, a doctor and private detective. Played with clenched teeth aplomb and Paul Darrow'ian elegance by Blake Ritson, Adam is a surprisingly convivial, and on occasion cheerfully violent man. He lived to protect the country in the past and does so again now. Just… on more of a level playing field than he ever thought…
(6) THE WILD WILD CHILD. Stoney Emshwiller told Facebook readers about a childhood experience inspired by trying to imitate Robert Conrad.
I was a big fan of The Wild Wild West as a kid and thought it was super cool James West had a fancy rig which would launch a derringer from his sleeve into his hand. So at about 11-ish years old, I went up into my dad's well-stocked attic workshop and crafted one for myself.

Not having a derringer, I used the only "weapon" around, which was an X-Acto knife. The final result was impressive, involving an elastic band, a trigger device, a holder for the X-Acto knife, and a rail-like track for it to slide along which I'd carefully fashioned of sheet metal. It worked like a charm: when I straightened my arm, the blade would shoot from my sleeve into my hand.

Worked great until the second try, when I forgot to bend back my wrist. The blade rocketed out and imbedded itself into the palm of my hand.

I still have the scar today. Oops.
(7) BEAN OBIT. Actor Orson Bean died February 7 when struck and killed by a car and fell, only to be hit by a second car. He was 91. SYFY Wire says fans will remember him as the voice of two Hobbits — he voiced both Bilbo and Frodo Baggins in the Rankin/Bass animated TV films The Hobbit and The Return of the King in the late 1970s. The complete soundtrack of the former is available on YouTube.
Bean appeared in a number of films, including Being John Malkovich and Miracle on 34th Street (1959 TV movie). He made hundreds of appearances on TV game shows and talk shows. The New York Times once described him —
"Mr. Bean's face comes wrapped with a sly grin, somewhat like the expression of a child when sneaking his hand into the cookie jar," The New York Times noted in a review of his 1954 variety show, "The Blue Angel." It said he showed "a quality of being likable even when his jokes fall flat."
In 1964 he co-founded the Sons of the Desert, an organization dedicated to comedians Stan Laurel and Oliver Hardy, with chapters around the world.
(8) CONWAY OBIT. Kevin Conway died of a heart attack February 5 at the age of 77. His first major film role was as Roland Weary in Slaughterhouse-Five (1972). On TV he guest starred as a clone of Kahless the Unforgettable in Star Trek: The Next Generation.
His best-known film role probably was Sgt. Buster Kilrain in the 1994 movie Gettysburg.
(9) TODAY IN HISTORY.
February 9, 1994 — Cyborg Cop was released on VHS. (Cyborg Cop II was released in selected theaters on this date.) It was directed by Sam Firstenberg and written by Greg Latter. It starred David Bradley, John Rhys-Davies, Todd Jensena and Alonna Shaw. Rufus Swart was  the Cyborg. As you might expect, it was not well received. Halliwell's Film Guide said it had  "a violent, cliché-ridden plot." Reviewers at Rotten Tomatoes currently give it a 20% rating. You can watch it here.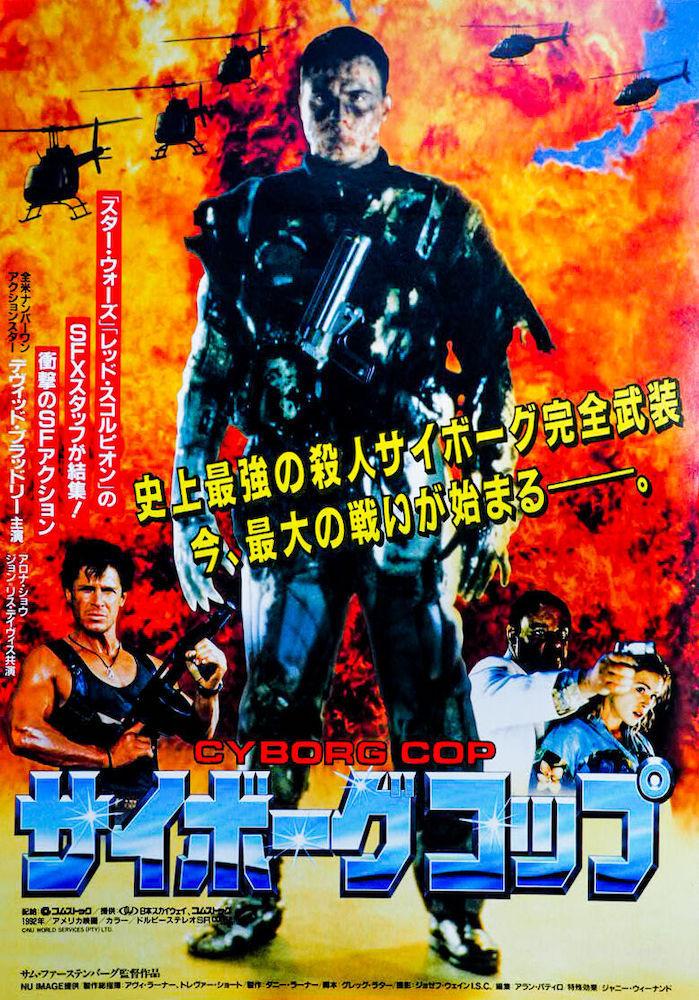 (10) TODAY'S BIRTHDAYS.
[Compiled by Cat Eldridge.]
Born February 9, 1935 — R. L. Fanthorpe, 85. I've never heard of him before stumbling upon him on ISFDB but I'm including him as he was a pulp writer for UK publisher Badger Books during the 1950s and 1960s during which he wrote under some sixty pen names. I think he wrote several hundred genre novels during that time but no two sources agree on just how many he wrote. Interestingly nothing is available by him digitally currently though his hard copy offerings would fill a wing of small rural library. He'd be perfect for Kindle Unlimited I'd say.
Born February 9, 1936 — Clive Walter Swift. His first genre appearance was as Snug in that version of A Midsummer Night's Dream. Several years thereafter he was Dr. Black in "A Warning to the Curious" (based on a ghost story by British writer M. R. James). Then he's Ecto in Excalibur. He shows up next in the Sixth Doctor story, "The Revelation of a The Daleks" as Professor Jobel. (Died 2019.)
Born February 9, 1940 — David Webb Peoples, 80. Screenwriter of Blade Runner, Ladyhawke, Leviathan, and Twelve Monkeys which is not a full listing. He's also been writing for the Twelve Monkeys series .
Born February 9, 1942 — Marianna Hill, 78. Doctor Helen Noel in the excellent "Dagger of The Mind" episode of the original Trek. (This episode introduces the Vulcan mind meld.) she also had roles on Outer Limits (in the Eando Binder's "I Robot" story which predates Asimov's story of that name), Batman (twice as Cleo Patrick), I-Spy, The Wild Wild West, Mission: Impossible and Kung Fu (ok the last one has to be least genre adjacent). 
Born February 9, 1951 — Justin Gustainis, 69. Author of two series so far, one being the Occult Crimes Unit Investigations series which he's written three superb novels in so far, and the other being the Quincey Morris Supernatural Investigations series which has seven novels and which I've not read yet. Who's read the latter series? 
Born February 9, 1956 — Timothy Truman, 64. Writer and artist best known in my opinion for his work on Grimjack (with John Ostrander), Scout, and the reinvention of Jonah Hex with Joe R. Lansdale. His work with Ostrander is simply stellar and is collected in Grimjack Omnibus, Volume 1 and 2.  For the Hex work, I'd say Jonah Hex: Shadows West which collects their work together. He did do a lot of other work and I'm sure you'll point out what I've overlooked… 
Born February 9, 1960 — Laura Frankos, 60. Wife of Harry Turtledove. She's written a baker's dozen of genre short stories. She's more known for her Broadway history column "The Great White Wayback Machine" and has also published one mystery novel, Saint Oswald's Niche. Her Broadway Quiz Book is available on all digital platforms.
(11) GET READY TO TIE UP YOUR BOAT IN IDAHO. In this blue-vs.-red map, the blue part will be under water by 2100: "Where America's Climate Migrants Will Go As Sea Level Rises" at CityLab.
When Hurricanes Katrina and Rita swept through Louisiana in 2005, cities like Houston, Dallas, and Baton Rouge took in hundreds of thousands of displaced residents—many of whom eventually stayed in those cities a year later. Where evacuees have moved since hasn't been closely tracked, but data from those initial relocations are helping researchers predict how sea level rise might drive migration patterns in the future.

Climate experts expect some 13 million coastal residents in the U.S. to be displaced by the end of this century. A new PLOS One study gives some indication of where climate migrants might go.

"A lot of cities not at risk of sea of level rise will experience the effect of it,"says Bistra Dilkina, a computer scientist at the University of Southern California, who led the study. "This will require an adjustment in terms of the [increased] demand on the cities' infrastructure."

Dilkina and her team used migration data from the Internal Revenue Service to analyze how people moved across the U.S. between 2004 and 2014. Movement from seven Katrina and Rita-affected counties to unaffected counties between 2005 and 2006 was categorized as climate-driven migration. Researchers then combined that analysis with National Oceanic and Atmospheric Administration (NOAA) projections on the effects of sea level rise on coastal counties, and trained a machine-learning model to predict where coastal populations will move when forced to leave their homes—and how that, in turn, affects the migration of non-coastal residents.
(12) ON TO 4D. Something else that increasingly features in SF novels was covered in a recent Nature — "The New 3D Printing", Research advances are changing the image of a once-niche technology, including…
The field's future could also lie in '4D printing' — 3D-printed objects that also have the ability to perform some mechanical action, akin to artificial muscles. Often, these incorporate shape-memory polymers, materials that can react to changes in their environment such as heat or moisture
(13) DATING GAME. Will these palms mate and bring back the dates beloved in antiquity? The Guardian has the story — "Scientists in Israel grow date plants from 2,000-year-old seeds".
…Writers from Pliny the Elder to Herodotus raved about the qualities of Judean dates, including their long shelf-life, which allowed them to be transported far and wide. "Herod even used to present them to the emperor in Rome every year," said Sallon.

But the plants suffered under centuries of unrest; by the 19th century the plantations had disappeared.

Writing in the journal Science Advances, Sallon and colleagues report how they planted 32 Judean date palm seeds retrieved from a variety of archaeological sites across the Judean desert. These include Masada and caves at Qumran – shelters best known for concealing the Dead Sea scrolls but which were also used by refugees in ancient times.

"I spent hours and hours in the archaeology department picking through the best seeds," said Sallon. "A lot of them had holes in where insects had bored through or [they had] fallen apart, but some were really pristine and I picked the very best ones."

Six of the seeds sprouted. The team radiocarbon-dated fragments of the shells left after germination to reveal that Hannah and Adam date to somewhere between the first and fourth centuries BC. Judith and Boaz were dated to a 200-year period from the mid-second century BC, and Uriel and Jonah were dated to somewhere between the first and second centuries AD….
(14) I BOT THE LAW AND THE LAW LOST. A Harvard undergraduate tells "How I hacked the government (it was easier than you may think)".
Though no expert coder, a government concentrator uses bots to show an agency its website vulnerability.

Max Weiss '20 never intended to hack the government. His discovery of how easy it is to do — outlined in a new paper he authored — came of the best of intentions.

Weiss, a government concentrator from Cincinnati, was doing advocacy work for state expansion and defense of Medicaid last summer, a project that combined his interests in public policy and health care. While studying the ways in which various advocacy groups can influence pending legislation, he learned how valuable such groups find the federal government's comment period, when members of the public are invited to weigh in on new or pending legislation via online forms. He realized how easy it would be to manipulate the results using bots — computer programs that generate automated responses — to flood the sites with fake responses for or against any proposal.

The 21-year-old detailed his findings in a recent Technology Science piece, "Deepfake Bot Submissions to Federal Public Comment Websites Cannot Be Distinguished from Human Submissions."

"We were spending a lot of time and energy getting high-quality comments from constituents," said Weiss. "I wanted to make sure these federal agencies understood the potential consequences of their policies, and I had the idea that I could use a bot and submit a lot of fake comments."

He paused, recognizing that corrupting the process was fraught: "This would be bad for democracy."

But the Leverett House resident couldn't shake the idea, and he began to research the feasibility of such a scheme. Turns out submission is easy to automate. Federal agencies have some leeway to discount comments that are obviously duplicated or irrelevant. But the typical technological defenses against attack, including CAPTCHAS, anomaly detection, and outside verification — all of which are integrated into online activity from banking to email log-in — were pretty much absent.
(15) THE BIG PICTURE. In the Washington Post, Michael Cavna interviews Birds of Prey director Cathy Yan, who is "the first woman of Asian descent to steer a major Hollywood superhero movie" and who got the job because Margot Robbie, who is both a producer and a star of the film, admired Yan's indie film Dead Pigs, a hit at Sundance. "Cathy Yan's rapid rise from journalist to 'Birds of Prey' director: 'I didn't think you could do this professionally'".
…Moving from a smaller film to a superhero franchise can feel like a mammoth leap, Yan says, but she was inspired by such auteurs as Taika Waititi, who migrated from small comedies to the Marvel tentpole "Thor: Ragnarok," then back to the humbly budgeted 2019 Oscar nominee "Jojo Rabbit." And whether Yan is working on a small or large scale, there are consistent traits that attract her to a project.
(16) THE ROVE BOAT. "Star Wars: Galactic Starcruiser Coming to Walt Disney World" on YouTube is Disney's official announcement of the Star Wars-themed hotel designed to look like a starship which is opening at Walt Disney World next year.
Reservations will open later this year for Star Wars: Galactic Starcruiser, which debuts in 2021 at Walt Disney World Resort in Florida. This new two-day and two-night vacation is an all-immersive experience that will take you to a galaxy far, far away in a way that only Disney could create.
(17) VIDEO OF THE DAY. Former NASA engineer Mark Rober now makes a living as a YouTube inventor. Here he unveils the ultimate deterrent to Amazon package thieves — "Porch Pirate vs. Glitter Bomb Trap 2.0." 15 minutes long… but priceless.
[Thanks to JJ, Martin Morse Wooster, Andrew Porter, John King Tarpinian, Chip Hitchcock, Contrarius, Cat Eldridge, Alan Baumler, SF Concatenation's Jonathan Cowie, and Mike Kennedy for some of these stories. Title credit goes to File 770 contributing editor of the day Jack Lint.]