Reflected glory isn't enough – maybe it was never enough. Now some writers are demanding an explicit share of the glory when anthologies win awards.
Nuzo Onoh, a Nigerian-British writer of Igbo descent popularly known as the "Queen of African Horror", wrote in an open letter posted immediately after the Locus Awards were announced last weekend: "A Best Anthology Award should be an award for every contributor to the book and not just for the editors." Her call is gaining traction.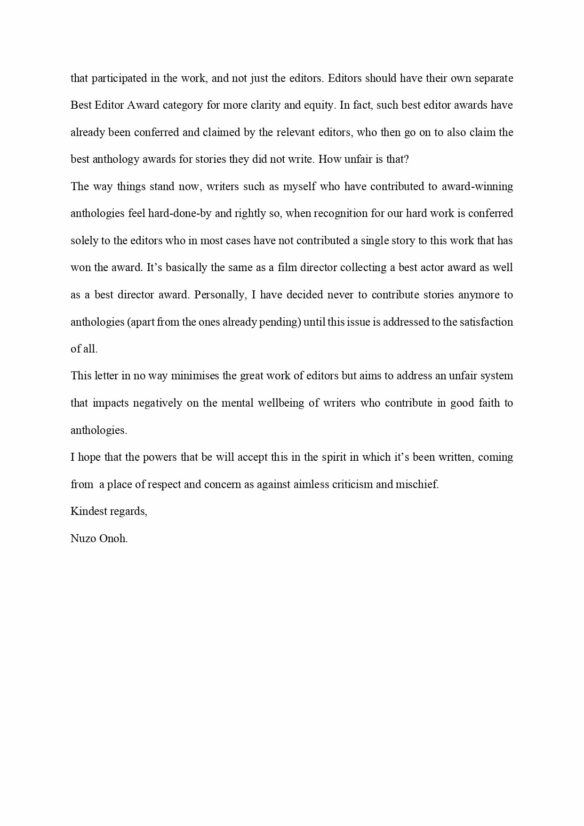 What supporters are pressing for is that everyone with a story in the anthology be treated as sharing any Best Anthology award. "Pins or certificates and names included should be happening for all award-winning anthologies. The editor steers the ship, but writers should be publicly credited," tweeted Dan Coxon, a 2022 British Fantasy Award winner.
A few of the groups with Best Anthology awards have already responded.
L. D. Lewis of the Ignyte Awards:
The Ignyte Awards now display "Featuring works by" information for the 2023 finalists, having recently added the names of writers to Best Anthology/Collected Works titles that previously showed only the names of the editors. L. D. Lewis said:

Nuzo Onoh has also heard from the Locus Award people:
There has been much behind-the-scenes discussion that this represents a backlash against one or more editors of recent award-winning anthologies. For example:
Eugen Bacon said:
However, Nuzo Onoh today tweeted:
Although neither the Hugos, the Nebulas, nor the Seiun Awards have a Best Anthology category, many other major international sff awards have added one over the years.
The Locus Awards have had an Anthology category of some stripe since the second year of existence, 1972. (For the first several years it was restricted to Original Anthologies.) The World Fantasy Awards added a Best Anthology category in 1988. The Horror Writers Association and the British Fantasy Society each added a Best Anthology category to (respectively) the Bram Stoker Awards and British Fantasy Awards in 1999. In Australia, the Ditmar Awards given at the national convention have honored Collected Work since 2000, which encompasses anthologies and single-author collections, and the Aurealis Awards added a Best Anthology category in 2009.
The Hugos recognize fiction editors themselves, in a category created in 1973 and split in 2007 into two categories, for editing Long Form and Short Form works.