(1) PROVING LOVE. [Item by Soon Lee.] How did a New Zealand journalist end up on the cover of a Chuck Tingle "Tingler"? Chuck was inspired to write Almost Pounded By The Physical Manifestation Of Simulation Theory After Realizing We're Erotica Characters Then Deciding To Just Be Friends after listening to a conspiracy theory podcast by New Zealand journalist/documentary maker David Farrier. Tingle then approached Farrier (who has been compared to Louis Theroux) to be on the cover of the story and the rest as they say, is a Tingler cover.
Farrier's account of the events is here. It includes the full text of the Tingler, available free online, from which this is an except:
…Some people believe these events are proof the natural world isn't so natural; that everything we're experiencing might be nothing more than mindbogglingly intricate computer code," my companion explains.

"Like in Handsome Keanu And The Computers Of Heck?" I retort, recalling one of my favorite science fiction films.

"Sure," David replies encouragingly. "The idea is that our whole existence could be a creation within another reality external to this one. That reality could be nearly identical to ours, or vastly different in ways we can't even comprehend. Maybe on the higher plane of existence all these bigfeet, dinosaurs and unicorns are human beings with vaguely similar names. I could be a journalist there, instead of the world renown foot model who sits before you. Maybe on that reality the hit film Handsome Keanu And The Computers Of Heck is called something weird and vague like The Matrix."…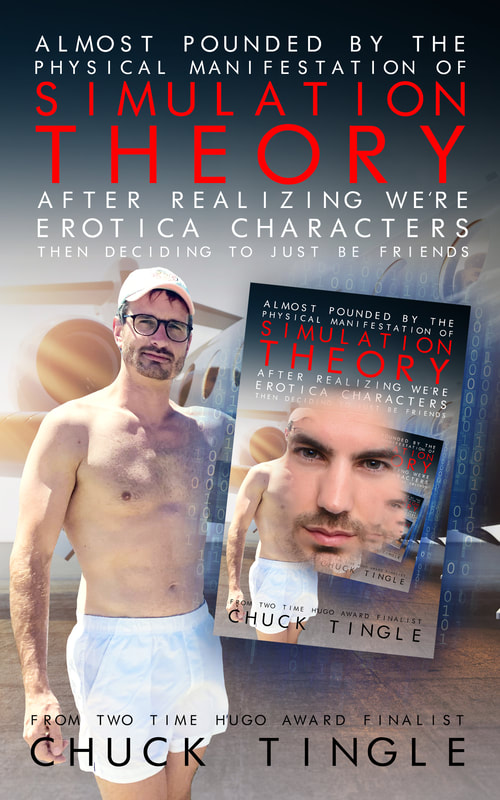 (2) HOW NOT TO HIRE AN EDITOR. A pro tip from Sarah Chorn.
(3) MALE CALL. James Davis Nicoll shares his ideas about "strong male protagonists" (his quote) in "Five SFF Novels Featuring Men Who Don't Give Up Easily" at Tor.com.
When one thinks of science fiction and fantasy protagonists, one thinks of figures like Morgaine (Gate of Ivrel), Essun (The Fifth Season), Cordelia Naismith (Shards of Honor), Beatrice Clayborn (The Midnight Bargain) and Anna Tromedlov (Hench). A casual glance suggests these are generally women, which only makes sense. The majority of fiction readers are women and of course they want relatable characters.

However, it's entirely possible to write a book with a strong male protagonist at its centre ("strong" as in striking, resolute, and/or determined, not as being able to dead-lift surprising amounts of weight, of course—assessing male characters purely in physical terms would be offensively reductive)…
(4) SHOWS GETTING SECOND ACTS OR THE AX. Will your favorites be back? Deadline rounds up the "2020-21 TV Cancellations & Renewals For Broadcast, Cable & Streaming". Here's an excerpt — the list for The CW where so many of the shows are genre. New series in bold.
Batwoman (renewed for Season 3)
Black Lightning (canceled; four seasons; ending in 2021)
Burden of Truth (canceled; four seasons)
Charmed (renewed for Season 4)
DC's Legends of Tomorrow (renewed for Season 7)
DC's Stargirl (renewed for Season 3)
Dynasty (renewed for Season 5)
The Flash (renewed for Season 8)
In the Dark (renewed for Season 4)
Kung Fu (renewed for Season 2)
Legacies (renewed for Season 4)
Nancy Drew (renewed for Season 3)
Penn & Teller: Fool Us (renewed for Season 8)
Riverdale (renewed for Season 6)
Roswell, New Mexico (renewed for Season 4)
Supergirl (renewed/canceled; will end after upcoming Season 6)
Superman & Lois (renewed for Season 2)
Two Sentence Horror Stories (renewed for Season 3)
(5) TO THINE OWN SELF. Hadley Freeman interviews William Shatner for The Guardian: "'Take it easy, nothing matters in the end': William Shatner at 90, on love, loss and Leonard Nimoy". A lot of good exchanges are sandwiched between these excerpts.
I think I'm arriving good and early for my interview with William Shatner when I click on our video chat link 10 minutes ahead of time. But Shatner has arrived even earlier: there he is, as soon as my Zoom screen opens, poking away at his computer. "I like to get in early to ease my mind. But it's OK, I can meditate afterwards," he says. His tone is often heavily ironical, as if he is daring you to accuse him of playing a joke on you. This has led to much discussion from fans about "the Shatner persona", although Shatner scoffs at the phrase. "I don't know what that even is," he says.

I think they think you play up to their expectations, I say.

"What are their expectations? That I'm Captain Kirk? Well, I am Captain Kirk! I don't know what people mean when they talk about my persona. I'm just myself. If you're not yourself, who are you?"

…I t feels rude to ask a 90-year-old if he worries about death, so I ask instead what he wishes he had known at 20 that he knows at 90.

"Here's an interesting answer!" he says perkily. "I'm glad I didn't know because what you know at 90 is: take it easy, nothing matters in the end, what goes up must come down. If I'd known that at 20, I wouldn't have done anything!"

Our time is up now, and so Shatner and I bid our farewells. "This is always the awkward bit, before you turn off [the camera]," he says, and then in his ironical voice he says: "Pleasure seeing you! Bye! Bye!" And then, just like a 3D hologram when the electronics stop working, he vanishes.
(6) DECONSTRUCTION DERBY. From Kalimac's series of reports on Tokien-related items held adjacent to the virtual International Congress on Medieval Studies: "Saturday at Kalamazoo".
…. Most provocatively, Luke Shelton took issue with, or at least queried, Tolkien's statement in the Lord of the Rings foreword that the work is not an allegory. That depends on what you think an allegory is, Luke said, and he cited readers who have ignored Tolkien on that point. Then he went on to say that, since Tolkien accepted "the freedom of the reader" to interpret but that what he objected to in allegory was "the purposed domination of the author," isn't an author who objects to his work being considered allegory indulging in purposed domination? And he said it as if he'd caught Tolkien in a giant "gotcha." In reality it's a Gödelian category error, like saying the barber can't shave himself if he shaves just the men in the village who don't shave themselves. The only domination Tolkien is showing here is expecting readers not to make declarations as to what they think his allegorical purposed domination is…
(7) ON THE ERR. Rob Hansen's THEN fanhistory site has added a recording of "The March of Slime", a parody radio show performed by British fans and debuted at the 1955 Eastercon. There is also the text of the introduction and a link to a complete transcript.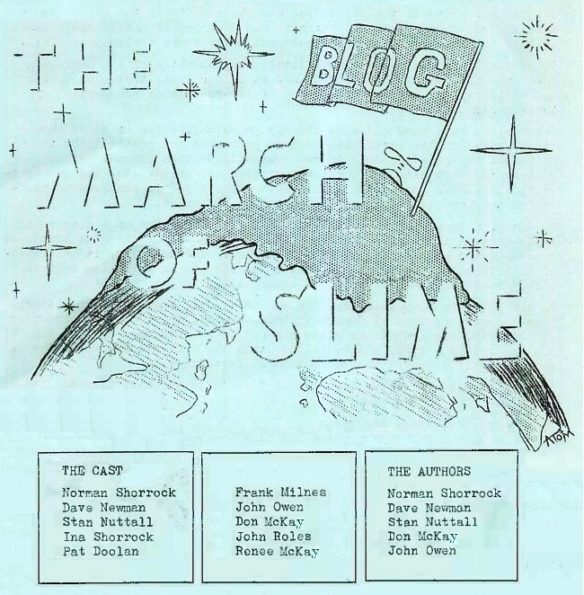 COMMENTATOR: Well, here we are in the historic and time-hallowed saloon bar of the famous Globe Tavern, that erstwhile haunt of Dr. ..Johnson, Crippen and Christie. Gathered here this evening are the honourable representatives of the London Circle – The only circle in the world composed entirely of squares….
The ads for BLOG are wonderful, too….
COMMERCIAL ANNOUNCER: Folks. Have you heard that BLOG gives you that deep sleep that psychologists say is so necessary – cleans gramophone records – is so kind to your silks and woolens – weans babies safely – kills rats, mice and badgers – is the swift antidote for leprousy, croup, and beri-beri – and on top of all this is guaranteed to contain no pterodactyls, diplodoci or other noxious ingredients…
(8) DOES THAT REALLY MAKE IT BETTER? Sarah Gailey's Building Beyond series works on a writing prompt called "Orca You Glad to See Me". Jo Ladzinski and Ryan Boyd join in the fun.
You are a freelance image consultant. You have been hired by orcas to help them repair their image among the seal and penguin communities.
After all three have played with the idea, Gailey sums up:
All of these possibilities are just beginnings. Jo's strategy is the start of a story about direct, honest admiration of predators by their prey. Ryan's approach is the opening of an examination of substance abuse in cetacean communities. My scheme is guaranteed to be successful, resulting in a long-running stream of daytime procedurals about tough-but-fair orcas with complicated backgrounds, who just want to do right by their families by targeting and decimating seal and penguin communities.
(9) WHO'S IN CHARGE HERE. In the Washington Post, Michael Cavna profiles KC Green, whose webcomic "Funny Online Animals" (featuring Question Hound) was so popular that he's now distributed through King Features's Comics Kingdom division with some placements in large metropolitan dailies. "The 'This Is Fine' dog is back. And creator KC Green wants to show he's more than a meme".
…"Question Hound will be there, but only in the part that feels like it's a writer's room for the strip," says Green, who is based in western Massachusetts. "He's the money behind 'Funny Online Animals' because I make a living doing what I do thanks to" the meme.

"I recognize that," he notes by email, "and sometimes resent that."

He also knows that it's exhausting to try to keep your creation on any sort of leash — particularly after the Internet has adopted your character as its own.
(10) BOOL HUNT. Lisey's Story, based on a novel by Stephen King, premieres June 4 on Apple TV+.
(11) MIURA OBIT. The Guardian mourns the passing of a famous manga artist and writer: "Kentaro Miura, creator of bestselling manga Berserk, dies aged 54".
Kentaro Miura, creator of the long-running dark fantasy manga Berserk – one of the bestselling manga series ever written – has died at the age of 54.

His US publisher Dark Horse Comics, describing Miura as a "master artist and storyteller", said he had suffered acute aortic dissection and died on 6 May. "He will be greatly missed. Our condolences go out to his family and loved ones."

The Japanese artist was best known for Berserk, which he wrote and drew. It first launched in 1989 and has been running ever since. Set in a world inspired by medieval Europe, it follows the story of the mercenary Guts, a warrior with a huge sword and an iron hand, and Griffith, leader of the mercenary Band of the Hawk. Dark, violent and humorous, Berserk ran to 40 volumes with more than 35m copies sold worldwide, according to its Japanese publisher Hakusensha. It was also adapted into anime TV series, films and video games….
(12) MEDIA ANNIVERSARY.
May 20, 1950 — On this evening in 1950, Dimension X's "The Lost Race" was playing on NBC stations nationwide. Ernest Kinoy adapted the story from Murray Leinster's "The Lost" first published in the April 1949 issue of Thrilling Wonder Stories. A space crew find themselves shipwrecked on a world where the ruins of a long dead spacefaring civilization hide a deadly secret that has the power to destroy the present as it did the past. Matt Crowley, Kermit Murdock and Joseph Julian were the cast. You can listen to it here.
(13) TODAY'S BIRTHDAYS.
[Compiled by Cat Eldridge and John Hertz.]
Born May 20, 1799 – Honoré de Balzac. His complete works total 20,000 pages. We can claim six novels, three dozen shorter stories; what of The Quest for the Absolute, whose alchemist hero at the end cries Eureka! [Greek, "I have found it"] and dies: is it fantasy? (Died 1850) [JH]
Born May 20, 1911 – Annie Schmidt. Mother of the Dutch theatrical song, queen of Dutch children's literature. Hans Christian Andersen Medal. Poetry, songs, plays, musicals, radio and television for adults. Two fantasies for us, Minoes (tr. as The Cat Who Came In Off the Roof), Pluk van de Petteflet (tr. as Tow-Truck Pluck). One of fifty in the Dutch Canon with Erasmus, Rembrandt, Spinoza, Van Gogh, Anne Frank; see here. (Died 1995) [JH]
Born May 20, 1911 — Gardner Francis Fox. Writer for DC comics and other companies as well. He was prolific enough that historians of the field estimate he wrote more than four thousand comics stories, including 1,500 for just DC Comics. For DC, He created The Flash, Adam Strange and The Atom, plus the Justice Society of America. His first SF novel was Escape Across the Cosmos though he wrote a tie-in novel, Jules Verne's Five Weeks in a Balloon, previously. (Died 1986.) (CE)
Born May 20, 1928 — Shirley Rousseau Murphy, 92. Author of the Joe Grey series of mysteries. Its narrator is a feline who speaks and who solves mysteries. Surely that's genre. Excellent series which gets much, much better in characterization and writing as it goes along. She also did some more traditional genre fare, none of which I've encountered, the Children of Ynell series and the Dragonbard trilogy. (CE)
Born May 20, 1946 — Cher, 75. She was Alexandra Medford in The Witches of Eastwick which is her main genre credit. She did appear as Romana on The Man from U.N.C.L.E. in "The Hot Number Affair" and she voiced herself in the "The Secret of Shark Island" of The New Scooby-Doo Movies which despite the name was actually a series, but that's it. (CE)
Born May 20, 1946 – Mike Glicksohn. Three FAAn (Fan Activity Achievement) awards. With Susan Wood published the superb fanzine Energumen, Hugo winner 1973; with her, Fan Guests of Honour at Aussiecon One the 33rd Worldcon; his trip report, The Hat Goes Home (he famously wore an Australian bush hat). Co-founded the fanziners' con Ditto (named for a brand of spirit-duplicator machine). One of our best auctioneers at Art Shows, at fund-raisers for cons, and for traveling-fan funds. (Died 2011) [JH]
Born May 20, 1954 – Luis Royo, age 67. Covers in and out of our field, comics, a Tarot deck, CDs, video games; a domed-ceiling fresco in Moscow (with his son Romulo Royo). Spectrum silver award, Inkpot award. See here, here, here. [JH]
Born May 20, 1960 — John Billingsley, 61. Phlox on Enterprise, a series I really liked despite the fact it seems to have many detractors. His first genre role was in A Man from Earth as Mr. Rothman, a film in which the scriptwriter riffed off the immortality themes from the "Requiem for Methuselah" episode he did for Trek. He'd later reprised that role in The Man from Earth: Holocene. He's had one-off appearances on The X-Files, Stargate SG-1, Duck Dodgers, Twin Peaks, Lucifer and The Orville. He had a recurring role on Stitchers as Mitchell Blair. (CE)
Born May 20, 1961 — Owen Teale, 60. Best known role is Alliser Thorne on the just concluded Game of Thrones. He also was Will Scarlet in the superb Robin Hood where the lead role was performed by Patrick Bergin, he played the theologian Pelagius in 2004 King Arthur, was Vatrenus in yet another riff on Arthurian myth called The Last Legion, was Maldak in the "Vengeance on Varos" episode in the Era of the Sixth Doctor, and was Evan Sherman in the "Countrycide" episode of Torchwood. He's currently playing Peter Knox in A Discovery of Witches based on the All Souls trilogy by Deborah Harkness, named after the first book in the trilogy.(CE)
Born May 20, 1988 – Amberle Husbands, age 33. Writer, graphic artist, sheetmetal mechanic. Four short stories. Has read The Master and Margarita, Starman Jones, The Tale of Genji (Seidensticker tr.), The Sot-Weed Factor, We Have Met the Enemy and He Is Us, Black Elk Speaks. [JH]
Born May 20, 1997 – Sean Fay Wolfe, age 24. First novel published at age 16; two more. Eagle Scout. Black Belt in Shidôkan karate. Five-time All-State musician. Creator of online games. Three cats and a little white dog named Lucky. [JH]
(14) COMICS SECTION.
Speed Bump makes a UFO joke from a standard pizza service question.
Get Fuzzy has some gamer snark.
(15) ART THEFT IN CALIFORNIA. San Diego Police are asking for help in recovering art stolen from San Diego in April 2021 – Heritage Auctions has the complete list at the link. It includes several pieces of fantasy and comics art.
In April, my house was ransacked and a valuable art collection was stolen. Unfortunately, some of the stolen pieces do not have an image available. Below is a list of the art taken:
Lil Abner Pen and Ink advertising drawing, commissioned for King Features Syndicate, circa 1950s. Description: Lil Abner, drawn from behind, clicking his heels in the air. Price paid: $2,500
Monte Moore – Gandalf, consulting a book in a library. Published in "Frazetta: Icon." Price Paid: $1,500
Ernest Chiraicka – two page interior splash page in a pulp magazine. Description: Blond woman in a blue dress stands on one side of an apartment door, holding a gun up alongside her ear, in the hall, a man stands against the wall near the door, also holding a gun. Price Paid: $5,000
Marie Severin – Late 60s early 70s "Mad Magazine" Cover Painting. Description: Funny looking guy stooping and smelling the flowers. Price Paid: $6,500…
(16) BATMAN. DC's animation division dropped this trailer for a new Batman animated film.
(17) FACEHUGGER FACE MASKS. [Item by Daniel Dern.] A colleague posted this one on Facebook — Facehugger mask leather pattern PDF by Leatherhub.
And a quick search led to others on Etsy. Click for larger images.
(18) PALESTINIAN SFF. Book Riot has the latest info about "Science Fiction and Fantasy by Palestinian Authors", assembled by Alex Acks.
As I often do when terrible things are happening in the world and I've made all the phone calls I can and I still feel helpless, I turn to SFF as one way we can all at least connect together. So let's talk about SFF by Palestinian authors. There isn't a lot in (or translated to) English, but it's still very worth reading.

The speculative fiction magazine Strange Horizons published a Palestinian Special issue on March 29, 2021. There are short stories and poetry to check out there….
(19) CREDENTIAL NOIR. Does this sound up your alley? Painted Cats by Neal F. Litherland from Ring of Fire Press.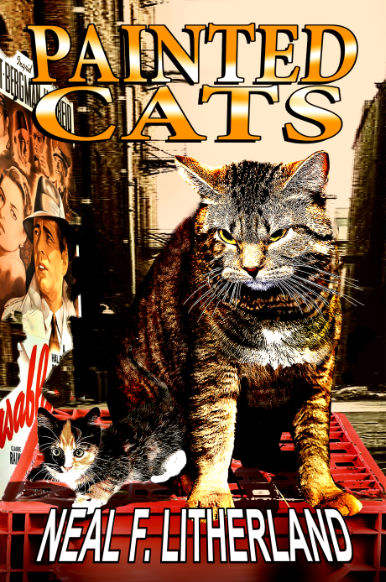 Leo is the toughest alley cat around, but he's got some soft spots. One is for an ex-flame looking for help and the other is for abandoned kittens, which lead him into trouble a lot bigger than he expected. But putting trouble in front of Leo is not what the furry denizens of the streets who know him would call a good career move….

It was a lazy summer in the park when an old flame walked back into Leo's life. It had been a while since he'd seen Delilah, and it looked like she was doing all right for herself. She had a problem, though, and it wasn't one her new squeeze could fix… a friend of hers had gone missing. Worse, she'd left her kitten behind.

Mischief was a devoted mama, and she never would have abandoned Trouble to fend for himself. Especially not in a place like Scratch Alley. But for old times' sake, Leo agreed to stick his nose into things and see what he could turn up.

What he found was a lot more than he bargained for. While Mischief appeared to have vanished into thin air, Leo finds low-rent muscle dogging his steps. While he's looking for Delilah's missing friend, though, they're trying to get their claws on Trouble. What's so special about the kitten that petty packs of alley enforcers are out for blood? That might just be the answer to where Mischief went, however, if Leo knows anything about… Painted Cats.
(20) GETTING PAID. Can we possibly reread Raymond Chandler's bad opinion of science fiction often enough? I never grow tired of it, myself, and Letters of Note has decided it's a good day to revive his 1953 quote along with parts of three other Chandler missives in "She was the music heard faintly at the edge of sound".
Did you ever read what they call Science Fiction? It's a scream. It is written like this: "I checked out with K19 on Aldabaran III, and stepped out through the crummalite hatch on my 22 Model Sirus Hardtop. I cocked the timejector in secondary and waded through the bright blue manda grass. My breath froze into pink pretzels. I flicked on the heat bars and the Brylls ran swiftly on five legs using their other two to send out crylon vibrations. The pressure was almost unbearable, but I caught the range on my wrist computer through the transparent cysicites. I pressed the trigger. The thin violet glow was icecold against the rust-colored mountains. The Brylls shrank to half an inch long and I worked fast stepping on them with the poltex. But it wasn't enough. The sudden brightness swung me around and the Fourth Moon had already risen. I had exactly four seconds to hot up the disintegrator and Google5 had told me it wasn't enough. He was right."

They pay brisk money for this crap?
[Thanks to JJ, Danny Sichel, Soon Lee, Michael Toman, John King Tarpinian, Daniel Dern, Cat Eldridge, John Hertz, Mike Kennedy, Andrew Porter, and Martin Morse Wooster for some of these stories. Title credit goes to contributing editor of the day Daniel Dern.]