(1) ONE THING AFTER ANOTHER. Minneapolis' DreamHaven Books, boarded up after being vandalized, was told by the city to get rid of the grafitti on the building. Wendy Comeau told followers:
Well, I just received a letter from the City of Minneapolis Graffiti Enforcement department. They're DEMANDING I remove the graffiti from my building by July 6 or face fines and fees for removal. Want to see the graffiti?

I am so angry I had to go down the basement to spit and rage for a bit. This is what the City of Minneapolis has to worry about right now – boarded up businesses with supportive sayings painted on their storefronts. (btw – the boards have already been removed but that doesn't make me less angry).
On the store's website, Wendy Comeau posted their open hours and other updates.
We have re-opened since the break-in and are keeping the hours Monday – Saturday, Noon – 6pm. Except, of course, this coming Saturday will be the Fourth of July, and we will not be open. Here's hoping we all have an excellent holiday weekend.
(2) FREEDOM RINGS ON JULY 4. Tomorrow, July 4, Somtow Sucharitkul will be giving away three of his sff novels, written as S.P.Somtow. You can download these free Kindle Edition Science Fiction books for 48 hours on July 4th and 5th (Pacific Standard Time):
(3) BOMBS AWAY. Is this also the right season for the wrong kind of fireworks? Yahoo! reminds reads about "The Biggest Box Office Bombs of the Past Decade". Plenty of genre here, unfortunately. Right at the top of the list, in fact –
Biggest total loss: "Mars Needs Moms" (2011) is the biggest box office failure on this list, with a net loss of $111,007,242.
(4) MURDERBOT IN THE PIPELINE. Martha Wells' next Murderbot novella is coming in April 2021. I don't think I need to worry about spoiling somebody else's cover reveal anymore, so here it is.
No, I didn't kill the dead human. If I had, I wouldn't dump the body in the station mall.

When Murderbot discovers a dead body on Preservation Station, it knows it is going to have to assist station security to determine who the body is (was), how they were killed (that should be relatively straightforward, at least), and why (because apparently that matters to a lot of people—who knew?)

Yes, the unthinkable is about to happen: Murderbot must voluntarily speak to humans!

Again!
(5) SANS SUPERHEROES. [Item by Chip Hitchcock.] New York Times critic A. O. Scott discusses "A Summer Without Superheroes". (Probably paywalled, but this early in the month people may still have article access.) IIRC, Abigail Nussbaum's discussion of this was Pixeled some years ago; this version is not necessarily surprising but very focused.
It's hardly news that we live in an age of polarization. For at least the past dozen years, the public has been pressed to choose between obedience to a smug, privilege-hoarding neoliberal elite or allegiance to a belligerent ideology rooted in negation, self-pity, resentment and revenge. You can worship the avatars of an imperial status quo that regards you as a data point or bow down to idols of grievance.

Do you embrace winners or root for underdogs? Do you fantasize about world government or vigilante justice? Or do you find yourself drifting from one pole to another, hoping to find something to satisfy longings — for safety, for danger, for solidarity, for fun — that are themselves often unstable and contradictory? Satisfaction is intermittent and fleeting. Disappointment is the norm. Couldn't there be a real alternative, an escape from the grip of Marvel/Disney and DC/Warner Bros.?

What did you think I was talking about? I know the analogy is imperfect, but maybe it isn't really an analogy at all. Popular culture and politics exist on the same wavelength and work together to shape our shared consciousness. The fantasies we buy into with our attention and money condition our sense of what it is possible or permissible to imagine. And the imagination of Hollywood in the franchise era — the age of I.P.-driven creativity and expanded-universe cinema — has been authoritarian, anti-democratic, cynical and pseudo-populist. That much of the politics of the past decade can be described with the same words is hardly an accident.

Don't @ me. I'm not trying to insult fans of "Suicide Squad" or "Ant-Man." I've done enough of that already, and anyway, the quickness of so many partisans to take offense counts as evidence in support of my argument. Fandom can be a form of benign, nurturing tribalism, a mode of participation beyond mere consumption. But it has devolved recently into sullen passivity, which occasionally erupts into toxic rage.
(6) OCTAVIA BUTLER. Open Culture invites readers to "Behold Octavia Butler's Motivational Notes to Self"
…Identifying as a writer helped her move beyond her crippling shyness and dyslexia. As she wrote in an autobiographical essay, "Positive Obsession":

"I believed I was ugly and stupid, clumsy, and socially hopeless. I also thought that everyone would notice these faults if I drew attention to myself. I wanted to disappear. Instead, I grew to be six feet tall. Boys in particular seemed to assume that I had done this growing deliberately and that I should be ridiculed for it as often as possible.

"I hid out in a big pink notebook—one that would hold a whole ream of paper. I made myself a universe in it. There I could be a magic horse, a Martian, a telepath….There I could be anywhere but here, any time but now, with any people but these."

She developed a lifelong habit of cheering herself on with motivational notes, writing them in her journals, on lined notebook paper, in day planners and on repurposed pages of an old wall calendar.
(7) CHUCK TINGLE JR.? Nate Hoffelder challenged readers of Camestros Felpaton to "Guess who has two thumbs, and noticed that Cirsova never registered a DotCom domain?" Cirsova publisher P. Alexander recently tried to brand SFWA as a terrorist group for its support of Black Lives Matter. So while you're guessing, try and guess where the newly-registered http://www.Cirsova.com domain takes you?
(8) MEDIA BIRTHDAYS.
July 3, 1985 — Back to the Future premiered. It was directed by Robert Zemeckis from a screenplay by Zemeckis and Bob Gale. Bob Gale and Neil Canton were the producers. It of course starred Michael J. Fox, Christopher Lloyd, Lea Thompson and Crispin Glover. It would win the Hugo Award for Best Dramatic Presentation at ConFederation besting Ladyhawke, Cocoon, Brazil and Enemy Mine. Critics loved it with Ebert comparing it to Capra's It's A Wonderful Life. It was a box office success being the top grossing film of the year. And the audience reviewers at Rotten Tomatoes currently give it a 94% rating. 
(9) OTHER TOP TIME-TRAVEL MOVIES.
These are Rolling Stone's nominees for "The 20 Best Time-Travel Movies". In the middle of the list is:
8. 'Run Lola Run' (1998)

The crimson-haired Lola (Franka Potente) gets a phone call from her boyfriend: He's lost a bag with 100,000 deutschemarks, and if he doesn't find it or replace it in the next 20 minutes, his criminal boss will kill him. So Lola runs through Berlin, dodging bicyclists, causing car accidents, provoking flash-forward sequences of the destiny of various pedestrians, trying to find a way out. Each time she fails, the 20-minute time loop starts again — it seems to be powered by love and the absence of cash.
(10) BERNSTEIN OBIT. "Byron 'Reckful' Bernstein, Popular Twitch Streamer, Dies at 31" reports Variety. Bernstein died by suicide.
Bernstein went by the name Reckful on Twitch, where he was best known for his "World of Warcraft" streams and had over 936,000 followers. Most recently, Bernstein had been working as a developer on his own video game, "Everland," which was set to release later this year.
(11) TODAY IN HISTORY.
July 3, 1991 — Terminator 2: Judgment Day premiered. It was produced and directed by James Cameron, who co-wrote the script with William Wisher. It came out seven years after Terminator was released. It starred  Arnold Schwarzenegger, Linda Hamilton, Robert Patrick, and Edward Furlong.  It was a critical success upon its release, with lavish praise going towards the cast, the story, and its visual effects. It made the studio a really incredible amount of money, and the audience reviewers at Rotten Tomatoes give it a stellar 93% rating. 
July 3, 1996 — Independence Day premiered. It was directed and co-written by Roland Emmerich. It was produced by Dean Devlin who also wrote it with Emmerich.  The film had a very large cast that included Will Smith, Bill Pullman, Jeff Goldblum, Mary McDonnell, Judd Hirsch, Margaret Colin, Randy Quaid, Robert Loggia, James Rebhorn, Harvey Fierstein, Vivica A. Fox and Harry Connick Jr.  Critics Inside the USA generally loved it whereas critics outside condemned its hyper-patriotism. The box office here and overseas was such that only Jurassic Park has earned more money. Audience reviewers at Rotten Tomatoes currently give it a solid 75% rating.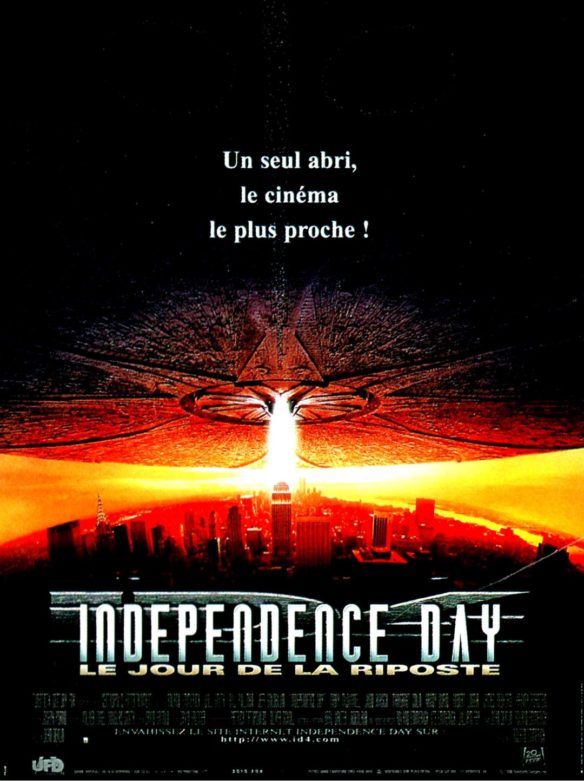 (12) TODAY'S BIRTHDAYS.
[Compiled by Cat Eldridge and John Hertz.]
Born July 3, 1860 – Charlotte Perkins Gilman.  I'm a fan of her book Herland myself; about it and With Her in Ourland and CPG's newsletter The Forerunner see my note here (commenters helped); at Loscon 44 we discussed Herland (I said "it's a sermon; but it's neat, imaginative, warm-hearted") and at Westercon 71 too.  William Dean Howells said CPG had the best brains of any woman in America.  (Died 1935) [JH]
Born July 3, 1883 – Franz Kafka.  At his death Amerika and The Trial and The Castle were all unfinished and he said they should be destroyed.  Hmm.  Alas for my memory, it was Wilson, not Nabokov, who wrote "With a rumble-de-bum and a pifka-pafka / Came the fife-and-drum corps parading for Kafka".  However, don't miss N's discussion of K's "Metamorphosis"; this book is worth your while; the Kafka Project has put N's lecture here.  A hundred shorter stories.  Translated into Croatian, Dutch, Finnish, French, Italian, Portuguese, Romanian, Spanish.  (Died 1924) [JH]
Born July 3, 1898 — E. Hoffmann Price. He's most readily remembered as being a Weird Tales writer, one of a group that included Lovecraft, Robert E. Howard, and Clark Ashton Smith. He did a few collaborations, one of which was with H. P. Lovecraft, "Through the Gates of the Silver Key". Another work, "The Infidel's Daughter", a satire on the Ku Klux Klan, also angered many Southern readers. (Died 1988.) (CE)
Born July 3, 1926 — William Rotsler. An artist, cartoonist, pornographer and SF author. Well that is his bio. Rotsler was a four-time Hugo Award winner for Best Fan Artist and one-time Nebula Award nominee. He also won a Retro Hugo for Best Fan Artist in 1946 and was runner-up for 1951. He responsible for giving Uhura her first name, and created "Rotsler's Rules for Costuming". (Died 1997.) (CE)
Born July 3, 1927 — Ken Russell. Film director whose Altered States, based off of Paddy Chayefsky's screenplay, is certainly his best-remembered film. Though let's not overlook The Lair of the White Worm he did off Bram Stoker's novel, or The Devils, based at least in part on The Devils of Loudun by Aldous Huxley. (Died 2011.) (CE)
Born July 3, 1937 — Tom Stoppard, 83. Playwright of Rosencrantz and Guildenstern Are Dead. He co-wrote the screenplays for Brazil (with Terry Gilliam) and Shakespeare in Love (with Marc Norman). He's uncredited but openly acknowledged by Spielberg for his work on Indiana Jones and the Last Crusade. (CE)
Born July 3, 1938 – Jerry Podwil, 82.  Six dozen covers.  Here is Babel-17.  Here is The Sky Is Filled With Ships.  Here is The "Fantastic Universe" Omnibus.  Here  is The Demolished Man.  [JH]
Born July 3, 1939 – Bart Forbes, 81.  Here is The Weapon Shops of Isher.  Here is The Worlds of A.E. Van Vogt.  Here is The Wind Whales of Ishmael.  Outside our field, postage stamps (here is Sarah Vaughan), The Ladies' Home Journal, sports (baseball, golf, Kentucky Derby; official artist for the 1988 Summer Olympics; The Sports Art of Bart Forbes), landscapes (here is First Light).  Society of Illustrators Hall of Fame.  [JH]
Born July 3, 1947 – Mel Gilden, 73.  A score of novels, including one each for Star Trek Original Series, Next Generation, Deep Space Nine; a dozen shorter stories; Fifth Grade Monsters; translated into Dutch, German, Italian, Portuguese; reviews in Locus; five years co-host of Hour 25.  Thirty more books outside our field.  [JH]
Born July 3, 1962 — Tom Cruise, 58. I'm reasonably sure his first genre role was as Jack in Legend. Next up was Lestat de Lioncourt in Interview with the Vampire followed by being Ethan Hunt in the first of many excellent Mission Impossible films. Then he was John Anderton in the abysmal Minority Report followed by Ray Ferrier in the even far more abysmal War of The Worlds. I've not seen him as Maj. William Cage in Edge of Tomorrow so I've no idea how good he or the film is. Alas he was Nick Morton in, oh god, The Mummy. (CE)
Born July 3, 1964 — Joanne Harris, 56. Though her novel Chocolat which was adapted the following year into the film Chocolat is what she's best known for, she has a most excellent YA series in which the Norse gods are still with us in Runemarks and Runelight. She's also written a Third Doctor novella, "The Loneliness of the Long-Distance Time Traveller".  (CE)
Born July 3, 1970 – Kate Messner, 50.  A dozen chapter books in her series Ranger in Time; four novels; more outside our field (e.g. 59 Reasons to Write for teachers: "Only by engaging in the real work of writing can teachers become part of the writing community they dream of creating for their students").  She says she is "passionately curious and writes books that encourage kids to wonder".  [JH]
(13) COMICS SECTION.
Is this Herman cartoon about astrology, astronomy, or perhaps both?
(14) JEAN-LUC PICCOLO. Variety profiles the sff theme music up for awards: "Yodas, Witchers and Trekkies, Oh My! Sci-Fi and Fantasy Contenders Eye Emmys Music Gold".
Baby Yoda. Jean-Luc Picard. A medieval witcher. A world where fairies have sex with humans. Steve Carrell aiming for the moon. A science-fiction anthology. The fantasy and sci-fi realms prospered on TV during the past season, particularly with the help of several gifted composers….

… Emmy winner Jeff Russo ("Fargo") has assumed the mantle of "Star Trek" composer, first with his music for "Discovery" and now the "Picard" series, which returns Patrick Stewart to the role of Enterprise captain Jean-Luc Picard. His theme may be the most gentle and intimate of all the "Trek" themes to date, with prominent solos for piccolo and cello.
(15) CAT DOWN UNDER. Atlas Obscura has photos of a statue that honors an adventurous seafaring cat.
OUTSIDE SYDNEY'S MITCHELL LIBRARY stands a statue of Matthew Flinders, the celebrated English navigator and cartographer who helped map Australia, declared it a continent, and was influential in giving it its current name. On a window ledge behind the statue stands a bronze figurine of Flinders's faithful cat, Trim, who accompanied the seafarer on many of his adventures.    

The story of Trim begins in 1799, when he was born aboard the ship HMS Reliance as it sailed from the Cape of Good Hope to Botany Bay. There were a handful of cats on board to keep pests at bay, but Trim soon became a favorite of the crew and the ship's 25-year-old lieutenant, Flinders….
(16) GOLLUM READS THE HOBBIT. GameSpot teed up this piece of Tolkien-related news: "Andy Serkis Records New Audiobook For The Hobbit, And It Sounds Fantastic".
Book company Harper Collins is making a new audiobook for The Hobbit that is read by none other than Andy Serkis, who played Gollum in the movies.

The announcement of this new version comes after Serkis did a marathon reading of The Hobbit for charity back in May. For this new audiobook, Serkis is donating his payment to the Disasters Emergency Committee, and Harper Collins UK is matching it.

You can listen to a snippet from the recording below. It's a delight, which really should be no surprise given that Serkis has such a phenomenal voice.
(17) TOLKIEN IN HIS OWN VOICE. ":J.R.R. Tolkien Discussing The Lord Of The Rings (1960s Interview)" is an 11-minute excerpt from an interview Tolkien gave sometime in the 1960s.
(18) GENRETHON 2020. Otherworld Theatre, Chicago's premier Science Fiction and Fantasy theatre, presents GenreThon 2020 an Online Celebration of Nerdom In Comedy from Friday, July 10 through Sunday, July 12 on their YouTube digital platform! Access is FREE and can be subscribed to here.
This geek and genre-centric comedy celebration features headliners: Improvised Jane Austen, voted the Best Improv Troupe in the Chicago Reader's "Best of Chicago 2019". Also headlining are Improvised Star Trek,  BATSU!– An Improvised Japanese Game Show, and The Dandies Present: Holodeck Follies. Dungeons and Dragons enthusiasts take note, the festival also features Otherworld mainstay Out On A Whim's Improvised D&D and headliner The Queens of Adventure.  Additionally,  Otherworld fan favorite Dork Court returns as an all digital experience, "Animal Crossing vs. Sims".  Also featured are a staged reading of a new Stupid Shakespeare play by Phillip Zimmerman, "Two Gentlemen of Bikini Bottom" and from the Push Theatre in Virginia, "Venetian Blinds".  Fan favorites from GENRETHON 2019 also making their return are Improvised Riverdale, Geekspeare, Geektastic and Mass Street Production's classic murder mystery "Care For A Corpse", and so much more. 
(19) GUYS AND DOLLS. James Davis Nicoll says Tor.com turned down his "Husbands of Science Fiction" – even though it has the requisite five subjects. Is that not enough? Consider the first husband on the list:
…The oldest example of what I am thinking of is Mary Shelly. She is revered for having arguably created the science fiction field with her classic Frankenstein. Her husband, failed swimmer Percy, was also an author, apparently. By all accounts as easy on the eyes as he was unable to master certain animal urges, Percy reportedly dabbled in poetry of one sort of another. Perhaps best known is Percy's Ozymandias, about an old damaged statue that someone has failed properly maintain. Men like simple household tasks like spackling and carpentry; one can see why poetry about statue maintenance would appeal.
(20) LEAKY CAULDRON AND MUGGLENET. "Harry Potter fan sites reject author's trans comments":BBC has the story.
Two leading Harry Potter fan sites have publicly distanced themselves from author JK Rowling over her recent comments about transgender people.

The Leaky Cauldron and Mugglenet sites said they would no longer use photos of Rowling or link to her own website.

Speaking jointly, they said her views on "marginalised people [were] out of step with the message of acceptance and empowerment we find in her books".

The stars of the Potter films have also spoken out against Rowling's remarks.

…In their statement, the Leaky Cauldron and Mugglenet sites said it was "difficult to speak out against someone whose work we have so long admired".

Yet they said it be "wrong" not to distance themselves from Rowling's "harmful and disproven beliefs about what it means to be a transgender person".
(21) VIDEO OF THE DAY. A swift completes its appointed rounds…. Gizmodo notes how "Artificial Feathers Let This Robotic Bird Fly With Incredible Agility".
[Thanks to John King Tarpinian, Chip Hitchcock, Michael Toman, JJ, John Hertz, Cat Eldridge, Martin Morse Wooster, Mike Kennedy, Nate, and Andrew Porter for some of these stories. Title credit belongs to Daniel Dern.]