By Daniel Dern: Starting December 9, 2019: The WB TV network's annual "Arrowverse" cross-over event — this year, spanning five episodes across five WB shows — ("Crisis on Infinite Earths" at Arrowverse Wiki):
Part 1 — Supergirl: "Crisis on Infinite Earths: Part One" (December 8, 2019)
Part 2 — Batwoman: "Crisis on Infinite Earths: Part Two" (December 9, 2019)
Part 3 — The Flash: "Crisis on Infinite Earths: Part Three" (December 10, 2019)
Part 4 — Arrow: "Crisis on Infinite Earths: Part Four" (January 14, 2020)
Part 5 — DC's Legends of Tomorrow: "Crisis on Infinite Earths: Part Five" (January 14, 2020)
…Not to mention a fair amount of preliminary/build-up over the current season, in Flash and Arrow and presumably (I haven't been watching it or Arrow), Supergirl.
One particularly cool thing that the showrunners have done is that the events start in the shows in "real time" — that is, the Flash episode premiering on December 9, 2019 is taking place on "show calendar time" of December 9, 2019.
2017's included the musical episode in Flash ("In Case You Didn't Watch The Flash Musical Episode…") which includes at least two songs I periodically rewatch, in particular "Super Friend."
2018's was "Elseworlds," which, among other things, introduced Batwoman in advance of the eponymous show (i.e., Batwoman) that started up this fall.)
This year, as we've known pretty much since the show finales of last year, is "Crisis on Infinite Earths" — the CWTV page includes links to the trailers.
Here's TV Guide's summary: "Everything We Know About the Crisis on Infinite Earths Arrowverse Crossover".
And Fandom.com's Arroverse Wiki has a full guide to "Arrowverse" crossovers: "List of crossover episodes".
CROSS-OVERS AND EVENTS: THEY'RE ESTABLISHED THINGS. "Cross-over events" combine two of comic books — and, somewhat more recently (I think) fan-usually-pleasing things: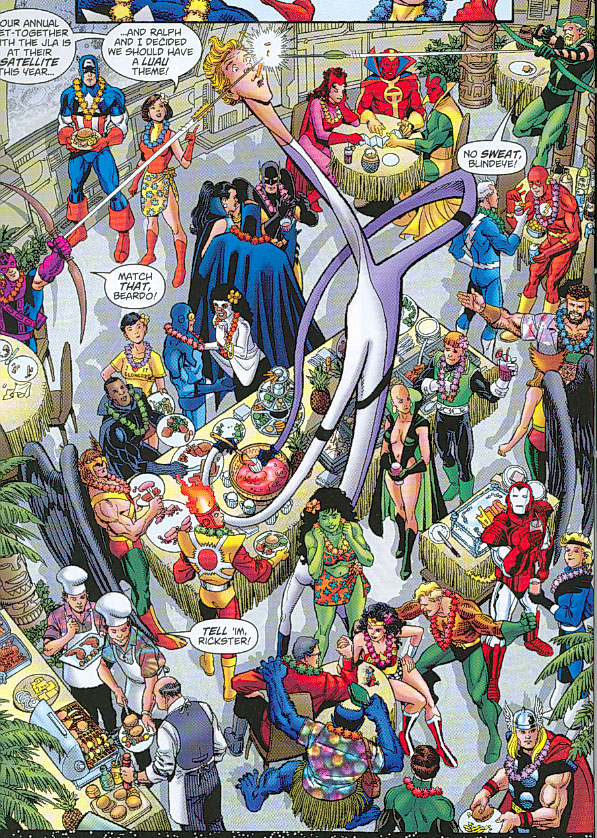 Cross-overs, where characters from one title/"universe"/publisher visit another's — sometimes within the same publishing company, sometimes cross-publisher, like when Marvel's Punisher came to Riverdale in 1994, or DC/Marvel's AMALGAM series.
Sometimes these are within an existing title, sometimes a separate title, e.g. Batman and the Teenage Mutant Ninja Turtles miniseries.
There's some overlap with the notion of team-ups (and "Vs"s), like Superman and Batman, Flash and Green Lantern, JLA/Avengers, etc., and also with "cameos" — guest appearances, like Don Rickles in two issues of Jimmy Olsen during the 1970's (part of Jack Kirby's great Fourth World/New Gods run). See "15 Unlikely Comic Book Crossovers (That Actually Happened)" at Newsarama.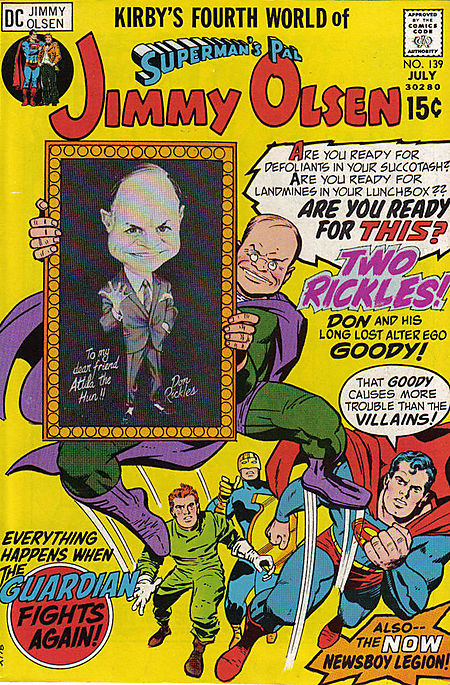 (Note: Dynamite Comics has lots of great cross-over comics. 'Nuff said!)
And for more crossover listings and info, feel free — after you are done with this scroll — hop over to
"Event" typically refers to a big plot with lots of action, sub-plot, interaction, reveals, and whatnot. Some events are strictly within a title or (main) character, e.g., "Death of Superman," Spider-Man Clone Conspiracy. Others span lots of titles, characters, and even times and universes/realities, e.g. Marvel's Civil War and House of M, and, well, DC's various "CRISES."
TV DOES CROSS-OVERS AND EVENTS, TOO. TV, increasingly, is doing this. Back in 1967, the Batman and Green Hornet TV shows had a cross-over episode ("A Piece of the Action"). A decade before that, I Love Lucy had a "Lucy and Superman" "Lucy and Superman" episode.
From Flavorwire ("10 Great TV Crossover Episodes") I just learned the St, Elsewhere cross-overs included a visit to Cheers ("…Turns out that Norm is Dr. Auschlander's former accountant and Carla gave birth to her last child in the St. Elsewhere hospital…"). Homicide: Life on the Streets crossed over with Law & Order.
DC DOES CRISES. For DC Comics, "Crises" and other events often do "housecleaning" — condensing multiple "universes," in particular, multiple versions of characters. That's what DC did in their first Crisis, Crisis on Infinite Earths by Marv Wolfman and George Perez, in the mid-1980's. (I believe I still have all my original copies of the mini-series and the tie-in issues.)
Marvel did this, too, in one of their (over)big events.) This doesn't, IMHO, always work well; it feels to me like we go from clear, well-delineated parallel realities with the opportunity for world-hopping visits to one world with often-arbitrary who's left's and/or multiples, e.g., ya got both Peter Parker AND Miles Morales. (Yes, I know, that's Marvel, not DC.)
The problem is, the simplification never lasts long. But that's another article/rant.
INFINITE CAMEOS? NOT A CRISIS. DC-on-WB began to give us an inkling/sowed the seeds early on in this Flash series, with the Gideon computer room periodically showing Early Edition-class "future headlines" of Flash dying in the Crisis.
And then, warming my fan heart, a season or so later IIRC, an episode opening with the simple caption, "Earth-2" (or something like that).
And we've been teased with multi-verse cross-overs and changing Gideon headlines and Monitor pop-up appearances for well over a year now.
While, per this year's Arrowverse cross-over event is battling the Anti-Monitor and (hopefully) preventing the collapse/death/whatever of the multiverse (the "infinite Earths"), the really fun part is the lengths the showrunners and network have gone to bring in/back characters from past episodes and other shows, and the actors who have played them, or had other roles.
Here's a comprehensive list from the Arrowverse Wiki: "Crisis on Infinite Earths".
For example, Black Lightning, whose eponymous WB series was not necessarily part of "the Arrowverse" (although, given we've got a multiverse, that's easily finessed, I assume).
And, as with last year's intro of Batwoman, we are getting an, ahem, harbinger of upcoming shows, with Stargirl. (Harbinger is an established Crisis character, hence my "ahem.")
Most notably, Kevin Conroy, best known as the voice of Batman in the animated Batman Beyond (and other animated shows), showing up as Bruce Wayne. Lots of people are excited about this.
Brandon Routh will have two roles: as Legend's Ray Palmer/The Atom, and also as (one of the) Clark Kent/Superman's (men).
The other CK/S is being played by one of the Smallville alums: Tom Welling.
And Burt Ward, who played Robin to Adam West's Batman, playing… "Burt Ward from Earth-66."
MY CROSS-OVER/CAMEO SUGGESTIONS AND HOPES THAT I DOUBT WILL BE FULFILLED. That's already an impressive list and effort.
But, y'know, particularly given the multiverse aspects of this event, why stop there? Here's my suggestions, which, granted, it's likely too late to be done, for a few more, perhaps done as a quick-cut montage or two (using the same logic that let the pirates in the Pirates of Penzance movie overflow into a production of HMS Pinafore):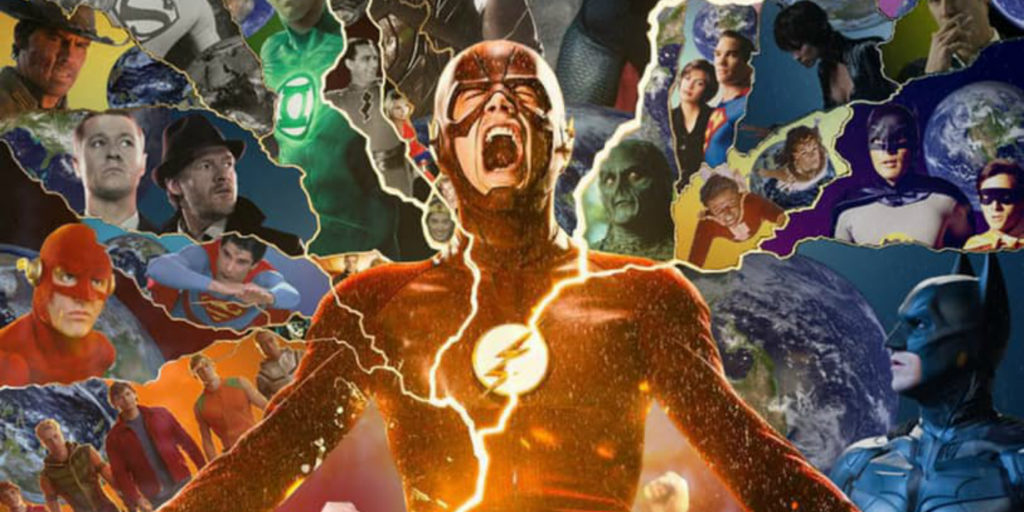 o The Batman Legoverse. I consider the Batman LEGO movie the best Batman movie to date, and tied with Into the Spider-Verse for best superhero/comic movie.
o Riverdale. Not provably connected to the DC multiverse, but it's on the same TV network, which should be equivalent in terms of connectivity.
o Charmed, Supernatural, etc.
o Penn & Teller's Fool Us: Masters of Illusion. The first because it would be great to see P&T do some super magic, the second because it's hosted by Dean Cain (who was Superman in The Adventures of Lois and Clark, and Supergirl's dad in the current Supergirl show).
o Burden of Truth. Since the protagonist is played by Kristen Kreuk, who was Lana Lang on Smallville.
o Nancy Drew (for detecting) and Katy Keene (can work with Black Lightning's spy/tailor/costumer Gambi)
o And if they could shim in from DC's own streamingverse, the Titans (Dick Grayson/Robin/Nightwing, Donna Troy/Wonder Girl, Garth/Aqualad, Gar Logan/Beast Boy, Kory/Starfire, Hawk'n'Dove, Jason Todd/Robin, Conner/Superboy, Rachel/Raven, Rose & Jericho, Krypto), and The Doom Patrol.
o Lorelei and Rory Gilmore
o The Buffy and Scooby-Doo gangs.
o And oh yeah, that's right — the good guys from Gotham.
I'd watch a full season of this.
And here's Alex Cranz's list "12 People Not Yet Cast in CW's Crisis on Infinite Earths, But Who Absolutely Should Be" from io9.com.)
WANT TO KNOW MORE BEFORE (OR AFTER) THE FUN STARTS? There is, unsurprisingly, no shortage of (other) articles and videos for this fast-approaching TV cross-over event, ranging from "helpful stuff to know from comics history and these shows" to character and plot analyses of the trailers and other publicity. Here's a few:
The Only Video You Need To Watch Before Crisis On Infinite Earths Airs. (Good recap that includes going back to DC's comic introduction of "Earth-2" that lead to Crisis – DPD)
Everything You Should Know About Crisis On Infinite Earths. (Another good recap – you should watch both this and the one above – DPD)
Crisis On Infinite Earths: Every Confirmed Character