(1) PROZINE REJOINS THE LIVING Compelling Science Fiction has been saved from the scrapheap of history. Editor Joe Stech explains how it happened:
We're back in business and will be open to submissions once again on Monday, January 13th!

After I announced in September that Compelling Science Fiction would be shutting down for good, Nick Wells of Flame Tree reached out to me and suggested we work together to keep the magazine publishing our unique brand of science fiction stories. Over the last month we came to an agreement that will allow Compelling Science Fiction to continue publishing — you may recall that my issue was one of time, and Flame Tree will take over many of the most time-consuming aspects of the magazine. My role will transition to that of editor-in-chief, and Nick will take over the publishing role. I'm very excited to work with Nick and Flame Tree, and continue to support this genre of fiction that I love.

We'll be transitioning to a quarterly schedule, and will also be accepting submissions much more often. Authors, we need your wonderful stories, so please send them our way! And readers, thanks for entrusting us with your time. I will always treat it with respect, and do my best to provide the types of stories you come here for.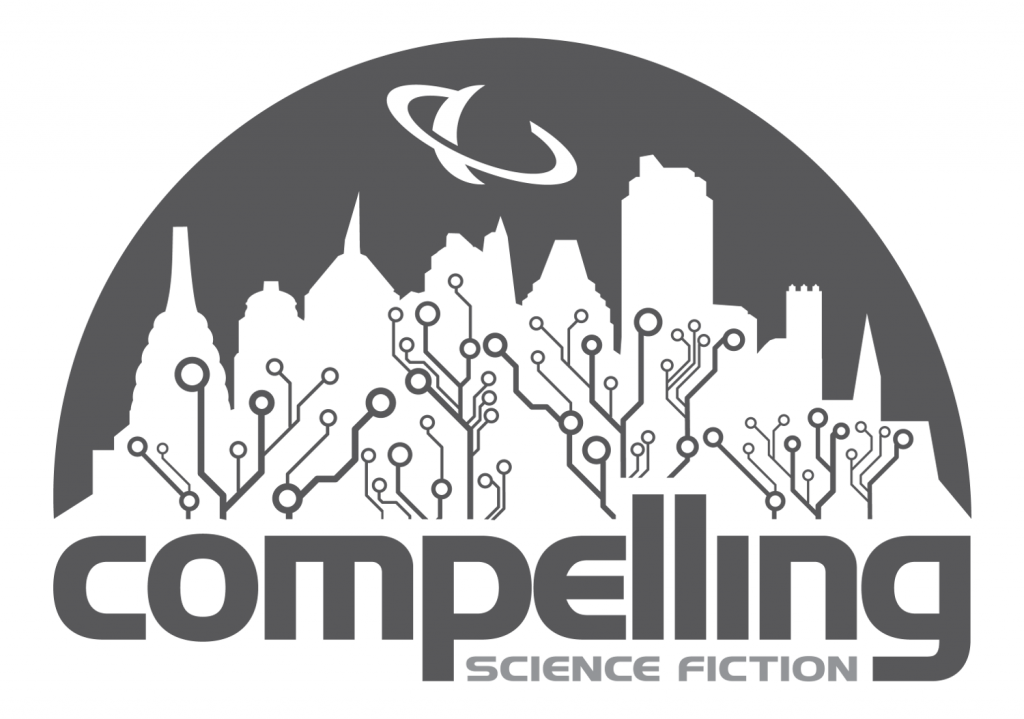 (2) MORE SFF ON JEOPARDY! David Goldfarb says "The third episode of the 'Greatest of All Time' Jeopardy! tourney had a number of SFF-related questions."
Here was the $800 answer in "Prequels and Sequels":

Edited by the author's son Christopher & published in 1977, it's a history of Middle-Earth before "Lord of the Rings".

Ken Jennings readily questioned, "What is Silmarillion?"

And the $400 answer:

Set for release in 2020 is Suzanne Collins' "The Ballad of Songbirds and Snakes", a prequel to this series.

James Holzhauer asked, "What is The Hunger Games?"

In the "TV Green Thumb" category:

$1200: On "The Handmaid's Tale", this wife of Commander Waterford has some pivotal scenes in her greenhouse.

Two wrong guesses, but nobody got, "Who is Serena?"

$1600: Played by Carolyn Jones in the '60s, she loved to cut the heads off her roses, & rejoiced when her thorns came in sharp.

Crickets. "Who is Morticia Addams?"

And the $2000 featured a picture of Jean-Luc Picard and Boothby the groundskeeper: Jean-Luc Picard once helped Boothby, played by this one-time TV Martian, to replant some flowers at Star Fleet Academy.

Ken Jennings got it: "Who is Ray Walston?"

Goldfarb concludes, "The game in the second half (each day's game is two regular games put together) had questions about Cocteau's 'La Belle et Le Bête' and Grieg's 'In the Hall of the Mountain King', but I'm going to call those only genre-adjacent and not quote them."
Then, Andrew Porter saw this go down —
Category: Book Marks

Answer: In this novel, Mark Watney says, "I didn't die on Sol 6. Certainly the rest of the crew thought I did."

Wrong question: What is "The Sun Also Rises?"

Right question: What is "The Martian."
(3) DIAGNOSING SUCCESS. The Hollywood Reporter's Patrick Shanley probes "The Key Difference Between Video Game and Film Remakes".
…Video game remakes work because, in many ways, they are the antithesis of film remakes. They honor the original vision by elevating it to what it was hoping to be but unable to achieve due to the limits of technology. The best remakes (in any medium) maintain the heart and soul of their source material while simultaneously modernizing them. In that regard, games have outshone film, delivering on the promise of the original while also updating them in a way that appeals to the nostalgia of longtime fans and the discerning eye of newcomers.
(4) STREAMING SEVENTIES SFF. [Item by Rob Thornton.] Criterion Channel, a streaming service that focuses on art films and is based on the home video distributor The Criterion Collection, will be featuring a wide range of science fiction films from the 1970s for most of January 2020. The service's sci-fi offerings for the month are:
No Blade of Grass (Cornel Wilde, 1970)
A Clockwork Orange (Stanley Kubrick, 1971) [based on the Anthony Burgess novel of the same name]
The Omega Man (Boris Sagal, 1971) [based on Richard Matheson's novel I Am Legend]
THX 1138 (George Lucas, 1971)
Z.P.G. (Michael Campus, 1972)**
Westworld (Michael Crichton, 1973)
Soylent Green (Richard Fleischer, 1973) [based on Harry Harrison's Make Room, Make Room!]
Dark Star (John Carpenter, 1974)
The Terminal Man (Mike Hodges, 1974)
Rollerball (Norman Jewison, 1975),
A Boy and His Dog (L. Q. Jones, 1975) [based on the Harlan Ellison story of the same name]
Death Race 2000 (Paul Bartel, 1975)
Shivers (David Cronenberg, 1975)
The Ultimate Warrior (Robert Clouse, 1975)
Logan's Run (Michael Anderson, 1976)
God Told Me To (Larry Cohen, 1976)
Demon Seed (Donald Cammell, 1977)
Mad Max (George Miller, 1979)
Other genre-related SF films from the decade may already be available on the service (Tarkovsky's Stalker and Solaris are definitely there) .
(5) JAMES DAVIS NICOLL. The proprietor tells us that today's review — of An Illusion of Thieves by Cate Glass — is review 1500 on James Nicoll Reviews. His career total is "something like 6600 reviews."
(6) CROWDFUNDING WISDOM. Cat Rambo tweeted the highlights from "Crowdfunding and Kickstartering with M.C.A. Hogarth." Thread starts here.
(7) GETTING THE ROCKETS READY. CoNZealand has posted a "Hugo Awards Video" hosted by Tammy Coxen, this year's awards administrator.
If you'd like to know more about the Hugo Awards, check out this new video from the CoNZealand team, talking about the history of the awards and why they're so important.
(8) TODAY IN HISTORY.
January 11, 1997 — in Japan, Barb Wire got released. Starring Pamela Anderson and a very brief outfit, it was based on a Dark Horse comic (written by John Arcudi and illustrated by a rotating group of artists), the film was made on a shoehorn budget (about the size of her outfit) of nine million but was still a box office bomb bringing in only four million. Excepting Ebert, most critics didn't like it and the reviewers at Rotten Tomatoes are especially harsh, giving it just a 14% rating. And there's a lot of them that don't like it — 47, 276 so far!
January 11, 2013 — Survival Code (Borealis was its original name and it was called that in Canada), and it starred Ty Olsson, Patrick Gallagher and Michelle Harrison. It was directed by David Frazee. It won three Canadian Screen Awards at the Second Canadian Screen Awards for Best Dramatic Miniseries or Television Movie, Best Writing in a Dramatic Program or Miniseries, and Best Original Score for a Television Program. The film was created to be a series pilot for Space, but the series never happened for reasons we can't find but Space, its distributor, aired it instead as a television film. Yes it scored well at the Canadian Screen Awards, but the reviewers at Rotten Tomatoes were less forgiving as it get just 33% there.
(9) TODAY'S BIRTHDAYS.
[Compiled by Cat Eldridge.]
Born January 11, 1906 — John Myers Myers. Ahhh, Silverlock. I read the NESFA Edition which has the Silverlock Companion in it which is very useful as you know the novel's very meta indeed. If you don't have this, it was reprinted separately later. Thirty years after Silverlock was published, The Moon's Fire-Eating Daughter novella came out. Myers claims it's a sequel to Silverlock. (Died 1988.)
Born January 11, 1923 — Jerome Bixby. His "It's a Good Life" story became the basis for an episode of the original Twilight Zone episode under the same name, and which was included in Twilight Zone: The Movie. He also wrote four episodes for the original Star Trek series: "Mirror, Mirror", "Day of the Dove", "Requiem for Methuselah", and "By Any Other Name". With Otto Klement, he co-wrote the story upon which Fantastic Voyage series is based, and the Isaac Asimov novel was based. Bixby's final produced or published work so far was the screenplay for The Man from Earth film. (Died 1998.)
Born January 11, 1923 — Wright King. He's had roles in the SFF realm starting with Captain Video and His Video Rangers and including Johnny Jupiter, Twilight Zone, Out There, The Invaders, Planet Of The Apes , Invasion of the Bee Girls, Voyage to the Bottom of the Sea and Logan's Run. (Died 2018.)
Born January 11, 1930 — Rod Taylor. First SFF role would be as Israel Hands in Long John Silver. He would follow that up with World Without End (which you probably heard of), The Time Machine, Colossus and the Amazon Queen (Taylor claims to have rewritten the script), The Birds (I really don't like it), Gulliver's Travels and last, and certainly least, The Warlord: Battle for the Galaxy. (Died 2015.)
Born January 11, 1937 — Felix Silla, 83. He played Cousin Itt (sic) on The Addams Family in a role invented for the show. The voice was not done by him but rather provided by sound engineer Tony Magro in post-production. He was also responsible for the physical performance of Twiki on Buck Rogers in the 25th Century though the voice was supplied by Mel Blanc or Bob Elyea. And he played an unnamed Ewok on Return of the Jedi.
Born January 11, 1961 — Jasper Fforde, 59. I read and thoroughly enjoyed every one of his Thursday Next novels with their delightfully twisted wordplay as I did his Nursery Crimes series. I thought last year when I wrote Birthday note up that I had not read his Shades of Grey books and I was right — I now know that I read the first few chapters of the first one and wasn't impressed enough to finish it. I do know I've not read the Dragonslayer series though I've heard Good Things about them.
Born January 11, 1963 — Jason Connery, 57. Son of Sir Sean Connery. He's best known for appearing in the third series of Robin of Sherwood, a series I loved dearly including the music which was done by Clannad which I've got live boots of. He also played Jondar in the "Vengeance on Varos"story on Doctor Who during the Sixth Doctor era (my least favorite Doctor). He was Ian Fleming in Spymaker: The Secret Life of Ian Fleming. And he was a young Merlin in Merlin: The Quest Begins.
Born January 11, 1971 — Tom Ward, 49. He's Captain Latimer in the Eleventh Doctor's Christmas Special, "The Snowmen". And he's Edward Goodwin in Harry Price: Ghost Hunter. His latest genre role was as Sir Robert Peel in The Frankenstein Chronicles.
Born January 11, 1972 — Amanda Peet, 48. Not a long SFF précis but an interesting one none-the-less. She first shows up voicing Maria Montez in Battle for Terra. She was then Harlee in Martian Child which is at genre adjacent. She was ASAC Dakota Whitney in The X-Files: I Want to Believe. Say did you know that Quantum Quest: A Cassini Space Odyssey was paid for in part by NASA? Way cool. She voiced Ranger in it.
(10) BRITISH INTERPLANETARY SOCIETY REMEMBERED. The London Review of Books has linked to "Operation Backfire" by Francis Spufford first published in 1999. This history of the British space program mentions Arthur C. Clarke twice: first in describing the British Interplanetary Society in 1944 and second a theological debate Clarke had with Lewis and Tolkien in 1958.
In November 1944 a group of men met in a London pub. In this fifth year of the war, the capital was dingy, dog-eared, clapped-out, frankly grimy. Though Britain had not shaken off its usual inefficiencies at mass production, it had converted its economy to the needs of the war more completely than any other combatant nation. For five years there had been no new prams, trams, lawnmowers, streetlamps, paint or wallpaper, and it showed. All over the city things leaked, flapped, wobbled and smelt of cabbage. It was the metropole that Orwell would project forward in time as the London of 1984.

These drinkers were not the kind of people to let an unpromising present determine the shape of things to come. They were the inner circle of the British Interplanetary Society, and in 1938 they had published a plan for reaching the Moon using two modules, one to orbit, one to descend to the lunar surface. The cost of the rocket – as much as a million pounds – was far more than they could raise, but they did have enough money to make a couple of instruments for it. 'We were in the position of someone who could not afford a car, but had enough for the speedometer and the rear-view mirror,' Arthur C. Clarke would remember. They constructed a 'coelostat', a device to stabilise the image of a spinning star-field. It was made from four mirrors and the motor of Clarke's gramophone; it worked, and was proudly displayed in the Science Museum.
(11) "FUN" IS OVER. For awhile Jon Del Arroz branded his videos Diversity in Comics – but no more! "Why I'm Changing the Channel Name Back to Jon Del Arroz". Here's the transcript of his explanation. (And remember, YouTube talking head videos really do tend to be one endless run-on sentence):
…But for here I've used the name Diversity in Comics over the last I guess two three months helped grow the channel quite a bit so thank you everybody came by because you saw the name and thought it was funny and all that but there comes a time where jokes have to end and we had a funny joke for a bit there and it was great and at this point I'm seeing that there's a couple things that are an issue with this which is one that yeah it is needlessly antagonizing some people who get really worked up about this and and while I I do enjoy triggering people who get triggered for no reason and all that there there comes a time where joke a stand and it's it's just not funny and it's not funny even watching somebody lose their minds over something like this anymore so definitely don't want that happening anymore don't want to insult anybody who might be a comic book reader who might check out the books and things like that I definitely want that to be something uh you know to where we can have are buying comic books and and we're coming back and changing it back to just my name and the reason we'll go with my name instead of something fancy….
(12) GIBSON INTERVIEW. William Gibson tells a Guardian writer, "'I was losing a sense of how weird the real world was'".
… As a Canadian writer who initially marked his territory in a future Japan, what attracted him to setting his post-Jackpot world in London? He doesn't see it as so much of a jump. "On my first three or four visits to Japan I immediately thought that Tokyo had more in common with London than with any other city," he says. "These disproportionately large sites of former empires, huge concentrated populations, recent wartime trauma, lots of fatalities. They're capitals of island nations. But also cultural things: the fanatical attention paid to specific individual classes of objects. In London you could probably find a speciality shop for almost anything. And you certainly could in Tokyo. All these parallels. I'm curious that I've almost never seen it mentioned anywhere."
(13) STRANGE DIRECTION. BBC reports "Doctor Strange director Scott Derrickson exits over 'creative differences'".
Doctor Strange director Scott Derrickson has left the sequel over "creative differences" with Marvel.

Derrickson made the original 2016 film starring Benedict Cumberbatch and had been due to deliver Doctor Strange in the Multiverse of Madness in 2021.

There's speculation that Derrickson and Marvel boss Kevin Feige disagreed about how scary the follow-up should be.

The director, whose credits include The Exorcism of Emily Rose and Sinister, had pledged "the first scary MCU film".

He made the comments at San Diego Comic Con in July, where Feige swiftly clarified that it would still be suitable for teenage viewers. "It's gonna be PG-13 and you're going to like it!" he added.

Feige has since said it would not be a horror film, and that any scary sequences would be like those made by Steven Spielberg in films like Indiana Jones and Gremlins.
(14) MOMENT OF BOOM. "Popocatépetl: Mexican volcano's spectacular eruption caught on camera" — someone caught the start of the eruption on a short video.
Mexico's Popocatépetl volcano erupted on Thursday with a dramatic show of lava and a cloud of ash and rocks that reached 3,000m (9,800ft) into the sky.

No-one was hurt. Popocatépetl is an active stratovolcano, 70km (43 miles) south-east of the capital, Mexico City.

Its name means "smokey mountain" in the indigenous Náhuatl language.
(15) OPPOSITE OF SWATTING. Or so you might call it: "Teenager having seizure saved by online gamer – 5,000 miles away in Texas".
The parents of a teenager who suffered a seizure while chatting online have thanked his friend who called emergency services from 5,000 miles away.

Aidan Jackson, 17, was talking to an American gamer from his bedroom in Widnes on 2 January when he had a fit.

His friend, 20-year-old Dia Lathora, from Texas, alerted police in the UK.

The first Aidan's parents knew of the emergency was when police and an ambulance appeared at their front door, the Liverpool Echo reported.

Caroline and Steve Jackson then rushed upstairs to find their son "extremely disorientated".
(16) VIDEO OF THE DAY. They intend to live happily ever after:
Lee Loechler recently proposed to his girlfriend, Sthuthi David, by taking her to a packed theater to see her favorite movie, Sleeping Beauty. Little did she know that Loechler had spent six months altering the animation of the film's most iconic scene, changing the characters to look like the couple themselves and altering the storyline to set up his Big Question. And that's only the beginning.

Watching David's face during the scene change is sheer delight, as her confused look proves that she has no clue what is about to happen. The set-up is great, but the magical moment when Loechler's illustrated self tosses the engagement ring to his real-life self? That's when we all toss up our hands and say, "OKAY, man. You win at proposing. Everyone else must bow before you now."

The whole proposal—the re-illustrations, the heart jokes (David is a cardiologist), and the bride-to-be's surprise when she finds surrounded by her friends and family—it's all perfection. Just watch:
[Thanks to Rob Thornton, Chip Hitchcock, Martin Morse Wooster, JJ, Mike Kennedy, Cat Eldridge, John King Tarpinian, Michael J. Walsh, Contrarius, and Andrew Porter for some of these stories. Title credit goes to File 770 contributing editor of the day Daniel Dern.]