Audiofile Magazine calls these the nine best sff audiobooks to appear in the first half of 2022.
SIREN QUEEN
by Nghi Vo| Read by Natalie Naudus
[Macmillan Audio | 8.75 hrs.]
Natalie Naudus's skilled narration adds to the luminous and otherworldly qualities of Vo's historical fantasy. Luli Wei is determined to be a star. But in her world, that means making dangerous pacts, trading away years of her life, and fending off literal monsters. Naudus moves from character to character with ease, enlivening the ambitious and bold Luli, the captivating women she falls for, and the roaring executives who are looking to own Luli's soul. Naudus conveys all of Luli's passion as she delivers her lines for her starring role as the monstrous Siren Queen. A surreal and spellbinding story of a Golden Age Hollywood that is steeped in ancient magic. 
THE MEMORY LIBRARIAN: And Other Stories of Dirty Computer
by Janelle Monáe| Read by Janelle Monáe, Bahni Turpin
[Harper Audio | 12.25 hrs.]
Musician and actor Janelle Monáe adds author and narrator to her considerable list of accomplishments with this story collection based on themes from her 2018 album DIRTY COMPUTER. The totalitarian entity New Dawn seeks to strip away all perceived deviance from humanity. Monáe's narration of the eponymous first story is softly menacing as she introduces listeners to Seshet, a bureaucratic memory thief who longs for love and connection. Bahni Turpin narrates the rest of the stories in her engaging voice, using crisp and flexible tones to portray characters at odds with Seshet's mission. Together, they create a memorable experience for listeners seeking classic science-fiction themes with new horizons. 
FEVERED STAR
by Rebecca Roanhorse| Read by Christian Barillas, Darrell Dennis, Cara Gee, Nicole Lewis, Shaun Taylor-Corbett
[Simon & Schuster Audio | 12.75 hrs.]
Five talented narrators continue an epic fantasy story of political upheaval, magic, and destiny in the Meridian. Serapio, portrayed with intensity and vulnerability by Shaun Taylor-Corbett, is struggling to maintain his humanity after becoming the living avatar of the Crow God. Cara Gee voices priestess Naranpa with wonder as she discovers she has been reborn as the Sun God, the Crow God's bitter enemy. Each narrator propels the story forward in turn, expertly conveying the tangled fears and ambitions of its many characters. Listeners will be eager for the third part of this tense series inspired by pre-Columbian societies. 
THE MEASURE
by Nikki Erlick| Read by Julia Whelan
AudioFile Earphones Award
[Harper Audio | 11 hrs.]
Golden Voice narrator Julia Whelan gives a thoughtful performance of a novel focused on a fundamental question: Would you want to know how long you're going to live? One night everyone 22 years and older receives a box containing a length of string that tells them how much longer they will live. Would you open the box? Whelan introduces listeners to characters who have a range of reactions to that question. She provides a sense of intimacy to their stories as she calmly explores the dramatic ways the world changes for each one. Whelan shares the intensity of their emotions and the camaraderie that develops, especially among the "short stringers" who are soon to die.
THE CANDY HOUSE
by Jennifer Egan| Read by Michael Boatman, Nicole Lewis, Thomas Sadoski, Colin Donnell, Griffin Newman, Rebecca Lowman, Jackie Sanders, Lucy Liu, Christian Barillas, Tara Lynne Barr, Alex Allwine, Emily Tremaine, Kyle Beltran, Dan Bittner, Chris Henry Coffey, and a Full Cast
AudioFile Earphones Award
[Simon & Schuster Audio | 11.25 hrs.]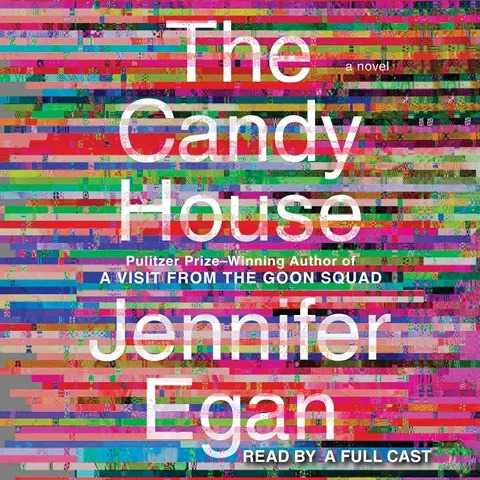 The ensemble performance of this novel is exceptional. Michael Boatman narrates the opening chapter at the right pace with the right intonation. He captures the interior life of the enigmatic Bix Boughton, a social media genius who invents the world-altering technology "Own Your Unconscious." Alex Allwine delivers a haunting automaton-like second-person narration of the chapter titled "Lulu the Spy, 2032"; Tyra Lynne Barr emulates the chirpy sound of 13-year-old Molly in "The Perimeter After-Molly"; and Dan Bittner supplies sharply insightful tone as Ames, whose life story ends this imaginative tour de force. While Egan reprises some of the characters from her award-winning A VISIT FROM THE GOON SQUAD, this novel has a wider timeframe, a greater trajectory, and a more complex plot. 
THE CARTOGRAPHERS
by Peng Shepherd| Read by Emily Woo Zeller, Nancy Wu, Karen Chilton, Ron Butler, Neil Hellegers, Jason Culp, Brittany Pressley
AudioFile Earphones Award
[Harper Audio | 14.25 hrs.]
A superb ensemble of narrators animates this exciting tale of friendships and betrayals, a cartographers' cabal, maps, murder, and missing towns. Among her father's effects, cartographer Nell discovers what appears to be a worthless 1930s highway map. However, this map hides dark secrets as well as a "phantom settlement" known only to "the Cartographers." Possessing it puts Nell in great danger. Nell's third-person point of view comes alive with narrator Emily Woo Zeller's artistry, while the other narrators' perceptive interpretations create fascinating, believable secondary characters. Outstanding performances highlight Peng Shepherd's thrilling magical literary mystery.
NETTLE & BONE
by T. Kingfisher| Read by Amara Jasper
[Macmillan Audio | 8.5 hrs.]
Narrator Amara Jasper faithfully delivers Kingfisher's audiobook filled with fairy-tale magic. Princess Marra's oldest sister dies under mysterious circumstances only months after her marriage. Her second sister marries the same prince, but when his abuse comes to light, Princess Marra embarks on a perilous quest to save her with a gravewitch, her fairy godmother, an exiled knight, a dog made of bones, and a demon-possessed chicken. Jasper's unhurried pace and impassive tone perfectly complement the story's dry humor. Her skill and commitment to creating diverse voices offer listeners distinct and emotionally connected characters—and bird caws. Jasper easily immerses listeners in the story and keeps them hooked to the end. 
LAST EXIT
by Max Gladstone| Read by Natalie Naudus
[Recorded Books | 21 hrs.]
Natalie Naudus's immersive delivery immediately draws listeners into Gladstone's kaleidoscopic adventure. Estranged in the wake of their last failed mission, a group of friends with deep wounds and unusual powers must reunite to defeat forces that are threatening to tear apart all realities. Naudus readily dives into a sprawling, harrowing narrative of perilous battles, ominous voices in the dark, gut-wrenching flashbacks, and defiant feats of magic and science. Characterizations range from courageous and clever to horrifying and unhinged. Underpinning the friends' expedition is a powerful, complex love story, deftly explored by Gladstone and beautifully rendered by Naudus. 
SEA OF TRANQUILITY
by Emily St. John Mandel| Read by John Lee, Dylan Moore, Arthur Morey, Kirsten Potter
[Random House Audio | 5.75 hrs.]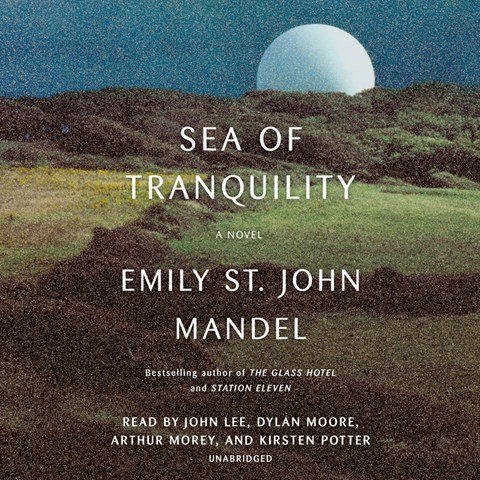 The four narrators of Mandel's newest novel create a mesmerizing listening experience full of time shifts. Kirsten Potter shines as an author on a book tour at the beginning of a 2200s pandemic; her increasingly worried observations hit close to home. Dylan Moore brings a perfect mix of malaise and inertia as a young woman living in 2020 New York. John Lee effortlessly transports listeners to British Columbia in 1918. Arthur Morey's beautiful, throaty narration of a man from the moon colonies whose life is changed forever by a mysterious government job is haunting and familiar. These interlocking storylines offer a poignant and surprising exploration of love, art, and the beauty of everyday life.
---
"Best Sci-Fi & Fantasy Audiobooks of 2022—so far!" was curated by AudioFile. AudioFile is an independent source of audiobook reviews and recommendations with a clear focus on the performance and listening experience.