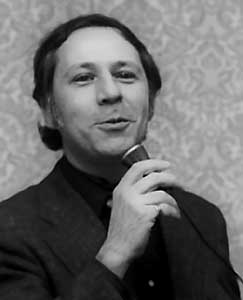 Author and Hugo-winning editor Ben Bova died November 29 at the age of 88. Family member Kathryn Brusco announced the cause of death was COVID-19 related pneumonia and a stroke. Tor.com's Andrew Liptak also confirmed the death with a second source ("Legendary Science Fiction Author Ben Bova Has Passed at the Age of 88".)
Bova's first professional sf sale was a Winston juvenile, The Star Conquerors (1959), and his first published short fiction was bought by Cele Goldsmith at Amazing – "A Long Way Back" (1961). During the Sixties he had nearly two dozen more novels and stories published.
He made several sales to Analog before meeting editor John W. Campbell, Jr. face-to-face at a Worldcon in Washington, D.C. After shaking his hand, Campbell provocatively said: "This is 1963. No democracy has ever lasted longer than 50 years, so this is obviously the last year of America's democracy."
Another story sold to Campbell, "Brillo" (1970), co-authored with Harlan Ellison, was his first story to be up for an award, a Hugo nominee. (And ten years later they won a judgment against ABC and Paramount, makers of Future Cop, for plagiarizing their idea.)
Bova also served as the science advisor for the Canadian television series Ellison created, The Starlost. Appalled by the production, Ellison assigned his credit to "Cordwainer Bird," and Bova resigned but didn't have the "contractual right to remove his name from the credits." His novel The Starcrossed, is loosely based on those experiences.
Ben Bova studied journalism at Temple University in the Fifties, paying his way through by working as a copyboy at the Philadelphia Inquirer on a shift that started at 6 p.m. and went until 3 a.m. He learned "the basics of writing news copy are simple enough: be clear and deliver on time."
He acquired his interest in science from visiting the Fels Planetarium, part of Philadelphia's science museum, the Franklin Institute. "I never took a formal college course in science; I learned from the director of the Planetarium, I.M. Levitt, who became a lifelong friend and mentor."
In 1956 he was hired by Glenn L. Martin Co. and worked on Project Vanguard, having marketed himself to recruiters as "someone who could understand what the engineers were doing and translate it into copy that the general public could understand." In the 1960s he worked for the Avco Everett Research Laboratory.
When John W. Campbell, Jr. suddenly died in 1971, Bova was offered the job of editing Analog Science Fiction magazine. "It was like being drafted to run for president. You're terribly afraid you're not up to the task, but you can't refuse to step up to it." He eventually asked the publisher's executive who had hired him why he was picked for the job, when much better-known science-fiction writers had been considered. The executive answered that he had made it a point to read the work of each person up for the job. "Ben," he said, "you were the only one I could understand!"
Bova made Analog, already the prozine with the largest circulation, even more successful. His accomplishments included publishing Spider Robinson's first sale, a Callahan's Bar story, and during his tenure acquiring many Hugo-winning stories, among them Larry Niven's "The Hole Man" and "Borderland of Sol", Vonda McIntyre's Dreamsnake, George R.R. Martin's "A Song for Lya," The Forever War and "Tricentennial" by Joe Haldeman, "Home Is the Hangman" by Roger Zelazny, "Eyes of Amber" by Joan D. Vinge, and more. He was the winner of the first Best Professional Editor Hugo (1973), and collected five more while at the helm of the magazine.
He left Analog in 1978 to edit Omni, holding that post until 1982.
During Bova's career he wrote over 120 fiction and nonfiction books. His novel, Titan, part of The Grand Tour series, won the prestigious John W. Campbell Memorial Award in 2007. Another in the series was Jupiter —
Bova served as President of Science Fiction and Fantasy Writers of America (SFWA) from 1990 to 1992. SFWA President Mary Robinette Kowal paid tribute: "I am devastated that our community has lost Ben Bova. He was so welcoming to new writers and embodied the philosophy of paying it forward."
He also held the position of President Emeritus of the National Space Society
Bova taught science fiction at Harvard University and at the Hayden Planetarium in New York City, where he has also directed film courses. He received his doctorate in education in 1996 from California Coast University.
He was Worldcon Author Guest of Honor at Chicon 2000. He was awarded the Robert A. Heinlein Award in 2008 for his work in science fiction.
Bova was married three times. He had a son and a daughter with his first wife, Rose. They divorced in 1974. That same year he married Barbara, and their marriage lasted 35 years, until her death in 2009. In 2013, he married Rashida Loya.