(1) THIS IS WILD. Brandon Sanderson invites you to watch as "We Back Every Publishing Kickstarter*". As one commenter said, "Never thought I would watch a 30+ minute video of someone funding Kickstarters." I had to watch the whole thing myself!
Today we are going to do something awesome. The Kickstarter has been successful beyond my wildest dreams, so I got my team together and I said what can we do to give back a little to this community that has supported us so well? So we are going to back every single Kickstarter in the publishing category. This is going to be awesome. …And indeed, some of these we're going to pull out and we're going to talk about why we're backing them and what's cool about them and so we're going to do a time lapse for you and you can watch in real time as we back these all…
In the middle of this, the Sanderson team tripped over a previously unknown-to-them Kickstarter function which sends all of their own backers an email every time they back another one. After a load of emails had gone out Kickstarter locked up their account! The team had to open a new account to keep going. (At first they worried that — doing the multiplication – they had unintentionally generated nine million emails. They soon learned it was a lot less – the emails only go to those who opt-in to receive such notices.)
(2) ELDEN RING. [Item by Martin Morse Wooster.] In the Financial Times behind a paywall, Tom Faber reviews FromSoftware's release The Elden Ring.
Here is the DNA which defines a FromSoftware game: difficulty which borders on masochism; finely-tuned combat that rewards patience; and storylines told through text that necessitates elucidation in YouTube explainers. Elden Ring continues the tradition, weaving the classic ingredients through a storyline written with the assistance of Game of Thrones author George RR Martin. You are 'a Tarnished,' tasked with venturing across the decaying 'Lands Between to reunite pieces of a broken ring and become the 'Elden Lord.'

It doesn't matter. For most players, the plot will come a distant second in a bold change in the FromSoftware formula: a vast open world of great beauty where almost everything wants to kill you. While the graphics look dated by current standards, the design is stunning: misty forests, golden cities, and rotting red deserts you race past on your trusty spirit-horse, Torrent.
(3) ROWLING DECLINES PUTIN'S DEFENSE. "Vladimir Putin Claims West Is 'Trying To Cancel' Russia" reports Deadline.
Russian premier Vladimir Putin has delivered a TV address in which he claimed the West is "trying to cancel" his country.

During a deranged-sounding rant, translated and broadcast by Sky News, Putin at one point said that Harry Potter author JK Rowling had been similarly cancelled "just because she didn't satisfy the demands of gender rights"….
Rowling's response was carried by BBC News: "JK Rowling hits back at Putin's 'cancel culture' comment".
JK Rowling has hit back at Vladimir Putin, after the Russian president cited her in a wide-ranging speech that saw him criticise "cancel culture".

At a televised meeting on Friday, Mr Putin compared recent criticism of the Harry Potter author to that faced by pro-war Russian composers and writers.

In response, Ms Rowling denounced the invasion of Ukraine in which she said Russia was "slaughtering civilians".

Rowling has been criticised for her views on transgender issues.

"Critiques of Western cancel culture are possibly not best made by those currently slaughtering civilians for the crime of resistance, or who jail and poison their critics," the Harry Potter author wrote on Twitter.

In the lengthy speech, which was given to the winners of various cultural prizes, President Putin claimed Russian composers and writers were being discriminated against.
(4) POLL TESTS SUPPORT FOR BOOK BANS. "ALA Poll Finds Public Broadly Opposes Book Banning Efforts" reports Publishers Weekly.
By large majorities, American say they oppose recent efforts to remove books from schools and libraries, and say they trust in librarians to make appropriate collection decisions. The news comes from a national poll commissioned by the American Library Association, released this week at the Public Library Association conference in Portland, Ore.

Amid a proliferation of new legislation in some states and an uptick in efforts to ban books nationwide, the ALA poll found that 71% of voters oppose efforts to remove books from public libraries, including majorities of voters across party lines. Furthermore, 74% of parents of public school children expressed "a high degree of confidence" in school librarians to make good decisions about which books to make available to children. The poll also found librarians to be held in high in their communities….
(5) COVER REVEAL. [Item by Bence Pintér.] Valancourt Books unveiled the cover for Attila Veres's debut collection in English: The Black Maybe. Attila is the top Hungarian weird/horror author, I am really glad to see him published in the US. The book will be released in October.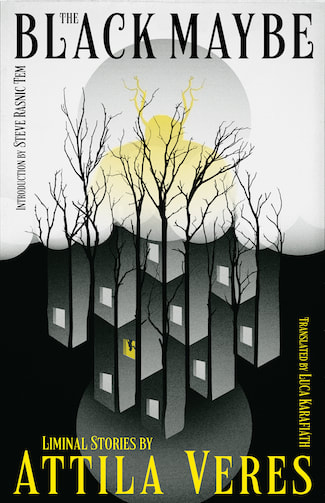 …This volume collects ten of his best tales in English for the first time, ranging from weird fiction like 'In the Snow, Sleeping', in which a couple's vacation to a health spa erodes into a surreal nightmare, to folk horror like 'Return to the Midnight School', in which the things that emerge from the soil in one rural farming community are bizarre and horrific, to Lovecraft-inspired tales like 'Multiplied by Zero', written as a wry travelogue in which a man sets out on a deadly holiday tour to explore Lovecraftian landscapes. And in the title story 'The Black Maybe', which Steve Rasnic Tem calls 'one of the weirdest tales I've read in years', a girl and her family escape the bustling city to experience farm life, only to discover with unimaginable horror the truth of what is really being harvested there….
(6) ESSAY: FRITZ LEIBER'S HUGOS. [Item by Cat Eldridge.] I recently listened to one of the audio versions of Fritz Leiber's The Big Time, the one narrated by Suzanne Toren, which was his first Hugo win for Best Novel or Novelette at Solacon (1958). It would be the first of six Hugos and two Retro Hugos that he would garner in a long and distinguished career. (A movie based on one of his books also won.) So let me recount these.
After the win for The Big Time, he next picked two nominations at Detention (1959), one for a novelette, "A Deskful of Girls" and one for a short story, "Rump-Titty-Titty-Tum-TAH-Tee" (and may I say that I really, really love that title?); another short story, "Scylla's Daughter", was nominated at Chicon III (1962), the same year he picked a Special Award for "The Use of SF in Advertisements". Anyone care to tell me about this award pretty please?
At the first DisCon (1963) he picked up a short story nomination for "The Unholy Grail". Also nominated for Best Dramatic Production that year was Burn, Witch, Burn, also known as Night of the Eagle, which as you know is based off Leiber's Conjure Wife,
Loncon II (1965) saw The Wanderer novel pick up a Hugo, and "Stardock" was a finalist at Tricon (1966) as a short story nominee. "Gonna Roll Them Bones" picked up the Novelette Hugo at Baycon (1968) with "Ship of Shadows" garnering the Best Novella at Heicon '70.
The first Noreascon (1971) would see his "Ill Met in Lankhmar" novella win a Hugo. (I truly love those stories, one and all.) And then the first Aussiecon (1975) would see his "Midnight by the Morphy Watch" novelette nominated for a Hugo and the next year at MidAmeriaCon (1976), his "Catch That Zeppelin!" short story won a Hugo.
That's it for Hugos, though there's the matter of Retro Hugos too. L.A. Con III (1996) would see his Destiny Times Three novel nominated and Millennium Philcon saw the "Coming Attraction" short story likewise. Another short story, "The Sunken Land", got nominated at Worldcon 76 (2018). At Dublin 2019, where two of his novels were on the Retro Hugo ballot, Conjure Wife outpolled Gather, Darkness for Best Novel, while his "Thieves' House" novelette was also a finalist.
His last Retro Hugo was CoNZealand (2020) for Best Fan Writer. He'd also get a nomination that year for Best Related Work for The Works of H. P. Lovecraft: Suggestions for a Critical Appraisal.
(7) TODAY'S BIRTHDAYS.
[Compiled by Cat Eldridge.]
Born March 25, 1927 — Sylvia Anderson. Film producer, writer, voice actress and costume designer, best known for her collaborations with husband Gerry Anderson on such Supermarionation series as Thunderbirds, Supercar, Fireball XL5 and Stingray. She was responsible for much of the actual shows and the characters on them, in particular creating the iconic characters of Lady Penelope and Parker in Thunderbirds. (Died 2016.)
Born March 25, 1920 — Patrick Troughton. The Second Doctor, of course. Troughton had a long genre resume starting with Hamlet and Treasure Island early on before proceeding to such works as Scars of Dracula and Frankenstein and the Monster from Hell later on. Telly-wise, I see him on R.U.R. Radius playing a robot, on a Fifties Robin Hood show being that character, and later on in The Feathered Serpent, a children's series set in pre-Columbian Mexico where he starred as the scheming High Priest Nasca. H'h (Died 1987.)
Born March 25, 1939 — D. C. Fontana. You know that I'm not going to be able to give her complete précis here? She's that complex a writer and producer, so I'm sticking to her writing side here. She's first of all a script writer and story editor, best known for her work on the original Trek franchise but she was also involved on Logan's Run, The Six Million Dollar Man, and Buck Rogers in the 25th Century. She was a story editor on the short-lived Fantastic Journey, and so many revisions made to her script for Battlestar Galactica's "Gun on Ice Planet Zero" that her name is nowhere near it.  Oh, and she created the story that became "Encounter at Farpoint". Impressive that. My absolute favorite work by her is "The War Prayer" episode for the first season of Babylon 5, based on a idea by Straczynski.  She even wrote an episode of the series Reboot! (Died 2019.)
Born March 25, 1942 — Richard O'Brien, 80. He wrote The Rocky Horror Show forty-nine years ago which has remained in almost continuous production globally. He also co-wrote the screenplay of The Rocky Horror Picture Show film which came out just two years later. He appears in the film as Riff Raff. He's in Casino Royale as a stunt performer and in the 1980 Flash Gordon as Fico. The Robin of Sherwood series had him in a recurring role as Gulnar. 
Born March 25, 1942 — Jacqueline Lichtenberg, 80. She was nominated at the second DisCon for Best Fan Writer, the year Susan Wood won, and Neffy (National Fantasy Fan Federation Speculative Fiction Award) for Fan of the Year thirty-four years later. She's written a number of Trek works and more fiction in the Sime/Gen 'verse which I hadn't known existed until now. If you're so interested in the latter, she's extremely well stocked at the usual suspects.
Born March 25, 1947 — Paul Levinson, 75. "The Copyright Case" novelette would garner him a much deserved HOMer Award. It was the first work in a series of novels and short stories featuring the fascinating NYPD forensic detective Dr. Phil D'Amato who first appeared in Levinson's "The Chronology Protection Case" novelette. You can purchase it from the usual digital sources.
Born March 25, 1964 — Kate DiCamillo, 58. She is one of only six people to win two Newbery Medals for her novels The Tale of Despereaux and Flora & Ulysses. I'm not familiar with the latter work, but the former is a wonderful read that got turned into a remarkably good film as well, something that but rarely happens alas. 
(8) COMICS SECTION.
(9) PRINCE VALIANT ART. Nate D. Sanders Auctions is offering art from "The John Cullen Murphy Prince Valiant Estate" – bidding closes March 31.
We're pleased to offer collectors nearly 400 lots of Prince Valiant artwork from the estate of John Cullen Murphy, the man handpicked by creator Hal Foster to continue Val's epic journey of adventure, romance and bravery. Never before have so many lots of original Prince Valiant art been available at auction, ranging from preliminary sketches by Hal Foster, to full-page strips by John Cullen Murphy from the 1970s to 2000s. The result is a feast for the eyes and heart, the grand illustrations that Prince Valiant is known for, coupled with the characters and tales that have captivated millions of fans the world over.
(10) WHAT WAS THE NAME OF HIS OTHER LEG? (Come on, you've seen Mary Poppins, you don't need the straight line.) "Why C-3PO Had a Silver Leg in the Original Star Wars Trilogy" – CBR looks for the answer.
Over the decades, part of what has made the Star Wars franchise so interesting to its fans is the slew of questions that have arisen from the films. While some of them were answered in future movies and TV shows, others remained largely unanswered or unexplored in any form of media. However, that doesn't mean that there may not be some history to it in some way, and a great example of that fact can be found in C-3PO's silver leg from the Original Trilogy.

In an interview with Threepio actor Anthony Daniels, he explained the various changes and updates to his suits over the years and how they've adapted over time. For example, when he reached The Empire Strikes Back, he discussed how his shin was never gold but a shade of silver. While it was easy to see on the action figures, most of A New Hope and The Empire Strikes Back made it far more challenging to see. But Daniels also explained some clever behind-the-scenes reasons as to why the leg appeared gold on camera….
(11) INHALE, EXHALE, CRUSH. [Item by SF Concatenation's Jonathan Cowie.] I know it's not SF-ish but I do like questions like this… "Why boa constrictors don't suffocate when they squeeze their prey to death" at Science.
The fearsome boa constrictor (Boa constrictor) lives up to its name. Whenever it's hungry, the 4-meter-long snake wraps itself around rodents, birds, or even pigs, literally squeezing the life out of them. So why don't boas collapse their own lungs in the process?

To find out, scientists strapped a blood pressure cuff (like the one your doctor uses) around the midsections of eight boas in their lab….
(12) TOMBSTONE TERRITORY. This might be a spoiler – CinemaBlend gives directions: "RIP James Bond: No Time To Die Fans Can Now Pay Their Respects To The Final Resting Place Of Daniel Craig's 007".
… Through the Guide to the Farroe Islands website, fans of Ian Fleming's legendary creation can now book what's being called "the official James Bond tombstone tour." On this seven hour excursion, a guided tour will take participants through the sights and sounds of Kalsoy island, where No Time To Die filmed its sequences involving the evil lair of Rami Malek's Safin. The main attraction is the very spot where James Bond stood in his last moments, as that is now the spot of a tombstone honoring the man himself….
(13) PHONE ON A LEASH. "Too Much Screen Time? Landline Phones Offer a Lifeline" reports the New York Times.
First came the rhinestone-encrusted rotary. Then the cherry-red lips. After that, the cheeseburger.

By last summer, Chanell Karr had amassed a collection of six landline phones. Her most recent, an orange corded model made as a promotional item for the 1986 film "Pretty in Pink," was purchased in June. Though she only has one of them — a more subdued VTech phone — hooked up, all are in working order.

"During the pandemic I wanted to disconnect from all of the things that distract you on a smartphone," said Ms. Karr, 30, who works in marketing and ticketing at a music venue near her home in Alexandria, Ky. "I just wanted to get back to the original analog ways of having a landline."

Once a kitchen staple, bedside companion and plot device on sitcoms such as "Sex and the City" and "Seinfeld," the landline phone has all but been replaced by its newer, smarter wireless counterpart….
(14) VIDEO OF THE DAY. [Item by Martin Morse Wooster.] In "Spider-Man–Best Picture Summary," the three Spider-Men make fun of the Best Picture nominees. With The Power Of The Dog, they say, "You want Dr. Strange acting like a jerk? We have that!"
[Thanks to Mike Kennedy, Martin Morse Wooster, JJ, John King Tarpinian, Melanie Stormm, Chris Barkley, Rob Thornton, SF Concatenation's Jonathan Cowie, Bence Pintér, Andrew Porter, Michael Toman, and Cat Eldridge for some of these stories. Title credit belongs to File 770 contributing editor of the day Xtifr.]