(1) LEST MARKNESS FALL. Christine Feehan tweeted a justification of her application to trademark book series with the word "Dark" in the title. Penny Reid is one of many who still hopes someone will put a stop to the idea. [UPDATE: Feehan has removed the tweet to which Reid is responding. I have not located a screencap to replace it.]
(2) INDIGENOUS FUTURES. Abaki Beck's article "An Old New World: When One People's Sci-Fi Is Another People's Past" for Bitch Media discusses Indigenous SF, with quotes from Rebecca Roanhorse.
As Portland State University Indigenous Nations Studies professor Grace L. Dillon wrote in the introduction to 2012's Walking the Clouds: An Anthology of Indigenous Science Fiction, "It is almost commonplace to think that the Native Apocalypse, if contemplated seriously, has already taken place." Indigenous authors are thus in a unique position to reclaim sci-fi narratives as a form of resistance against settler colonialism. Indigenous science fiction or speculative fiction—which Dillion encapsulates with the term "Indigenous futurisms," inspired by the Afrofuturism movement—offers a space for Indigenous writers, filmmakers, and artists to explore possible futures. From cowboy films to government-assimilation policies, Native American communities and cultures are often portrayed as a "vanishing race" with no place in the present, let alone the future. Indigenous futurism is a contemplation of what our futures look like as Indigenous people, one that recognizes the significance and strength of Indigenous knowledge systems.

Such possible futures are prevalent themes in Cherie Dimaline's 2017 novel The Marrow Thieves and Rebecca Roanhorse's 2018 novel Trail of Lightning. Both books create new worlds that center and celebrate Indigenous people, knowledge, and land. "You don't see a lot of Native Americans in science fiction and fantasy, and when you do they are usually not situated in a world that is specifically Native, like the Navajo reservation," Roanhorse told Barnes & Noble in 2018. "I wanted to read a science fiction and fantasy story where Native characters held front and center, where the landscape was filled with the places and the people that I knew from living on the rez, where the gods and heroes were of North American Indigenous origin."
…As each world is destroyed, a new one begins. The Diné believe that we are now in the fifth world, and in Trail of Lightning, Roanhorse creates the beginning of the sixth—one that takes shape in the aftermath of global destruction brought about by climate change and human hubris. In effect, Roanhorse is modernizing Diné stories and history without translating it for readers. She expects those who read her books to already know about these traditions and beliefs, making the Sixth World series uniquely accessible to Diné and other Native peoples in a way that other sci-fi and fantasy series are not.
(3) DEAD ASTRONAUTS MUSIC. [Item by Rob Thornton.] Jeff VanderMeer has posted "The Operatic, Post-Punk Sounds of Dead Astronauts", a selected list of 23 songs that were on the playlist that he listened to while writing Dead Astronauts, his latest science fiction book for the Farrar, Straus & Giroux imprint MCD Books. The playlist includes songs by Midnight Oil, The Church, Spoon, Mercury Rev, Three Mile Pilot, Tropical Fuck Storm, and the Chills:
The Dead Astronauts "mix tape" consists of 900 songs, played on shuffle unless I needed to summon a certain emotion for a particular scene. The 23 songs here are either favorites or representative of albums I love. But loving an album isn't enough—I write very much by feel and music is essential to that. I have to be in the right headspace to stay within the style and voice of the novel. In the case of Dead Astronauts, there are ten sections and ten different perspectives and styles.

Yet pervading everything in Dead Astronauts is a dual sense of anger and defiance mixed acceptance and loss. These are big, almost operatic emotions that manifest in the novel in both bold, over-the-top ways and in a minor key, with intricate little eddies and shifts in perspective.
(4) YOU SAY GOODBYE, I SAY HELLO. According to The Ringer, "2019 Marked the End of a Television Era—and the Beginning of a New One". Includes discussion of shows such as Game of Thrones and brief mentions of shows like Watchmen, The Mandalorian and Russian Doll.
Leading up to its widely watched, less widely admired culmination in May, much was made of Thrones' status as the last of its kind, a great unifier whose most fantastical flourish of all was reviving the monoculture for an hour at a time on Sunday nights. Nearly seven months later, those eulogies for Thrones still echo, though they take on a different tone when held up against the context of all this year's other finales. In truth, television as communal mass consumption is a model that was de facto extinct long before Game of Thrones artificially expanded its lifespan, White Walker–style—and may in fact be better represented by The Big Bang Theory, another monster hit that wound down within days of its flashier peer. However warranted, the noise around Thrones may have obscured the passing of a different kind of cultural moment.
The Ringer also produced a list of "The Best TV Shows of 2019".
3. Los Espookys

There's so much else unusual about Los Espookys that it's easy to forget the novelty, and significance, of its being the first-ever Spanish-language series to air on HBO. Conceived of by SNL's Fred Armisen and cowritten by Julio Torres and Ana Fabrega, all of whom serve in the ensemble cast, Los Espookys seems to set and defy its own rules at will. In this unnamed Latin American country, there's ample demand for "horror groups" to stage elaborate, quasi-mystical pranks, some of them involving aliens. Also, valet parking is a high art; news anchors are beautiful, brainwashed abductees; and the U.S. ambassador is a live-action Barbie doll who gets trapped in an enchanted mirror. At once deadpan and fantastical, Los Espookys' flair for the dramatic resembles nothing else on television, except for Torres's distinctive sketch work over in Studio 8H. The show achieves a similar effect, immersing the viewer in an alternate reality mercifully low on stakes and high on cursed amulets. Only when the spell is broken do you notice the quietly forceful statement of subtitling the English dialogue along with the Spanish.
(5) FUTURE TENSE. This month's entry in the Future Tense Fiction series is "A Priest, a Rabbi, and a Robot Walk Into a Bar," by Andrew Dana Hudson, a new short story that looks at how artificial intelligence could support, and distort, faith.
It was published along with a response essay by Ruth Graham, a staff writer at Slate who covers religion: "A.I. Could Bring a Sea Change in How People Experience Religious Faith".
(6) BABY YODA. Funko Pop's The Child comes in two sizes, 10 and 3.75 inches. Speculation is that the former is intended to be life-sized. Available for pre-order now with delivery in Spring 2020, so don't expect to see it in your Christmas stocking.
(7) BOLD BUNDLE. Nick Mamatas has curated "The Outspoken Authors Bundle" for StoryBundle.
The Outspoken Author series is unique: it covers the gamut of genres, from hard SF to crime and literary fiction, and it collects the underappreciated and hard-to-find work of legendary figures in an accessible format. Not only is there fiction, the authors offer up essays, transcripts of talks and speeches, and ruminations about the writing life. Each volume concludes with an in-depth interview conducted by series editor Terry Bisson, and these go deep: you'll learn about everything from revelations about drag personas to dissections of Trotskyism in the United Kingdom.

Never has a single StoryBundle offered work by so many of speculative literature's most important figures: Ursula K. Le Guin, Samuel R. Delany, Michael Moorcock, and many others. We're offering twenty-three volumes in DRM-free digital formats that are yours to keep till freedom reigns over the world.
You decide what price you want to pay. For $5 (or more, if you're feeling generous), you'll get the basic bundle of six books in any ebook format—WORLDWIDE.
Thoreau's Microscope by Michael Blumlein
A City Made of Words by Paul Park
The Beatrix Gates by Rachel Pollack
Totalitopia by John Crowley
Raising Hell by Norman Spinrad
Modem Times 2.0 by Michael Moorcock
If you pay at least the bonus price of just $15, you get all six of the regular books, plus SEVENTEEN more books!
The Atheist in the Attic by Samuel R. Delany
Fire. by Elizabeth Hand
Miracles Ain't What They Used to Be by Joe R. Lansdale
Gypsy by Carter Scholz
My Life, My Body by Marge Piercy
Patty Hearst & The Twinkie Murders by Paul Krassner
The Science of Herself by Karen Joy Fowler
New Taboos by John Shirley
The Human Front by Ken Macleod
Report From Planet Midnight by Nalo Hopkinson
Surfing the Gnarl by Rudy Rucker
The Great Big Beautiful Tomorrow by Cory Doctorow
The Wild Girls by Ursula K. Le Guin
Mammoths of the Great Plains by Eleanor Arnason
The Underbelly by Gary Phillips
The Lucky Strike by Kim Stanley Robinson
The Left Left Behind by Terry Bisson
(8) TODAY IN HISTORY.
December 4, 1970 — Latitude Zero premiered in New York City. It was directed by Ishir? Honda and scripted by Ted Sherdeman as based on his Latitude Zero radio show. The film stars both American and Japanese actors including Joseph Cotten, Cesar Romero, Akira Takarada, Masumi Okada, Richard Jaeckel and Patricia Medina. Critics found the plot weak but the special effects rather fun. It currently has a rating of 50% at Rotten Tomatoes among viewers.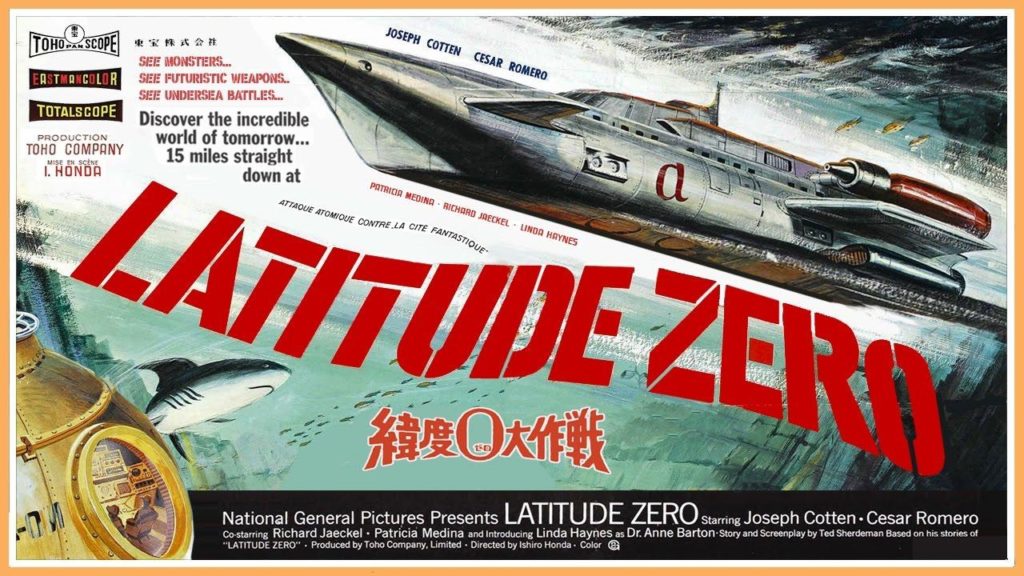 (9) TODAY'S BIRTHDAYS.
[Compiled by Cat Eldridge.]
Born December 4, 1937 — David Bailie, 82. He played Dask in "The Robots of Death", a Fourth Doctor story, and also appeared in Blake's 7 as Chevner in the "Project Avalon" story. Also, he played the mute pirate Cotton in the Pirates of the Caribbean film franchise. Intriguingly he shows up in The Creeping Flesh which starredChristopher Lee and Peter Cushing.
Born December 4, 1939 — Jimmy Hunt, 80. He plays Dave MacLean in Invaders from Mars. Some three decades later, he'll appear in the remake as the Police Chief. He's an uncredited appearance early in his career in My Brother Talks to Horses which is definitely genre. And he's in Close Encounters of the 4th Kind: Infestation from Mars though I know nothing of this film. Have any of you seen it?
Born December 4, 1945 — Karl Edward Wagner. As an editor, he created a three-volume set of Robert E. Howard's Conan the Barbarian fiction restored to its original form as it was originally written by Howard. He is quite likely best known for his invention of the character Kane, the Mystic Swordsman who I think is in as many as thirty works by Wagner. Anyone here read them? Rhetorical question I know. His Carcosa publishing company issued four volumes of stories by authors of the Golden Age pulp magazines. Anything I left off that folks should know about him? (Died 1994.)
Born December 4, 1949 — Jeff Bridges, 70. I'd say his best genre role was as Starman / Scott Hayden in the film of that name. Other genre work includes King Kong, the voice of Prince Lir in Peter Beagle's The Last Unicorn, Jack Lucas in The Fisher King, Iron Monger in Iron Man and Kevin Flynn/CLU 2 in Tron: Legacy. He appeared also in a film called R.I.P.D. as Roycephus "Roy" Pulsipher which was either really bad or really, really bad.
Born December 4, 1954 — Sally Kobee, 65. Fan, Bookseller, filker. She has served on the committees for myriad conventions, and chaired both Ohio Valley Filk Fest 4 and OVFF 10, and WFC 2010 and 2016. She was honored as a Fellow of NESFA and as a Guest of Honor at Windycon XXVII. She and her now late husband purchased a bookstore in the 90s. She continues to the day to sell books at conventions.
Born December 4, 1954 — Tony Todd, 65. Let's see… He was a memorable Kurn in Next Gen and Deep Space Nine, he plays Ben in Night of the Living Dead, he's of course the lead character in the Candyman horror trilogy, William Bludworth in the Final Destination film franchise, Cecrops in Xena: Warrion Princess and Gladius on Hercules: The Legendary Journeys. Those are just selected highlights.
Born December 4, 1957 — Lucy Sussex, 62. Fan, reviewer, author, and editor. Born in New Zealand, resident in Australia… she's been writing SFF ever since attending a Terry Carry led workshop. And she's edited several anthologies such as She's Fantastical, the first collection of Australian women's speculative fiction. She's won three Ditmar Awards, A. Bertram Chandler Award and an Aurealis Award to name some of her awards — impressive indeed! I've not heard of her before now, so I've not read her, so who has read her?
Born December 4, 1964 — Marisa Tomei, 55. May Parker in Marvel Cinematic Universe, but also to my delight has an uncredited role as a Health Club Girl in The Toxic Avenger. She also shows up as Mrs. O'Conner in the "Unwomen", an episode of The Handmaid's Tale.
Born December 4, 1989 — Nafessa Williams, 30. She had only two genre roles but with the first being the revival series of Twin Peaks where she was Jade. The other is what gets her Birthday Honors — She's Anissa Pierce who is the superhero Thunder on the Black Lightning series. Superb series, great character!
(10) COMICS SECTION.
(11) SCALZI'S DOPEST BREAD CONNECTION. John Scalzi tells why he received a baked good by a very roundabout route: "The Case of the Felonious Bread".
…Seamus Blackley …sent me a loaf via Fed Ex this weekend, and yesterday I got a notice through email that the package had been delivered. I went down from my office to retrieve it —

— and it wasn't there….

….Then I looked to see who it was who signed for my package:

"POLICE."….
(12) WELL… Artist James Artimus Owens told his Facebook readers about the time a therapist gave him some unexpected advice – and it worked! But the story is funny, too.
(13) THIS FRUIT'S NOT FORBIDDEN JUST FORGOTTEN. "Some Other Trees in the Garden of Eden' – humor in The New Yorker:
(14) RIDE THE RISE. "Inside the innovative Disney ride that's key to its Star Wars strategy" – CNN posted an exclusive about the "Star Wars: Rise of the Resistance" attraction about to open at Galaxy's Edge. Beware ride spoilers! (None in this excerpt, though.)
Now Disney is finally pulling the curtains off "Rise," opening on Thursday at Walt Disney World and on January 17 at Disneyland. The stakes are high for this expensive gamble to succeed: Attendance at Disney's domestic theme parks was down 3% in its latest quarter. The company also recently announced the departure of Catherine Powell, the president of Disney Parks who oversaw Anaheim and Orlando.

Disney is betting it can turn things around with the power of high-tech experiences. The attraction packs dozens of audio-animatronics — and a couple of giant AT-ATs — holograms, lasers, and the most complex ride system Disney's Imagineers had ever designed: a trackless vehicle that moves laterally, vertically, and at all times unpredictably. At its annual shareholders meeting, Disney CEO Bob Iger called the ride "the most technologically advanced and immersive attraction that we have ever imagined."
(15) LINEAR Z. "'Zork' Source Code, Presumed Lost Forever, Has Been Uploaded to GitHub" – Krypton Radio reported this in the spring, but it's still news to me!
It's written in a language called ZIL, which stands for Zork Implementation Language. The games have been rewritten for various platforms and have been circulating for years, but knowledge of the actual scripting language used to create the game was lost to the annals of history.

Until now. Somebody called themselves 'historicalsource' has uploaded the original source ZIL code to a bunch of Infocom games to GitHub. That someone is computer historian Jason Scott.
(16) CLIMB EVERY MOUNT TBR. James Davis Nicoll believes he knows the cure: "How to Recover From Reader's Block".
Recently a well-regarded essayist expressed dissatisfaction with the current state of the SF novel. He went so far as to confidently assert, "I stopped reading novels last year. I think you did too." Sweeping assertions are often wrong. This one is definitely wrong, at least where I am concerned.

…What may have sparked his comment is burnout, of the form that might be called "reader's block." You want to read something, but can find nothing specific you want to read. I think most of us who read extensively have been there.

The best method I know of for mitigating reader's block is to cast one's net wider….
(17) DEALER DOWNER. Bookseller Patrick Darby, who hucksters at many Maryland-area conventions, may have to shut down: "An independent bookstore owner is facing the last chapter of his beloved business" in the Washington Post.
On Black Friday, as shoppers packed an outlet mall just up the road, Patrick Darby sat behind the counter at Novel Books, his charmingly cramped bookstore in suburban Maryland, narrating the last chapter of his business.

"I'll be gone by next week if something doesn't happen," Darby said, his hands trembling.For Darby, 60, this bookstore tucked inside an old yellow house with a wraparound porch in Clarksburg was his opportunity to finally sell books the old-fashioned way. He had spent decades working for big chains, including Crown Books, once a staple of Washington.

"I'd been thinking about a store like this the whole time," Darby said.
(18) WEIGHT FOR IT. Looper claims "Fans are slamming Marvel after that Black Widow trailer".
…The response from some fans online was highly reminiscent of the "Fat Thor" controversy after the release of Avengers: Endgame. Many were incredulous that Marvel appeared not to have learned anything from said controversy, including Twitter user @The_GothDaddy, who wrote, "The Black Widow trailer looks pretty good I'd like it more if Marvel learned their lesson with Thor and maybe considered leaving out yet… A n o t h e r… Dig at fat people."

User @Artists_Ali agreed, writing, "So I watched the Black Widow trailer. Is Marvel just gonna do wall to wall fatphobic jokes in all their movies now or….? Yeah that's gonna be a no from me."

There were a wealth of similar tweets to be found in the trailer's immediate wake, and while everybody is obviously entitled to their opinion, ours is that — as with the Endgame controversy — the approach to Harbour's character is being wildly misinterpreted. User @MediocreJedi (great name) contributed another critical tweet that touched on our reasoning: "Imma watch the hell out of #BlackWidow," they wrote, "but did Marvel learn ANYTHING from their Endgame Thor fat joke backlash? Most women I know find David Harbour hot. So, another fat joke? Signed, guy who can barely fit into his 21-year-old dress uniform but can still kick ass."
(19) SHAKEN, NOT STIRRED. New trailer for the next James Bond movie No Time To Die.
In No Time To Die, Bond has left active service and is enjoying a tranquil life in Jamaica. His peace is short-lived when his old friend Felix Leiter from the CIA turns up asking for help. The mission to rescue a kidnapped scientist turns out to be far more treacherous than expected, leading Bond onto the trail of a mysterious villain armed with dangerous new technology.
[Thanks to Michael J. Walsh, Martin Morse Wooster, JJ, John King Tarpinian, Andrew Porter, N., Jennifer Hawthorne, Darrah Chavey, Rob Thornton, Joey Eschrich, Chip Hitchcock, StephenfromOttawa, Mike Kennedy, and Cat Eldridge for some of these stories. Title credit goes to File 770 contributing collaborative editors of the day cmm and Jayn.]