(1) NYT MARKS TWO DISASTER VICTIMS' SFF CONNECTION. Two of the people who died aboard a submersible that imploded near the Titanic wreckage, Shahzada Dawood and his son, Suleman, had an interest in sff, and the elder Dawood was a trustee of the SETI Institute. Here's an excerpt from the New York Times obituary.
Shahzada Dawood, a British Pakistani businessman who was among the five people aboard a submersible journeying deep into the Altantic to view the Titanic, was killed when the vessel imploded during its descent to the ocean floor, the authorities said Thursday. He was 48.

His 19-year-old son, Suleman, who was with him on the Titan submersible, was also killed.

… His son was a business student at the University of Strathclyde in Glasgow and had just completed his first year, a spokesman for the school said. Like his father, he was a fan of science fiction and enjoyed solving Rubik's Cubes and playing volleyball, according to a statement from Engro….

…"Don't adventures ever have an end?" Mr. Dawood wrote in a Facebook post last year from a trip to Iceland, quoting Bilbo Baggins from "The Fellowship of the Ring." "I suppose not. Someone else always has to carry on the story."

Khalid Mansoor, another former colleague of Mr. Dawood's, said that Mr. Dawood was a passionate champion of the environment. He was also a trustee at the SETI Institute, an organization devoted to the search for extraterrestrial intelligence….
(2) YOU MAY ALREADY HAVE ONE. The Chengdu Worldcon committee attributed the Hugo ballot delay in part to needing to contact finalists to secure their acceptance. Naomi Kritzer urged her Twitter readers to check their spam filters. Thread starts here.
(3) JONATHAN CARROLL Q&A. "What would it be like to live a different life? Jonathan Carroll explores the question in 'Mr. Breakfast'" at Wisconsin Public Radio.
…The book is about a failing comedian named Graham Patterson. On a cross-country drive, he decides to get a tattoo. The tattoo artist not only gives Graham a one-of-a-kind tattoo, she also gives him a once-in-a-lifetime opportunity.

The tattoo artist tells Graham that his lost soul can jump between three different universes. Through these experiences, he will find some combination of love, fame and fatherhood. Jonathan gives us insight into what it would be like to live a different life.

"I have always been fascinated with the life not lived, whether in real life, or in literature," Carroll told Wisconsin Public Radio's "BETA."

"There are so many wonderful versions of it, from Borges to the film 'Sliding Doors.' And I think it's one of the universal questions that we ask, along the lines of why am I here? Or is there a god? The question is, what would my life be like if I had gone left instead of right? Or I'd taken that job or hadn't taken that job? Those possibilities that you had in life that you chose to go in one direction rather than the other," he continued….
(4) CULTIVATING CHAOS. When Frank Pournelle created Dr. Jerry Pournelle's Chaos Manor website, one of the things he posted was "Robert Bloch, Author of Psycho, Explains the Appeal of Jerry Pournelle", Bloch's entertaining introduction to his fellow toastmaster at L.A.con II, the 1984 Worldcon.
…Professionally, Pournelle has all the qualifications which I lack. To begin with, I never attended college, and he did. As a result I've won no honors. But Pournelle has more degrees than a rectal thermometer.

He was born in Shreveport, Louisiana, in 1933, and just celebrated his birthday a few weeks ago. After a long and varied career during the most exciting years of the aerospace program, and a stint as a university professor, he began writing science fiction comparatively late in life as a mature adult. I started my professional writing at the age of seventeen, and haven't matured yet.

Together with Pournelle's colleagues, Arthur Clarke, Robert Heinlein, and Isaac Asimov, he subscribes to the Cartesian paradigm of "hard science" and believes that the scientific discipline will inevitably be the key to our future salvation. My own belief is in the opposite extreme; I keep waiting for Great Cthulhu to rise again and end it all.

Both Pournelle and I have had personal experience in politics. He was a professor of Political Science and also put theory into practice as executive assistant to a former mayor of Los Angeles. In contrast, my political activity is confined to supporting Norman Thomas for President. It's true Thomas passed away a number of years ago, but I continue to vote for him because I believe the only good politician is a dead one….
(5) MEMORY LANE.
1976 – [Written by Cat Eldridge from a choice by Mike Glyer.]
Alice Sheldon also known as James Tiptree Jr. was without doubt one of the most brilliant writers our community was ever graced with.
Writing under her preferred pen name of James Tiptree, Jr., she penned the "Houston, Houston, Do You Read?" novella. It was first published in Aurora: Beyond Equality as edited by Susan Janice Anderson and Vonda N. McIntyre in 1976.
I'd normally spend some time talking about the author but I know that all of you know about this individual so I won't.
It would share a Hugo at Suncon with Spider Robinson's "By Any Other Name", and also a Nebula.
Now here's its Beginning…
Lorimer gazes around the big crowded cabin, trying to listen to the voices, trying also to ignore the twitch, in his insides that means he is about to remember something bad. No help; he lives it again, that long-ago moment. Himself running blindly—or was he pushed?—into the strange toilet at Evanston Junior High. His fly open, his dick in his hand, he can still see the grey zipper edge of his jeans around his pale exposed pecker. The hush. The sickening wrongness of shapes, faces turning. The first blaring giggle. Girls. He was in the girls' can.
Oh! Her smile shows a chipped front tooth. Oh yes, I think Andy has.
Andy?
For plays. Historical plays, Andy's good at that.
Of course. Historical plays.
He flinches wryly now, so many years later, not looking at the women's faces. The cabin curves around over his head surrounding him with their alien things: the beading rack, the twins' loom, Andy's leather work, the damned kudzu vine wriggling everywhere, the chickens. So cosy…. Trapped, he is. Irretrievably trapped for life in everything he does not enjoy. Strutturelessness. Personal trivia, unmeaning intimacies. The claims he can somehow never meet. Ginny: You never talk to me …
Ginny, love, he thinks involuntarily. The hurt doesn't come.
Lorimer's brain seems to be expanding, letting in light. He is understanding actively now, the myriad bits and pieces linking into pattern. Deadly patterns, he perceives; but the drug is shielding him in some way. Like an amphetamine high without the pressure. Maybe it's something they use socially? No, they're watching, too.
Bud Geirr's loud chuckle breaks in on him. Bud is joking with some of them, out of sight around a bulkhead. Dave is visible, though. Major Norman Davis on the far side of the cabin, his bearded profile bent toward a small dark woman Lorimer can't quite focus on. But Dave's head seems oddly tiny and sharp, in fact the whole cabin looks unreal. A cackle bursts out from the ceiling—the bantam hen in her basket.
You chicks have kids back home, what do your folks think about you flying around out here with old Andy, h'mm? Bud floats into view, his arm draped around a twin's shoulders. The one called Judy Paris, Lorimer decides; the twins are hard to tell. She drifts passively at an angle to Bud's big body: a jut-breasted plain girl in flowing yellow pajamas, her black hair raying out. Andy's read head swims up to them. He is holding a big green spaceball, looking about sixteen.
At this moment Lorimer becomes sure he has been drugged.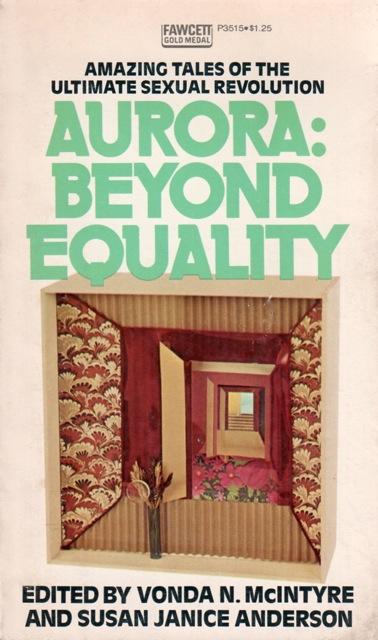 (6) TODAY'S BIRTHDAYS.
[Compiled by Cat Eldridge.]
Born June 23, 1945 — Eileen Gunn, 78. Her story "Coming to Terms" based on her friendship with Avram Davidson won the Nebula Award for Best Short Story. Two other stories were nominated for the Hugo Award: "Stable Strategies for Middle Management" at Noreascon 3 and "Computer Friendly" at ConFiction. Some of her best stories are in Stable Strategies and Others, Steampunk Quartet and Questionable Practices. With L. Timmel Duchamp, she penned The WisCon Chronicles, Vol. 2: Provocative Essays on Feminism, Race, Revolution, and the Future.
Born June 23, 1947 — Mark Olson, 76. One could reasonably call him an Uberfan. And among his many accomplishments is that he oversees Fancyclopedia 3 which I constantly use. If you don't know him, I'm going to send you to his Fancyclopedia 3 bio which is far too long to quote here. It's just a little boastful as it should be.
Born June 23, 1957 — Frances McDormand, 66. She's God. Well at least The Voice of God in Good Omens. Which is on Amazon y'all. Her first genre role was in the "Need to Know" episode of Twilight Zone followed shortly thereafter by being Julie Hastings in Sam Raimi's excellent Dark Man. She's The Handler in Æon Flux and that's pretty much everything worth noting.
Born June 23, 1963 — Liu Cixin, 60. He won the Best Novel Hugo at Saquan for his Three Body Problem novel, translated into English by Ken Liu. It was nominated for the Campbell Memorial, Nebula, Canopus and Prometheus Awards as well. He picked up a Hugo novel nomination at Worldcon 75 for Death's End also translated by Liu.
Born June 23, 1972 — Selma Blair, 51. Liz Sherman in Hellboy and Hellboy II: The Golden Army. She also voiced the character in the most excellent animated Hellboy: Sword of Storms and Hellboy: Blood and Iron. She's Stevie Wayne in The Fog, a slasher film a few years later and was Cyane on the "Lifeblood" episode of Xena: Warrior Princess. Later on, she'd be Jessica Harris in the "Infestation" episode of Lost in Space.
Born June 23, 1980 — Melissa Rauch, 43. Bernadette Rostenkowski-Wolowitz on The Big Bang Theory which is at least genre adjacent if not genre. She gets to be really genre in voicing Harley Quinn in Batman and Harley Quinn which Bruce Timm considers "a spiritual successor to Batman: The Animated Series". Having watched a few episodes on HBO when I was subscribed to that streaming service, I vehemently disagree.
Born June 23, 2000 — Caitlin Blackwood, 23. She was the young Amelia Pond in these Doctor Who episodes; "The Eleventh Hour", "The Big Bang", "Let's Kill Hitler" and "The God Complex"., all showing from 2010 to 2012. y She had a cameo in "The Angels Take Manhattan". She's the cousin of Karen Gillan who plays the adult Pond. I can't find anything online that talks about how she was cast in the role but it was brilliantly inspired casting!
(7) STAR TREK: PRODIGY CANCELED. Variety says it's on the hit list: "'The Game,' 'Star Trek: Prodigy' Pulled Off Paramount+".
…"The Paramount+ series 'Grease: Rise of the Pink Ladies,' 'Star Trek: Prodigy,' 'Queen of the Universe' and 'The Game' have completed their runs on Paramount+ and will not be returning to the service," a Paramount+ spokesperson said. "We want to extend our thanks to our tremendously talented cast and crew and our producing partners for their passionate work and dedication on these programs, and we wish them all the best on their future endeavors."…

…The cancellation of "Star Trek: Prodigy," the first animated kids show in the "Star Trek" universe, comes despite the fact that the show was renewed for a second season back in 2021. According to an individual with knowledge of the situation, although the show had aired on Nickelodeon in addition to Paramount+, it will not be returning to Nickelodeon either. Those on the show will complete post-production on Season 2 and then CBS Studios will be free to shop it to other outlets….
(8) DEFINITELY NOT ARTIFICIAL INTELLIGENCE. [Item by Mike Kennedy.] No. Just… no. "Furby, the bug-eyed, gibberish-talking '90s toy phenomenon, has been revived — again" reports CNN.
Loveable or creepy? Depends on who you ask.

Furby, the '90s toy phenomenon that divided kids and parents into opposing camps when it first hit stores and quickly became a craze, is making yet another comeback.

Furby-maker Hasbro said Thursday it is reintroducing the bug-eyed, gibberish-talking furball. The latest iteration of the animatronic toy launched on Amazon Thursday and rolls into stores nationwide on July 15 after a nearly 10-year gap.

The new Furby — which is priced at $70 and comes in purple and coral — is much like the original but somewhat cuter. It is interactive and responds to hugs, pats on the head and tickles. You can also pretend to feed it a tiny pizza….
(9) JEOPARDY! [Item by David Goldfarb.] There was a whole category on Thursday's Double Jeopardy round that was "Vampire-pourri". Here are the clues in the order they were encountered:
$1200: In the "Twilight" saga, the Cullens avoid the sun not because it would kill them, but because this happens
Challenger Andrea Rednick Granados said, "What is twinkle?" This was accepted.
$800: "You're Dead" by '60s folk singer Norma Tanega is used as the theme song to this FX series
Andrea: "What is True Blood?"
The correct response was, "What We Do in the Shadows".
$1600: In "Bram Stoker's Dracula", Anthony Hopkins played this vampire-hunting professor
Challenger Dan Meuse knew it was Van Helsing.
$2000: Benjamin Walker stepped into the Presidential shoes for this 2012 metafiction monster mash-up of a movie
Returning champ Ben Goldstein: "What is 'Abraham Lincoln, Vampire Hunter'?"
$400: Drusilla was one of the vampire antagonists on this TV series that debuted in 1997
Surprisingly (to me at least) this was a triple stumper. I guess I'm getting old.
In addition, there was one clue in "Writing on the Walls". At the middle level ($1200):
Writing on the Walls, $1200: In his book "Stardust", there is a hamlet named Wall & Tristran sets out on a journey through the only hole in that wall
This too was a triple stumper. Poor Neil!
(10) THE SPEED OF DARK. A European space telescope sets off to discover the nature of dark energy—the biggest ingredient in the universe: "Into the Dark" in Science.
When the Euclid space telescope blasts off from Cape Canaveral in Florida early next month, it will embark on an unprecedented effort to survey 1 billion galaxies—and perhaps solve cosmology's greatest mystery. The search will cover more than one-third of the sky and look back in time to galaxies shining when the universe was just one-quarter of its current age of 13.8 billion years. Although the task is immense, Euclid's primary goal is surprisingly simple. The data it collects will be boiled down to a single number, denoted by w. And cosmologists are hoping, maybe even a bit desperately, that it is not –1.

w describes the effect of dark energy, the mysterious antigravitational force that is accelerating the expansion of the universe. All measures so far suggest that w is close to –1. If it proves to be exactly that, it will confirm the vanilla solution to dark energy: that it's a simple tweak—a cosmological constant—added to Albert Einstein's theory of gravity, which bestows empty space with an innate springiness of its own. As the universe expands, giving birth to more space, the total amount of dark energy also grows—so that the energy density always remains constant…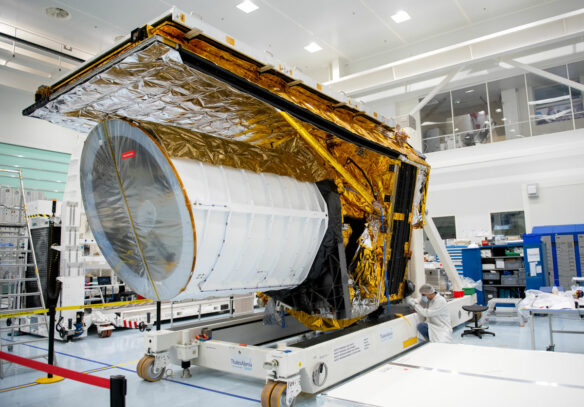 [Thanks to John King Tarpinian, Chris Barkley, Michael Toman, Susan de Guardiola, David Goldfarb, Danny Sichel, Michael J. Walsh, Cat Eldridge, SF Concatenation's Jonathan Cowie, Mike Kennedy, and Andrew Porter for some of these stories. Title credit belongs to File 770 contributing editor of the day Daniel Dern.]