(1) HUGO NOMINATING DEADLINE IMMINENT. DisCon III, the 2021 Worldcon, told Facebook readers yesterday that 674 people have submitted Hugo Awards nominations so far. Don't miss out! The deadline to cast your nominating ballot is this Friday March 19 at 11:59 p.m. Pacific.
(2) OR OH, SO NICE. James Davis Nicoll finds "Five SF Stories in Which Kindness Prevails" for Tor.com readers.
There are many people in the world who seem to agree that the correct reaction to impediments, setbacks, and personal affronts is a firm, unambiguous response. After all, how are people to understand that "its" and "it's" are two different words if their homeworld is not immediately reduced to a lifeless cinder? But there are enough of us who prefer kinder, gentler responses that we form an audience for writers who give us protagonists who are kind… and still manage to prosper. Could the power of niceness possibly prevail in the real world? Perhaps not, but niceness makes for comforting reading….
(3) WHO'S SORRY NOW. Cruella De Vil is not "oh, so nice" – this sneak peek from Emma Stone's forthcoming Disney movie shows some of the reasons why.
(4) A MYSTERIOUS IMPROVEMENT. Kim Neville, in "How Reading Mystery Novels Made Me a Better Fantasy Writer" on CrimeReads, says that reading mysteries helped her plot and structure her first novel, The Memory Collectors.
…When I started writing The Memory Collectors, the task of holding an entire, novel-length plot in my head seemed impossible. I'd had some success with short fiction, but the ability to manage the intricacies of a larger story, with multiple characters and subplots, seemed its own kind of magic. I didn't understand how other authors did it. My strengths lay in beautiful descriptive passages and character explorations. Over time, I'd learned to craft effective dialogue and individual scenes. Where I struggled most was with overall story structure. My previous attempts at novels were a jumble of interesting characters and intriguing hooks that led…nowhere.

I knew I needed help, so I turned to the masters, and to those books where plot shines most brilliantly. I started reading mystery, crime and psychological thrillers, everything from Agatha Christie to the latest Karin Slaughter…
(5) THE FALCON AND THE SNOWMAN, ER, WINTER SOLDIER. Io9's James Whitbrooktells how the "Falcon and Winter Soldier Final Trailer Tackles Cap's Legacy".
… The "final" trailer—cutting it a bit tight, considering the six-episode series begins this week!—gives us a better look at the Flag Smashers and their mysterious leader, Karli Morgenthau (played by Solo: A Star Wars Story's Erin Kellyman). In the comics, Flag-Smasher (there have been two to hold the mantle, Karl Morgenthau and Guy Thierrault) was, uh…an anti-nationalist terrorist pushing back against the idea of countries as a concept, particularly American exceptionalism as a foe of Captain America?…
(6) LIBRARY OF HORROR CLASSICS. The next volume being added to the Horror Writers Association's Haunted Library of Horror Classics is Sir Arthur Conan Doyle's The Parasite and Other Tales of Terror, "Nine spine-tingling stories from the creator of Sherlock Holmes." Ships May 4. Available for pre-order at the link.
Mournful cries in an ice-bound sea, a potion that allows the user to commune with ghosts, an Egyptian priest who cannot die, and a mesmerist of unrivaled power. Brace yourself for these and other chilling encounters in The Parasite and Other Tales of Terror. Even before he created Sherlock Holmes, Sir Arthur Conan Doyle terrified and delighted readers with tales of suspense, haunted by mysterious forces that defy rational explanation. These stories capture the unique draw of the uncanny and the curiosity that compels us all to ask, "Could it be true?"

Presented by the Horror Writers Association, and introduced by award-winning author Daniel Stashower, this collection illuminates Sir Arthur Conan Doyle's talent for the macabre and the supernatural. The Parasite and the other stories in this collection showcase Conan Doyle at his most inventive, sure to entertain both new readers and his most dedicated fans.
(7) SPOILERVISION. [Item by Daniel Dern.] Spoiler alert, don't watch this Honest Trailers video until you've finished watching all 9 episodes of WandaVision, because spoilers galore. (As with many of these things, they're often not wrong about criticisms, but that's show biz.)
(8) YOU CAN HELP. Katrina Templeton, who commented here as Katster, is asking for help — "Fundraiser by Katrina Templeton : Mom is dying. We need help with expenses." At this writing they're raised $2,900 of the $5,000 goal.
I wish I never had to make this post. My mom is dying and it looks like we're going to need help with the funeral expenses. My mom was my scout leader as a kid, my fiercest advocate, and my sounding board. It hurts to have to type this up. I'm sure Jill would say the same thing and Dad — well, Dad is just destroyed by the whole thing. We've always struggled a bit — the best gift my mom might have given us is how to keep surviving and fighting even when the odds are stacked against us.

We're going to need these funds as soon as possible, because the timeframe Mom's got left isn't very long. So if there's any way you can help, I'd appreciate it. We might not make the full number here, but anything can help. Jill and I are handling the funeral expenses, so any money I get is going to be put into my savings account until the point we need them.
(9) KOTTO OBIT. Actor Yaphet Kotto (1939-2021) died March 14 reports Comicbook.com.
Alien star Yaphet Kotto has died. A statement shared to his official Facebook page by his wife reveals the actor passed away Sunday night due to unknown causes. Though Kotto was best known for his role as technician Dennis Parker in Alien, the actor appeared in other mainstay hits throughout the 1980s and 1990s, such as NBC's Homicide: Life on the Street, [the Bond movie] Live and Let Die, and The Running Man. He was 81.
Kotto also was in The Puppet Masters (1994).
(10) DARROW OBIT. Actor Henry Darrow (1933-2021) died March 14 at the age of 87. Although by 1965 he had already been in episodes of The Outer Limits and Voyage to the Bottom of the Sea, it was while appearing that year in the stage production of Ray Bradbury's The Wonderful Ice Cream Suit at the Coronet Theatre in Los Angeles that he was seen by the producer who would cast him in the Western series The High Chapparal, his most famous role. Darrow later appeared in the vampire-Western Curse Of The Undead, The Invisible Man (1975), Halloween With The New Adams Family, Beyond The Universe and The Hitcher. He was the first Latino actor to portray "Zorro" on TV (over three different shows). His other genre work included The Wild Wild West, Rod Serling's Night Gallery (as "Dr. Juan Munos" in H.P. Lovecraft's 'Cool Air'), Kung Fu ('The Brujo'), The Six Million Dollar Man, Gemini Man, Wonder Woman, The Bionic Woman, The Incredible Hulk, Knight Rider, Star Trek: The Next Generation, Time Trax, Star Trek: Voyager, Babylon 5, Nightman and Beyond Belief: Fact Or Fiction.
(11) MEDIA BIRTHDAY.
March 16, 2003 –Eighteen years ago on this date, Frank Herbert's Children of Dune first aired on the Sci Fi Channel. Based on Frank Herbert's novels Frank Herbert's Dune Messiah and Children of Dune, it was the sequel to Frank Herbert's Dune. It was directed by Greg Yaitanes off a screenplay by John Harrison, executive producer of the forthcoming Dune film. It starred James McAvoy, Alec Newman, Julie Cox, Daniela Amavia, Alice Krige and Susan Sarandon. Both it and its predecessor are two of the highest rated series ever broadcast on the network, and both hold an eighty percent rating among audience reviewers at Rotten Tomatoes.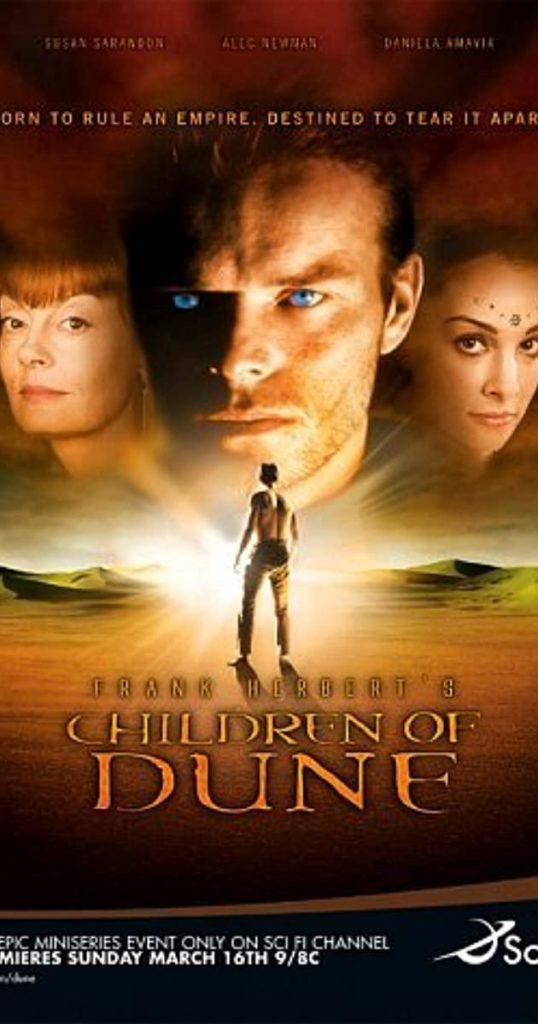 (12) TODAY'S BIRTHDAYS.
[Compiled by Cat Eldridge and John Hertz.]
Born March 16, 1920 — Leo McKern. He shows up in a recurring role as Number Two on The Prisoner in "The Chimes of Big Ben", "Once Upon a Time" and "Fall Out". Other genre appearances include Police Inspector McGill in X the Unknown, Bill Macguire in The Day the Earth Caught Fire, Professor Moriarty in The Adventure of Sherlock Holmes' Smarter Brother, The Voice of Gwent in "The Infernal Machine" episode of Space: 1999. (Died 2002.) (CE)
Born March 16, 1926 – Edwar al-Kharrat. Two novels for us available in English. Nahguib Mahfouz Medal (although Rama and the Dragon was later translated). Al-Owais Cultural Award. Translator into Arabic of Keats, Shelley, Dostoevsky, Tolstoy. "I want there to be something in … everything I write … which will make even a single reader lift his head proudly and feel with me that in the end the world is not a desolate, meaningless landscape…. I write because the world's a riddle, a woman is a riddle and so is my fellow man. All creation is a riddle." See here. (Died 2015) [JH]
Born March 16, 1935 – Olga Larionova, age 86. A novel and a score of shorter stories, only three available in English that I know of, which is too bad, since she won the Aelita Prize and several others, one of few successful Russian women SF authors. [JH]
Born March 16, 1943 — Susan Bay Nimoy, 78. Wife of that actor. She portrayed Admiral Rollman in two episodes of Deep Space Nine: "Past Prologue" in the first season and "Whispers" in the second. Her only other genre appearance I believe was in the Mr. Merlin series. (CE)
Born March 16, 1948 – Margaret Weis, age 73. Twoscore novels, as many shorter stories, two poems, with Tracy Hickman; five novels and four shorter stores with Don Perrin; six novels and a shorter story with Robert Krammes; a few others; MW & TH created the Dragonlance game world, to which much of this writing relates; MW says her Star of the Guardians series is her favorite; however, she says, she does not read fantasy books. Twenty-five million copies sold. Website. [JH]
Born March 16, 1951 — P. C. Hodgell, 70. Her best known work is the God Stalker Chronicles series with By Demons Possessed being the current novel. She has dabbled in writing in the Holmesian metaverse with "A Ballad of the White Plague" that was first published in The Confidential Casebook of Sherlock Holmes as edited by Marvin Kaye. All of the God Stalker Chronicles series are available from the usual suspects. (CE)
Born March 16, 1952 — Alice Hoffman, 69. Best known for Practical Magic which was made into a rather good film. I'd also recommend The Story Sisters, a Gateway story, The Ice Queen, an intense riff off of that myth, and Aquamarine, a fascinating retelling of the mermaid legend. The Rules of Magic was nominated for Mythopoeic Fantasy Award for Adult Literature Award. (CE)
Born March 16, 1955 – James Warhola, age 66. Fourscore covers, seventy interiors. Fantasy art trading cards. Here is The Persistence of Vision. Here is Unicorn Variations. Here is Stranger in a Strange Land. Here is Jack of Shadows. Related to Andy Warhol; Int'l Reading Ass'n Award for Uncle Andy's. Contributes to Mad. [JH]
Born March 16, 1957 – Joseph DeVito, age 64. A hundred covers, twoscore interiors. Fantasy art cards. Here is Voice of Our Shadow. Here is Psycho (he did another one later). Here is The Stepford Wives. Here is the Winter 99 Amazing. Here is Six Scarlet Scorpions. Here is his bronze Centennial Tarzan. Website. [JH]
Born March 16, 1971 — Alan Tudyk, 50. Hoban "Wash" Washburne in the Firefly universe whose death I'm still pissed about. Wat in A Knight's Tale. (Chortle. Is it genre? Who cares, it's a great film.) He's K-2SO in Rogue One and yes he does both the voice and motion capture. Impressive. He also had a recurring role on Dollhose as Alpha, he voiced a number of characters in the Young Justice series streaming on HBO Max, and he was a very irritating Mr. Nobody on the Doom Patrol series also on HBO Max. (CE)
Born March 16, 1974 – Aimee Lane, age 47. Two novels and a short story, two covers, for us: here is Belfield's Blue Moon. Of herself she says "With an MBA and a degree in Applied Mathematics, there's absolutely no reason she should be writing romance novels." Has read a Complete Andersen's Fairy Tales, Where the Wild Things Are, both of Carroll's Alice books, Les Misèrables, The Count of Monte Cristo, A Tale of Two Cities. [JH]
(13) COMICS SECTION.
Candorville has a strategy for avoiding an AI takeover.
Macanudo suggests another fantasy writer unfairly ignored by the Nobel committee!
(14) LOVES JLA. Gail Simone tells about DC's Justice League concept – but promises no #SnyderCut spoilers. Twitter thread starts here.
(15) STARGIRL'S NEXT OPPONENT. "Get a look at Stargirl's Season 2 big bad Eclipso" at Lyles Movie Files.
I really enjoyed Stargirl's first season as it finally leaned in on the legacy of the DCU in a way no other live-action property has really ever done. In the season finale, we got a tease of Season 2's villain Eclipso and now we get our first look at him courtesy of TVLine….

Eclipso's character description sounds promising: "[an] ancient entity of corruption and vengeance, who is described as physically imposing and frightening. Brimming with a cold, terrifying darkness, Eclipso exploits the flaws of others, reveling in the impure and sinful, sadistically feeding off the dark side of humanity."

The design is a pretty solid translation of more modern takes on Eclipso. Stargirl has done a fantastic job with the costumes so I wasn't worried about that in the slightest and the show's fantastic track record continues.
(16) DON'T STAND UNDERNEATH WHEN THEY FLY BY. The Conversation's article"How do astronauts go to the bathroom in space?" comes with a dramatic finish —
…If you've ever seen a shooting star, it might have been a meteorite burning up in Earth's atmosphere – or it might have been flaming astronaut poo. And the next time you have to pee or poop, be thankful that you're doing it with gravity's help.
(17) MOSTLY HARMLESS. Although you might prefer to take your chances with astronaut poo if this is the other choice: "ISS Ditches 2.9-Ton Pallet of Batteries, Creating Its Most Massive Piece of Space Trash" reports Gizmodo.
Weighing 2.9 tons and traveling 4.8 miles per second, this heap of old batteries is now the heaviest single piece of garbage to be jettisoned from the International Space Station.

The pallet is packed with nickel-hydrogen batteries, and it will stay in low Earth orbit for the next two to four years "before burning up harmlessly in the atmosphere," according to a NASA statement. SpaceFlightNow reports that the pallet is the "most massive object ever jettisoned from the orbiting outpost."

NASA spokesperson Leah Cheshier confirmed this as being the case.

"The External Pallet was the largest object—mass-wise—ever jettisoned from the International Space Station at 2.9 tons, more than twice the mass of the Early Ammonia Servicing System tank jettisoned by spacewalker Clay Anderson during the STS-118 mission in 2007," wrote Cheshier in an email.

NASA's ballistics officers "indicate no threat" of the pallet smashing into other space objects, but "this item, like all, will be tracked by U.S. Space Command," she added.

It wasn't the original plan for the pallet to be discarded like this. The failed launch of a Soyuz rocket in 2018, in which NASA astronaut Nick Hague and Roscosmos cosmonaut Alexey Ovchinin were forced to make an emergency landing in the Kazakh steppe, caused a disruption to the spacewalking schedule, leading to the leftover pallet….
(18) VIDEO OF THE DAY. In "HISHE Dubs – Justice League (Comedy Parody)–Theatrical Version" on YouTube, the How It Should Have Ended crew make fun of the theatrical version of Justice League in preparation for taking on the Snyder Cut.
[Thanks to Andrew Porter, John King Tarpinian, Rich Horton, Michael Toman, Martin Morse Wooster, Cat Eldridge, Daniel Dern, Mike Kennedy, JJ, and John Hertz for some of these stories. Title credit goes to File 770 contributing editor of the day Lorien Gray.]