(1) ASSUAGING YOUR TBR GUILT. Fantasy-Faction's Nicola Alter playfully advises about "Coping with Reading Guilt in 7 Easy Steps".
Signs you might suffer from Reading Guilt of one form or another can include:

1. The pile of unread books on your shelf, be it virtual or real, makes you feel anxious every time you look at it.
2. You occasionally dust off that book your friend loaned you and pretend you are about to read it, knowing in your heart you are just preparing it to collect more nightstand dust.
3. The sight of a bookstore evokes complex feelings of longing and guilt.
4. The book-devouring speed of a well-read friend makes you irrationally envious.
5. The question, "have you read…" elicits an instinctual dread, because whatever it is, you've usually never read it.
6. When someone recommends a book to you, you smile and make enthusiastic noises to cover the sinking feeling in your stomach, because it's just another to add to the endless list and you'll probably never get around to reading it anyway.
7. You are so behind on that reading goal you set that it just serves to depress rather than motivate you.
8. You have a vague but pervasive feeling that you haven't read enough of the "important" books.
9. The hunt for bookmarks depresses you, because you realise they are all wedged in half-finished books and you can't bring yourself to remove them.
10. You participate in online "How many of these books have you read?" quizzes, even though you know the results will not cheer you up.

Fortunately, Reading Guilt is a very treatable disorder, and if you are exhibiting these symptoms, you are not alone. Here are seven easy steps to help you cope with Reading Guilt, and prevent it from getting in the way of your bookly enjoyment….
(2) A CHEESY EVENT. The Harry Potter Festival that promised to "bring the magic" to Jefferson, WI last weekend has been roundly criticized as a dud: "Angry fans say organizers of Harry Potter Festival in Jefferson were unprepared".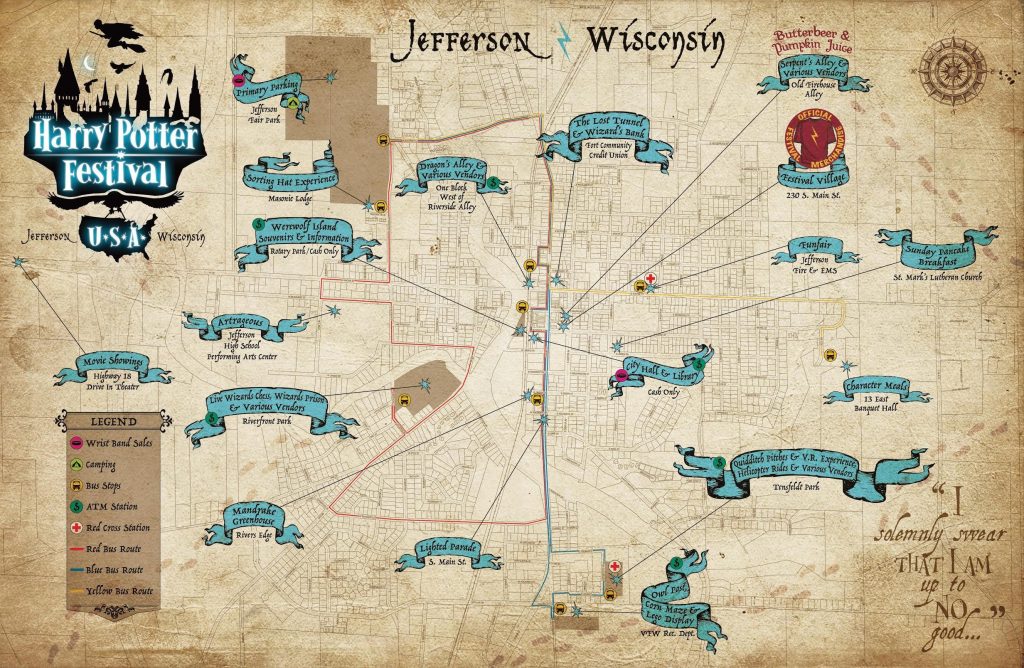 Some Harry Potter fans are cursing their decision to attend last weekend's Harry Potter Festival USA in Jefferson, Wisconsin.

Fans says organizers promised an immersive experience but were instead unprepared for the crowds. City officials provided an estimate that around 35,000 attended the event on Saturday.

Here are some of the main criticisms circulating on the festival's Facebook page: 1) Visitors say hidden costs were added on top of the price of admission 2) the effort put into decorations were at the level of a high school homecoming and 3) poor transportation planning caused long lines for shuttles.

…For hours people waited to get to certain attractions that have also been highly criticized online.

One person commented on the festival's Facebook page "'Hagrid' ate breakfast without his wig and played on his phone the whole time and did not get up once for pictures. Very disappointing, especially for $20 per person!"

Another person wrote "Went to the 'prison' – where nothing was happening?! Empty tennis court? So extremely disappointed."

Others say they wouldn't make the drive to the again and regret doing it the first time.

"We traveled an hour and a half," Maria Remillard of Elk Grove Village, Illinois said.

"And once we got there we were basically stuck there. The bus lines were hours long. I ended up walking back to the fairgrounds to pick up our car so I could go back and pick up my parents, my sister, and my daughter," Remillard said.

"'The Owlry' was a small VFW hall with one stuffed animal and one girl signing letters for an extra fee," Remillard said.
(3) SUBURBAN BLIGHT.  Adweek highlights another scary ad: "Xfinity Adds Its Own Creepy 5-Minute Film to 2017's Fright Fest of Longer Halloween Ads".  See the video at the link.
The Comcast cable brand just unveiled its own five-minute horror short, titled "The Neighborhood," developed by Goodby Silverstein & Partners and written and directed by Dante Ariola of production company MJZ.

The tale concerns a spooky old mask, made out of a burlap sack, that seems to be making the rounds in one suburban neighborhood on Halloween. But those gifted with it quickly come to regret their mysterious new present.
(4) PULP ART BOOK. IDW Publishing has released "The Art of the Pulps: An Illustrated History" co-edited by Doug Ellis, Ed Hulse, and Robert Weinberg. Doug Ellis gives the background:
"The Art of the Pulps", co-edited by myself, Ed Hulse and Robert Weinberg, came out earlier this week, on October 24 from IDW. For me, it was a long wait, but I think the final book was well worth it. Bob and I actually started preliminary work on the book back in January 2016, so it's been nearly a two year project for me. Bob unfortunately passed away in late September 2016, just as we were about to start working on it in earnest, but fortunately Ed Hulse was willing to step in and help see the book through to its completion. I think Bob would have been very pleased with how it came out.

The book focuses on the colorful cover art of the pulps, along with a sampling of some black and white interior pulp art, containing roughly 460 images. But in addition to the images, there's well over 50,000 words of text, written by some of the top experts in the pulp field. Besides contributions from the co-editors, we were fortunate enough to enlist the writing talents of (in alphabetical order): Mike Ashley (science fiction), Will Murray (hero), Michelle Nolan (sports), Laurie Powers (love), Tom Roberts (air and war), David Saunders (the great pulp artists), F. Paul Wilson (foreword) and John Wooley (detective). We think you'll agree, if you read the book, that each did a bang-up job!
(5) DOWN THESE MEAN STREETS. Stevens Point author Patrick Rothfuss' new show on Travel Channel, Myth or Monster, debuts with three showings this weekend on Travel Channel. Myth or Monster will first air 9 p.m. on Friday.
Rothfuss "dives into the past and consults with present-day eyewitnesses to expose the truth behind stories long believed to be sheer fantasy."
The first episode is titled "Mothman:
Armed with new evidence of a modern-day sighting, acclaimed fantasy author Patrick Rothfuss investigates the local legend of an 8-foot-tall man-bird hybrid that has haunted a small West Virginia town for over 50 years.
(6) THE DICKENS YOU SAY. Alonso Duralde of The Wrap was disappointed: "'The Man Who Invented Christmas' Review: Scrooge's Origin Story Ends Up a Bit of a Humbug"
The history of Christmas is a fascinating one, from the biblical account of Jesus' birth, to the church's moving of his birthdate so as to capitalize on the popularity of pagan holidays like Saturnalia and Yule, to the Puritans banning it as a feast of licentiousness, to the abundant, familial celebration we know today. Standiford touches upon all of this, and on how the immense popularity of "A Christmas Carol" changed the culture around the holiday, but screenwriter Susan Coyne ("Anne of Green Gables") and director Bharat Nalluri ("Miss Pettigrew Lives for a Day") gloss right over it in a way that will leave most viewers befuddled by the film's title.

While Dickens (played here by Dan Stevens) was a well-established writer by 1843, the author was in something of a slump before he decided to take a crack at writing a Christmas story. "Barnaby Rudge" and "Martin Chuzzlewit" were slow sellers, and his essays about his trip to America hadn't flown off the shelves either; meanwhile, he and his family were grandly restoring a new house, and his constantly-in-debt father John (Jonathan Pryce) was one of many people in Dickens' orbit with hands perpetually out.
(7) KING TUT. Someone apparently tutted at John Scalzi about his weekly photos of incoming ARCs and review copies.
I am delighted to highlight authors of all sorts in my stacks. Please encourage publishers to send books my way. All my info is on the site.

— John Scalzi (@scalzi) October 27, 2017
(8) TODAY'S BIRTHDAY BOYS
Born October 27, 1948 – Bernie Wrightson
Born October 27, 1953 – Robert Picardo, who played the holographic doctor in ST-Voyager and is on the board of directors of the Planetary Society.
(9) LOOK OUT BELOW. Newsweek brings out Michael Rampino  to answer the question: "Did Dark Matter Kill the Dinosaurs? How Mass Extinctions Are Linked With Universe's Mystery Ingredient".
… Over the last three decades, some scientists have found a good correlation of mass extinctions with impacts and massive volcanism. Curiously they have also turned up evidence that these events occur in a cycle of about 26 to 30 million years. This attracted the interest of astrophysicists, and several astronomical theories were proposed in which cosmic cycles affected Earth and life on the planet.

My own hypothesis linked the Earthly events to the motion of the solar system as it moves through the galaxy.  Now, it seems that these geologic cycles may be a result of the interactions of our planet with mysterious dark matter.

How does dark matter affect our planet? Most dark matter can be found as huge haloes surrounding the disc-shaped spiral galaxies, like our own Milky Way. But in 2015 physicist Lisa Randall at Harvard, proposed that significant dark matter is concentrated along the central mid-plane of the galactic disk.

During the cyclic movement of the sun and planets through the galaxy, we pass through the mid-place about once every 30 million years. At these times, the dark matter concentrated there tugs on the myriad Oort cloud comments found at the edge of the solar system. This gravitational perturbation causes some of the loosely bound comets to fall into the zone of the inner planets, where some would collide with Earth, producing a roughly 30 million year cycle of impacts and associated mass extinctions. As a result, dark matter may have killed the dinosaurs.
(10) TREMONTAINE. At Fantasy Literature, Marion Deeds reviews the book version of Tremontaine Season One by Ellen Kushner, Alaya Dawn Johnson, Malinda Lo, Joel Derfner, Patty Bryant, Racheline Maltese and Paul Witcover — "Tremontaine Season One: Magic can't always be re-created".
The most interesting secondary character is Micah, a young county girl in the city, who is a math genius. Disguised as a boy, Micah is taken up by the university students because she has a gift for winning card games, and because she is a genius. Micah is a problematic character for some of the writers. She is neuro-atypical. In some of these novellas, Micah convinces me that she is somewhere on the autism spectrum. In the hands of others she reads more like an innocent, much younger girl (eleven or twelve). This wobbliness broke my suspension of disbelief. Beyond the problem of Micah's characterization, tone in general is a problem, changing from episode to episode, and sometimes clashing with the previous chapter, as it does most noticeably in Episode Seven, "The Swan Ball."
(11) THEY LOST HIM AT HELLO. Superversive SF's Declan Finn says he was so offended by Star Trek: Discovery that he had already turned it off before they reached the part that was designed to offend him: "The STD That Will Never Go Viral".
I gave up at the 40 minute mark. So, all of this is this is, of course, before I got to the stuff that was designed to offend me. I'm told there are gay, bisexual and other sexes all over the place, that the Klingons were supposed to be Trump supporters, that they use cussing but can't say "God" on the show.  Heck, I didn't even get far enough into the episode to see "Michael" assault her captain, take over the ship in a mutiny specifically so she could commit an act of war on the Klingons… which happened.

But they never got a chance to appeal to my politics. They never got a chance to offend me. They never got a chance to make me angry. Because they never got me to care. Because this isn't Star Trek. This is just a bad parody.

This is one STD that will never go viral.
(12) THE NOT RIGHT. Prager University produced a video, "What is the Alt-Right?" which briefly mentions Vox Day.
What is the alt-right? What is its worldview? How big is it? Michael Knowles, bestselling author and host of The Michael Knowles Show, took a deep dive into alt-right culture. Here's what he learned.
When a reader of Vox Popoli brought it to Day's attention he teed off on the site's namesake.
I would have been shocked if Dennis Prager had anything positive to say about me. He's a mediocre thinker and a mediocre writer whose columns on WND were lightweight, little trafficked, and almost entirely forgettable.
(13) ARISTOTLE! Speaking of Aristotle….Camestros Felapton has now reached Chapter 6 in his dissection of Vox Day's SJWs Always Double Down: Anticipating the Thought Police.
"It is one of more than a dozen such tactics that I have observed SJWs utilizing over the past few year, and what is fascinating is how many of these tactics were first observed more than 2,400 years ago by one of Man's greatest thinkers, Aristotle."

Having said that, we don't get an illustration of social media bait and report re-imagined for ancient Athens (which might have been interesting). I'd imagine the advice would be simple from Aristotle – if somebody is trying to bait you then don't let them wind you up. There is an excellent example from Jesus in the New Testament dodging a "bait and report" when he is quizzed about paying taxes. Mind you I don't think Vox reads the New Testament much, particularly not a section where his God implies that you should pay your taxes.

Anyway, put my side trip to Jesus aside, Vox is back with our friend Aristotle. This time rather than Aristotle's Rhetoric, Vox wants us to look at The Organon and in particular the section called On Sophistical Refutations. "Sophistical" here referring to sophists – the quasi-professional arguers of stuff and/or Plato's contemporary philosophers not in tune with the Socratic wing of thinking.

Aristotle lists 13 fallacies and Vox goes through them all to some extent. I'm going to look at them from a different direction…
(14) LET THERE BE LIGHTS. Tesla in real-world success: "Turns Power Back On At Children's Hospital In Puerto Rico".
Tesla has used its solar panels and batteries to restore reliable electricity at San Juan's Hospital del Niño (Children's Hospital), in what company founder Elon Musk calls "the first of many solar+battery Tesla projects going live in Puerto Rico."

The project came about after Puerto Rico was hit by two devastating and powerful hurricanes in September, and Musk reached out about Tesla helping.

Musk's company announced its success in getting the hospital's power working again less than three weeks after Puerto Rico Gov. Ricardo Rossello tweeted on Oct. 6, "Great initial conversation with @elonmusk tonight. Teams are now talking; exploring opportunities."

Tesla's image of the project's solar array, in a parking lot next to the hospital, has been liked more than 84,000 times since it was posted to Instagram Tuesday.
(15) SOFTCOVER SCARES. Rise of a genre? "These 'Paperbacks From Hell' Reflect The Real-Life Angst Of The 1970s". NPR did an interview with Grady Hendrix who argues that "horror" was not a mainstream term before _Rosemary's Baby, The Exorcist, et al.
On the appeal of horror paperbacks in the '70s and '80s

In the early '70s, I think part of the appeal of these books is [that] they were written fast and without a lot of pretensions, and so in doing that, these authors were kind of capturing the time in which they were writing. And so you had in the early '70s, late '60s, all this fascination with the occult. Astrology was big, Time magazine had two covers that were like, "The New Age occult craze in America" and also there was a fear of our children — "What is this rock music and this LSD and this 'Summer of Love'? Surely there must be a dark side there."

And so these books really reflected a lot of where we were at the times and answered a lot of questions, and the answer to most of the questions was, "Yes, be very, very afraid of everything." Jellyfish, mattresses, curtains, dogs, moths, caterpillars, children, dolls, clowns, puppets. But at least they were answers.
(16) NO RENDEZVOUS WITH THIS RAMA. Passing through: "Scientists Spot First Alien Space Rock In Our Solar System".
It's long been assumed that an interstellar object like this one should be out there, because giant planets in forming solar systems are thought to toss out bits of space crud that haven't yet glommed into anything. But this is the first time scientists have actually found one.

The mysterious object is small — less than a quarter mile in diameter — and seems to have come from the general direction of the constellation Lyra, moving through interstellar space at 15.8 miles per second, or 56,880 miles per hour.

"The orbit is very convincing. It is going so fast that it clearly came from outside the solar system," says Paul Chodas, manager of NASA's Center for Near-Earth Object Studies at the Jet Propulsion Laboratory in Pasadena, Calif. "It's whipping around the Sun, it has already gone around the Sun, and it has actually gone past the Earth on its way out."
(17) INSECURITY. The internet doesn't know you're a dog – or an AI: "AI Model Fundamentally Cracks CAPTCHAs, Scientists Say".
A new model, described in research published today in Science, fundamentally breaks the CAPTCHA's defenses by parsing the text more effectively than previous models with less training, George says.

He says that previous models trying to get machines to learn like humans have largely relied on a prevailing AI technique called deep learning.

"Deep learning is a technique where you have layers of neurons and you train those neurons to respond in a way that you decide," he says. For example, you could train a machine to recognize the letters A and B by showing it hundreds of thousands of example images of each. Even then, it would have difficulty recognizing an A overlapping with a B unless it had been explicitly trained with that image.
(18) RUNAWAYS. Marvel's Runaways will be on Hulu starting November 21.
(19) YOU HAD ONE JOB. Alien Invasion S.U.M. 1 official trailer.
[Thanks to JJ, Carl Slaughter, Cat Eldridge, Chip Hitchcock, Andrew Porter, Martin Morse Wooster, and John King Tarpinian for some of these stories. Title credit belongs to File 770 contributing editor of the day Xtifr.]