(1) RETRO HUGO FAN CATEGORY RESOURCE. Joe Siclari and the FANAC Fan History Project are providing support to Dublin 2019 Retro Hugo voters:
The nomination forms have gone out for Dublin 2019's Retro Hugo awards for works published in 1943. It's often very difficult to find materials relevant to the Fan Categories for the Retros, but we have a solution! FANAC.ORG has assembled the list of fanzines published in 1943, with links to those available on line. We've made several hundred fanzines available, and more will be added if they become available at http://fanac.org/fanzines/Retro_Hugos1943.html .

Here you'll find fanzines from 4sj, Doc Lowndes, J. Michael Rosenblum, Bob Tucker, Jack Speer, Larry Shaw, F. T. Laney and other stalwarts of 1943 fandom (and also Claude Degler). There are genzines, FAPAzines, newszines, and letterzines. There is fannish artwork, and fannish poetry. There's even the first publication of Lovecraft's "Funghi From Yuggoth". Fanzines which meet the issue requirements for Best Fanzine are so marked.
Hugo nominations continue through March 15, 2019.
(2) THE SHOW WON'T GO ON. Scott M. Roberts, the editor of Orson Scott Card's Intergalatic Medicine Show #67 announces the end. The magazine will publish two more issues before shutting down.
I am sad to report that Orson Scott Card's Intergalactic Medicine Show will be pulling up stakes in June 2019. I've been a reader since the first issue, and on the staff since 2009. My kids have grown up with the magazine in their lives, and I am fiercely proud of all that we've accomplished.

I am also very, very pleased with the state of science fiction and fantasy in general today. When IGMS first rolled onto the scene, online magazines were few and far between. Now the main mode of consumption of short SFF literature is online in one form or another (podcasts, e-issues, webpages, etc). And the voices of SFF today are vibrant, strident, beckoning, beseeching, screeching, awesome myriads. We have been a part of that polysymphonic wonder. We were one of the first to tell our truest lies on the brave digital frontier.
(3) RAVING ABOUT RAVENS. Adri Joy is an early bird, sharing her reaction to Leckie's new novel: "Microreview [Book]: The Raven Tower by Ann Leckie" at Nerds of a Feather.
Ah, ravens. They're smart, they're beaky, they come in murders, and many in our world are better Londoners than I am. They're also the subject of more than their share of both folklore and, through that, fantasy interest. Whether they're harbingers of death, guides to the spirit world, speakers of prophecy and truth or otherworldly tricksters, there's a lot of mileage in these feathery next-level dinosaurs. Now, in Ann Leckie's first novel-length foray into fantasy, a raven god is front and centre, alongside a cast whose human members often play second fiddle to their divine counterparts.
(4) EATING THE FANTASTIC. Scott Edelman hopes you'll share spring rolls with Ruthanna Emrys and him in episode 89 of his podcast Eating the Fantastic.
Ruthanna Emrys is best known for the H. P. Lovecraft-inspired Innsmouth Legacy series, which so far includes the 2014 novella "The Litany of Earth," followed up by the novels Winter Tide in 2017 and Deep Roots in 2018. Her fiction has also appeared in such magazines as Strange Horizons and Analog Science Fiction and Fact, plus anthologies such as Timelines: Stories Inspired by H. G. Wells' The Time Machine and The Mammoth Book of Cthulhu: New Lovecraftian Fiction.

We discussed the ways in which her first exposure to Lovecraft was through pop culture references rather than the original texts, the reasons for the recent rise of Lovecraft recontextualisation, how tea with Jo Walton convinced her she was right to go ahead and write her first Innsmouth Legacy novel, why she ascribes to the tenets of the burgeoning Hopepunk movement, her love of writing X-Men fanfic and her hatred of gastropods, how she recovered from a college professor's unconstructive criticism, the time George Takei was nice to her at age 8 after she attended her first con in costume on the wrong day, and much more.
(5) NEW AWARD HONORS SUE GRAFTON. Mystery Writers of America has established the Sue Grafton Memorial Award for the best novel in a series with a female protagonist. (Do I hear Puppies howling?) The announcement is here.
Thirty-five years ago, Sue Grafton launched one of the most acclaimed and celebrated mystery series of all time with A is for Alibi, and with it created the model of the modern female detective with Kinsey Millhone, a feisty, whip-smart woman who is not above breaking the rules to solve a case or save a life. Like her fictional alter ego, Grafton was a true original, a model for every woman who has ever struck out on her own independent way.

Sue Grafton passed away on December 28, 2017, but she and Kinsey will be remembered as international icons and treasured by millions of readers across the world. Sue was adored throughout the reading world, the publishing industry, and was a longtime and beloved member of MWA, serving as MWA President in 1994 and was the recipient of three Edgar nominations as well as the Grand Master Award in 2009. G.P. Putnam's Sons is partnering with MWA to create the Sue Grafton Memorial Award honoring the Best Novel in a Series featuring a female protagonist in a series that also has the hallmarks of Sue's writing and Kinsey's character: a woman with quirks but also with a sense of herself, with empathy but also with savvy, intelligence, and wit.
The inaugural Sue Grafton Memorial Award will be presented at the Edgar Awards on April 25. The nominees are:
Lisa Black, Perish – Kensington
Sara Paretsky, Shell Game, HarperCollins – William Morrow
Victoria Thompson, City of Secrets, Penguin Random House – Berkley
Charles Todd, A Forgotten Place, HarperCollins – William Morrow
Jacqueline Winspear, To Die But Once, HarperCollins – Harper
(6) A VANCE MYSTERY. At Criminal Element, Hector Dejean reviews The Man in the Cage by John Holbrook Vance, better known as Jack Vance, which won the 1961 Edgar Award for the best first mystery novel, even though it wasn't his first novel in either genre: "Jack Vance's Edgar Award: A Mystery Novel Wrapped in an Enigma".
Vance was extremely talented and prolific, publishing his first book, The Dying Earth, in 1950, and his last work of fiction, Lurulu, in 2004. In 1957, he published his first mystery novel, Take My Face, using the pen name Peter Held. Later that year, he published another novel, titled either Isle of Peril or Bird Island, under the name Alan Wade. (Different versions exist, and according to some Vance-ologists the book doesn't really qualify as a crime novel.) A year later, he wrote his first mystery to be published under his full name, John Holbrook Vance. That book's title, according to sources on the Internet, was Strange People, Queer Notions.

This is where things get odd. Following a trip to Morocco—Vance was as impressive a traveler as he was a writer—Vance wrote a mystery set in North Africa; John Holbrook Vance was the name on this one as well. The book was The Man in the Cage, and it's quite good—I would even say it's a standout book, especially for readers curious about Vance who might not care for the conventions of sci-fi and fantasy. The MWA agreed, and in 1961 they gave it an award, making Vance's awards-shelf one of the more diverse of any American author.

Awarding Vance isn't the weird part. It's that the book won the Best First Novel by an American Author award, even though it was not Vance's first book, nor even his first mystery….
Dejean then goes on to laud the merits of the story itself.
(7) CONTRASTING EDGARS AND HUGOS. Criminal Element is also doing a retrospective of all Edgar Award winners for best novel: "The Edgar Awards Revisited". Cora Buhlert sent the link with a comment: "It's an interesting project and I was struck by how many women won Edgar Awards in the early years (the first five winners are four women and Raymond Chandler), which is very different from the early years of the Hugos."
(8) CRIMEMASTER AWARD. The Maine Writers and Publishers Alliance has awarded its 2019 CrimeMaster Award to Lisa Gardner.
Storied crime author Lisa Gardner writes award-winning novels that are addictive. Thankfully for us, there are more than 30 of them, with some 22 million copies in print. That's more copies than the entire population of New England, where she and her family live.
(9) TAKE COVER. Regarding the #CopyPasteCris plagiarism scandal, Nora Roberts is one of the authors whose work was appropriated, and as Kristine Kathryn Rusch phrased it —
Nora's particularly outspoken about what she has gone through, and I have to admit, I snorted tea when I read this comment from Sarah Wendell of Smart Bitches, Trashy Books:

When I saw "Nora Roberts" [on this list] my first thought was, "Everybody, get underground NOW."
Today Roberts posted her appropriately furious response: "Plagiarism Then and Now".
…I personally don't believe fiction writers should use ghosts. Celebrity auto-biographies and such, that's the job. If a fiction writer uses a ghost to help flesh out a book, or hires a book doctor to whip a book into shape, I strongly believe that person should be acknowledged–on the book.

The reader deserves honesty. The reader's entitled to know she's buying the author's–the one whose name's on the book–work, not somebody that writer hired for speed or convenience. And I'll state here as I have before. If a book has my name on it, I wrote it. Every word of it.

I do not, never have, never will comprehend how someone can feel any pride claiming a book they didn't write.

…A creature like Serruyo can have a decent run, make some money–make some best-seller lists–before she (or he, or they, who knows?) is found out. And the pain, the scars, the emotional turmoil this causes to the victims of plagiarism never ends.

Serruyo won't be the only one using that underbelly, exploiting the lack of real guardrails on Amazon and other sites for a few bucks.

I'll have a lot more to say about this, all of this. I'm not nearly done. Because the culture that fosters this ugly behavior has to be pulled out into the light and burned to cinders. Then we're going to salt the freaking earth….
(10) IT'S OFFICIAL. I learned today that Iowa declared November 2018 to be Speculative Poetry Month. Impressive!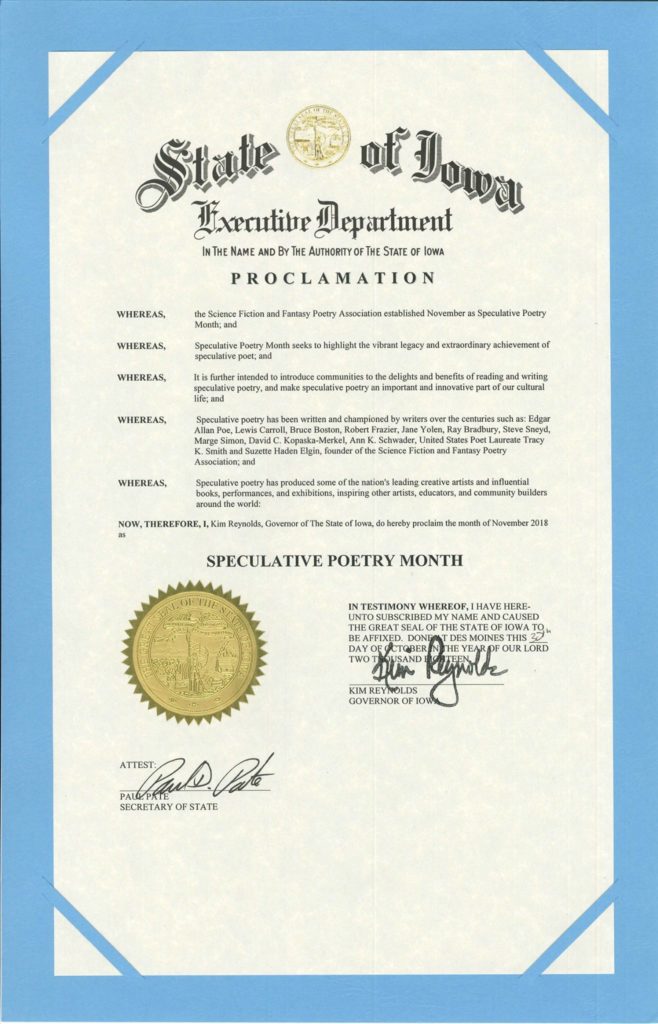 (11) TODAY'S BIRTHDAYS.
[Compiled by Cat Eldridge.]
Born February 22, 1925 — Edward Gorey. I reasonably sure that his animated introduction to the PBS series Mystery! Was my first encounter with him. I will recommend Gorey Cats, The Haunted Tea-Cosy: A Dispirited and Distasteful Diversion for Christmas and The Doubtful Guest. Ok he's not genre but damn if he's fun and delightfully weird. Oh, and do go read Elephant House: Or, the Home of Edward Gorey, with superb photographs and text by Kevin McDermott. (Died 2000.)
Born February 22, 1929 — James Hong, 90. Though not genre, became known to audiences through starring in The New Adventures of Charlie Chan in the late Fifties. Genre wise, his first role was in Godzilla, King of the Monsters! voicing Ogata/Serizawa. He then pops up in The Satan Bug as Dr. Yang and next is seen playing Ho Lee In Destination Inner Space. You'll no doubt recognize him in Colossus: The Forbin Project, he's Dr. Chin, but I'll bet you've never heard of, oh wait you have, Blade Runner in which he's Hannibal Chew and Big Trouble In Little China which I love in which he's wizard David Lo Pan. its back to obscure films after that with next up being Shadowzone where he's Dr. Van Fleet and Dragonfight where he's Asawa. He's next in The Shadow as Li Peng but I'll be damned if I can remember his role and the same holds true for him as Che'tsai In Tank Girl too. He's Mr. Wu in the very loose adaption of the classic The Day the Earth Stood Still.
Born February 22, 1930 — Edward Hoch. The lines between detective fiction and genre fiction can be awfully blurry at times. ISFDB listed him but I was damned if I could figure out why considering he's known as a writer of detective fiction who wrote several novels and close to a thousand short stories. It was his Simon Ark character who was the protagonist of Hoch's first published story and who was ultimately featured in thirty-nine of his stories that made him a genre writer as Ark is the cursed by God immortal doomed to wander forevermore and solved crimes. (Died 2008.)
Born February 22, 1937 — Joanna Russ. Is it fair to say she's known as much for her feminist literary criticism as her SF writings? That The Female Man is her best-known work suggests my question really isn't relevant as there may be no difference between the two. She was for a long time an influential reviewer for the Magazine of Fantasy & Science Fiction where I think it would fair to say that you knew clearly what she thought of a given work. (Died 2011)
Born February 22, 1944 — Tucker Smallwood, 75. Space: Above and Beyond as Commodore Ross is by far my favorite genre role by him. I think his first genre appearance was as President Mazabuka on Get Smart followed by one-offs on Babylon 5, Bio-Dome, X-Files, Contact, Millennium, NightMan, Voyager, Seven Days, The Others, The Invisible Man, The Chronicle, Mirror Man and Spectres. After that he landed a role on Enterprise playingXindi-Primate Councilor for an extended period of one season.
Born February 22, 1956 — Philip Kerr. Though better known for his Bernie Gunther series of historical thrillers set in Germany and elsewhere during the 1930s, his write several genre friendly works. A Philosophical Investigation is set in a near future UK where it is possible to test for violent sociopathy and the consequences of that. The other is Children of the Lamp, a more upbeat YA series set in London involving djinns and rather obviously young children. (Died 2018.)
Born February 22, 1959 — Kyle MacLachlan, 60. Genre-wise known for his role as Dale Cooper in Twin Peaks and its weird film prequel Twin Peaks: Fire Walk with Me, Paul Atreides in Dune, Lloyd Gallagher in The Hidden, Clifford Vandercave In The Flintstones, Calvin Zabo in Agents of S.H.I.E.L.D. and Jeffrey Beaumont in Blue Velvet (OK not genre, just weird).
Born February 22, 1968 — Jeri Ryan, 51. Seven of Nine of course but she's had other genre roles including being Juliet Stewart in Dark Skies, an UFO conspiracy theory series. She's showed up in briefly roles in Warehouse 13, The Sentinel, Helix and had recently showed up in the Arrowverse.
Born February 22, 1972 — Duane Swierczynski,47. Though a mystery writer by trade, he's also worked as a writer at both DC and Marvel on some very impressive projects. He did writing duties on the second volume of time traveling soldier Cable, penned the Birds of Prey as part of The New 52 relaunch and wrote an excellent Punisher one-off, "Force of Nature".
(12) COMICS SECTION.
(13) LIGHT OF OTHER DAYS. In her monthly column for The Paris Review, YA of Yore, Frankie Thomas takes a second look at the books that defined a generation.
For children's books in particular it was an era of quantity over quality, an unremitting glut. In those pre–Harry Potter days, a typical "series" meant hundreds of books churned out on a monthly basis by teams of frantic ghostwriters. You could order them by the pound. Often they came with a free bracelet or trinket, as if resorting to bribery. There were 181 Sweet Valley High books, 233 Goosebumps books, and so many Baby-Sitters Club books that their publisher, Scholastic, has never made the full number public (by my count it was at least 345 if you include all the spin-offs)—and they were all, to a certain degree, disposable crap.
But then there was Animorphs….
The fifth book in the series, Harry Potter and the Order of the Phoenix, was published in the summer of 2003, by which point Harry was fifteen and those of us growing up along with him had discovered sex. The Harry Potter years also happened to coincide with the Wild West era of the internet and the rise of abstinence-only sex education; as a result, for better or for worse, erotic Harry Potter fan fiction played a major and under-discussed role in millennial sexual development. This was especially true if you were queer—or, not to put too fine a point on it, if you were me—and had picked up on the secret gay love story that existed between the lines of Rowling's text.

I refer, of course, to Sirius and Lupin….
(14) THEY'RE MADE OF MEAT. [Item by Mike Kennedy.] A team from Sweden's Lund University is searching for the elusive Borkborkborkino particle, which would be proof that the Chef field exists. Or at least I guess that's what they were doing at this year's "Stupid Hackathon Sweden" event. Gizmodo has the story: "Particle Physicists Build a Meatball Collider."
A team of particle physicists wanted "to unveil the deepest secrets of the Universe—and of Swedish cuisine." So, naturally, they built a Swedish meatball collider.

The MEAL, or MEatball AcceLerator collaboration, could answer important questions such as why we're made of meatballs, rather than anti-meatballs, or whether we can create dark meatballs. The proof-of-concept experiment was a success.

[…] they've got lofty goals for their next steps, according to the project's slides: "Get funding for a meatball—anti-meatball collider that has the circumference of the solar system and meatballs the size of the Earth."
(15) VIRGIN TEST. "Virgin test flight blasts to edge of space" — Reuters has video coverage.
A Virgin Galactic rocket plane on Friday soared to the edge of space with a test passenger successfully for the first time, nudging British billionaire Richard Branson's company closer to its goal of suborbital flights for space tourists.
(16) ONLY THE BEGINNING.It will take two months to land, but it's on its way: "Israel Launches Spacecraft To The Moon" – NPR has the story. (See also, BBC: "Israel's Beresheet Moon mission gets under way".)
An Israeli spacecraft blasted off this evening, aiming to land on the moon. And if the mission is successful, it would make Israel the fourth country to land a spacecraft on the lunar surface – after the U.S., the former Soviet Union and China.

It would also be the first privately initiated project to do so, although it was assisted by government partners, as Nature notes. "The feat seems set to kick off a new era of lunar exploration – one in which national space agencies work alongside private industries to investigate and exploit the moon and its resources," Nature added.

The spacecraft, which is called Beresheet (Hebrew for "in the beginning"), was launched from Cape Canaveral, Fla.

It was initially conceived as part of Google's challenge called the Google Lunar XPRIZE for a private company to complete a soft landing on the moon. The Israeli non-profit SpaceIL was one of five international teams in the running for the $20 million grand prize; Google announced last year that the contest would end with no winner because no team was prepared to launch by the deadline. Still, the Israeli engineers at SpaceIL continued to work toward landing a spacecraft on the moon.
(17) A SCALZI CONSPIRACY FONDLY REMEMBERED. John Scalzi's classic prank showed up in the background of a recent Big Bang Theory episode.
Mayim Bialik photographed the items in Wil Wheaton's TV set apartment on Big Bang Theory and got him to explain their significance.
Wil and I both grew up on camera, and we also are geeky nerds who share a passion for discussing our mental illness struggles publicly. We are very similar, and it's so refreshing to work with him.

The set that was used as his living room was really special because it contained actual items from Wil's real life house. I was so delighted to see artwork, fan art, and memorabilia from his life—and I was so delighted that I photographed all of it and asked him to describe each item.
Wil Wheaton received the painting in 2008 and when it was finally revealed to him who had sent it, he wrote about the experience in "evil and awesome (but mostly awesome)".
Without knowing that I needed a reminder not to take this stuff so seriously, without knowing – in April, when the wheels were set into motion – that around the beginning of August I'd be feeling pretty lousy about getting cut from the show I look forward to attending every year, John did what good friends do: pick you up when you're down, and provide reality checks when you need them the most.
(18) UNFORGETTABLE. Nerds of a Feather features "6 Books with Simon Ings":
5. What's one book, which you read as a child or a young adult, that has had a lasting influence on your writing?

John Christopher got under my skin as a child and has never let me go. Kids' books like The Prince in Waiting fed me those nostalgic and valedictory notes you need if you're going to write into the British fantasy tradition. Much, much later I discovered the man had teeth: Death of Grass is a sort of John-Wyndham-without-the-apology tale about how personal virtue actually works in a disintegrating culture. Kindness is not a virtue. It is a sentiment. There, I've said it. But JC said it first.
(19) OSCAR-WORTHY FX. Here are three BBC posts with behind-the-scenes info about movie special effects.
The film Solo: A Star Wars Story has been Oscar nominated in the best visual effects category.

Visual effects supervisor Julian Foddy of ILM London spoke to Al Moloney about some of the challenges the company faced in helping to make the film.
The film Christopher Robin has been Oscar nominated in the best visual effects category.

Visual effects supervisor Chris Lawrence spoke to Al Moloney about some of the challenges the company faced in helping to make the film.
Robert Rodriguez's latest stint as director is on the sci-fi blockbuster Alita: Battle Angel.

The film was written and produced by James Cameron, who originally planned to direct it.

Rodriguez says he made the movie for half the price Cameron would have, but with a reported budget of $200m (£154m), it still cost considerably more than your average indie-flick.

BBC Click's Marc Cieslak speaks to the director and cast of the film, to find out more.
[Thanks to John King Tarpinian, Cora Buhlert, Jason, Cat Eldridge, Mike Kennedy, Carl Slaughter, Chip Hitchcock, JJ, Andrew Porter, SF Concatenation's Jonathan Cowie, and Martin Morse Wooster for some of these stories. Title credit belongs to File 770 contributing editor of the day Kip Williams.]