(1) FOR US, THE LIVING. The announcement that Cowboy Bebop won't get a second season prompted Ryan Proffer to start a "Save the live action cowboy bebop" petition at Change.org.
"For those people who want a second (or more) of the live action cowboy bebop. It wasn't a direct copy of the anime but the world they put together was amazing and deserve a second season."
It had almost reached its goal of a thousand signatures when checked this afternoon.
(2) ANALOG AWARD FOR EMERGING BLACK VOICES. Kedrick Brown's story is the winner of the inaugural Analog Award for Emerging Black Voices reports Locus Online. The award was announced yesterday during the Sixth Annual City Tech Science Fiction Symposium. The other finalists were Yazeed Dezele, Erika Hardison, and Jermaine Martin. (Locus did not report the story titles.)
The winning story will be purchased and published in Analog, and the author receives one year of monthly mentorship sessions. The finalists receive one mentorship session with Analog editors including a critique of their submission and a chance to ask questions about the field.
The members of the judging panel for 2021 were Steven Barnes, Nisi Shawl, Kim-Mei Kirtland, Trevor Quachri, and Emily Hockaday.
(3) CITY TECH SF SYMPOSIUM. Gillian Polack, who spoke at yesterday's Symposium, presents an expanded version of her paper, "The Problem of Susan Australia, or, The Tyranny of Distance" in this video.
(4) SECOND FIFTH. John O'Neill analyzes "The Controversy over Nebula Awards Showcase 55, edited by Catherynne M. Valente" at Black Gate.
I'm hearing grousing about the latest Nebula Awards Showcase, edited by the distinguished Catherynne M. Valente.

This is the 55th volume in the long-running series, and the second to be published directly by SFWA, the Science Fiction Writers of America. As is customary, it contains the complete Nebula award-winning stories, as selected by that august body, as well as a tasty selection of the other nominees, as selected at the whim of the editor.

Well — not exactly. And that seems to be the crux of the problem. For the first time I can remember, the Nebula Awards Showcase contains only one of the winners from last year, A. T. Greenblatt's short story "Give the Family My Love," originally published in Clarkesworld. All the others — including the winners in novelette, novella, and novel category — are represented only by brief excerpts….
(5) AFROFUTURISM. At the SFWA Blog, Maurice Broaddus says adults "notoriously underestimate middle school students" and talks about "writing stories more through the lens of Black joy rather than Black trauma" in "Black Joy and Afrofuturism for Young Readers".
…One way to define Afrofuturism is that it centers joy and hope. Black joy is the tenacity and audacity of Black culture. It exists outside and indifferent to the gaze of dominant culture. It recalls that Black people had life, history, and culture before, during, and outside of the dominant culture's racial caste system. It basks in the beauty of what it means to be a people and a culture.

It is Black art that centers ourselves, who we are, who we could be, enjoying that totality without guilt….
(6) STATE LAWS TO AID LIBRARY ACCESS TO EBOOKS TARGETED BY PUBLISHERS GROUP SUIT. "AAP Sues to Block Maryland, New York Library E-book Laws" reports Publishers Weekly.
The Association of American Publishers filed suit December 9 to stop a new library e-book law in Maryland from taking effect on January 1, claiming that the law, which would require publishers who offer to license e-books to consumers in the state to also offer to license the works to libraries on "reasonable" terms, is unconstitutional and runs afoul of federal copyright law…
The Association of American Publishes explained the reasons for their suit in a statement on their website:
…"Maryland does not have the constitutional authority to create a shadow copyright act or to manipulate the value of intellectual property interests," commented Maria A. Pallante, President and CEO of the Association of American Publishers and former head of the United States Copyright Office. "It is unambiguous that the U.S. Copyright Act governs the disposition of literary works in commerce—and for that matter, all creative works of authorship. We take this encroachment very seriously, as the threat that it is to a viable, independent publishing industry in the United States and to a borderless copyright economy."

The complaint, filed in federal court in Maryland, argues that the Maryland law is preempted by the United States Copyright Act, unconstitutionally interferes with interstate commerce, and violates the Constitution's Due Process clause by mandating vague and unspecified licensing requirements….
(7) WALKING THE RED CARPETS OF MIDDLE-EARTH. Twenty years sure went by fast! Polygon says "The Lord of the Rings cast premiere photos are priceless 2001 nostalgia". They're really good photos in any event.
…The hype was already real by the time promotion for The Lord of the Rings: Fellowship of the Ring ramped up. In April 2000, the internet-exclusive trailer for Fellowship was downloaded from Apple Trailers 1.7 million times in its first 24 hours, breaking a record set by Star Wars: Episode I — The Phantom Menace. (Compare that, though, to the present-day record: Spider-Man: No Way Home's first trailer, released in August and viewed 355.5 million times in the first 24 hours.) But by May 2001, the time had come to reassemble the fellowship … for many, many, many step-and-repeat red carpet opportunities.

Photographic evidence of the high-stakes press gauntlet for Fellowship suggests that Elijah Wood, Ian McKellen, Viggo Mortensen, Sean Astin, Billy Boyd, Dominic Monaghan, Sean Bean, Orlando Bloom, John Rhys-Davies, and Liv Tyler (bringing some much-needed femininity to the red carpet bro-out) had a decent time flying around the world to preach the blockbuster word…
(8) EATING THE FANTASTIC. Scott Edelman invites listeners to eavesdrop on a mid-'70s Marvel Bullpen reunion with Bob Budiansky in episode 160 of his Eating the Fantastic podcast.
This episode's guest, Bob Budiansky, is a old Marvel Bullpen pal… When I was working at mid-'70s Marvel Comics and decided I no longer wanted to edit their line of British reprint books, I got yet another SUNY Buffalo student and newspaper coworker, Jay Boyar, to take my place, and then when he moved on, he recommended Bob. And that serendipity is how his 20-year career at Marvel Comics was born.

Bob's led a multifaceted comics career as a writer, artist, and editor. He's written (among other things) The Avengers and all 33 issues of Sleepwalker, a character he co-created, plus most of Marvel's run of The Transformers, for which he came up with the names of most of the original Transformers, including Megatron. In fact, his contributions to that franchise were so great that in 2010 he was inducted into the Transformers Hall of Fame.

…We discussed the vast differences between the hoops we each had to jump through to get hired back then, why the Skrulls were responsible for him liking DC better than Marvel as an early comics fan, the serendipitous day he attended a wedding and learned the origin of the Golden Age Green Lantern from its creator, why he stopped reading comics in high school … and how Conan the Barbarian got him started again, which Marvel Bullpen staffer saw his art portfolio and suggested he consider a different career, what it was like to witness the creation of Captain Britain, how got his first regular gig drawing covers for Ghost Rider, his five-year relationship developing 250 Transformers characters for Hasbro, and much more.
(9) EATING ONLY SOME OF THE FANTASTIC. The Offing posted G.G. Russey's grimm but grotesquely funny "Hansel & Gretel: The Fully-Restored Vegan Version".
… After three days of wandering, the hungry children came upon a gingerbread house mortared with frosting. Hansel rushed over to take a bite.

"Stop, Hansel! You can't just eat a stranger's house! It could contain animal products!"…
(10) TWO-PART HARMONY. Now on Fanac.org's YouTube channel: Wrong Turns on the Wallaby Track: Australian SF Fandom 1936-60, Leigh Edmonds, Perry Middlemiss in 2 parts.
In this delightful Fan History Zoom (Dec 2021), historian Leigh Edmonds provides both context and details of Australian Science Fiction Fandom in the early days. Beginning with an introduction to Australian history of the period by Perry Middlemiss, the session entertainingly describes the important fans, and clubs from the beginnings in Sydney with a Science Fiction League branch, to the Futurian Society of Sydney and the Thursday night group. Leigh provides both entertaining and instructive insights, from the parallels to US fannish history, to the Australian group whose "main form of entertainment was feuding", and the impact on science fiction readers of the Australian wartime embargo on the import of unnecessary items. He discusses the uniquely Australian barriers to becoming a professional writer in the field, the banning of Weird Tales on moral grounds and more….

Leigh Edmonds is an Australian historian, and honorary research fellow at the Collaborative Research Centre in Australian History (CRCAH) at Federation University in Ballarat, Australia. He is also a very long term science fiction fan. Perry Middlemiss is a fanwriter and editor as well as a former Worldcon chair.

Note: To begin Leigh had technical difficulties for the first 10 minutes so his portion begins after an excellent, but slightly long, introduction by Perry Middlemiss.
(11) CHRIS ACHILLEOS (1947-2021). Artist Chris Achilleos died December 6. His work has appeared in Heavy Metal, on book covers including series based on Conan the Barbarian, Doctor Who and Star Trek, as well as collections of his own work. Collections of his art include Amazona, Sirens, and Beauty and the Beast. Since 1990 he has mostly worked in designing fantasy trading cards as well as selling prints and original works of art.
(12) MEDIA BIRTHDAY.
2003 — [Item by Cat Eldridge.] Eighteen years ago, Big Fish premiered. It was directed by Tim Burton from the screenplay by John August which he did off of Daniel Wallace's Big Fish: A Novel of Mythic Proportions. The cast is, if I must say so myself, amazing: Ewan McGregor, Albert Finney, Billy Crudup, Jessica Lange, Helena Bonham, Carter Alison Lohman, Robert Guillaume, Marion Cotillard, Steve Buscemi and Danny DeVito. Did critics like it? Generally quite so. ReelThoughts said of it, "Big Fish is a clever, smart fantasy that targets the child inside every adult without insulting the intelligence of either." The box office was modest at best, making just under one hundred twenty-five million against seventy million in production costs not counting marketing. Audience reviewers at Rotten Tomatoes currently give it a most excellent rating of ninety percent.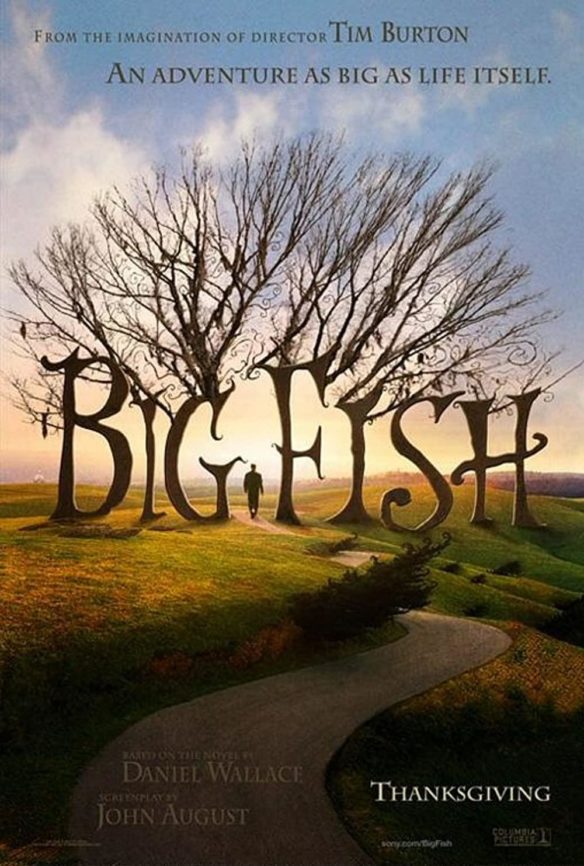 (13) TODAY'S BIRTHDAYS.
[Compiled by Cat Eldridge.]
Born December 10, 1815 — Ada Lovelace. Lovelace was the only legitimate child of poet Lord Byron and his wife Lady Byron. She was an English mathematician and writer, principally known for her work on Charles Babbage's proposed mechanical general-purpose computer, the Analytical Engine. Genre usage includes Gibson and Sterling's The Difference Engine, Stirling's The Peshawar Lancers and Crowley's Lord Byron's Novel: The Evening Land. (Died 1852.)
Born December 10, 1903 — Mary Norton. Author of The Borrowers which won the 1952 Carnegie Medal from the UK's Chartered Institute of Library and Information Professionals recognizing the novel as the year's outstanding children's book by a British author. She would continue to write these novels for three decades. Hallmark turned one into a film in the early Seventies. Her novels The Magic Bed Knob; or, How to Become a Witch in Ten Easy Lessons which was nominated for a Retro Hugo at Dublin 2019, and Bonfires and Broomsticks would be adapted into the Disney film Bedknobs and Broomsticks in the same period. (Died 1992.)
Born December 10, 1927 — Anthony Coburn. Australian writer and producer who spent most of his career living and working in the U.K. He was closely involved in the earliest days of Who to the extent that it's believed it was his idea for the Doctor's travelling companion, Susan, to be The Doctor's granddaughter. He wrote four scripts for the show, of which Only An Unearthly Child was used. His never produced "The Masters of Luxor" Who script was released by Big Finish Productions as adapted by Nigel Robinson. Titan Books has previously released it as a novel. (Died 1977.)
Born December 10, 1928 — John Colicos. You'll remember him as being the first Klingon ever seen on Trek, Commander Kor in the "Errand of Mercy" episode. (He'd reprise that role as the 140-year-old Kor in three episodes of Deep Space Nine.) He'll next show up as Count Baltar in the original Battlestar Galactica continuity throughout the series and film. He'll even show up as the governor of Umakran in the Starlost episode "The Goddess Calabra". He also played three roles on the original Mission: Impossible. (Died 2000.)
Born December 10, 1946 — Douglas Kenney. He co-founded National Lampoon in 1970 along with Henry Beard and Robert Hoffman. With Beard alone in 1969, he wrote Bored of the Rings. Kenney died after falling from a 35-foot cliff called the Hanapepe Lookout in Hawaii. It was ruled accidental. Chris Miller, co-writer of Animal House with him and Harold Ramis, paid homage to him by naming the main character in Multiplicity Doug Kinney, a variation on his name. (Died 1980.)
Born December 10, 1953 — Janny Wurts, 68. Illustrator and writer. She's won three Chesley Awards, plus a HOMer Award for her Servant of the Empire novel. I strongly recommend the Empire trilogy that she co-authored with Raymond E. Feist, and her excellent That Way Lies Camelot collection was nominated for a BFA.
Born December 10, 1960 — Kenneth Branagh, 61. Branagh's better genre work includes his roles as Victor Frankenstein in Mary Shelley's Frankenstein and Gilderoy Lockhart in Harry Potter and the Chamber of Secrets. As a Director, I'm only seeing Mary Shelley's Frankenstein and Thor — anyone know of anything else genre related? Is Hercule Poirot genre adjacent? I think so.
Born December 10, 1984 — Helen Oyeyemi, 37. I like it when a birthday results in my adding to my audiobook listening list. She's resident in Prague now and her take on European folktales that surround her there is particularly sharp in Mr. Fox, which was nominated for an Otherwise Award, off that well known tale. And White is for Witching has all the makings of a damn fine haunted house story. Now one should not overlook her Icarus Girl, her first novel, which is fascinating. I've not encountered Gingerbread, her latest novel.
(14) COMICS SECTION.
(15) WHAT IF? SPINOFF. Captain Carter, recently featured in Marvel Studios' What If, will report for duty in her very own comic series this March. Jamie McKelvie will write the series and design the character's brand-new look. McKelvie will be joined by rising star artist Marika Cresta, known for her recent work on Star Wars: Doctor Aphra.
The five-issue limited series introduces Captain Carter in an adventure that will find Peggy Carter as a woman out of time, facing the reappearance of an old foe in modern day and deciding what she stands for as the wielder of the shield.

A reality where Agent Peggy Carter took the Super-Soldier Serum instead of Steve Rogers is turned upside down when the World War II hero is pulled from the ice where she was lost in action decades before. Peggy struggles to find her footing in a modern world that's gotten a lot more complicated – cities are louder, technology is smarter and enemies wear friendly faces. Everyone with an agenda wants Captain Carter on their side, but what does Peggy want? And will she have time to figure it out when mysterious forces are already gunning for her?
(16) VOLUNTEER FOR DISCON III. Here is another reason to become a virtual volunteer for next week's Worldcon.
(17) CARBON-BASED UNITS. The Guardian's Daniel Aldana Cohen hopes Kim Stanley Robinson, author of Ministry for the Future, has the answer: "How will humanity endure the climate crisis? I asked an acclaimed sci-fi writer".
…The first lesson of his books is obvious: climate is the story. Compared with the magnitude of the crisis, this year's United Nations climate summit, Cop26, was a poorly planned pool party where half the guests were sweating in jeans, having forgotten their swimming suits. If you're reading this, you probably know what climate science portends – and that nothing discussed in Glasgow was within rocket range of adequate. What Ministry and other Robinson books do is make us slow down the apocalyptic highlight reel, letting the story play in human time for years, decades, centuries. The screen doesn't fade to black; instead we watch people keep dying, and coping, and struggling to shape a future – often gloriously.

I spoke to Robinson recently for an episode of the podcast The Dig. He told me that he wants leftists to set aside their differences, and put a "time stamp on [their] political view" that recognizes how urgent things are. Looking back from 2050 leaves little room for abstract idealism. Progressives need to form "a united front," he told me. "It's an all-hands-on-deck situation; species are going extinct and biomes are dying. The catastrophes are here and now, so we need to make political coalitions."…

… Robinson's elegant solution, as rendered in Ministry, is carbon quantitative easing. The idea is that central banks invent a new currency; to earn the carbon coins, institutions must show that they're sucking excess carbon down from the sky….
(18) JEOPARDY! Andrew Porter witnessed tonight's Jeopardy! contestants overlooking the author of Frankenstein.
Final Jeopardy: 19th Century British Authors.

Answer: She called herself "the daughter of two persons of distinguished literary celebrity" in an introduction to one of her novels.

Wrong questions: Who is George Elliot? and Who is Emily Bronte?

Correct question: Who is Mary Shelley?
(19) ENTERPRISING ARTIST. [Item by Ben Bird Person.] Artist Alain Gruetter did this piece based on Star Trek: Enterprise (2001-2005) featuring the Xindi-Aquatics and Xindi-Insectoids from their third season (2003-2004).
(20) IT WILL TAKE MORE THAN A BELL. Wings now, but pixels in the future. More than a dozen people, including William Shatner, are being awarded their astronaut wings by the US government, however, they may be among the last. "First on CNN: The US gives Bezos, Branson and Shatner their astronaut wings" at CNN.
…The Federal Aviation Administration will […] award Commercial Space Astronaut Wings to […] eight people who flew on Blue Origin's New Shepherd spacecraft, three who flew on Virgin Galactic's SpaceShipTwo, and to the four members of the SpaceX crew who spent three days in space in September, CNN has learned.

But the space tourism industry shouldn't get used to this generous allocation of wings from the federal government. In a twist, the FAA has decided to end the entire Commercial Space Astronaut Wings program on January 1. After that, the FAA will simply list the names of everyone who flies above the 50-mile threshold, the US-recognized boundary of space, on a website….
(21) STICKY SUBJECT. CBR presents an extended look at Spider-Man and Doc Ock's first fight from No Way Home.
Much to Peter Parker's confusion, Otto Octavius appears on an overpass bridge and demands to know what has happened to his machine. When Peter doesn't have any answers, Doctor Octopus begins throwing cars, endangering the lives of the civilians nearby.
(22) SECOND SERVING OF HEDGEHOG. Could Jim Carrey's mustache here be the phoniest of all time?
(23) HALO THE SERIES. This first-look trailer for Halo was shown during The Game Awards last night. Halo the series will be streaming in 2022 on Paramount+.
Dramatizing an epic 26th-century conflict between humanity and an alien threat known as the Covenant, Halo the series will weave deeply drawn personal stories with action, adventure and a richly imagined vision of the future.
[Thanks to Martin Morse Wooster, JJ, John King Tarpinian, Mike Kayinsky, Ben Bird Person, Lise Andreasen, Jennifer Hawthorne, Chris Barkley, Jeffrey Smith, Andrew Porter, Michael Toman, Cat Eldridge, and Mike Kennedy for some of these stories. Title credit belongs to File 770 contributing editor of the day Andrew (not Werdna), part of "The Hugo Pixel Scroll Winners" series.]