(1) CHANGES TO NY TIMES BESTSELLER LISTS. Publishers Weekly reports "'NYT' Shifts Its Lists Again". Mass market paperbacks and graphic books will be tracked again, and middle grade paperback and YA paperback lists will debut.
The New York Times Book Review has announced a new slate of changes to its bestseller lists, both in print and online.

After cutting the mass market paperback and graphic novel/manga lists in 2017, the Times' Best Sellers team will again track mass market paperback sales, as well as debut a combined list for graphic books, which will include fiction, nonfiction, children's, adults, and manga. Two new monthly children's lists, middle grade paperback and young adult paperback, will debut as well. (The Times retired its middle grade e-book and young adult e-book lists in 2017.) In addition, the Times will cut its science and sports lists, explaining that "the titles on those lists are frequently represented on current nonfiction lists." The changes are effective October 2 online and October 20 in print.

The Times has already cut back its print lists on the combined print/e-book and print hardcover lists to 10 titles, from 15, although the online lists will continue to show 15 titles. A representative of the paper said that the change "was made for design reasons, specifically to improve the readability of the lists in print."
(2) KGB. Fantastic Fiction at KGB reading series hosts Ellen Datlow and Matthew Kressel present Barbara Krasnoff and Nicole Kornher-Stace on Wednesday, October 16.
Barbara Krasnoff
Barbara Krasnoff is the author of over 35 short stories, including "Sabbath Wine," which was a finalist for the Nebula Award, and recently published a mosaic novel titled The History of Soul 2065. She's also responsible for a series of captioned photos that can be found under the hashtag #TheirBackstories.
Nicole Kornher-Stace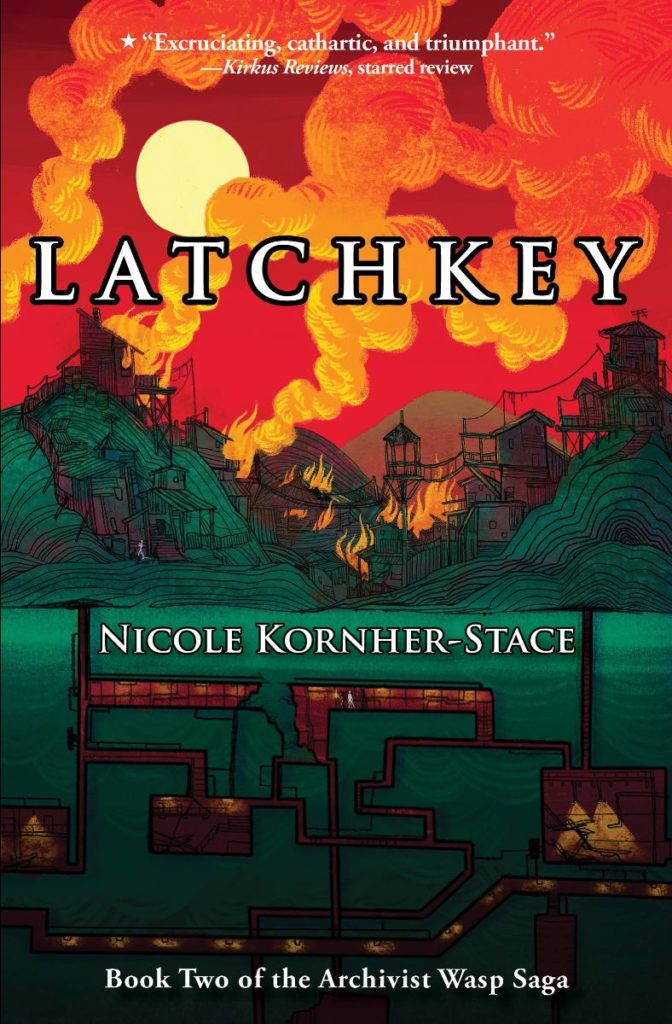 Nicole Kornher-Stace is the author of the Norton Award finalist Archivist Wasp and its sequel, Latchkey. Her next novel, Firebreak, is due out from Saga in 2020. She can be found online at nicolekornherstace.com or on Twitter @wirewalking.
The event begins 7 p.m. at the KGB Bar, 85 East 4th Street (just off 2nd Ave, upstairs.)
New York, NY.
(3) SUNDAY IN THE PARK. Last Sunday at the Brooklyn Book Festival, Andrew Porter took this photo of the Dell Magazines booth which was hosted by Asimov's editor Sheila Williams and her daughter.
Sheila Williams and daughter. Photo by and (c) Andrew Porter.

Sheila Williams and daughter. Photo by and (c) Andrew Porter.
(4) NEW AWARD PROMOTES DIVERSE SFF. Gollancz and author Ben Aaronovitch are launching a writing prize championing under-represented voices in science fiction, fantasy and horror after stats showed less than 1% of the genres' books come from British BAME authors. (BAME is used in the UK to refer to black, Asian and minority ethnic people.)
Submissions for the Gollancz and Rivers of London BAME SFF Award will be taken from October 1, 2019 until January 31, 2020 — 5,000 to 10,000 words consisting of either a self-contained short story or the opening of a novel that fits into the scifi, fantasy or horror genres
The prizes include:
£4,000 for the overall winner alongside a critique and year-long mentoring programme with Gollancz commissioning editor Rachel Winterbottom.
Second place: £2,000 and a critique of their work
Five runners-up will receive £800 and a Gollancz goodie bag.
Gollancz publisher Anne Clarke said:
The current lack of representation in science fiction and fantasy is no secret and it has to change. As modern speculative fiction publishers, we at Gollancz have a responsibility not just to say our doors are open, but to actively seek out and support writers whose backgrounds and experience have historically been – and still are – under-represented in our genre. I hope this award will encourage writers who have perhaps not always felt welcome in the world of science fiction and fantasy publishing and I'm looking forward to discovering exciting new writing talent within the submissions.
[Via Locus Online.]
(5) CINEMA'S SPINOFF STINKERS. ScreenRant offers these titles as "10 Of The Worst Spin-Off Movies Of All Time According To IMDB". Most are sff.
It's Hollywood logic to try bleed more money from a stone. Whenever there's a successful franchise, it's natural for studios to stay safe and invest in more of the same product and produce as many sequels, prequels, TV shows, and reboots of the property. However, every so often, Tinseltown fails to catch lighting in a bottle a second time. Not every movie deserves 815 more iterations of the same story.
In the middle of the list is —
5. CATWOMAN

Long before DCEU fans bemoaned the current DC movies, they were (rightfully) bailing on another one. Somehow, DC was able to zap all of the fun and sultriness out of Selina Kyle for the long-gestating Catwoman movie, which starred Oscar winner Halle Berry, Sharon Stone, and Benjamin Bratt. All in all, not a bad trio. So what went wrong?
First, the entire origins of a cat burglar/vixen are heaved out the window and replaced with an Egyptian Cat Mythology. That mythology would have worked if it was a little more thought out and the movie itself wasn't just an excuse to feature the gorgeous Berry in as little clothing as possible.
(6) STEAMFEST. Cora Buhlert shares lots of photos in her report "Steampunk in East Frisia: Steamfest Papenburg 2019". (Before I read Cora's post, Papenburg was, for me, only an obscure reference in a Patrick O'Brien novel.)
…Steampunk is not exactly something you would associate with Papenburg, even though the steamship MV Liemba a.k.a. Graf Goetzen, which starred in The African Queen as the German gunboat Königin Luise, was built here in 1913. Therefore, I was very surprised to learn that Papenburg not only has an active Steampunk community, but also hosts Steamfest, a Steampunk festival which took place for the second time in 2019. And since Papenburg is only about 114 kilometres away, I of course decided to pay Steamfest a visit.
(7) SHORT SFF FOR YOUR TBR PILE. Alex Brown monthly picks are listed on Tor.com: "Must-Read Speculative Short Fiction: September 2019".
Magic as revenge, retaliation, or retribution is the theme of many of September's best short speculative fiction stories. There are some new authors on this list alongside some very well-known names, yet no matter where they are career-wise, the stories they've written have left a mark on this world. Here are some of the ten best science fiction, fantasy, and horror short stories I read in September.
(8) FUTURE TECH CRIMINALS. Editors Eric Bosarge and Joe McDermott have launched a Kickstarter to fund their The Way of the Laser: Future Crime Stories anthology from VernacularBooks.
The contributing authors include Kameron Hurley, Mur Lafferty Patrice Sarath, Wendy Wagner, Julie C Day, Paul Jessup, Jamie Mason, Bonnie Jo Stufflebeam, Ross Lockhart, Karen Bovenmyer, with open submissions to new authors.
It used to be if someone wanted to mug you, they had to look you in the face and make a threat. Not anymore. Hackers can wipe a bank account without ever having to risk drawing blood. Bad people use technology for personal gain. Nothing's new about that. What is new is the ways technology opens up opportunities for exploitation.

New technology is coming on-line all the time, creating new opportunities for creative criminals and dissidents. Stolen elections, companies held hostage by hackers, and acts of terror have all been committed with technology that didn't exist a few short years ago.

Join leading edge speculative fiction authors on an exciting walk into darkness where people and machines plunder, cheat, kill, and steal in ways we can't even imagine with tools that may not even exist, yet. But, they're coming.
(9) SATIRE ON TWO WHEELS. Remember Knight Rider? Well, here's David Hasselhoff in Moped Rider…
(10) TODAY IN HISTORY.
September 27, 1958 — In Italy, The Day the Sky Exploded (Italian: La morte viene dallo spazio, "Death Comes From Space". It is known as the first Italian SF film, predating even the SF films of Antonio Margheriti.
September 27, 1979 — Buck Rogers in the 25th Century began its regular first season (after the airing of the film) with an episode called "Planet of the Slave Girls".
September 27, 2002 — Joss Whedon's Firefly premiered on Fox TV. It was cancelled after eleven of the fourteen produced episodes were aired. Eventually it concluded in a film called Serenity which Will Shetterly reviewed here.
(11) TODAY'S BIRTHDAYS.
[Compiled by Cat Eldridge.]
Born September 27, 1902 — Henry Farrell. Novelist and screenwriter, best known as the author of the "What Ever Happened to Baby Jane?" story which was made into a film of the same name starring Bette Davis and Joan Crawford. (Died 2006.)
Born September 27, 1932 — Roger Charles Carmel. The original Harcourt Fenton "Harry" Mudd as he appeared in two episodes of the original Star Trek, "Mudd's Women" and "I, Mudd"" and one episode of the animated series as well, "Mudd's Passion". I say original because Discovery has decided that they have a Harry Mudd. He also had one-offs on I-Spy, Munsters, The Man from U.N.C.L.E., Voyage to the Bottom of the Sea and Batman. It is rumored but not confirmed he was going to reprise his role as Harry Mudd in a first-season episode of Next Gen but died before filming could start. (Died 1986.)
Born September 27, 1934 — Wilford Brimley, 85. His first genre role is as Dr. Blair in John Carpenter's The Thing. He's Benjamin 'Ben' Luckett in the Cacoon films, and Agency Director Harold Smith in Remo Williams: The Adventure Begins. He made a rather splendid President Grover Cleveland in The Wild Wild West Revisted. And finally I note that he was Noa in Ewoks: The Battle for Endor. 
Born September 27, 1947 — Meat Loaf, 72. He has a tasty role as Eddie in The Rocky Horror Picture Show. And I'd argue some of his music videos are genre stories in their own right. He also has film roles in Wishcraft (horror), Stage Fright (horror) and Urban Decay (yes, more horror). He's also in BloodRayne which is yes, horror. He's had one-offs on Tales from the Crypt, The Outer Limits, Monsters, Masters of Horror and was Doug Rennie, a main cast member of Ghost Wars. 
Born September 27, 1950 — Cary-Hiroyuki Tagawa, 69. He'd be on the Birthday Honors list if he'd only been Zylyn in Space Rangers which lasted only six episodes. Damn. But he's also shown up on Babylon 5, the premier of Star Trek: The Next Generation, Superboy, Alien Nation, the Australian version of Mission: Impossible, Sabrina the Teenage Witch, Stargate SG-1, Poltergeist: The Legacy, The Librarians, voicing characters on Teenage Mutant Ninja Turtles and Star Wars Rebels. He's currently got two main roles going, the first being Nobusuke Tagomi in The Man in The High Castle, the other being Hiroki Watanabe in Lost in Space. 
Born September 27, 1956 — Sheila Williams, 63. Editor, Asimov's Science Fiction last fifteen years. She won the Hugo Award for Best Short Form Editor in 2011 and 2012. With the late Gardner Dozois, she co-edited a bonnie bunch of anthologies such as Isaac Asimov's Robots, Isaac Asimov's Christmas and Isaac Asimov's Cyberdreams. She was also responsible for the Isaac Asimov Award for Undergraduate Excellence in Science Fiction and Fantasy writing being renamed the Dell Magazines Award for Undergraduate Excellence in Science Fiction and Fantasy Writing. 
Born September 27, 1972 — Gwyneth Paltrow, 47. Yes, she is Pepper Potts in the Marvel Universe film franchise but her first genre role was as a young Wendy Darling in Hook. And she shows up in Sky Captain and the World of Tomorrow asPolly Perkins, a reporter for The Chronicle. 
(12) ROCKET ROYALTY. In Olav Rokne's post "Many Princes; One Crown" at the Hugo Book Club Blog, readers are reminded of the challenges in voting on works translated to English, beginning with a recent Retro-Hugo winner.
…But the case of The Little Prince is more comparable to that of the first translated work to appear on a Hugo Ballot: the 1963 novel Sylva, which was written by French war hero Vercors (A.K.A. Jean Bruller). No translator is mentioned on the dust jacket of the book. And until this summer, when the record was updated at our request, the official Hugo Awards site did not list the name of the translator, Rita Barisse. The Wikipedia entry for the Hugo Awards, and several other publications continue to neglect Barisse's contribution to the work….
(13) LAFFERTY AWARENESS. Shelf Awareness checks in with the author of Lies My Teacher Told Me in "Reading with… James W. Loewen". R.A. Lafferty gets a big shout-out:
Book you're an evangelist for:

The only historical novel I recommend without reservation: Okla Hannali by R.A. Lafferty. Even though by a white author, I credit it as a Choctaw history of the 19th century, in the form of a biography of a fictional Choctaw leader who was born in Mississippi around 1801 and died in Oklahoma in 1900. I realize such a statement creates all sorts of problems for me–expropriation of Native knowledge, white arrogance, etc. My only defense is the work itself. I have no idea how Lafferty, otherwise known for science fiction, learned so much about Choctaws (and white folks), but every time I have checked out any fact in Okla Hannali, no matter how small, Lafferty got it right. And what a read! Only a little over 200 pages long, but an epic, nevertheless.
(14) ANOTHER WAY OF LOOKING AT THINGS. David Gerrold contends art and the artist should be regarded separately in his public Facebook post:
So let's say that I point out that the owners of a specific fast-food chain have donated a lot of money to anti-LGBTQ+ causes.

This is not an invitation to say:

"The food is terrible."

Let's say that I point out that a particular actor has said some unsavory things about politics. This is not an invitation to say,

"She can't act anyway."

Or maybe a well-known author has said something egregiously stupid. That's not an invitation to say,

"I never liked his writing in the first place." …
(15) ETERNAL QUESTIONS. Meantime, Michael A. Burstein invited his FB friends to study a different moral dilemma:
You are on a runaway trolley. On one track are five people who have not yet seen The Good Place and don't intend to, and who will die if you don't move the lever. On the other track is one person who, like you, is caught up and can discuss the show with you. What do you do?
(16) PENN AND POURNELLE. There's a pair of names you wouldn't put in the same sentence – unless you're Tedium's Ernie Smith. In "All Penn, No Teller" he recalls when Penn Jillette was "a sometimes-rebellious big-name computer magazine columnist in the '90s."
…Now, tech writing of this era doesn't have the pedigree of, say, good music journalism in the 1970s. Certainly, there were good tech writers during this time, particularly free-wheeling voices like fellow moonlighter Jerry Pournelle of Byte, hard-nosed insiders like journeyman scribe John C. Dvorak and the long-anonymous Robert X. Cringely, and well-considered newspaper voices of reason like syndicated columnist Kim Komando and the Wall Street Journal's Walt Mossberg.

But Jillette was something different. He was already famous—certainly more famous than Pournelle, an established science-fiction author, thanks to being a regular fixture on television during much of his career and starring in a legendary Run-DMC music video—and he likely did not need a nationally distributed computer magazine column to make a living. Jillette simply liked computers and knew a lot about them, which meant that he could rant about the details of an Autoexec.bat file just as easily as he can about politics. He gave the tech writing form something of an edge, while maintaining the freewheeling nature established by fellow pre-blogging voices like Pournelle….
(17) EARLY WORMS. Science Daily reports "Otherworldly worms with three sexes discovered in Mono Lake". The lede reads:
"Caltech scientists have discovered a new species of worm thriving in the extreme environment of Mono Lake. This new species, temporarily dubbed Auanema sp., has three different sexes, can survive 500 times the lethal human dose of arsenic, and carries its young inside its body like a kangaroo."
Terry Hunt sent the link in with a note: "I was irresistibly reminded of Vonda N. McIntyre's story 'Of Mist, and Grass, and Sand' and its novel expansion Dreamsnake."
(18) LOOKING FOR ET IN YOUR OWN BACKYARD. The Beyond Center presented the 2019 Eugene Shoemaker Memorial Lecture with James Benford on September 5.
Abstract: A recently discovered group of nearby co-orbital objects is an attractive location for extraterrestrial intelligence (ETI) to locate for observing Earth. Near-Earth objects provide an ideal way to watching our world from a secure natural object that provides resources an ETI might need: materials, a firm anchor, concealment. These co-orbital objects have been little studied by astronomy and not at all by SETI or planetary radar observations. I describe the objects found thus far and propose both passive and active observations of them by optical and radio listening, radar imaging and launching probes. We might also broadcast to them.
(19) SMACK DAB ON THE MOON. "Chandrayaan-2: India Moon probe made 'hard landing', says Nasa" – BBC has the story.
India's Moon rover, which lost contact moments before it was to touch down on the lunar surface earlier this month, had a "hard landing", Nasa has said.

New pictures from a Nasa spacecraft show the targeted landing site of the Vikram rover, but its precise location "has yet to be determined".

The images were taken at dusk, and were not able to locate the lander.

India would have been the fourth nation to make a soft landing on the Moon.

Chandrayaan-2 was due to touch down at the lunar South Pole on 7 September, over a month after it first took off.

It approached the Moon as normal until an error occurred about 2.1km (1.3 miles) from the surface, Indian space officials said.

On Friday, Nasa tweeted the images of the targeted landing site of the Indian module.
(20) STAR WARS AT DISNEYLAND. Good Morning America shared an advance look at the "Rise of the Resistance" attraction that will be part of the Star Wars: Galaxy's Edge area of the Disney parks,
(21) TITAN PROBE. According to the MIT Technology Review "NASA is testing a shape-shifting robot that could explore Saturn's moon Titan". NASA's Shapeshifter would change its configuration to meet the demands of the mission.
The future: The fully realized version of Shapeshifter would be a "mothercraft" lander that carries a collection of 12 mini robots ("cobots") to the surface, acts as the main power source, and uses a suite of scientific instruments that can directly analyze samples. The cobots could work together to carry and move the mothercraft to different areas. They would be able to operate individually or as one cohesive unit, in order to adapt to a variety of terrains and environments.

For example, the cobots would be able to separate and fly out in different directions or together as a flock, link up together like a barrel of monkeys in order to explore narrow caves and caverns, or even float on or swim in liquid.
(22) SURVIVE BY A WHISKER. Gato Roboto is a video game designed to let you channel your inner feline.
Pounce inside of your cozy armored mech and set off on a dangerous trek through an alien underworld full of irritable creatures and treacherous obstacles in a valiant effort to save your stranded captain and his crashed spaceship. Tiptoe outside the friendly confines of your technological marvel and follow your feline instincts through tight tunnels and mysterious waterways to scavenge for new weapons and gear. Adventure awaits the most curious of cats in Gato Roboto!
[Thanks to John King Tarpinian, JJ, Chip Hitchcock, Mike Kennedy, Martin Morse Wooster, Cat Eldridge, Terry Hunt, Nina Shepardson,Cliff, Rob Thornton, Michael J. Walsh, and Andrew Porter for some of these stories. Title credit belongs to File 770 contributing editor of the day Anna NImmhaus.]