(1) GIBSON TOPS THIS LIST. The Times of London's Simon Ings picked the five "Best sci-fi books of the year 2020" (behind a paywall). He rates William Gibson's Agency the best of the year. The other four you'll have to pay to find out.
(2) LOSCON ONLINE. This weekend's Virtual Loscon 2020 Panel with Guests of Honor video is available, as are many more panels on Loscon's YouTube channel.
Writer Guest Dr. Gregory Benford, our Artist Guest Jeff Sturgeon, and the Fan Guests of Honor Dennis and Kristine Cherry have all agreed to be there and look forward to next year. Hear from them in our deluxe virtual panel space this year, chatting with Loscon 47 chairman Scott Beckstead and Zoom Elf Susan Fox.
(3) BREEZYCON. Likewise, several of the panels from Breezycon, this year's online replacement for Windycon, can be found at Windycon's YouTube channel.
They include: Breezycon Opening Remarks, Software for your Home Rapid Prototyping Technology, 3D Printers and Lasers and CNC Mills, Oh My, Before Hastings, The Worldcon is Coming to Chicago, Ray VanTilburg Studio Tour, Characters Motivations in a Post Scarcity World, and Staying Productive as a Writer Through Lockdown (the last "About the experience of being a writer during the pandemic and its effects on one's process and work" with panelist: Seanan McGuire and moderator: Evan Reeves.)
(4) WHERE DO YOU GET YOUR IDEAS? This time the author can tell you. "Owl Be Home For Christmas" – Diane Duane had to write it.
Sometimes work and life come at you fast, in tandem.

I was taking a break from work on Tales of the Five 3: The Librarian last week, and (as I do frequently during the day) having a look at Twitter, when something unusual came across my dashboard: this.
So: a status report. I'm well into the body of the story now. My estimate at the moment is that it will run about 20.000 words. (If I need more, I'll take more: but I refuse to push a story into being longer than it needs to for mere length's sake.)

My intention is to drop the story on both Amazon and at Ebooks.Direct in the early evening (7PM-ish US/EST) of December 2, 2020, to coincide with the lighting of the tree in Rockefeller Center. I'll tweet the Amazon and EBD links then, and I'll add purchase links / widgets on this blog post/page: so you might want to bookmark it. If you're a Twitter user, you can also keep an eye on the #OwlBeHomeForChristmas hashtag there—I'll use it to post the occasional update between now and Wednesday.
(5) AN INSIDE LOOK WITH JMS. J. Michael Straczynski has started a series of video commentaries about his Babylon 5 episodes for subscribers to his Patreon at the $10/mo and above level.
So despite my utter horror at the prospect of appearing on-camera, because there's always someone, somewhere (usually in Bolivia) who points at the image and screams, "That's him! That's the guy that did it!", I've begun doing exclusive video reactions/commentaries to Babylon 5 episodes for my Patrons at Starfury level or above.

The first to have gone up is "The Parliament of Dreams," which — because I'm doing a commentary on the full episode, and can't put that online, has to be done as a home-sync, meaning viewers cue up the episode at home — has gone over remarkably well.

The plan is to do commentaries that are not on the DVDs, but in some cases there will be the same episodes because time has lent a new perspective to the show as I look back on it. So they will be either new or very different from what came before.

Patrons get to vote on which episode I do next. The current poll is Infection, And the Sky Full of Stars, and Signs and Portents.

Should these continue to go well and not lead to unwanted visitations by Homeland Security, I will likely also start to do some on Sense8 and some of the movies.
(6) FAN FITNESS. "Stroll With the Stars: Home Edition Fall 2020" is another ingenious virtual workaround of a convention tradition.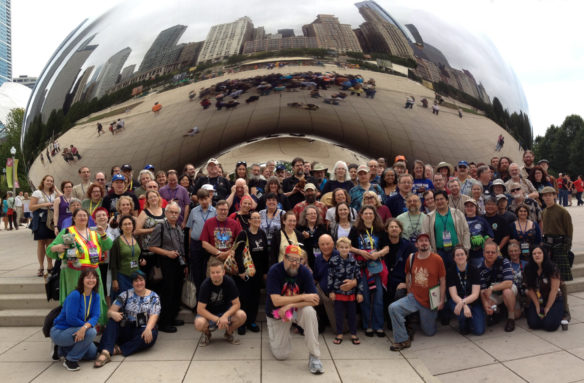 We been Strolling With the Stars at Worldcon for over a decade now, giving fans a chance to spend some quiet time with their favorite authors, artists and editors, while getting some fresh air.

We still can't meet in person right now… but we can do what we did in the spring, a daily series of short strolls-at-home here on Facebook Live. Tune in to see what's up in the lives of some of your favorite sff creators… how they're dealing with what has sadly become The New Normal.

Join us at 5PM EDT every day, beginning November 27! (Or if you can't make it live, watch the video right here afterwards.)
Sunday, Nov 29 — Scott Edelman
Monday, Nov 30 — Gerald Brandt
Tuesday, Dec 1 — Toni Weisskopf
Wednesday, Dec 2 — Alex Dawson
Thursday, Dec 3 — Tom Doyle
Friday, Dec 4 —Jody Lynn Nye
Saturday, Dec 5 —John Kessel
Sunday, Dec 6 — Ellen Kushner
Monday, Dec 7 — Justin Barba
Tuesday, Dec 8 — Alma Alexander
Wednesday, Dec 9 — Steven H Silver
Thursday, Dec 10 — Lee Murray
Friday, Dec 11 — Brianna Wu  & Frank Wu
Saturday, Dec 12 — Dr. Lawrence M. Schoen
Sunday, Dec 13 — Gay & Joe Haldeman
Monday, Dec 14 — Kate Baker
Tuesday, Dec 15 — Sheila Williams
Wednesday, Dec 16 — Troy Carrol Bucher
Thursday, Dec 17 — TBD
Friday, Dec 18 — Catherynne Valente
Saturday, Dec 19 — Valya Dudycz Lupescu & Stephen Segal
Sunday, Dec 20 — James Patrick Kelly
(7) PHULISHNESS. "The Myth and the Phule: Writing with Robert Asprin" – at the Mythaxis Review, Eric Del Carlo recalls the experience of collaborating with a legend.
Everyone in the French Quarter of New Orleans traded in bullshit. Not the tourists. Well, yes the tourists too. But whatever self-aggrandizing malarkey they brought to town was drastically upstaged by their stupidity, usually taking form as epic drinking fails.

But this guy… No. He'd been vouched for. He was who he said he was.

"It's a pleasure to meet you, Mr. Asprin." I shook his hand in the Quarter bar. He lived in the Quarter; I did too. Nothing to do at night but hit the bars.

It was a little of that slowed-down awe of a car accident. I had shelved this man's books in bookstores I'd worked in. Now I was waiting tables in the tourist feeding frenzy of pre-Katrina New Orleans. I also wrote, in his same genres. Science fiction, fantasy. It was all I wanted to do with my life. But you don't say that, not to a man who didn't have to trade in the local currency of bullshit to amplify himself, who could just be who he was, indisputably. That I hadn't read his immensely popular humorous Myth or Phule series didn't matter. I understood his significance, his stature.

I started calling him Bob because everyone else did. Some Quarter bars were for locals, and my wife and I went to these, and Robert Asprin would be there, inhabiting a stool, dishing out jokes, witty banter, stories. I was most interested in the stories, anecdotes populated by other famous writers in the field. Harry Harrison. Spider Robinson.

It eventually came out to Bob that I wrote, that I had a good number of small press sales under my belt. Well, so what, compared to what he'd accomplished? But he expressed an interest. He himself had been out of the game for some while. Years. Writer's block, issues with the IRS. Nonetheless we sat side by side at the bar—he with Irish whiskey, rum and Coke for me—and I enthused about the wonder of writing, the pure elation of putting words together….
(8) TWO HUNDED YEARS AGO. The New Yorker launched "A Quest to Discover America's First Science-Fiction Writer". Here's their favorite candidate.
On November 22, 1820, the New York Evening Post ran a perfunctory book ad that was none too particular in its typesetting:

WILEY & HALSTED, No. 3 Wall street, have just received SYMZONIA, or a voyage to the internal world, by capt. Adam Seaborn. Price $1.

As literary landmarks go, it's not quite Emerson greeting Whitman at the start of a great career. But this humble advert may herald the first American science-fiction novel. Although one might point to the crushingly dull "A Flight to the Moon," from 1813, that text is more of a philosophical dialogue than a story, and what little story it has proves to be just a dream. "Symzonia; Voyage of Discovery" is boldly and unambiguously sci-fi. The book takes a deeply weird quasi-scientific theory and runs with it—or, more accurately, sails with it, all the way to Antarctica.
(9) MEDIA ANNIVERSARY.
1948 – Seventy-two years ago this month, Against the Fall of Night by Arthur C. Clarke was first published in the short-lived Startling Stories zine which was edited by Sam Merwin, Jr.  Earle Bergey provided the cover illustration for this novel which has been continuously in print ever since in both in hard copy and now from the usual digital suspects, in three editions no less. A sequel novel was done in 1990 by him and Gregory Benford called Beyond the Fall of Night.
(10) TODAY'S BIRTHDAYS.
[Compiled by Cat Eldridge and John Hertz.]
Born November 28, 1685 – Gabrielle-Suzanne de Villeneuve.  She published La Belle et la Bête in 1740, the oldest known telling of Beauty and the Beast.  During her life she was known for other works, particularly The Gardener of Vincennes (1753).  In fact, you should pardon the expression, it's complicated, as Brian Stableford discusses in NY Review of SF 338.  (Died 1755) [JH]
Born November 28, 1757 – William Blake.  Four dozen of his poems are ours; many of his graphics.  Here is The Ancient of Days.  Here is the demiurge Urizen praying.  Here is Jacob's Ladder.  Here is The Raising of Lazarus.  (Died 1827) [JH]
Born November 28, 1783 — Washington Irving. Best remembered for his short stories "Rip Van Winkle" and "The Legend of Sleepy Hollow", both of which appear in The Sketch Book of Geoffrey Crayon, Gent. collection. The latter in particular has been endlessly reworked downed the centuries into genre fiction including the recent Sleepy Hollow series. (Died 1859.) (CE)
Born November 28, 1946 — Joe Dante, 74. Warning, this is a personal list of Dante's works that I've really, really enjoyed starting off with The Howling then adding in Innnerspace, both of the Gremlins films though I think only the first is a masterpiece even if the second has its moments, Small Soldiers and The Hole. For television work, he's done but the only one I can say I recall and was impressed was his Legends of Tomorrow's "Night of the Hawk" episode.  That's his work as Director. As a Producer, I see he's responsible for The Phantom proving everyone has a horrible day.  (CE)
Born November 28, 1939 – Walter Velez.  A hundred sixty covers, half a dozen interiors.  Outside our field, album covers, commercial and fine art.  Here is Seetee.  Here is Lord Darcy.  Here is Demon Blues.  Here is How the Ewoks Saved the Trees.  Here is The Dual Nature of Gravity.  (Died 2018) [JH]
Born November 28, 1952 — S. Epatha Merkerson, 68. Both of her major SF roles involve robots. The first was in Terminator 2: Judgment Day as Tarissa Dyson; a year later, she had a recurring role as Capt. Margaret Claghorn in Mann & Machine. And she had a recurring role as Reba on Pee-wee's Playhouse though I can't remember if the consensus here was that it was genre or genre adjacent. (CE);
Born November 28, 1962 — Mark Hodder, 58. Best known for his Burton & Swinburne Alternate Victorian steampunk novels starting off with The Strange Affair of Spring-Heeled Jack that deservedly garnered a Philip K. Dick Award. He also wrote A Red Sun Also Rises which recreates sort of Victorian London on a far distant alien world. Emphasis on sort of. And then there's Consulting Detective Macalister Fogg which appears to be his riff off of Sherlock Holmes only decidedly weirder. (CE) 
Born November 28, 1979 – Sarah Perry, Ph.D., age 41.  For us three novels, one a Waterstones Book of the Year, another an East Anglia Book of the Year; one shorter story.  Fellow of the Royal Society of Literature.  Outside our field, Naipaul Prize for travel writing.  [JH]
Born November 28, 1981 — Louise Bourgoin, 39. Her main SFF film is as the title character of Adèle Blanc-Sec in The Extraordinary Adventures of Adèle Blanc-Sec as directed by Luc Besson. Anybody watched the uncensored English version that came out on Blu-ray? She also played Audrey in Black Heaven (L'Autre monde), and she's the voice heard in the Angélique's Day for Night animation short. (CE) 
Born November 28, 1987 — Karen Gillan, 33. Amy Pond, companion to the Eleventh Doctor. Nebula in both of the Guardians of The Galaxy films and in later MCU films, and Ruby Roundhouse in Jumanji: Welcome to the Jungle and Jumanji: The Next Level. Two episodes of Who she was in did win Hugos for Best Dramatic Presentation (Short Form), "The Pandorica Opens/The Big Bang" at Renovation (2011) and "The Doctor's Wife" at Chicon 7 (2012). (CE) 
Born November 28, 1988 – Daniel Cohen, 32.  Four novels; Coldmaker an Amazon Best-Seller.  Saxophonist. Has read The Old Man and the Sea, The Phantom Tollbooth, The Stars My Destination.  [JH]
Born November 28, 1992 – Shelly Li, 28.  Arriving from China and learning English, she had seven stories published in Nature, nine more, by the time of this interview during her freshman year at Duke.  [JH]
(11) KEEPING THE BLEEP IN TREK. At "Integrated Outtakes", they "improve" Star Trek episodes by putting back the mistakes. The link is to a playlist. An example is embedded below.
Sometimes bloopers, when edited back into the finished episodes, can add a bit of humanity to characters. Sometimes they just add a bit of absurdity. Both are good.
(12) UTOPIA CANCELLED. "Amazon's Utopia Canceled After One Season". Vulture thinks the show was a little too spot-on.
Between the dark conspiracy theories, violence, global pandemic, and impending apocalypse, it would seem Amazon Prime Video's Utopia was the wrong show at the exact wrong moment. That, or everyone just had a lot going on this fall. Either way, according to Deadline, the streaming platform has canceled the series, adapted by Gone Girl author and screenwriter Gillian Flynn from the 2013 British series of the same name, after one season. The show premiered on the service on September 25.
(13) YEP, I CLICKED. Jess Nevins shamelessly conflates the ideas of "fandom" and "science fiction fandom" to reassign sf fandom's origins to the women readers of Wild West pulp magazines. (Thread starts here.) Did Gernsback imitate someone else's successful magazine marketing idea? That doesn't mean sf fandom wasn't started through the efforts of Amazing. Nor should it be overlooked that the idea of "fandom" flows from a whole collection of tributaries (see Teresa Nielsen Hayden, below.)
And Teresa Nielsen Hayden wades right in:
There's a lot more to learn in TNH's 2002 post "Lost fandoms" at Making Light.
(14) TITLE BOUT. What won the Diagram Prize? Let The Guardian be the first to tell you: "A Dog Pissing at the Edge of a Path wins oddest book title of the year".
A Dog Pissing at the Edge of a Path has beaten Introducing the Medieval Ass to win the Diagram prize for oddest book title of the year.

Both books are academic studies, with the winning title by University of Alberta anthropologist Gregory Forth. It sees Forth look at how the Nage, an indigenous people primarily living on the islands of Flores and Timor, understand metaphor, and use their knowledge of animals to shape specific expressions. The title itself is an idiom for someone who begins a task but is then distracted by other matters.

Runner-up Introducing the Medieval Ass, sees the University of Melbourne's medieval historian Kathryn L Smithies explore "the ass's enormous socio-economic and cultural significance in the middle ages". Other contenders included Classical Antiquity in Heavy Metal Music, Lawnmowers: An Illustrated History and The Slaughter of Farmed Animals: Practical Ways of Enhancing Animal Welfare.

… "I thought it would be a closer race, but A Dog Pissing is practically a perfect Venn diagram of an ideal winner," said Tom Tivnan, the prize coordinator and managing editor of the Bookseller. He said it combined "the three most fecund Diagram prize territories: university presses (a tradition dating back to the first champ, 1978's University of Tokyo-published Proceedings of the Second International Workshop on Nude Mice); animals (like 2012's Goblinproofing One's Chicken Coop or 2003's The Big Book of Lesbian Horse Stories); and bodily functions (such as 2013's How to Poo on a Date and 2011's Cooking with Poo)."
Founded by Trevor Bounford and the late Bruce Robertson in 1978 'as a way to stave off boredom at the Frankfurt Book Fair,' the Diagram Prize has had a home at the Bookseller and with legendary diarist Horace Bent since 1982. The winner is decided by a public vote.
(15) VIDEO OF THE DAY. In "Honest Trailers: The Mandalorian" on YouTube, the Screen Junkies note that not only does The Mandalorian have enough comedians in supporting roles to be "the best alternate Saturday Night Live cast ever" but as a bonus you get Werner Herzog playing himself saying, "I see nothing but death and chaos."
[Thanks to JJ, Mike Kennedy, Michael Toman, Kathryn Sullivan, Martin Morse Wooster, John Hertz, Andrew Porter, Cat Eldridge, Lise Andreasen, Steven H Silver, Danny Sichel, and John King Tarpinian for some of these stories. Title credit goes to File 770 contributing editor of the day Anna Nimmhaus.]