(1) HUGO NOMINATING DEADLINE IS MARCH 15. There are ten days left to submit a Hugo nominating ballot. Those eligible to vote are the members of DisCon III and members of Chicon 8 who registered by January 31, 2022. More information at the link.
(2) CROWDFUNDING WISDOM. Tansy Rayner Roberts sums up what she's been "Tweeting about That Sanderson Kickstarter" in a free Patreon post. Many interesting insights. Here are a few of them.
…When Kickstarter (and book Kickstarter in particular) was just starting out, those of us looking to run projects were hungry for crowdfunding advice. A lot of it didn't even apply to publishing, because we've always been seen as a tiny fraction of what crowdfunding is for.

And what advice we got, we used. What we learned, we shared. Here's a really useful bit of Kickstarter advice that I, and Twelfth Planet Press, and other publishing-crowdfunding friends have often shared: you have to have a big ticket item at the top. Something cool & exclusive.

You don't want to rely on one person shelling out $500 or $1000 for your little publishing Kickstarter, but you want to give them the option. Having something awesome and ambitious at the top end makes everyone excited about the project, EVEN IF IT NEVER FILLS UP.

Sanderson's top tier is $500. (Last time I had a $500 tier on a Kickstarter I hand-made a quilt) It's an all formats extravaganza — 4 hardcovers, ebooks, audiobooks, plus the 8 swag boxes. And over 10,000 people have pledged to it.  TEN THOUSAND.

This is where Sanderson's Kickstarter is groundbreaking — not just in the numbers it's attracted, but in the average pledge pulled in from those fans….

… Isn't is cool that Kickstarter is newsworthy again??? Feels like forever since there's been a huge positive creator success story, and that it's a BOOK project makes it even better. In the 2 hours or so since I started this tweet thread, they made another million $. FOR BOOKS.
(3) HECK OFF. But if you'd prefer to shame Sanderson for his success, in the true postmodern sff way, Slate can direct you to those resources: "Brandon Sanderson Kickstarter criticism: why writers are upset about his record-setting campaign".
… More recently, critics of the industry have demanded that publishers invest in more titles by authors of diverse identities. Since Sanderson's Kickstarter made headlines, there's been, unsurprisingly, some grousing on social media about whether such an already commercially successful author needs that kind of money….
(4) BEHIND THE SCREAMS. Ellen Datlow is a guest on Episode 13 of the Let the Cat In podcast, "Herman", hosted by Canberra-based authors Kaaron Warren, Aaron Dries and J. Ashley-Smith.
The Cat gets technical as unparalleled horror editor Ellen Datlow joins the show from NYC, bringing behind-the-scenes insights into the conceptualising, compiling, editing and introduction of her (then) latest anthology, Screams From The Dark. While Joseph gets lost in a Borgesian labyrinth of shoes, Kaaron discovers the smells of the past, and Aaron takes a drubbing for his failure to correctly identify an alpaca. Ellen endorses cannibalism (of one's own stories) and shares anecdotes from her time in Tehachapi Prison. The heart of a story is discussed, as are stories that never quite translate to the page. Also sparks, themes, and those horrible fuck ups, the Greek gods. While the viability of various shoes (and their stories) is considered, Jack the Jerk lurks on the couch.
(5) WHAT KIDS ARE READING ANNUAL REPORT. There's a lot in the news about politicians' efforts to control the shelves of school libraries. So if you wonder about what kids are reading, every year, the edtech company Renaissance Learning issues a comprehensive "What Kids Are Reading" report. Frank Catalano tweeted the 5th and 10th grade graphics from their results.
Go here to download the 52-page report: What Kids Are Reading–2022. Read the news release here: "Renaissance Shares Findings of World's Largest Annual K–12 Reading Survey" (it doesn't highlight the science fiction/fantasy titles).
…Each year, the WKAR report lists the most popular books at every grade level, and also provides new understanding of K–12 students' reading practice. The report is uniquely illuminating because it draws from two Renaissance programs: Accelerated Reader, which records the books students are actually reading, not just buying or checking out from libraries, and myON, which provides students with instant access to thousands of digital titles for online or offline reading.

The 2022 report uses the data of 4.5 million students in 22,749 US schools who read 128 million books, revealing insights into students' reading comprehension and the characteristics of what they choose to read, such as word count and text difficulty….
(6) LUNAR REAL ESTATE. The Guardian's Arwa Mahdawi says "Privatising the moon may sound like a crazy idea but the sky's no limit for avarice".
…The real money, of course, is not in intergalactic billboards or short space trips: it's in plundering space for resources. Apparently, the race to privatize the moon is on. Of course, many people who are starry-eyed about space mining would balk at the idea that they're suffering from the avariceeffect: they'd argue that it's all for the good of mankind. Take, for example, the forward-thinking folk at the Adam Smith Institute (ASI), an influential thinktank that champions free markets. To achieve peace and prosperity on Earth, we need to sell off pieces of space, "with a particular focus on plots of moon land", the ASI recently declared in a paper.

What's the logic behind this? Well, they reckon that, as long as you're not too bothered by the fact that global inequality contributes to the death of one person every four seconds, per Oxfam, untrammeled capitalism has done the world a lot of good. "Property rights play a key role in boosting living standards, innovation and human dignity here on Earth," Daniel Pryor, head of research at the Adam Smith Institute, says. "The same would be true if we applied this logic to space, which presents a unique opportunity to start afresh when designing effective rules of ownership."

This ASI report, titled Space Invaders: Property Rights on the Moon, may seem a little out there but it is very on-brand for the UK-based thinktank….
The fact is, they're way behind fandom. Get the lowdown from File 770's 2008 post "Who Owns the Moon?"
…the Bay Area Elves', Gnomes' and Little Men's Science Fiction, Chowder, and Marching Society…, in 1951, filed a claim for mining rights to 2,250 sq. mi. of the Moon. Their claim was widely reported in the media – even by Time magazine….
(7) SFF AND ROMANCE. Clarion West has made available the video of their "Fantastic Intersections: Speculative Fiction and Romance" Zoom panel held January 29.
From the sublime and magical to the stirring and steamy, storylines centering BIPOC and LGBTQIA+ characters are flourishing in the romance and speculative genres. Zen Cho, S. A. (Austin) Chant, C. L. Polk, KJ Charles, and L. Penelope tackle the nuance of building romance into the plot vs. romance as the plot, the role of the HEA or HFN in representation, and the future of the fantastic in romance in this panel moderated by Rashida J. Smith.
(8) UPCOMING CLARION WEST ONLINE CLASSES. There is still space for those interested in one of these classes coming up in the next two weeks. Register at the link.
Worldbuilding is not just an academic exercise separate from character development or plot; discover how your fictional world exerts pressure on your characters and creates opportunities for plot.

Like a god, you get to invent a world. Maybe several. But how do you make worlds that readers want to visit? How do you make worlds that readers never want to leave? Explore how to create unforgettable environments, creatures, and cultures.

Note: While the course is designed from a place of enjoyment of speculative fiction, the strategies discussed are also applicable across varied genres.
How to work and write with intention and purpose

 A one-hour and one-session free class teaching writers the importance of working intentionally on both their craft and career. We'll cover what it means to work intentionally at something as nebulous as writing; how to connect with our own intentions periodically and during times of conflict; and how to work within the parameters of our intentions in a way that sustains us.

This class will be great for writers of all levels who want to connect with their writing, careers, and stories in a deeper way that aligns more with who they are, what they want, and how they wish to create.
(9) NESFA SHORT STORY CONTEST. The results of the NESFA Short Story Contest 2021-22 were announced at Boskone 59 in February.
Honorable Mention: Shira Hereld, of Pennsylvania for the story "What Feels Good"
Honorable Mention: Olga Werby of California for the story "Floaters"
Honorable Mention: Alex Evans, of France for the story "First Blood"
Honorable Mention: M.A. Florin, of Romania for the story "The Last Choice of Isabel"
NESFA's Past Winners page explains, "based on the number and quality of contest entries, some years have no winners or no honorable mentions." Contest administrator Steven Lee adds, "Alas, based on the Judging, this year none of the finalist stories were considered outstanding, unlike the last two years. These four were judged 'almost.'"
(10) MEDIA BIRTHDAY.
1954 — [Item by Cat Eldridge] Sixty-eight years ago, Creature from the Black Lagoon first cast its horrifying visage upon us. It was produced by William Alland who had produced It Came from Outer Space the previous year and directed by Jack Arnold who had directed the same film.
It was written by Harry Essex and Arthur Ross. Essex who (surprise) was the screenwriter for It Came from Outer Space. Ross, though, had nothing to do with it, but he did write Satan's School for Girls which amazingly got remade twice, once as a Shannon Doherty vehicle.
Creature has a large cast but I'm only really interested in three performers here. The first is Julia Adams who played Kay Lawrence who gets snatched by the Creature from the Black Lagoon aka Gillman. And the other two are performers that you never saw. Ben Chapman was the Creature for all the on land scenes whereas Ricoh Browning did all the underwater scenes. Ricoh would return for the two sequels, but the Creature was played by Tom Hennesy for the on land scenes in the second film (which Clint Eastwood appears in), and played by Don Megowan for the on land scenes in the third.
So how was the reception? The Hollywood Reporter review at the time said, "Creature From the Black Lagoon is a good piece of science-fiction of the beauty and the beast school, the beast in this case being a monstrous combination of man and fish. It makes for solid horror-thrill entertainment."
A review recently by Empire magazine was equally positive: "Directed by sometimes-inspired journeyman Jack Arnold (The Incredible Shrinking Man), this is one of the best-loved monster movies of the '50s. Whereas many of its rivals drag until the monster shows up and turn ridiculous afterwards, this establishes an atmosphere of unease and magic in the early stretches, as the monster is glimpsed as a 3-D clutching hand accompanied by its memorable blaring theme tune." The music was composed by Henry Mancini.
I've no idea what the production costs were but the box office was one point three million, not bad for the early Fifties.
It would spawn two sequels: the 3D Revenge of the Creature and The Creature Walks Among Us. Each of the sequels would return just over just a million at the box office. Neither of the sequels is considered nearly as great as the first film was.
The Creature Walks Among Us is considered to be the last film in the Universal Classic Monsters series.
It rates a healthy seventy-four percent rating among audience reviewers at Rotten Tomatoes. Neither of the sequels cracks thirty percent.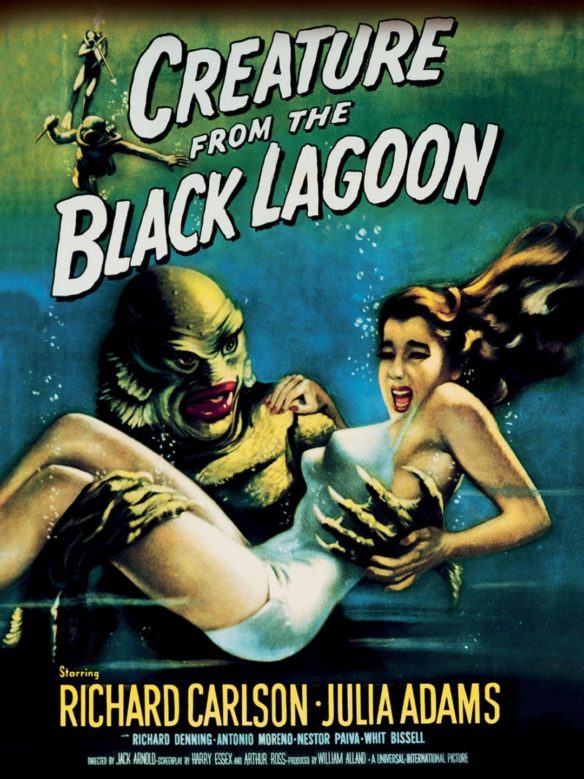 (11) TODAY'S BIRTHDAYS.
[Compiled by Cat Eldridge.]
Born March 5, 1907 — Martti Löfberg. Finnish author who did some genre novels including Osiriksen Sormus and Viiden minuutin ikuisuu which were both time travel affairs, and his long running newspaper reporter Kid Barrow series has been favorably compared to Tintin. (Died 1969.)
Born March 5, 1936 — Dean Stockwell. You'll no doubt best remember him as Al the hologram on Quantum Leap. He had one-offs on Mission Impossible, The Night Gallery, A Twist in The Tale, Orson Welles' Great Mysteries and The Twilght Zone. His first genre role was in I think The Boy with Green Hair, a 1948 film. It might be fantasy or not as there's no explanation for the central thesis of the film. Anything I've overlooked? (Died 2021.)
Born March 5, 1942 — Mike Resnick. Damn, losing him hurts. It's worth noting that he has been nominated for thirty-seven Hugo Awards which is a record for writers and won five times. Somewhat ironically nothing I've really enjoyed by him has won those Hugos. The novels making my list are his John Justin Mallory detective novels, The Red Tape War (with Jack L. Chalker & George Alec Effinger, and, yes, it's not genre, Cat on a Cold Tin Roof. True story: Kristine Kathryn Rusch tells me he's responsible for her Spade / Paladin series. When I interview her, I intend to ask her why.  (Died 2020.)
Born March 5, 1952 — Robin Hobb, 70. Whose full legal name is the lovely Margaret Astrid Lindholm Ogden hence her two pen names. (I think.)  I reasonably sure the first thing I read and enjoyed by her was Wizard of the Pigeons, but The Gypsy with Steven Brust which is now available from the usual suspects was equally enjoyable and had the added bonus of a Boiled in Lead soundtrack. Really it does and Jane Yolen financed it.
Born March 5, 1959 — Howard V. Hendrix, 63. Empty Cities of the Full Moon is damn impressive as the Labyrinth Key duology. He's done an amazing amount of quite excellent short fiction, the latest collection being The Girls With Kaleidoscope Eyes: Analog Stories for a Digital Age.
Born March 5, 1972 — James Moran, 50. Here for his scriptwriting on Doctor Who where he wrote Tenth Doctor story, "The Fires of Pompeii", Torchwood where he contributed two stories, "Sleeper" about a terrorist attacking on Cardiff whose filming got halted by a terrorist attack on Glasgow, and "Day Three" of  the Children of Earth series. He also wrote some of the episodes for Primeval.
Born March 5, 1975 — Jolene Blalock, 47. Best known for playing  T'Pol on  Enterprise.  Genre wise, she's also been in Jason and the Argonauts seriesas Medea, Stargate SG-1 as Ishta, Starship Troopers 3: Marauder as Captain Lola Beck and as the Legend of the Seeker as Sister Nicci.
Born March 5, 1989 — Jake Lloyd, 33. He portrayed the young Anakin Skywalker in The Phantom Menace. Ok, every fan site I encounter was full of bile his performance. I've not seen the film, so tell why these fans were so upset at this actor? Was it because it was a child actor portraying this character? 
(12) RETURN TO THE VOID. [Item by David Doering.] As we zoom past $23 million on Brandon Sanderson's campaign (!!), there's more good news from Utah. The Covid-shuttered VR venture "The Void" is relaunching, hurrah! You may recall that their secret sauce was having Tracy Hickman as writer, making it far more engaging than other special effects ladened VR attempts. Let's cheer them on as well. "VR Arcade Pioneer The VOID is Making a Comeback" at Road to VR.
… As reported by MIXED, it appears pioneering out-of-home VR destination The VOID is getting ready to reopen.

Before The Void closed up shop—or was rather summarily kicked out of its dozen-or-so locations after it defaulted on loans back at the beginning of the pandemic—it was a premiere mixed reality destination that promised a real taste of immersion. Starting back in 2015, it combined warehouse-scale VR and realistic 4D effects that brought to life some of the most well-known franchises worldwide: Ghostbusters, The Avengers, Star Wars, Jumanji, and more.

Due to COVID-19 safety measures, The Void suffered immediate losses in revenue which were further outstripped by its inability to secure additional funding. The company's last video before its website went dark featured a pop-up in Westfield San Francisco Center… back in April 2020.

Then, nearly a year and a half later, a report by Protocol broke the news that The Void's patents and trademarks has been acquired by Hyper Reality Partners, a company headed by Adrian Steckel, a previous investor and board member of The Void. At the time, it was reported that Hyper Reality Partners has already raised $20 million to get The Void back on its feet.

Now The Void's website is back up, with its creators saying that it will include "upgraded VR technology," and "a flexible platform designed to evolve with the latest in innovation."
(13) A WHALE OF A SECOND CENTURY TALE. [Item by Martin Morse Wooster.] In this video, Austin McConnell explains that Lucian of Samosata invented the space opera in the second century AD. He explains that back then Romans enjoyed reading travelogues about distant places and debates about philosophical topics, so he decided to make fun of both of them with this tale about a trip to the Moon, a battle between Moon people and Sun people with bonus fighters from the Milky Way and all sorts of creepy imaginary places, including the years Lucian purportedly spent inside a 180 mile-long whale! Of course he called his novel A True Story, and McConnell shows how truly weird this book is–but hey, it's the first sf novel!
(14) NO, YOU BE ROBIN. Here's something even more unbelievable. "Inside the never-made 'Batman' movie that nearly starred Bill Murray and Eddie Murphy as the Dynamic Duo" at Yahoo!
…But on one of the infinite earths out there in the DC Extended Universe, there's a planet where Bill Murray and Eddie Murphy played Batman and Robin on the big screen.

Actually… that was very nearly this Earth. In the early 1980s, the late Ivan Reitman planned to cast the Saturday Night Live stars as the Dynamic Duo in a never-made Batman feature film. "I talked to Eddie Murphy about it, and Eddie wanted to play Batman," Murray tells Yahoo Entertainment in a recent interview for the latest installment in our video series The Never-Weres. "That's as far as that conversation went." (Watch the video above.)

If Murphy wanted to be the Caped Crusader so badly, would Murray have willingly taken on the role of Robin? Holy negatory, Batman! "I don't wanna be the Boy Wonder to anybody," the Ghostbusters star says. "Maybe much earlier when I was a boy. But it was too late for that by the '80s. Also, I couldn't do the outfit. Eddie looks good in purple, and I look good in purple. In red and green, I look like one of Santa's elves. There was just a lot of vanity involved in the production. It wasn't gonna happen."…
(15) ADAM ROBERTS INTERVIEW. Curtis Brown Creative announces, "We are thrilled that our new six-week online course – Writing Science Fiction – is open for enrolment. The course features exclusive teaching videos, notes and tasks from Adam Roberts." They follow up with a long Q&A. "Adam Roberts: 'Science fiction isn't about accurate prediction, it's about the eloquence and wonder of our ideas, our imaginings'"
How much do real life technologies impact your fictional writing?

I feel we've reached a plateau in terms of the development of new technologies. Remember I've lived through the information revolution: I was born before computers were a thing, and now computers interpenetrate shape our lives absolutely. The changes between the 1960s and now have been immense. It's interesting: the SF of the 1950s assumed the next big leap in human development would be space travel, colonising distant worlds: but they were wrong—the next big leap was computing. I often wonder what the next next big thing will be, and how far it will change our lives and our world. I'll probably guess wrong: but that doesn't matter. SF isn't about accurate prediction, it's about the eloquence and wonder of our ideas, our imaginings.
(16) BOOKSELLER CONVERGENCE. [Item by Cora Buhlert.] Waterstones, the only remaining UK bookstore chain (back when I was studying in London, there were three or four bookstore chains) has acquired Blackwell's, the largest independent bookseller in the UK: "Waterstones acquires Blackwell's, the UK's biggest independent bookseller". Blackwell's is mainly known for its amazing selection of academic books, though they also have a good SFF section. At any rate, this is sad news, since I fear that Blackwell's will now be selling more celebrity memoirs and fewer academic books.
…Along with Waterstones' acquisition of the UK book chain Foyles in 2018, it marks a further contraction in the book retail market.

The acquisition will be viewed by some as a regrettable end to the family ownership of a cherished independent and academic bookseller. To others, it will be heralded as a turbo-boost for real-world bookshops in the battle for dominance with their online rival Amazon.
(17) SFF CRAFT. The Glasgow in 2024 Worldcon bid shares a cool craft project. Crochet the solar system. It's a wheelchair spoke cover, but it would also make a nice pillow case or doily. "Crochet Solar System Wheelchair Spoke Cover".
Today I'm sharing a pattern for a crochet wheelchair spoke cover I recently made!

I took a basic pattern for a doily, altered the dimensions slightly and included a sun at the centre. I didn't want the middle of my crochet piece to be rubbing against the centre of the wheel, so I took rings from old keychains and crocheted around them.
(18) VIDEO OF THE DAY. [Item by Martin Morse Wooster.] In "Honest Game Trailers: Dying Light 2″ Fandom Games says this video game is filled with parkour to "recreate the typical commute of the average Frenchman." But the narrator notes that if you wanted to become fitter and more athletic like the characters in this game, "You wouldn't be playing video games all day!"
[Thanks to Mike Kennedy, Martin Morse Wooster, JJ, John King Tarpinian, Steven Lee, Errolwi, Cora Buhlert, Frank Catalano, David Doering, Chris Barkley, Andrew Porter, Michael Toman, and Cat Eldridge for some of these stories. Title credit belongs to File 770 contributing editor of the day Peer.]