(1) SAINT OF STEEL CONTINUES. Oor Wombat has a third Paladin book out today, written in her guise as T. Kingfisher.
Piper is a lich-doctor, a physician who works among the dead, determining causes of death for the city guard's investigations. It's a peaceful, if solitary profession…until the day when he's called to the river to examine the latest in a series of mysterious bodies, mangled by some unknown force.

Galen is a paladin of a dead god, lost to holiness and no longer entirely sane. He has long since given up on any hope of love. But when the two men and a brave gnole constable are drawn into the maze of the mysterious killer, it's Galen's job to protect Piper from the traps that await them.

He's just not sure if he can protect Piper from the most dangerous threat of all…
Here are some early returns from the readers on Twitter:
(2) BARRELLING OVER LEVIATHAN FALLS. In "The Expanse Saga Takes Its Final Space Flight", Publishers Weekly interviews authors Daniel Abraham and Ty Franck about how they created the story arc.
…Their aspirations were extremely modest initially. "The original concept for this was we would write Leviathan Wakes and sell it for pizza money," Abraham said.

Franck added, "We didn't have high expectations for it being a big new title or anything. And that's what Daniel means by pizza money—you know, you could sell it for a few thousand bucks, and high-five each other, and that'd be the end of it."

They did have a firm idea of where their story could continue after that first novel, however. "When we sent it out, we wrote one-paragraph outlines of what the next two books would be," Franck said. "We sent that to the publisher too. And they bought three books based on one complete book and two one-paragraph blurbs. It was when we started writing the second book that we actually sat down and said, 'Let's have a good plan for this. Let's figure this out.' And that was when we really started to plan out what the longer story would be."

The plan, inevitably, changed a bit. While the authors once contemplated writing 12 books, they cut out three after realizing their ideas for what would have followed the sixth book, 2016's Babylon's Ashes, were just a "boring rehash." Instead, the seventh book, 2017's Persepolis Rising, featured a dramatic time jump that allowed the authors to give the solar system time to stabilize after the events of the prior book.

Not much else changed, though. Franck said he had pitched "the last scene and the last line of the last scene" of Levithan Falls to his colleague around 2012.

The Expanse has sold a total of four million copies in North American and has been translated into 21 languages, according to Orbit, its publisher. Interest in the series has continually grown and Levithan Falls has a first printing of 125,000 copies….
(3) SUPERSAVER. "How 'Adventures of Superman' star Jack Larson saved a piece of Charlie Chaplin history and met Seinfeld" – Decades has a memory about the actor who played Jimmy Olsen.
… [In 1955] Chaplin had sent for his films and memorabilia to be shipped to Europe.

But Chaplin only kept certain costumes and props. Other props lying around Chaplin Studios were being tossed in the trash. One prop that was about to end up in the garbage can was a rubber wrench that Chaplin used to great effect in the classic film Modern Times.

While working on Superman, Larson saw this cinematic crime about to happen and couldn't sit still. He begged them to let him have it. They thought he was nuts for asking for this piece of rubber….
(4) TRANSLATING TOLKIEN. The virtual Tolkien Society Autumn Seminar with the theme "Translating and Illustrating Tolkien will take place November 6. It is free, sign up at the link.
Tolkien's appeal has led to his fiction and non-fiction being translated into over fifty languages. The art of translation is immensely complex and when discussing the Dutch translation of The Lord of the Rings, Tolkien himself saw the task as "formidable", offering his own supportive intervention to achieve a satisfactory result. The author's invented names and languages prompt the question of how the translator should approach Tolkien's immense mythology. Recent scholarship has emphasised the need for a wider range of Tolkien's work to be translated in order for readers to gain a fuller understanding of Arda and the author's development. But with a wealth of translated texts existing already, this seminar hopes to spark new interpretations about old texts and for unacknowledged translations to be brought to light and examined….
(5) TAFF REPORT AVAILABLE. Anna Raftery's report of her TAFF trip to MidAmeriCon II (the 74th Worldcon) in 2016, Cuttlefish and Cake, can now be acquired for a donation of £5 at the link. Purchase will give you access to the PDF and MP3 versions of the report. All proceeds will go to TAFF.
(6) NEWS, GOOD AND OTHERWISE. David Brin has rounded up a bunch of interesting science links "Gravitational waves, Snowball Earth … and more science!" at Contrary Brin.
…A fascinating paper dives into the SFnal question of "what-if" – specifically if we had been as stupid about the Ozone Layer as we are re climate change. The paper paints a dramatic vision of a scorched planet Earth without the Montreal Protocol, what they call the "World Avoided". This study draws a new stark link between two major environmental concerns – the hole in the ozone layer and global warming – and how the Montreal Accords seem very likely to have saved us from a ruined Earth.

Going way, way back, the Mother of Modern Gaia Thought – after whom I modeled a major character in Earth – the late Lynn Margulis, has a reprinted riff in The Edge – "Gaia is a Tough Bitch" – offering insights into the kinds of rough negotiations between individuals and between species that must have led to us. Did eukaryotes arise when a large cell tried and failed to eat a bacterium? Or when a bacterium entering a large cell to be a parasite settled down instead to tend our ancestor like a milk cow? The latter seems slightly more likely!

Not long after that, (in galactic years) some eukaryotes joined to form the first animals – sponges – and now there are signs this may have happened 250M years earlier that previously thought, about 890 Mya, before the Earth's atmosphere was oxygenated and surviving through the Great Glaciation "Snowball Earth" events of the Kirschvink Epoch….
(7) EXPANSE REACHES ITS LIMIT. The Expanse's sixth and final season arrives December 10 on Amazon Prime.
(8) MEMORY LANE.
2008 – Thirteen years ago this October, G. Willow Wilson's most excellent Air series would see its first issue on Vertigo, an imprint of DC comics, published. It's illustrated by Turkish artist M. K. Perker, and it tells the story of Blythe, an acrophobic flight attendant, who gets involved with a terrorist from a country that doesn't exist. Amelia Earhart and Quetzalcoatl are crucial characters. Reception was sharply divided with folks within our community such as Neil Gaiman and Gail Simone loving it but with mainstream critics pretty much dismissing it for both for the story and the artwork. It would last but twenty four issues before being cancelled due to low sales. It's not available digitally but is easily had in the four trade paper collections for reasonable prices at online sellers. Oddly enough, it's not listed on ISFDB even though it's clearly fantasy, but then neither is her graphic novel Cairo which is also quite excellent.  Does ISFDB have a bias against graphic novels? 
(9) TODAY'S BIRTHDAYS.
[Compiled by Cat Eldridge.]
Born October 10, 1924 — Ed Wood Jr. Though best remembered for Plan 9 from Outer Space which inexplicably has a sixty-eight percent rating among audience reviewers at Rotten Tomatoes, he did a lot of terribly bad genre films including Night of the Monster and Bride of The Ghouls. (Died 1978.)
Born October 10, 1927 — Dana Elcar. Most of you will remember him as Peter Thornton on MacGyver, but he has a long genre history including Russ in Condorman which was inspired by Robert Sheckley's The Game of X. He also played Sheriff George Paterson in Dark Shadows, and showed up in 2010 as Dimitri Moisevitch. (Died 2005.)
Born October 10, 1929 — Robin Hardy. Wicker Man is the film he's known for though he followed that up with The Wicker Tree, an adaptation of his Cowboys for Christ novel. Anyone seen it? The Bulldance is at least genre adjacent. (Died 2016.)
Born October 10, 1931 — Victor Pemberton. Writer of the script for the "Fury from the Deep", a Second Doctor story in which he created the Doctor's sonic screwdriver. He had appeared as an actor in the series, in a non-speaking role as a scientist in "The Moonbase", a Second Doctor story. In the Seventies, he wrote the BBC Doctor Who and the Pescatons audio drama which I remember hearing. It was quite excellent. (Died 2007.)
Born October 10, 1941 — Peter Coyote, 70. He actually did two genre films in 1982 with the first being Timerider: The Adventure of Lyle Swann in which he appeared as Porter Reese and the second being E.T. the Extra-Terrestrial which he's Keys, the Agent hunting E.T. down. (Not so named in the film but in the novelization.) Sphere in which he's Captain Harold C. Barnes is his next SF outing followed by The 4400 and FlashForward series being his next major genre involvements.
Born October 10, 1966 — Bai Ling, 55. She's Miss West in that wretched Wild West West and the Mysterious Women in the exemplary Sky Captain and the World of Tomorrow, she has a major role as Guanyin in The Monkey King which aired on Syfy. Nope, not seen that one. Her last genre role was Zillia in Conjuring: The Book of the Dead, a horror film riffing off Alastair Crowley.
(10) COMICS SECTION.
(11) NEVERENDING STORY. Read the first chapter of Douglas Wolk's All of the Marvels: A Journey to the Ends of the Biggest Story Ever Told at Entertainment Weekly.
The twenty-seven thousand or so superhero comic books that Marvel Comics has published since 1961 are the longest continuous, self-contained work of fiction ever created: over half a million pages to date, and growing. Thousands of writers and artists have contributed to it. Every week, about twenty slim pamphlets of twenty or thirty pages apiece are added to the body of its single enormous story. By design, any of its episodes can build on the events of any that came before it, and they're all (more or less) consistent with one another….
(12) BEFORE AND BEHIND THE CAMERA. A profile of Phoebe Waller-Bridge in the October 2 Financial Times notes she is involved in two franchises: she co-wrote No Time To Die and is an actor in Indiana Jones 5. (I had to take a three-question survey about underwear brands to get free access to the article – make sure your drawers are in order.) "Phoebe Waller-Bridge: the writer making James Bond 'a little bit twisted'".
…The marriage between quirky creativity and mega budgets can be fraught. Waller-Bridge, who stars opposite Harrison Ford in the fifth instalment of Indiana Jones, has been coy about her contributions to the latest Bond film. Those hoping to find Fleabag will be disappointed. The secret agent retains some of his old cheesiness. Yet the central speech by sinister villain Lyutsifer Safin contained a reminder of Waller-Bridge's protagonist: "I just think I want someone to tell me how to live my life?.?.?. because so far I think I've been getting it wrong."…
(13) TRIPPING. Victoria Silverwolf finds a clever lead for a review of the latest (in 1966) issue of Worlds of Tomorrow at Galactic Journey: "[October 10, 1966] Let's Take A Trip (November 1966 Worlds of Tomorrow)".
… Until this month, this hallucinogenic drug [LSD] was legal everywhere in the USA. On October 6, it became illegal in the state of California. In response to the new law, on the same day thousands of people showed up for a so-called Love Pageant Rally in San Francisco's Golden Gate Park. They enjoyed music from local artists, and many took doses of LSD in defiance of the law….

Even if you live in California, you can enjoy a trip deep into your imagination in a perfectly legal manner, simply by opening the latest issue of Worlds of Tomorrow. Fittingly, almost all the fiction takes place in the far reaches of interstellar space….
(14) INSIDE TZ. Marc Scott Zicree is doing full episode commentaries on over 100 Twilight Zone episodes that will supplement those he did for the official disc set. To find out how to buy them, look at Twilight Zone Commentaries.
The official Twilight Zone BluRay set contained 54 full-length detailed, informative, and entertaining commentaries by Marc Scott Zicree. And now, Marc continues where that left off, with commentaries of the remaining 102 Twilight Zone episodes delivered in a convenient app on your phone, tablet, laptop, SmartTV, or other device.
(15) FOUNDATION GARMENT. You've read the series – now buy the shirt that looks as old as it is — Foundation unisex book t-shirt from Out of Print.
The Foundation series by Isaac Asimov received the 1966 Hugo Award for Best All-Time series, beating out the Lord of the Rings. Foundation is the first book in that trilogy.

Each purchase helps to fund literacy programs and book donations to communities in need.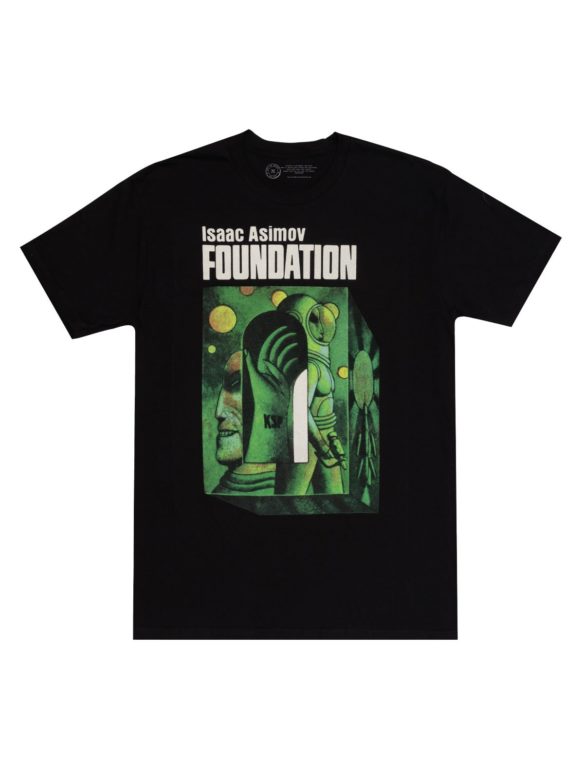 (16) ASTRO'S COUSINS. [Item by Martin Morse Wooster.] Also in the Financial Times, columnist John Gapper, in a column about the Amazon Astro, made a Doctor Who reference that was news to me.
There is a well-known Punch cartoon of some Daleks from Dr Who at the foot of a staircase, cursing that their plans to conquer the universe are ruined. This machine (the Astro) suffers from similar limitations: It can navigate apartments but would be stymied by a two-storey house.
(17) READY FOR EVERY EMERGENCY. "Star Trek: Prodigy Gives Extended Look at Captain Janeway Hologram" at CBR.com.
… At Prodigy's panel at New York City Comic-Con, the show debuted a minute-long clip from the show's pilot episode. In it, the hologram introduces herself to the ragtag group of young aliens, announcing she is the Emergency Training Hologram for the USS Protostar. Little does she know that everything is far from routine on this ship.

After making her introductions, Tellurite Jankom Pog (Jason Mantzoukas) criticizes her looks, prompting a snippy response to show that Janeway's snark made its way into the programming. The crew does no better job after that first impression to show that they have any idea what they're doing. Shy Rok-Tahk (Rylee Alazraqui) doesn't even know what a Federation is.….
[Thanks to Andrew Porter, Michael Toman, Cat Eldridge, John Coxon, Lise Andreasen, Daniel Dern, Mike Kennedy, Martin Morse Wooster, JJ, and John King Tarpinian for some of these stories. Title credit belongs to File 770 contributing editor of the day Paul Weimer.]