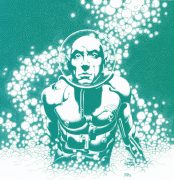 The Grand Prix de l'Imaginaire 2023 winners have been announced. The awards will be presented during the Étonnants Voyageurs festival in Saint-Malo, France to be held May 27-29.
The award's mission is described on its website with a touch of irony: "Grand Prix de l'Imaginaire is the oldest French prize still in operation – since 1974 – as well as the most prestigious dedicated to the 'literatures of the Imaginary'. The term 'Imaginary' covers all these 'bad genres' that are science fiction, fantasy, fantasy, as well as various fusions of these genres and 'transfictions' where, for example, some 'non-mimetic' elements creep insidiously into a so-called 'general' literature."
The jurors for the award are Joëlle Wintrebert (president), Jean-Claude Dunyach (treasurer), Sylvie Allouche, Audrey Burki, Lloyd Chéry, Catherine Dufour, Olivier Legendre, Benjamin Spohr, and Nicolas Winter. The Secretary (not a member of the jury) is Sylvie Le Jemtel.
ROMAN FRANCOPHONE / NOVEL IN FRENCH
Les Flibustiers de la mer chimique by Marguerite Imbert (Albin Michel)
ROMAN ÉTRANGER / FOREIGN NOVEL
Terra Ignota (Volumes 1 to 5) by Ada Palmer (Le Bélial') [Terra Ignota series]
NOUVELLE FRANCOPHONE / SHORT FICTION IN FRENCH
Histoire de la ville d'Aurée by Claire Duvivier (in Hypermondes #02, Les Moutons électriques)
NOUVELLE ÉTRANGÈRE / FOREIGN SHORT FICTION
L'Obscurité est un lieu (recueil) by Ariadna Castellarnau (L'Ogre) [collection of stories translated from Spanish by Guillaume Contré]
ROMAN JEUNESSE FRANCOPHONE / NOVELS FOR YOUTH IN FRENCH
La Dragonne et le Drôle by Damien Galisson (Sarbacane)
ROMAN JEUNESSE ÉTRANGER / FOREIGN NOVELS FOR YOUTH
L'Ogresse et les orphelins by Kelly Barnhill (Anne Carrière) [The Ogress and the Orphans]
TRADUCTION : PRIX JACQUES CHAMBON / JACQUES CHAMBON TRANSLATION PRIZE
Gwennaël Gaffric for L'Île de Silicium by Qiufan Chen (Rivages)
GRAPHISME : PRIX WOJTEK SIUDMAK / WOJTEK SIUDMAK GRAPHIC DESIGN PRIZE
Josan Gonzales for La Trilogie neuromantique (Volumes 1 to 3) by William Gibson (Au diable vauvert)
ESSAI / NONFICTION
Vampirologie by Adrien Party (ActuSF)
PRIX SPÉCIAL
The completed Galaxiales of Michel Demuth, finished by nine authors gathered by Richard Comballot from the plan and initial synopsis (Le Bélial')