(1) OUT OF SCHOOL. Nineties throwback comedy series Schooled did an episode last week about the premiere of Star Wars: The Phantom Menace. LA fan Shawn Crosby made an appearance, and several 501st and Rebel Legion members were extras, portraying costumed Star Wars fans at the theater audience.
Shawn is here holding a Yoda puppet —
Here's a snippet:
Here's a one-minute scene.
(2) TOOL RECOGNITION. Kristine Kathryn Rusch uses the comma to pry open a discussion of a writer's "voice": "Business Musings: Punctuation, Voice, and Control"
…Writers feel like they got enough of that "grammar crap" in school, when they probably got very little at all. And what they did get, usually, was a turgid discussion of hard and fast rules which aren't really hard and which certainly aren't fast.

So, (she writes, with an introductory comma and a second grammatically unnecessary comma), here's the short version of my comma rant.

The manuscript you have just finished writing is not your story. Your story lives in your mind. The manuscript is a tool that takes the story from your head and puts it in my head.

The very best writers use that manuscript tool so effectively that readers can actually hear the writer's voice as they read. That's why so many readers have a visceral response to writers like Stephen King or Nora Roberts. (Oh, I hate them. They can't write. Or Oh, I love them. They could tell me stories forever.) That's why so many English students and unsophisticated writers will complain that certain bestsellers "can't write their way out of a paper bag." Those reviewers, students, readers, and writers are all reacting to upper-level voice, without realizing it.
(3) WHO'S TO BLAME? (Re)Generation Who 5, a Doctor Who convention due to be held in Rockville, Maryland next weekend, just canceled today, less than a week ahead. Their short. rather detail-lacking press release here blames the decision on cancellations by the actors.
As a result of a string of last minute cancellations, we see no alternative but to cancel (Re)Generation Who 5. We want to apologize for this as we tried every way possible to move forward, but could not find a way to produce an event of the quality you have come to expect from us.

We will be working with our team to determine if there are any options moving forward.

Please note you will need to contact the hotel directly if have guest room reservations.

Onezumi Events inc.
Names were not specified apart from Paul McGann, the only actor cancellation announced on the convention's website.
(4) FEARSOME POET. From the Horror Writers Association blog, "Nightmares and Haiku: An Interview with Bram Stoker Award Winning Poet Christina Sng".
A: The home I grew up in was situated opposite a World War II torture chamber. Long had there been rumors about it being haunted, with one aunt refusing to ever return when she saw a spectre and another hearing chains being dragged down the hallway. You can imagine what effect this had on a child. It was a shadowy apartment unit on the ground floor and I was often left to play by myself in the large bedroom my siblings and I shared. It was sectioned in parts by tall cupboards that seemed to loom over me. I had lots of imaginary friends and time to think and ponder about life, which perhaps has influenced how I write and the stories I tell.
(5) GUIDED DETOUR. Andrew Liptak, who already posted links to the stories that inspired the short films, has made additional reading recommendations at The Verge: "Want more Love, Death + Robots? Read these 17 short stories online".
Last week, Netflix released its 18-episode animated anthology Love, Death + Robots, a decidedly NSFW series that adapted a number of short stories from well-known science fiction authors. It's clear from watching the series that there's a nearly endless supply of source material out there for another season, if Netflix green-lights one. While we wait to see whether that happens, we've rounded up some recommendations for a good season 2, and we've got 17 recommendations that you can read online now (along with a couple of deep cuts that you'll have to hunt for.)
(6) TODAY'S BIRTHDAYS.
[Compiled by Cat Eldridge.]
Born March 23, 1904 — H. Beam Piper. I'm reasonably sure that the first thing I read and enjoyed by him was Lord Kalvan of Otherwhen followed by Little Fuzzy and related works which are damn fun reading. Didn't Scalzi write a new novel in this series a few years back? (Died 1964.)
Born March 23, 1934 — Neil Barron. Certainly best known for Anatomy of Wonder: A Critical Guide to Science Fiction which actually is still a damn fine read. If memory thirty years on serves me right, his Fantasy Literature and Horror Literature guides were quite good too. (Died 2010.)
Born March 23, 1935 — Michael Emmet Walsh, 84. He's been in a lot of genre work, some of it good and some of it not, Blade Runner being great, Wild Wild West being just plain shit and The Iron Giant being fantastic. In the latter, he voices Earl Stutz, a sailor and the first man to see the robot. He also had appearances on Twilight Zone, Amazing Stories, Tales from the Crypt, Outer Limits, X-Files and Adventure Time.
Born March 23, 1952 — Kim Stanley Robinson, 67. If the Mars trilogy was the only work that he'd written, he'd rank among the best sf writers ever. But then he went and wrote the outstanding Three Californias Trilogy. I won't say everything he writes I consider top-flight, the Science in the Capital series just didn't appeal to me. His one-off novels I think are without argument The Years of Rice and Salt and New York 2140. I should note he has won myriad awards I including the Hugo Award for Best Novel, BSFA Award for Best Novel, the Nebula Award for Best Novel and the World Fantasy Award. And the Heinlein Society gave him their Robert A. Heinlein Award for his entire body of works!
Born March 23, 1957 — Amanda Plummer, 61. Best known for her work in as Joe Versus the Volcano, The Fisher King and The Hunger Games: Catching Fire. And she apparently was in Freejack as a Nun.
Born March 23, 1976 — Michelle Monaghan, 43. Best known I've no doubt for playing Julia Meade in Mission: Impossible III, Mission: Impossible: Ghost Protocol and Mission: Impossible: Fallout but she was in In much more hardcore genre film, to wit Constantine as Ellie. Now admittedly it was initially an uncredited cameo but… now she does get credit for her work in Justice League: War for voicing Wonder Woman. She also Violet van Patten in Pixels, a very strange SF film.
(7) COMICS SECTION.
Here's a bouquet of Bob the Angry Flowers:
(8) CRAVING HISTORY. MeTV sighs, "Oh, how we want these 8 Hostess snack cakes to come back". Number 3 includes a Marvel reference —
The official Hostess site touts its Cherry, Apple and Lemon varieties of Fruit Pies. That's great and all, but what about Blueberry, Blackberry, Peach and Pineapple?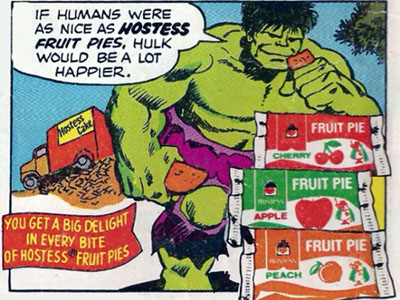 (9) MYTHING IN ACTION. Time to go back — "Planet Venus: Hopes rise of new mission to the hothouse world".
The longstanding idea that Venus is geologically dead is a "myth", scientists say.

And new research may be on the verge of ending that perception forever.

Hints of ongoing volcanic and tectonic activity (activity in the planet's outer shell) suggest that, while different to the Earth, the planet is very much alive.

Now scientists are building new narratives to explain the planet's landscape.

This includes an idea that proposes the existence of "toffee planets". This theory incorporates knowledge accumulated through studying exoplanets.
(10) SCIENCE WITHOUT THE -FI. The editorial in this week's Science brings together some sff with science: "The future of science in film".
Film is a universal language of modern societies. Larger-than-life images, stories, ideas, and characters portrayed in films can speak across the globe. This makes science and technology—which have shaped the modern world but remain little understood and poorly integrated into mainstream culture—a rich subject for film and a goldmine for filmmakers.
(11) VIDEO OF THE DAY. In "Mythos" on Vimeo, Stephen Kelleher gives short animations of classic Greek myths.
[Thanks to Chip Hitchcock, JJ, Cath Jackel, John King Tarpinian, Andrew Liptak, Cat Eldridge, Martin Morse Wooster, Mike Kennedy, SF Concatenation's Jonathan Cowie, Dale Arnold, Carl Slaughter, Andrew Porter for some of these stories. Title credit goes to File 770 contributing editor of the day Ingvar.]