(1) AURORA AWARD STATS. The 2022 Aurora Award Results and Hall of Fame Inductees were announced last night, and the CSFFA website now has the voting statistics and nomination totals available here.
It's notable that in the Best Fan Writing and Publication category it was R. Graeme Cameron competing against himself, winning for Polar Borealis, while his Canadian SF&F book and magazine reviews in Amazing Stories (online) finished second.
(2) CONFUSION IS STILL WITH US. [Item by John Winkelman.] Con Chair Cylithria Dubois has posted an update about ConFusion 2022 and 2023. To sum up: Despite hardships and obstacles, COVID-related and otherwise, ConFusion 2022 ended in the black, financially, and there will be a ConFusion 2023, about which details will be announced soon. "2022 Rising ConFusion Final Report & Handoff to The Legend of ConFusion".
Rising ConFusion 2022 took place January 21st – 23rd of 2022.  December & January were peak times for the  DELTA variant of the COVID-19 pandemic. As DELTA took hold, times looked very grim due to the pandemic, and on January 7th, 2022, I made a public plea to our community, alerting you of the dire financial straits ConFusion Convention faced due to lower attendance, higher costs, and lack of income from the postponed 2021 event. 

The day I made that plea, I was also packing to travel via car from my home in Kansas City, MO., to my Home in Bay City, MI. I posted that, went to bed, got up and drove the 14 hour journey. By the time I arrived in Michigan, I was gob-smacked at the community outpouring of support. Y'all have no idea how utterly stunned silent I truly was. (Lithie, Silent? Whoa)… 

In Quick Summary Form:

-The amount of income made by Rising ConFusion 2022 was $17,848.48. 
-The amount of Donation Income made from your generosity was $13,705.09. 
-Combined those total: $31,553.57! 
-Our total expenses (see note below) came to -$19,234.81.  
-The amount of money leftover was: +$12,318.76

In Short; Yes, you saved Rising ConFusion and there will be another ConFusion in 2023!…
(3) HEINLEIN BLOOD DRIVE. "The Heinlein Society Sponsors Chicago Blood Drive" for those wanting to donate blood while the Worldcon is happening. The Society says:
Worldcon chose not to sponsor a blood drive this year. For the convenience of those expecting to Pay It Forward by donating blood The Heinlein Society and Virgin Hotels, a block away from the Hyatt, will have a blood drive on Sunday. Schedule your appointment early as the drive is open to the public before Worldcon starts. More information will be available as well as a free book with a cool bookmark at The Heinlein Society Fan Table at Worldcon.
(4) WHERE IT BEGAN. Robert Charles Wilson told Facebook readers about a personal artifact he rediscovered.
I've spent the last few days putting my book collection in order, and yesterday I came across this, the first sf magazine I ever purchased: the March 1964 issue of F&SF, from a little shop in the town of Port Credit, Ontario.

J.G. Ballard, Kit Reed, Oscar Wilde, Avram Davidson's haunting little story "Sacheverell"—pretty heady stuff for a precocious ten-year-old. But what had the greatest impact, looking backward from 2022, was Robert Bloch's article "The Conventional Approach"—a pocket history of science fiction fandom. I was already nursing an ambition to write, specifically to write sf, and here was what looked like an invitation to a subculture of like-minded enthusiasts and maybe even a roadmap to a career.

A few more years would pass before I attended a convention or sold a piece of fiction to a professional market, but that little digest-magazine article had pretty profound consequences for me. What I eventually found by way of that subculture was, yes, a career, including a Hugo Award for my novel Spin, but also enduring friendships, two marriages and one long-term relationship, visits to Europe and Asia I would probably not otherwise have undertaken, and a more colourful and varied life than my 10-year-old self could have reasonably imagined.

All that, bought for 40 cents on a wintry Saturday in rural Ontario. Your money went further in those days, I guess.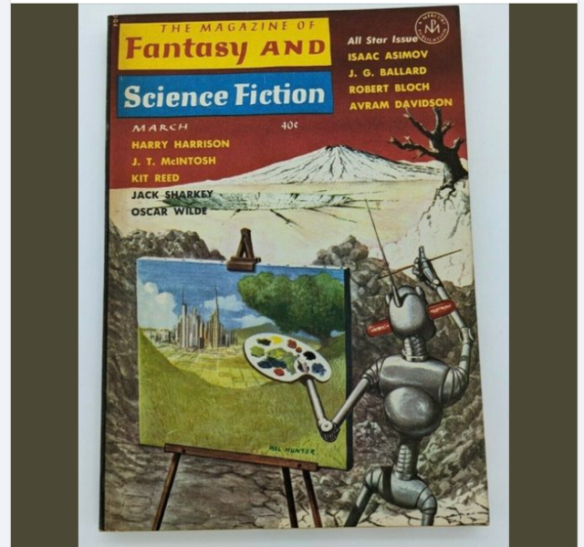 (5) RUSHDIE UPDATE. "Salman Rushdie off ventilator and 'road to recovery has begun,' agent says" reports Reuters, quoting an email.
Salman Rushdie, the acclaimed author who was stabbed repeatedly at a public appearance in New York state on Friday, 33 years after Iran's then-supreme leader called for him to be killed, is off a ventilator and his health is improving, his agent and a son said on Sunday.

"He's off the ventilator, so the road to recovery has begun," his agent, Andrew Wylie, wrote in an email to Reuters. "It will be long; the injuries are severe, but his condition is headed in the right direction."…
Meanwhile, the Guardian reports that author J.K. Rowling, after tweeting sympathy for Rushdie. received a death threat: "Police investigate threat to JK Rowling over Salman Rushdie tweet".
Police are investigating a threat against JK Rowling that was made after she posted her reaction on social media to the attack on Salman Rushdie.

Rowling tweeted on Friday: "Horrifying news. Feeling very sick right now. Let him be OK."

A Twitter user under the name Meer Asif Asiz replied: "Don't worry you are next."

Rowling shared screenshots of the threat and thanked everyone who had sent supportive messages. "Police are involved (were already involved on other threats)," she wrote.
(6) HE KNOWS HORROR WHEN HE SEES IT. In MSN.com's extract of The Sunday Times interview, "Stephen King talks politics: 'Trump was a horrible president and is a horrible person'".
…King, who is himself active on Twitter, also spoke to the Sunday Times about the role social media has played amid the current political and cultural climate. 

"It's a poison pill. I mean, I think it's wonderful, for instance, that in the wake of George Floyd's death, his murder by police, that you could muster via social media protests in cities across America and around the world," he noted. "But on the other hand, it's social media that has magnified the idea that the election was stolen from Donald Trump. And there's millions of people who believe that, and there are millions of people who believe that the COVID vaccinations are terrible things. Some of the things are good, some are not so good, and some are downright evil."…
(7) THE BOOKEND. Rich Horton's last 50's Hugo post is "Hugo Nomination Recommendations, 1960". (I don't have to explain why 1960 is the last year in this series about the 50's, I'm sure.)
… This was the height of the Cold War, and the height of fears of Nuclear War, and that is emphasized by the popular success of out and out "End of the World due to Nuclear War" books like Level 7; Alas, Babylon; A Canticle for Leibowitz; and On The Beach, all published in this time frame. For that matter, Providence Island is about a lost race resisting the use of their island for nuclear tests, and The Manchurian Candidate is surely a Cold War novel to the max!…
(8) FAN MAIL. Connie Willis writes in praise of "Favorite Author – Mary Stewart" on Facebook.
I just finished re-reading AIRS ABOVE THE GROUND and was reminded all over again what a wonderful writer Mary Stewart was. Many science-fiction fans will be familiar with her because of her trilogy about Merlin and King Arthur–THE CRYSTAL CAVE, THE HOLLOW HILLS, and THE LAST ENCHANTMENT–but when those books came out, I was already a long time admirer who'd discovered her through, of all things, Hayley Mills.

I was a huge Hayley Mills fan in high school and college and saw all her movies. I also was an inveterate reader of movie credits (this was how I found new books to read–and still do) and thus discovered Eleanor Porter's POLLYANNA, Jules Verne's IN SEARCH OF THE CASTAWAYS–and Mary Stewart's THE MOONSPINNERS. I promptly ran to the library to check out the book.

…I said her novels had been the foundation for the modern romantic mystery genre, but that's not really true. Even though they've been compared to Daphne DuMaurier's and Jane Austen's books, nobody else before or since has been able to do the sort of thing she did. What is true is that she "built the bridge between classic literature and modern popular fiction. She did it first, and she did it best." And if you've never read her, you're in for a treat….
(9) SUMMER HELL IS HERE. This sounds fascinating. At Black Gate, Joe Bonadonna introduces an anthology: "In Hell, Everyone's Pants are on Fire: A preview of Liars in Hell".
Seven Degrees of Lying

The opening story in Liars in Hell is by Janet and Chris Morris, and it's called Seven Degrees of Lying. Under Lord Byron's protection for a night, Percy Shelley is abducted and drowned. Honor bound, Byron sets out to find and rescue him, dragging Christopher Marlowe, Shakespeare, the Inklings, Satan, Lord Walsingham, and J, the mysterious Bible writer, into the first skirmish of the Liars War. Even Byron's dog, Boatswain, gets in on the act.

…So come visit Hell and enjoy the company of our heroes and villains. There's plenty of action, drama and gallows humor to go around. But bring your own pitchfork. It's better to have it and not need it, than it is to need it and not have it. You never know when it might come in handy.
(10) MEMORY LANE.
2009 – [By Cat Eldridge.] I like pulp films and the Sherlock Holmes films that Robert Downey Jr. did, Sherlock Holmes and Sherlock Holmes: A Game of Shadows, certainly are pulp. Expensively produced ones as I will note in a bit.
Both films were directed by Guy Ritchie and were produced by Joel Silver, Lionel Wigram, Susan Downey, and Dan Lin. Susan is the wife of Robert. They have their own production company, Team Downey.
The story for the first one was by Lionel Wigram and Michael Robert Johnson. Eigram's only other story was the The Man from U.N.C.L.E film, though he was the executive producer for the Potter films; Johnson genre wise only did three episodes of The Frankenstein Chronicles.
The second film's screenplay was written by Michele Mulroney and Kieran Mulroney, a married couple whose entire genre output otherwise is scripting together Next Generation's "The Outrageous Okona" and Star Trek: Enterprise's "Fortunate Son" episodes.
Robert Downey Jr. and Jude Law portray Sherlock Holmes and Dr. John Watson, respectively. I really think that they do a great job but, I suspect very deeply, like the video Poirots from yesterday, that is very much a matter of personal taste. I like their takes on the characters a lot. No, Downey is not the Holmes in the stories.
They were expensive to produce, ninety million and the sequel added thirty-five onto its cost. The first was shot at in part at Freemasons' Hall and St Paul's Cathedral. The former was where the Suchet Poirot shot part of its Murder on the Orient Express. For the second film, principal photography moved for two days to Strasbourg, France. Shooting took place on, around, and inside Strasbourg Cathedral as that in stood for the German city where it was supposed to be set.
They made money, oh did they make money, roughly a half billon apiece.
Roger Ebert I think in reviewing the first nails it perfectly and I'm going to quote only him from the multitude of critics. Here's his entire first paragraph of his Sherlock Holmes review: "The less I thought about Sherlock Holmes, the more I liked 'Sherlock Holmes.' Yet another classic hero has been fed into the f/x mill, emerging as a modern superman. Guy Ritchie's film is filled with sensational sights, over-the-top characters and a desperate struggle atop Tower Bridge, which is still under construction. It's likely to be enjoyed by today's action fans. But block bookings are not likely from the Baker Street Irregulars."
Audience reviewers at Rotten Tomatoes give both films scores of seventy-seven percent which is a most excellent rating.
They are available on HBO Max and Netflix.
There may or may not be a third film next year. The film company has announced such for Christmas but I hold little stock in that as the film hadn't started production yet.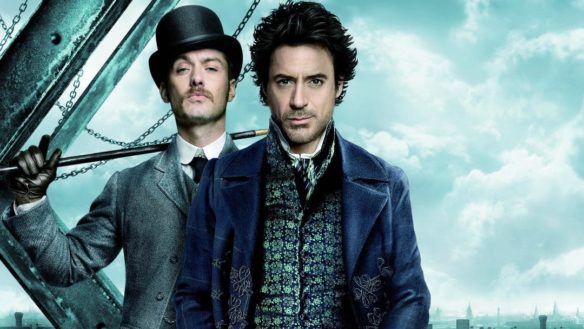 (11) TODAY'S BIRTHDAYS.
[Compiled by Cat Eldridge.]
Born August 14, 1910 — Herta Herzog. At the Radio Project, she was part of the team of that conducted the groundbreaking research on Orson Welles' 1938 broadcast of The War of the Worlds in the study The Invasion from Mars. The Radio Research Project was founded in 1937 as a social research project and funded by the Rockefeller Foundation to look into the effects of mass media on society. (Died 2010.)
Born August 14, 1932 — Lee Hoffman. In the early Fifties, she edited and published the Quandry fanzine. At the same time, she began publication of Science-Fiction Five-Yearly which appeared regularly until 'til 2006. It won a Hugo at Nippon 2007 which she shared with Geri Sullivan and Randy Byers. It was awarded after her death. She wrote four novels and a handful of short fiction, none of which are in the usual suspects. (Died 2007.)
Born August 14, 1940 — Alexei Panshin, 82. He has written multiple critical works along with several novels, including the Nebula Award-winning Rite of Passage and the Hugo Award-winning study of SF, The World Beyond the Hill which he co-wrote with his wife, Cory Panshin. He also wrote the first serious study of Heinlein, Heinlein in Dimension: A Critical Analysis.
Born August 14, 1950 — Gary Larson, 72. Setting aside a long and delightful career in creating the weird for us, ISFDB lists a SF link that deserve noting. In the March 1991 Warp as published by the Montreal Science Fiction and Fantasy Association, he had a cartoon "The crew of the Starship Enterprise encounters the floating head of Zsa Zsa Gabor". 
Born August 14, 1951 — Carl Lumbly, 71. I first encountered him voicing the Martian Manhunter on the Justice League series and he later played M'yrnn J'onzz, the father of the Martian Manhunter on the first Supergirl series.  His first major genre role was in The Adventures of Buckaroo Banzai Across the 8th Dimension as John Parker, and he later had a number of voice roles in such films as Justice League: Doom and Justice League: Gods and Monsters. He of course was the lead in the short lived M.A.N.T.I.S. as Miles Hawkins. 
Born August 14, 1956 — Joan Slonczewski, 66. Their novel A Door into Ocean won the John W. Campbell Memorial Award. They won a second John W. Campbell Memorial Award for their Highest Frontier novel. They were nominated for an Otherwise Award for The Children Star novel.
Born August 14, 1965 — Brannon Braga, 57. Writer, producer and creator for the Next Gen, Voyager, Enterprise, as well as on the Star Trek Generations and Star Trek: First Contact films. He has written more episodes in the Trek franchise than anyone else with one hundred nine to date. He was responsible for the Next Gen series finale "All Good Things…" which won him a Best Dramatic Presentation Hugo (1995), along with Ronald D. Moore.
Born August 14, 1966 — Halle Berry, 56. Her first role genre was not as I thought Miss Stone in The Flintstones but a minor role in a forgotten SF series called They Came from Outer Space. This was followed by being Storm in the X- Men franchise and Giacinta "Jinx" Johnson in Die Another Day, the twentieth Bond film. She then shows up as Catwoman. She has myriad roles in Cloud Atlas. And she is Molly Woods in Exant, a Paramount + series that originally ran on CBS. Both seasons are streaming there now.
(12) COMICS SECTION.
Popeye versus Cthulhu?
Thatababy shows what Alexa is up to after the owner leaves.
Tom Gauld covers all the options.
(13) THE REASON PEOPLE ARE TALKING ABOUT THIS BOOK. Politico's Jenni Laidman interviews Kim Stanley Robinson: "Climate Catastrophe Is Coming. But It's Not the End of the Story".
…"This book has transformed my life," Robinson said. "I'm doing nothing but talking about Ministry for the Future for the last year and a half, almost two years now. It's also terrifying. It shows to me that people are feeling a desperate need for a story like this. They're grabbing onto this book like a piece of driftwood, and they're drowning at the open ocean."…

Laidman: In your opening chapter, 20 million people die in an Indian heat wave and power failure, with several thousand of them poached to death in a lake as they try to escape the heat. Will it take this kind of climate horror to jolt the world into action?

Robinson: No. When I was at COP 26, Jordanian diplomat Zeid Ra'ad Hussein, who had read Ministry, was talking about the power of stories. He said, "You don't need to be in a plane crash to know that it would be bad to be in a plane crash." Every year since I wrote the book — I wrote it maybe three years ago — it's as if attention to the climate change crisis has more than doubled. It's almost exponential.

We're not at the point of solutions, but at every COP meeting the sense that, "Oh my gosh, we are headed into a plane crash" is intensified. We're not doing enough. We're not paying the poor countries enough. Rich countries are breaking promises made at earlier COPs. Disillusionment with that process is getting so intense that I fear for the COP process itself. I've been comparing it to the League of Nations. The League of Nations was a great idea that failed. And then we got the 1930s and World War II. The 2015 Paris Agreement was an awesome thing, like something that I would write that people would call utopian. But it happened in the real world.

Now, with Russia and the brutal Ukraine war, things are so messed up that the COP process and the Paris Agreement could turn into the League of Nations. I'm frightened for that. It's not a done deal.
(14) WHAT DO YOU THINK? Book Riot's Caitlin Hobbs calls these the "20 of the Best Science Fiction Books of All Time".
Before we get started, let me define "best" for you real fast. In this context, best does not secretly mean my favorite science fiction that I'm calling best because I'm the one writing the article. The best science fiction books of all time — at least the ones on this list — are the ones that remain highly rated, are incredibly popular, or have made some sort of mark on the science fiction genre or its various sub-genres, even mainstream culture as a whole. There are also only 20 books on this list, meaning it is not conclusive, as I am one person. I will inevitably miss a book that you think belongs on this list. So many science fiction falls into the definition of "best" that I'm using.

Because that's what science fiction is meant to do: push the envelope, show what things could be if we continue down the path we're on, and make you question what's possible…. 
(15) KHAW SHORT FICTION. Sunday Morning Transport has a story and an offer.
(16) BREAKFAST IN A GALAXY A LONG TIME AGO. [Item by Martin Morse Wooster.] Who thought this was a good idea? The Mandalorian NEVER waffles! "The Mandalorian Galactic Homestyle Frozen Waffles". (However, Martin confesses he bought these today.)
Start your adventure with a delicious breakfast including Eggo® The Mandalorian Galactic Homestyle Waffles. It's our classic Eggo® taste featuring the Mandalorian & Grogu™ from the hit Star Wars™ series. Collect all Mandalorian cards, only available across three different hero pack designs while supplies last. It's the quick and delicious breakfast that families across the whole galaxy love.
(17) DON'T TOUCH THAT DIAL. [Item by Mike Kennedy.] Inverse writer Jon O'Brien takes a, let's say nostalgic, look at Stay Tuned—a 30 year old movie the columnist believes deserved a better reception than it got. Starring John Ritter (Three's Company) and Pam Dawber (Mork and Mindy), the movie's plot includes strong flavors of the metafictional tropes so utterly infused in the recent & much better received WandaVision. "30 years ago, a sci-fi flop beat Marvel to its smartest story idea".
…In 1992, Stay Tuned was accused of failing to say anything substantial in its send-up of America's TV addiction. But decades on, the film serves as a forewarning of the dark route TV went down. The prank show genre, for example, has gone to such extremes as staging fake ISIS abductions and simulating plane crashes. The macabre spoof "Autopsies of the Rich and Famous" pretty much become a depressing reality.

Alongside ads for warped products such as The Silencer of the Lambs (muzzles for annoying youngsters) and Yogi Beer (alcohol for kids), and an end-credits sequence that zips through teasers for "Beverly Hills, 90666," "The Golden Ghouls," and "I Love Lucifer," these brief side gags only appear via the Knables' new-fangled TV set. But most of Stay Tuned's lampoons play out in full screen, with Roy and Helen front and center after the new satellite dish zaps the bickering pair into Hellavision….
(18) A LUCRATIVE REJECTION. Neil Gaiman reveals he first pitched Sandman to George R.R. Martin for a Wild Cards series and Martin turned him down in this video with Gaiman and Martin that dropped last week: "Why Neil Gaiman Has George R.R. Martin to Thank for The Sandman".
(19) BILL NYE IS BOOKING. SYFY Wire shares an "Exclusive clip for 'The End is Nye' on Peacock".
SYFY WIRE has an exclusive first look at the all-new clip for the six-episode event series set to debut at Peacock on Aug. 25, and it's safe to say that Bill's not backing down from some of the biggest CGI-realized effects ever to bring a science documentary to life. How big are we talking? Like, positively supervolcanic — as in Yellowstone Caldera exploding, mushroom cloud-forming, town-engulfing big.

Bill and his trademark neckwear are in serious jeopardy in the new clip, which finds him flooring it out of a Rocky Mountain hamlet in a frighteningly futile attempt to outrace a superheated, 500 mph pyroclastic flow. Can Bill and his little electric car make it? Well…stick around to the end: It's definitely Bill Nye like you've never seen him.
The blurb for the YouTube trailer says this is what the series is about:
Synopsis: The End is Nye sends Bill Nye into the most epic global disasters imaginable – both natural and unnatural – and then demystifies them using science to show how we can survive, mitigate, and even prevent them. Each stand-alone episode takes a hell-bent dive into the mystery and terror of one specific threat. Every catastrophe is abundant with thrills, but also offers hope and a way forward —a scientific blueprint for surviving anything that comes our way. The series is hosted and executive produced by Emmy Award winner and renowned science educator, engineer, author, and inventor Bill Nye. Each episode also features a brief cameo by longtime science advocate and series EP Seth MacFarlane.
[Thanks to Cat Eldridge, Mike Kennedy, Martin Morse Wooster, Rich Horton, Daniel Dern, Clifford Samuels, John Winkelman, Dennis Howard, JJ, John King Tarpinian, Andrew Porter, Chris Barkley, and Michael Toman for some of these stories. Title credit belongs to File 770 contributing editor of the day JeffWarner returns, because he isn't donne yet.]