(1) STAR TREK SPOILER WARNING. Let that be said right up front. Anybody that doesn't want Picard Season 2 spoiled, please skip to the next item.
Okay. Now for the rest of you: "Star Trek Producers Fought Over Which New Shows Get To Bring Back Wesley Crusher" reports TrekMovie.com.
Today Paramount released a "Wesley Crusher's Return" video feature that was also included in The Ready Room. The video features executive producers Akiva Goldsman and Alex Kurtzman discussing the fact that after the idea of Wesley returning on Picard was brought up, it started a sort of Crusher conflict with at least one other series…
Actor Wil Wheaton commented on Facebook:
I had no idea that the showrunners of the different Star Trek shows were fighting over who could write Wesley into their story.

This just feels like such a huge validation and such a huge win for Wesley, for me, and for all the other kids who were weird, unseen, awkward, or any of the other qualities we all had in common that made him important to us.

And as long as I have your attention: I feel seen and celebrated right now, in a way I never have before. I feel like it's personal in a way that is brand new, that *belongs* to me, because it is a gift that was given to me.

I don't know who all the people were, at every step of the way, who made Wesley's return to Star Trek canon happen, but I am so grateful to all of them for making this happen.

And I'm so grateful to everyone who has celebrated me, and Wesley. It feels really good and it means a lot to me.
Here's the clip:
(2) LMB MAKES HISTORY. "Bujold interview by Asena Ideus, 23 March 2022" was posted by Lois McMaster Bujold at Goodreads.
Raw version of an email interview I did for a college student for her history thesis paper. I was rather bemused to have my teen fannish enthusiasms viewed as history; my parents would have been quite surprised…

When it comes to Star Trek zines, you are featured in Spockanalia 2 (issued 1968) for your short piece The Free Enterprise. Could you talk more about that, especially since fanzine culture is so different (practically nonexistent) today? What were fanzines like during the '60s and '70s? The first documented fanzines began in the 1930s, but were they extremely popular among SF fans when Star Trek: TOS was airing or were they still an emerging medium?

LMB: Fanzine culture is thriving today, its content just moved online. It's just called blogs and websites. It may not know its own history in some cases, true.

One commenter described the internet hitting fanfic as like throwing a gasoline tanker truck onto a campfire, which sounds about right to me….
(3) COMICMIX BACK IN THE SEUSS BUSINESS. Publishers Weekly has the details. "ComicMix Launches Campaign to Publish Public Domain Seuss Stories". The Kickstarter is here. (People have pledged $4,813 of its $5,000 goal at this writing.)
Less than a year after settling a lawsuit with Dr. Seuss Enterprises, ComicMix is launching a Kickstarter campaign to fund the publication of The Zaks and Other Lost Stories by Theodor Geisel, aka Dr. Seuss, to be released in July. The stories, which are in the public domain and available digitally on the Seussville website, include the titular story The Zaks, and The Sneetches, among others. ComicMix plans to release the titles of the other stories in the compilation as successive crowdfunding goals are met.

Between 1950 and 1956, Geisel published 23 stories in Redbook, including the seven that will be published in this compilation…. The ComicMix edition of the stories was created with high-quality scans from the original Redbook stories, tracked down from collectors of the magazine. Redbook reverted the copyright to these stories to Geisel, but the copyright was not renewed, so the versions that appeared in the magazines are now in public domain. 

ComicMix issued an official comment about the publication, stating, "This book is not associated with, nor approved by, nor even particularly liked by Dr. Seuss Enterprises L.P., a California limited partnership, which owns some of the copyrights of the works of Theodor Seuss Geisel, the author and illustrator who created many works under the pseudonym 'Dr. Seuss.' " Hauman, who preferred to comment about the upcoming book in Seuss-like rhyme, had this to say:

"We found Dr. Seuss stories, once thought to be lost,
that we're bringing to you at a reasonable cost.
Some tales are familiar, though not quite this way,
but all fine examples of Seuss's wordplay!
We spruced them all up, and now are good times
to rediscover his artwork and rhymes.
We filled up a book to put on your shelf
So that you can at last read them for yourself!" OY

Dr. Seuss Enterprises declined to comment on the story.
(4) WOKE SF TROLLS. [Item by Mlex.] A thoughtful discussion of the flap of people complaining about "woke" sf by Christopher Reeves, commentator for DailyKos. "Right-wing trolls accusing science fiction of being 'woke' are messing with my childhood".
Sometimes, I fall into a rabbit hole I didn't even know was going to happen. I was following along with a YouTube thread regarding Stargate SG-1 when it was pointed out a reboot was possible. I, having followed the series, thought, "Cool, cool, I might really enjoy this so tell me more." I sat down to watch and learned a few things, but within the first three minutes, something interesting came about. According to a video on the subject: "Fans have become concerned following the recent release of The Wheel of Time series, and the upcoming Lord of the Rings: The Rings of Power series. Both of those series have taken significant creative license to change the characters and story to fit what many science fiction and fantasy fans believe is a 'woke' or progressive agenda at a cost to the canon of the original stories."

Wait, what? I've read almost all of Tolkien. I've watched every Star Trek series. I've read some of Ringworld, and in general, I devoured science fiction. What on Earth are these fans so upset about? What am I missing here? I decided last night to do a little bit of looking, and I regret some of the time I sacrificed but it certainly left me with some thoughts. I can always tell things are going wrong when people use terms like "woke" which is just one of those right-wing slurs that they use to replace "compassionate" or "reasonable" it seems….
(5) FREE READ. The "Unofficial Hugo Book Club Blog," a Best Fanzine Hugo finalist, has made their submission to the Hugo Voter Packet available as a free read at the link. And a very nice job they did, picking the material and creating the design.
(6) JDA SNEAKS BACK ONTO TWITTER. You knew that wouldn't take long. Jon Del Arroz after being ousted from Twitter on May 6 simply opened another account and immediately resumed tweeting the usual links to his crowdfunding appeals, comics, and books. And misogynistic BS. (The last image below wasn't posted by JDA, but I bet he wishes he'd thought of it.)
(7) LYNN HARRIS DIES. [Item by Joel Zakem.] Long-time Midwestern and Southern fan Lynn Harris passed away on May 10, 2022. She was 70 years old. Lynn was an artist who was known for running and/or working on many convention art shows, including at the late lamented Rivercon and Kubla Khan. She received the Rebel Award at the 2000 Deep South Con.
(8) PATRICIA MCKILLIP (1948-2022). World Fantasy Award for Lifetime Achievement honoree Patricia A. McKillip died May 6 at the age of 74. Her best-known works included the books in the Riddle-Master trilogy, The Riddle-Master of Hed (1976), Heir of Sea and Fire (1977), and Harpist in the Wind (1979) — the latter her only Hugo finalist, also a finalist for the World Fantasy Award, British Fantasy Award, and winner of a Locus Award.
Four of her books won the Mythopoeic Award for Adult Literature or Adult Fantasy, Something Rich and Strange (1995), Ombria in Shadow (2003, which also won the World Fantasy Award), Solstice Wood (2007), and Kingfisher (2017). Her other World Fantasy Award winning book was The Forgotten Beasts of Eld (1975), which was published in 1974, the year after the appearance of her first published work, The Throme of the Erril of Sherrill (1973), a novella.
McKillip's Encyclopedia of Science Fiction entry written prior to her death summed up her career: "Over the past two decades, eschewing the use of fantasy backgrounds for inherently mundane epics, McKillip has become perhaps the most impressive author of fantasy story still active."
(9) MEMORY LANE.
1999 – [By Cat Eldridge.] The considerable joy of doing these anniversaries is finding these weird little shows that I've never heard of. So it is with a Disney series called So Weird whichran for sixty-five episodes. So Weird could best be described as a younger version of the X-Files and it far darker than anything which was on Disney when it debuted in 1999. It lasted for just three seasons.
It was centered around teen Fiona "Fi" Phillips (played by Cara DeLizia) who toured with her rocker mom Molly Phillips (played by Mackenzie Phillips). They kept running into strange and very unworldly things. For the third and final season, she was replaced by Alexz Johnson playing Annie Thelen after the other actress gets the jones to see if she could make in Hollywood. (Well she didn't.)
The story is that one of the characters, Annie, while visiting an Egyptian museum encounters a cat who once belonged to Egyptian queen that now wants her very much missed companion back. Yes, both the cat and the princess are either immortal or of the undead.
The writer of this episode, Eleah Horwitz, had little genre background having written just three Slider episodes and a previous one in this series. He'd later be a production assistant on ALF.
Now if you went looking to watch So Weird's "Meow" on Disney + after it's debuted, the streaming service pulled the second season within days of adding the series but returned it a month later within any reason for having pulled it. The show has never been released on DVD.
However the first five episodes in the first season of the series were novelized and published by Disney Press as mass-market paperbacks, beginning with Family Reunion by Cathy East Dubowski. (I know the Wiki page says Parke Godwin wrote it but the Amazon illustration of the novel cover shows her name. So unless this is one of his pen names, it is not by him.) You can find the other four that were novelized in the Amazon app by simply doing So Weird + the episode name. No they are not available at the usual suspects.
I didn't find any critics who reviewed it, hardly surprising given it was on the Disney channel but a lot of folks really liked including John Dougherty at America: The Jesuit Review: "As a kid, my favorite show was about death. Well, not just death: it was also about faith, sacrifice and trying to make sense of life's ineffable mysteries. Strangest of all, I watched it on the Disney Channel. 'So Weird' ran for three seasons from 1999 to 2001. It was Disney's attempt to create a kid-friendly version of 'The X-Files,' tapping into an in-vogue fascination with ghosts, alien encounters and other paranormal phenomena. In practice, it became something more: a meditation on mystery and mortality."
I think I'll leave it there.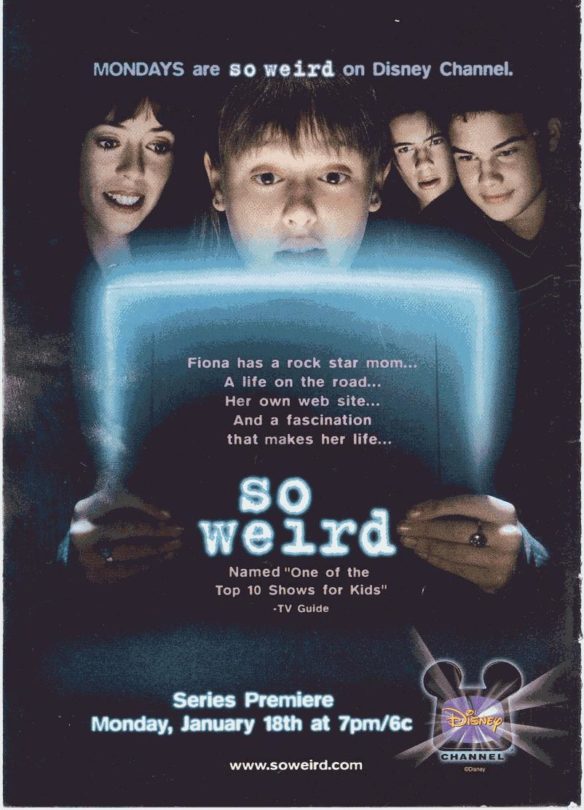 (10) TODAY'S BIRTHDAYS.
[Compiled by Cat Eldridge.]
Born May 11, 1930 — Denver Pyle. His first genre performance is in The Flying Saucer way back in 1950 where he was a character named Turner. Escape to Witch Mountain as Uncle Bené is his best known genre role. He's also showed up on the Fifties Adventures of Superman, Commando Cody: Sky Marshal of the Universe, Men Into  Space, Twilight Zone and his final role was apparently in How Bugs Bunny Won the West as the Narrator. (Died 1997.)
Born May 11, 1935 — Doug McClure. He had the doubtful honor of appearing some of the worst Seventies  SF films done (my opinion of course and you're welcome to challenge that), to wit The Land That Time Forgot, The People That Time Forgot, Warlords of the Deep and even Humanoids From The Deep. Genre wise, he also appeared in one-offs in The Twilight Zone, Out of This World, AirWolf, Alfred Hitchcock Presents, Fantasy Island and Manimal. Some of which were far better. (Died 1995.)
Born May 11, 1936 — Gordon  Benson Jr. Publisher and bibliographer who released the first of his many SF bibliographies around the early Eighties. Writers such as Anderson, Lieber and Wellman were covered. Early bibliographies written solo were revised for the Galactic Central Bibliographies for the Avid Reader series, are listed jointly with Phil Stephensen-Payne as later ones. (Died 1996.)
Born May 11, 1952 — Shohreh Aghdashloo, 70. Best known genre role is Chrisjen Avasarala on The Expanse series. (I've not seen it, but have listened to all of The Expanse series.) She also had a recurring role as Farah Madani on The Punisher. She was also in X-Men: The Last Stand as Dr. Kavita Rao, but her role as The Chairman in The Adjustment Bureau didn't make it to the final version. She was Commodore Paris in Star Trek Beyond, and she had a recurring role as Nhadra Udaya in FlashForward. 
Born May 11, 1976 — Alter S. Reiss, 46. He's a scientific editor and field archaeologist. He lives in Jerusalem, and has written two novels, Sunset Mantel and Recalled to Service. He's also written an impressive amount of short fiction in the past ten years, which has appeared in Strange Horizons, F&SF, and elsewhere. 
(11) DISNEY, PAY THE WRITER. LA Times business columnist Michael Hiltzik reports at length about #DisneyMustPay in "Disney's unpaid artists".
Given its immense appetite for entertainment content to keep its movie and television pipelines filled, you would think that Walt Disney Co. would do its best to treat its creative talent fairly.

You would be wrong.

For years, Disney has been cheating the writers and artists of tie-in products — novelizations and graphic novels based on some of its most important franchises — of the royalties they're due for their works. That's the conclusion of a task force formed by the Science Fiction and Fantasy Writers of America and joined by the Writers Guild East and West and several other creator advocacy organizations.

…[Mary Robinette Kowal] and others say that Disney has refused to take a proactive approach to identifying the creative artists who are owed money and paying what it owes. The company has ignored pleas by the task force and individual agents to post a portal on its website and a FAQ page to inform writers how to file claims and to whom their claims should be addressed.

The company has also refused to accept names and contact information from the SFWA for writers and artists who have reached out to the organization. "Disney gets away with this by using the exhaustion tactic," Kowal told me. "They wear people down."

The tactic works, she says: "Some authors have just given up because Disney puts up roadblocks and makes people jump through hurdles."

The company, according to Kowal, has told some authors who stopped receiving royalties or royalty statements that this happened because it didn't have their addresses. "They tell that to authors they've sent author copies of books to," Kowal says, "so clearly they have their mailing addresses."…
(12) FLASHBACK. [Item by SF Concatenation's Jonathan Cowie.] BECCON's 40th anniversary reunion has been held – a year late due to CoVID.
BECCON was a series of biennial conventions in the 1980s: 1981; 1983; 1985; and the 1987 UK Eastercon. BECCON standing for the Basildon Essex Centre CONvention with 'Centre' becoming 'Crest' when the hotel changed its name. The 40th anniversary reunion would have taken place last year but was postponed due to CoVID. The gathering took place in Arlesey, Bedfordshire, where previous reunions had taken place so as to give one of BECCON's film projectionists, Graham Connor, a fan experience (Graham had severe mobility issues several years prior to his passing and could not get to conventions). BECCON may be a thing of the past but those involved with it, for the most part, are still very active in fandom and BECCON did spawn two spin-out ventures still going today: Beccon Publications (a number of whose books have been short-listed for Hugos) and the SF² Concatenation (the winner of a number of Eurocon Awards).
Those present at the reunion were from far left and clockwise: John Stewart,Roger Robinson (Beccon Publications), Jenny Steele (sadly obscured), Brian Ameringen (Porcupine Books), Peter Tyers, Arthur Cruttenden, Caroline Mullan (2023 Eastercon committee), Anthony Heathcote and Jonathan Cowie (SF² Concatenation),
(13) DOCTORAL THESIS. At Nerds of a Feather, Arturo Serrano concludes "'Doctor Strange 2′ is visually delightful and narratively bland".
Despite the refreshing shift in visual style brought into the MCU by director Sam Raimi, Doctor Strange in the Multiverse of Madness is far from the milestone it was expected to be. The ongoing saga of the Avengers was supposed to expand into a wealth of possibilities with the addition of alternate realities, character variants, and reclaimed franchises just acquired by Disney from Fox. But what this movie delivers is smaller than the sum of its parts….
(14) LOST IN SPACE. Serrano also finds another franchise lacking: "'Star Trek: Picard' season 2 is aimless and inconsistent"
Season 2 of Star Trek: Picard bites more than it can chew. In the span of ten episodes, it tries to explore xenophobia, eugenicism, the weight of self-blame, repressed trauma, the tragedy of finitude, the tension between open and closed societies, the human yearning for intimate connection, the fear of loneliness, the responsibilities that come with parenthood, immigration policy, the purpose of life in old age, the narcissism inherent to the search for a legacy, authoritarianism, temporal paradoxes, suicide, and the uncertainty about the turbulent direction of humankind in the 2020s. Unfortunately, the show doesn't manage to say anything insightful about any one of its myriad themes….
(15) SAGE AGAINST THE MACHINE. Inverse presents "The 8 best movie time machines of all time, ranked by scientists". You'd be surprised what kind things scientists have to say about the TARDIS.
These time-defying contraptions fill us with wonder because, while we're innately curious with a desire to explore, we also love fawning over shiny screens and elaborate gadgetry. Humans are hardwired to push any button we see. No matter the ramifications….

6. DOCTOR WHO'S TARDIS

WHAT IT DOES: It takes you to another realm that enables you to move through time (the time vortex).

Everyone we spoke to mentioned this iconic machine, which looks like an old, blue, British police box.

"What other time machine gets a decorating job every few years, keeps updating its canon, and has an Olympic-sized swimming pool? Or even a personality?" Šiljak says. "The way the TARDIS operates and interacts with the Doctor is also a great suspension of disbelief catalyst that allows me to enjoy a plot that has holes."

Its properties are bizarre, but its time-travel abilities are appealing to real scientists.

"The core of the TARDIS is a tesseract, which is a four-dimensional cube," says Dr. Erin Macdonald, an astrophysicist, writer, producer, and Star Trek science advisor. "The reason this is great scientifically is our universe is four-dimensional, but we can only control three of those dimensions (space, not time). It logically makes sense that if we had an object that had four dimensions, that extra dimension could be time and could have more control than just space."

Jan J. Eldridge, a theoretical astrophysicist and associate professor in the physics department at the University of Auckland, New Zealand, adds that the TARDIS' ability to travel freely through both space and time also helps explain another of its key features: the interior doesn't match the exterior.

"Any technology that allows you to bend space-time to travel through time would also leave you with the ability to stretch and square space-time itself," she says.
(16) JEOPARDY! A whole category about sci-fi trilogies on tonight's Jeopardy!, and Andrew Porter was tuned in. Unfortunately, the contestants weren't!
Category: Sci-Fi Trilogies

Answer: This Alphanumeric book series follows up on the "Judgment Day" film, telling more of the story of Skynet & John Connor.

No one could ask, What is T-2?

Answer: The first in a Cixin Liu trilogy, this numerical novel is partially set during China's Cultural Revolution.

No one could ask, What is 'The 3-Body Problem"?
(17) SPACE EXTRICATION. "I hate that MS Word considers this an error," says John King Tarpinian. "Double Space" at Nerdy Tees.
(18) CEREAL KILLER. Today's Heather Martin says, "I tried Tropicana Crunch, the new cereal designed to be eaten with orange juice".
Tropicana Crunch Honey Almond Cereal is a limited-edition offering for the "cereal curious" released to honor National Orange Juice Day on May 4. It's the first cereal made specifically for pairing with OJ, and the company claims it's "crispy and ready to get citrusy." It comes thoughtfully packaged with one of Tropicana's famous red-striped straws, so you can finish the cereal … juice … with class instead of lapping it from the bowl like a dehydrated Labrador….

It's hard to swallow, I'll grant you, but hear me out: It might be a sound concept. I often talk to clients who either don't like milk or are allergic to it, and just like the box says, many times they tell me that they have tried orange juice on cereal.…
(19) VIDEO OF THE DAY. [Item by Martin Morse Wooster.] In "Honest Trailers: The Batman," the Screen Junkies say Robert Pattinson is the first Gen-Z Batman, because the "villains are influencers, he's worse off than his parents, and his home town will very soon be under water." Also, the Riddler "talks a big game abou cleaning up the city while dressed like a garbage bag."
[Thanks to JJ, John King Tarpinian, Cora Buhlert, Cat Rambo, Joel Zakem, Michael J. Walsh, Rich Lynch, SF Concatenation's Jonathan Cowie, Adam Rakunas, Chris Barkley, Andrew Porter, Michael Toman, Cat Eldridge, Mike Kennedy, and Martin Morse Wooster for some of these stories. Title credit belongs to File 770 contributing editor of the day Jon Meltzer.]