(1) CAT RAMBO AT FUTURE TENSE. The new entry from Future Tense Fiction, a monthly series of short stories from Future Tense and Arizona State University's Center for Science and the Imagination about how technology and science will change our lives. Cat Rambo's "The Woman Who Wanted to Be Trees" at Slate.
"For someone like me," Nefirah's client said, "it's not a question of whether or not I'll be remembered. The question is precisely how."…
Tamara Kneese, an expert on the digital afterlife, delivers a response in her essay "Is a Lasting Digital Memorial to a Dead Person Even Possible?"
I'm a death scholar and a sustainability researcher at a major tech company, so Cat Rambo's "The Woman Who Wanted to be Trees" hit home. In the story, a death care worker is asked to memorialize clients in innovative ways, using cutting-edge technologies to blur the boundaries between life and death, and between humans and the natural world. For the past 15 years, I have been researching how people use technology to remember and communicate with the dead. My forthcoming book, Death Glitch: How Techno-Solutionism Fails Us in This Life and Beyond, explores the fundamental incompatibility between dreams of technologically mediated life extension and the planned obsolescence of material technologies….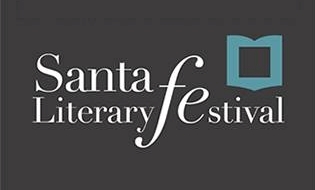 (2) AUTHOR MAGNET. The inaugural Santa Fe Literary Festival will take place May 20-23, at the Santa Fe Community Convention Center in Santa Fe, NM. The authors who are scheduled to appear include Margaret Atwood, Sandra Cisneros, John Grisham, Joy Harjo, Anne Hillerman, Craig Johnson, Phil Klay, Jon Krakauer, Emily St. John Mandel, George R.R. Martin, N. Scott Momaday, James McGrath Morris, Douglas Preston, Rebecca Roanhorse, Bob Shacochis, Colson Whitehead and Don Winslow.
Besides author readings and book signings, the festival will feature meals during which chefs and food writers will talk about the food they've prepared, their work and their books; Walk & Talks, during which attendees and authors will together explore parts of Santa Fe; and Tea & Tequila, featuring tea and tequila tastings. On Monday, the last day of the festival, attendees will be able to go on literary day trips in Santa Fe and nearby areas in northern New Mexico.
(3) FRESH VIEWPOINT. Artists & Climate Change's "Wild Authors: Oghenechovwe Donald Ekpeki" is a Q&A with a 2022 double-Hugo-nominee and editor of The Year's Best African Speculative Fiction (2021).
In your short story "Mercy of the Wild," you wrote from the viewpoint of a lion. What inspired that story?

"Mercy of the Wild" was a point of experimentation for me. I love to experiment with forms and styles or speculative fiction, and that was one such experiment that I was delighted to follow up on. The story was inspired by an almost childlike, wide-eyed curiosity about what goes on in the minds of the creatures we share the planet with. What if we heard their story, from the horse's mouth so to speak. Or as the Igbo proverb says, "Until the lion learns to tell its story, the hunt will always glorify the hunter." This got me wondering, what if the roles were reversed? Its telling impresses on me the need for people of diverse cultures to champion and find spaces for their stories to thrive in the world of today.
(4) GREAT LEAP FORWARD. Cora Buhlert was a guest on the Dickheads podcast (as in Philip K. Dick) and discussed "'The Big Jump' – Leigh Brackett" with Grant Warmack and host David Agranoff.
In the first episode of this podcast, Solar Lottery, David said he would someday do this episode. So four years later, in January of this year, he sat down with a couple of colleagues and discussed the lesser-known novel The Big Jump by Leigh Brackett. The pair of talents he was privileged to have here are newcomer to Leigh Brackett writer/music manager/tarot reader Grant Wamack and long time 'Bracketteer' teacher/translator/writer and three time Hugo nominee Cora Buhlert. Enjoy.
(5) S&S: Here is more about the nascent New Edge sword and sorcery movement: "New Edge S&S Guest Post: Oliver Brackenbury" at Scott Oden's blog.
[Scott Oden:] I put out the call, a few days ago, for a few guest posts relating to the New Edge of Sword & Sorcery. And here is our first victim . . . er, participant. Oliver is a podcaster, a screenwriter, and a novelist; he's also one of the organizers of the whole New Edge movement. Oliver, you have the floor . .

[Oliver Brackenbury]: …I've been in conversations like that before, in other scenes and settings, and I thought "Wouldn't be nice if all this energy was directed at really changing the situation?". So I proposed an open, yet specific question – "What could we do to get more young people into this genre we all love?".

Now, I can take credit for asking the question, but I cannot take credit for the incredible amount of energy I unwittingly tapped into by asking it. The conversation that took off was galloping and enthusiastic and good-natured and productive and WOW!
Scott Oden's own thoughts about the movement appear in "Putting a NEW EDGE on an Old Blade".
A genre can grow dull. The accretion of old social mores — the misogyny, racism, and homophobia of bygone eras — can oxidize a genre, making it seem as graceless as a barnacle-encrusted hunk of metal drawn from the sea. A genre's founders can (and will) die, leaving less-invested imitators to tease out only the surface tropes while its deeper meanings are lost to the ages. And, over time, that genre starts to become irrelevant to the world at large.

In today's fiction market, this is largely the fate of sword-and-sorcery. Mainstream publishers are loath to market a work as S&S because they consider it a dead end market. Readers less concerned with genre labels use the term nowadays to describe any book with swordplay and magic, from Tolkien to Pratchett — and they're unaware that it has (or had) a very specific meaning. In short, the term sword-and-sorcery has lost its edge. It has rusted, and is stuck in a very old and problematic scabbard.

There is, however, a nascent movement that has started in the small press sphere to remove that blade from its sheath, to clean the rust from it, sharpen it on a grinding wheel, and fashion a new scabbard — one free from the old problems of the genre. That movement is called the NEW EDGE of S&S….
(6) SUBGENRE GETS NEWSLETTER SOURCE. There's now also a free weekly sword and sorcery newsletter with the delightful name "Thews You Can Use" from Sword & Sorcery News. It just started.
This week's Roundup will be a little different—not that you'd know, since it's the first. Rather than covering the week in S&S news, I'll go back over the last couple months. Here's a quick roundup of S&S news from February through April….
(7) MURDERBOT AND POLICY. The New America website will hold a gathering of its Science Fiction/Real Policy Book Club to discuss All Systems Red on June 1 at 6:00 p.m. Eastern. Register here.
Science fiction can have real policy impacts, and comes rife with real-life commentary. For the next, we have selected All Systems Red by Martha Wells.

The novel explores a spacefaring future in which corporate-driven exploratory missions rely heavily on security androids. In Wells' engaging – at times funny – tale, one such android hacks its own system to attain more autonomy from the humans he is accompanying. The result is a thought-provoking inquiry into the evolving nature of potential human-robot relations.

Join Future Tense and Issues in Science and Technology at 6pm ET on Wednesday, June 1 to discuss the novel and its real-world implications. The book club will feature breakout rooms (they're fun and stress-free, we promise) where we can all compare notes and share reactions, even if we didn't finish the book (though we picked a short one this time!).
(8) SPACE FORCE OFFICIALLY GROUNDED. I hadn't realized the show wasn't already canceled. Well, it is now: "Netflix cancels Steve Carell sci-fi comedy 'Space Force'" reports SYFY Wire.
…In addition to Carell as General Mark Naird, the show also starred an A-list supporting cast of John Malkovich (Dr. Adrian Mallory), Ben Schwartz (F. Tony Scarapiducci), Tawny Newsome (Captain Angela Ali), Lisa Kudrow (Maggie Naird), and Diana Silvers (Erin Naird).

That group is chock full of talent, which may have been part of its downfall — according to THR, the show's large budget was reportedly in part because of the actors' salaries, with Carell getting over $1 million per episode. That much built in spending, along with mixed reviews for both seasons, apparently resulted in a failure for Space Force to (ahem) launch into a third season….
(9) MEDIA BIRTHDAY.
1938 — [Compiled by Cat Eldridge.] Not his official appearance as Bugs Bunny that will happen in "A Wild Hare" on July 27, 1940. But a preliminary version of the character we now know as him first showed up in "Porky's Hare Hunt" eighty-four years ago today. The Looney Tunes cartoon was directed by Ben "Bugs" Hardaway (do note his name) and an uncredited Cal Dalton. It stars Porky Pig as a hunter whose quarry is a rabbit named Happy. Yes, Happy.
Oh, I well know that most Bugs Bunny fans will tell you that July 27 is the day that he was created as that is the anniversary of the 1940 debut of the familiar rabbit and his adversary, Elmer Fudd. In that July debut people also heard for the first time Bugs's famous line, "What's up, Doc?"
But today is the real anniversary of the creation of this character. He first appeared on the theater short called as I noted above "Porky's Hare Hunt." Perhaps the reason people don't recognize, or indeed want to credit him as that rabbit, is Bugs in that early cartoon was credited as Happy Rabbit. And admittedly it really looks pretty much like any rabbit save the smirking face, doesn't it? Or does he?
It's been uploaded to YouTube so go watch it. It may not look like him but it acts like him and it sounds like him. Several sources state that Mel Blanc voiced him here but the cartoon itself has no credits.
(10) TODAY'S BIRTHDAYS.
[Compiled by Cat Eldridge.]
Born April 30, 1930 — Bill Buchanan. A musician who was not a filker but might have been. Really. Truly. His most famous composition took place in 1956, when he and Dickie Goodman created the sound collage "The Flying Saucer". They then did "The Flying Saucer Goes West" which is a lot of fun. A short time later, they would do "The Creature (From A Science Fiction Movie)" / "Meet The Creature (From A Science Fiction Movie)". With other collaborators, he did such works as "Frankenstein Of '59/Frankenstein Returns". Checking iTunes, quite a bit of what he did is available. (Died 1996.)
Born April 30, 1938 — Larry Niven, 84. One of my favorites author to read, be it the Gil Hamilton the Arm stories, Ringworld, Protector, The Mote in God's Eye with Jerry Pournelle (The Gripping Hand alas didn't work for me at all), or the the Rainbow Mars stories which I love in the audiobook version as you know since I wrote an essay on them. What's your favorite Niven story? And yes, I did look up his Hugos. "Neutron Star" was his first at NyCon followed by Ringworld at Noreascon 1 and in turn by "Inconstant Moon" (lovely story) the following year at L.A. Con I, "The Hole Man" (which I don't remember reading) at Aussiecon 1 and finally "The Borderland of Sol" novelette at MidAmericaCon. He's not won a Hugo since 1976 which I admit surprised me.
Born April 30, 1968 — Adam Stemple, 54. Son of Jane Yolen. One time vocalist of Boiled in Lead. (Which I just discovered has not released a recording in a decade. Damn.) He was the lead vocalist for Songs from The Gypsy which was based on The Gypsy, the novel written by Steven Brust and Meghan Lindholm. A truly great album. With Yolen, he's written the Rock 'n' Roll Fairy Tales, Pay the Piper and Troll Bridge which are well worth reading, plus the Seelie Wars trilogy which I've not read. He's also written two Singer of Souls urban fantasies which I remember as quite engaging.
Born April 30, 1973 — Naomi Novik, 49. She wrote the Temeraire series which runs to nine novels so far. Her first book, His Majesty's Dragon, won her the Astounding Award for Best New Writer. She most deservedly won the Nebula Award for Best Novel for Uprooted which is a most excellent read. I've not yet read her Spinning Silver novelwhich won a Mythopoeic Fantasy Award for Adult Literature, so opinions are welcome. She has a number of Hugo nominations starting at Nippon 2007 for His Majesty's Dragon, then next at MidAmericaCon II for Uprooted, The Temeraire series at Worldcon 75. No wins yet which really, really surprises me. She's twice been a finalist for Lodestar Award for Best Young Adult Book with A Deadly Education at DisCon III for and this year at Chicon 8 for The Last Graduate.
Born April 30, 1982 — Kirsten Dunst, 40. Her first genre role was as Claudio in Interview with the Vampire. Later genre roles include Judy Shepherd in Jumanji, voicing Christy Fimple in Small Soldiers, voicing Becky Thatcher in The Animated Adventures of Tom Sawyer, Mary Jane Watson in Spider-Man franchise, voicing Kaena in Kaena: The Prophecy, and showing up on Star Trek: The Next Generation as Hedrilin in the "Dark Page" episode. She would have been nine years old in that episode!
Born April 30, 1985 — Gal Gadot, 37. Wonder Woman of course in the DC film universe. Other genre work, well, other than voicing Shank on Ralph Breaks the Internet, there really isn't any. She did play Linnet Ridgeway Doyle in the Kenneth Branagh production Death on the Nile which is quite lovely but not genre adjacent, but I really don't mind as they're lovely mysteries. Oh, and she's playing The Evil Queen in the forthcoming Snow White film.
Born April 30, 2003 — Emily Carey, 19. Yes, nineteen years old. She has had a lot of roles for her age. First she played the twelve-year-old Diana in Wonder Woman followed by playing the fourteen-year-old Lara in the rebooted Tomb Raider. And then she's in Anastasia: Once Upon a Time in the lead role of Anastasia. She's Teen Wendy Darling in the forthcoming The Lost Girls. She was in the genre adjacent Houdini and Doyle as Mary Conan Doyle, and finally she's in the not-yet-released G.R.R. Martin's House of the Dragon series as the young Alicent Hightower.
(11) COMICS SECTION.
(12) CHALK AROUND THE CLOCK. The Pasadena Chalk Festival returns June 18-19 at The Paseo.
The Pasadena Chalk Festival began in 1993 after a summer intern at the Light Bringer Project attended a street painting festival in Paris and brought back her amazing pictures and observations. The first "Chalk on the Walk" took place at Centennial Square at Pasadena City Hall with over 150 visual artists participating in the first Los Angeles-area event. All proceeds went toward community arts programs and HIV/AIDS resources.

In 2010, The Pasadena Chalk Festival was officially named the largest street painting festival by the Guinness World Record, welcoming more than 600 artists using over 25,000 sticks of chalk and drawing a crowd of more than 100,000 visitors in one weekend.
Below is an hour-long video of last year's Chalk Festival. And here is File 770's roundup of sff art from the 2019 festival via Twitter.
(13) DON'T SAY PAY. The Florida legislature's move to punish Disney for publicly opposing the "Parental Rights in Education" bill, also known as the "don't say gay" bill fails to conform to other requirements of state law says the corporate giant: "Disney's special tax district suggests its repeal is illegal" in the Miami Herald.
As Florida legislators were rushing through passage of a bill to repeal the special district that governs Walt Disney World last week, they failed to notice an obscure provision in state law that says the state could not do what legislators were doing — unless the district's bond debt was paid off. Disney, however, noticed and the Reedy Creek Improvement District quietly sent a note to its investors to show that it was confident the Legislature's attempt to dissolve the special taxing district operating the 39-square mile parcel it owned in two counties violated the "pledge" the state made when it enacted the district in 1967, and therefore was not legal. The result, Reedy Creek told its investors, is that it would continue to go about business as usual.

The statement, posted on the website of the Municipal Securities Rulemaking Board on April 21 by the Reedy Creek Improvement District, is the only public statement Disney has supplied since lawmakers unleashed their fury over the company's vocal opposition to the "Parental Rights in Education" law, also known as the "don't say gay" bill. The statement, first reported by WESH 2, quotes the statute which says, in part, that the "State of Florida pledges…it will not limit or alter the rights of the District…until all such bonds together with interest thereon…are fully met and discharged."

… In essence, the state had a contractual obligation not to interfere with the district until the bond debt is paid off, said Jake Schumer, a municipal attorney in the Maitland law firm of Shepard, Smith, Kohlmyer & Hand, in an article for Bloomberg Tax posted on Tuesday and cited in a Law and Crime article.

The law passed by the Republican Legislature on a largely party-line vote, and signed into law by the Republican governor, either violates the contract clause of the Florida Constitution, or is incomplete, Schumer told the Herald/Times on Tuesday. If the Legislature wants to dismantle the Reedy Creek Improvement District, it has more work to do.
(14) FLY YOU FOOLS! J. Michael Straczynski would like to tell you about the worst musical he ever saw. Thread starts here.
(15) DO TOUCH THAT DIAL. Tor.com's Robert Repino beggars the imagination by reminding readers about "Six Bizarro Made-for-TV SFF Movies That Actually Exist". Such as —
Gargoyles (1972)

Not to be confused with the prematurely canceled '90s cartoon of the same name, Gargoyles starred B-movie tough guy Cornel Wilde (from The Naked Prey). The opening voiceover raises the stakes pretty high: In the aftermath of the war between God and Satan, a race of creatures climbs out of hell to terrorize mankind every few centuries. In the modern age, the gargoyles are relegated to myth and statues, leaving humans completely unprepared for their next onslaught.

Whoa. That sounds serious. Until you notice that the gargoyles reemerge in a desert that is surely within driving distance of the studio. And it takes only a handful of armed townsfolk to quell the apocalyptic uprising. But those minor details aside, this movie remains a guilty pleasure for my generation, in part because of the Emmy-winning makeup wizardry of Stan Winston. The gargoyles aren't that scary, but they look pretty darn cool, and some of them even fly. And by "fly," I mean "slowly lift off the ground with a barely concealed cable."
(16) VIDEO OF THE DAY. [Item by Martin Morse Wooster.] Alasdair Beckett-King meets the evil emperor, who wonders why the people don't love him!
What do you do when you've seized power and/or purchased a large social media company? You monologue.
[Thanks to Cat Eldridge, Mike Kennedy, Cora Buhlert, Martin Morse Wooster, JJ, John King Tarpinian, Chris Barkley, Andrew Porter, and Michael Toman for some of these stories. Title credit belongs to File 770 contributing editor of the day Cliff.]