(1) Star Wars is causing a great disturbance in the toy aisles:
Wal-Mart Stores Inc., Target Corp. and other retailers have loaded up on plastic lightsabers, robotic Yodas and other toys tied to the coming movie, crowding out shelf space and inventory dollars elsewhere in the toy section. The big bets are pushing orders for toy makers, such as Mattel Inc., closer to the holidays and squeezing some smaller competitors in the $22 billion U.S. toy industry.

One property hit hard: "Peanuts."

Iconix Brand Group Inc., which controls the license to the newest animated Charlie Brown movie, this month cut its sales outlook from "Peanuts" licenses by $24 million for the year largely because it miscalculated how many Snoopy dolls and other "Peanuts" products retailers would buy.
(2) Sean Wallace advised on Facebook:
Authors: always make sure that a year's best allowance is in your short story contracts. If you need to see an example of what I mean, Tor.com's contracts are pretty good on this score: "The Author will not, without written permission from the Publisher, publish or permit publication of the Work or any material based upon the Work in any form or medium until one year after the date of first publication of the Work by the Publisher. Anthologies of the year's best science fiction or fantasy shall be exempted from the one-year restriction set forth in this paragraph."
(3) Aliette de Bodard's guest post on Over The Effing Rainbow deals with "Science-fiction, fantasy, and all the things in between".
I used to be quite rigid about genre separation: in particular, though I read both fantasy and science fiction, I wasn't very keen on "merging" them together. In recent years, I've found myself being more and more elastic with my definition of genre, and in particular with my definition of "science fiction".

Partly, it's because expectations are such a double-edged sword: they are a helpful guide, but like any guide, they can become a cage. It's very easy–and a very slippery slope–to go from "readers expect this" to "I shouldn't deviate from this". Much as I like being aware of what is done and why, I grew increasingly uncomfortable with the (over)splitting into genres and subgenres: I found that tropes, used too many times and without the infusion of freshness from an outside source, calcified into books that were…. ok, but not good, or not great. Books that I read to pass the time (and there's nothing wrong with that!), but that I felt were missing something. Part of the reason why I read is to find new things, new ideas; and I wasn't finding that in books that adhered too rigidly to expectations. Ie, a little rulebreaking from time to time never hurt anyone! (also, if you're going to break a rule, break it good and hard. My personal motto *grin*)

The second thing that made me uncomfortable was becoming aware of the way "science fiction" was used to elevate certain works, and dismiss others altogether…
(4) Walter Jon Williams says Taos Toolbox must move its location, but is still on for 2016.
Yes, there will be a Taos Toolbox next year! I've had to delay the announcement due to our losing our lodging, and to the fact that there will be massive construction in the Ski Valley next year.

The master class for writers of science fiction and fantasy will be held July 17-30, 2016, at Angel Fire, NM, just a short distance from Taos.

Teaching will be Nancy Kress, Walter Jon Williams, indiepub guru Emily Mah Tippetts, and James S.A. Corey, author of The Expanse.
(5) When his bike was stolen and he was without transportation to his two jobs many miles from home, conrunner Adam Beaton turned to GoFundMe.
That's why the money will be used for a scooter. I don't need anything fancy, and I'm not looking for a car because I'd rather not have another bill for insurance on my plate right now. A simple scooter doesn't require a motorcycle license and also doesn't require insurance. It's also far less expensive than buying a car, even a used one, which is why I've tried to keep the target goal as low as possible. Honestly I just need simple transportation that I can use to get me to-and-from work so I can continue being a productive member of society and not lose my jobs.
The community came through with the $600 he needed.
Wow. In less than two days, the goal was made. I'm very blessed to have such great friends and family. Especially some of you who I know are also facing some difficult times and still helped me out anyway. Thank you, thank you, thank you. If you'd still like to contribute, it'll definitely help in getting a scooter that's say, a bit less used.
(6) Today In History
November 17, 2008 – Twilight, the movie that launched a global teenage vampire romance phenomenon, premiered in Los Angeles.
(7) "New LEGO Slippers Will Spare Parents The Unique Pain They Know All Too Well" says Huffington Post.
Now the LEGO brand has teamed up with French advertising agency Brand Station to create some slippers with extra padding that will protect parents from this tortuous sensation.
(8) Another inventor has come up with the "Prosthetic Tentacle".
A student designer has created a prosthetic tentacle as an alternative to artificial human limbs,

Kaylene Kau from Taipei made the remarkable invention as part of a design school project.

The limb would be able to grip many different objects by curling up with the help of a simple motor.

It's actually a pretty simple invention. The controls on the limb tell the motor to curl or uncurl, and there is no 'hardwire' link to the nervous system, as seen in some of the most advanced robotic or artificial limbs in development.
(9) Daniel Dern sends links to the SF-themed comic strips he's seen so far this week.
(10) Famous Monsters #283 sports a Star Wars-themed "variant newsstand cover" by artist Rob Prior. The issue includes interviews with Mark Hamill on Star Wars, Greg Nicotero on The Walking Dead, and Sam J. Jones on Flash Gordon.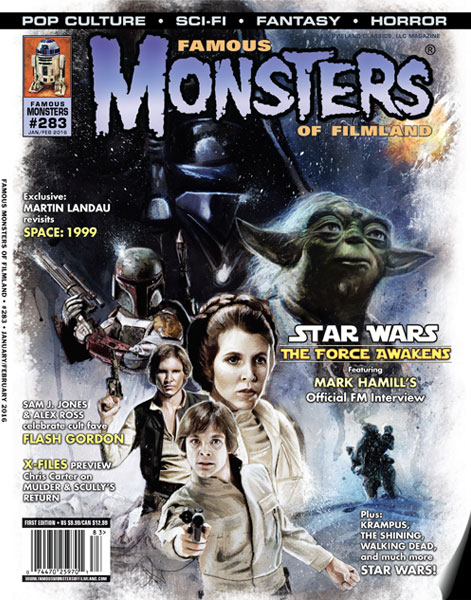 (11) "Yorick: A Unique Life-Size Skull Carved From a Crystallized Gibeon Meteorite" at Junk Culture:
A rare and singular combination of natural history and modern art, Lee Downey's "Yorick." is a life-size skull carved from a large Gibeon meteorite that crashed in the Kalahari Desert in Namibia a thousand years ago. An artist who is known for selecting exotic materials with which to work, Downey acid-etched the carving to uncover the Gibeon meteorite's singular, lattice-like pattern. "A symbol of death, of eternity, of immortality, of demise and rebirth." he explains, "Of any material I could think of to fashion an accurate human skull out of, this Gibeon meteorite best embodies the 'mystery' most acutely."
The skull will be auctioned by Bonhams on November 24, perhaps for as much as $400,000. The auction webpage explains the origin story of this type of meteorite.
ABOUT GIBEON

Gibeon is iron-based and one of the rarest forms of meteorite.
It originated billions of years ago from an unstable planet that existed briefly between Jupiter and Mars.
When the planet broke apart, a section of its core traveled through space for four billion years.
Only the vacuum of space – which provides no surrounding molecules through which heat can be conducted away from the meteorite – allows the prolonged period of intense heat necessary for the alloys of iron meteorites to crystallize.
During its journey, the meteorite's alloys crystallized to form an octahedral crystalline structure that cannot be recreated on earth.
When it met the earth's atmosphere, about 1000 years ago, it exploded over the Kalahari Desert.
The iron rain formed a meteorite field in Great Namaqualand, Namibia, which was first discovered by the local Nama people.
A 48,000 gram block was cut out of the heart of a complete, 280 kg iron meteorite, which Downey then painstakingly carved down to the carving's 21,070 grams.
Radiometric dating estimates the age of crystallization of Gibeon's metal at approximately 4 billion years.
(12) The Doc Dave Winiewicz Frazetta Collection will be auctioned by Profiles in History on Friday, December 11 at 11:00 a.m. PST. Catalog and flipbook at the link.
(13) Winiewicz holds forth on "The Essence of Frazetta" in this YouTube video.
(14) The previous pair of news items come from John Holbo's discussion of fantasy art and "Men wearing a military helmet and nothing else in Western Art" in "Frazetta Auction – and French Academic Art" at Crooked Timber. The post begins with a revelation about Frazetta's source for images of fallen warriors in two of his works.
(15) Shelf Awareness editor Marilyn Dahl plugs Larry Correia's latest book tour and adds some career history.
Larry Correia took a somewhat unexpected journey on his way to becoming a bestselling author. He self-published his first book, Monster Hunter International, when he was an accountant and a gun dealer, and discovered how fundamental handselling is, along with a bit of luck. Don Blyly of Uncle Hugo's Science Fiction Bookstore in Minneapolis, Minn., asked for a copy, read it and finished it in one night. He purchased a large number of POD (print on demand) copies for the store and handsold them. Then fate appeared. The week Uncle Hugo's began selling the book, Entertainment Weekly ran the store's bestseller list, with Monster Hunter International at #3. Toni Weisskopf, publisher of Baen Books, speedily signed Larry to a one-book deal, which turned into 16 in less than six years. In addition, while promoting his POD edition, Correia traveled throughout the Mid- and Southwest, becoming a bookseller favorite. He's launching Son of the Black Sword with a tour that started in New England, continued to the Pacific Northwest, then traveled down the West Coast and across the desert, wrapping up in Scottsdale, Ariz.
(16) Stuart Starosta of Fantasy Literature scored an interview with Cixin Liu.
What was it like when The Three-Body Problem won the 2015 Hugo Award for Best SF novel and was nominated for the 2014 Nebula Award? Is it exciting to discover so much interest in your works overseas? When you first wrote the series, was it intended mainly for Chinese readers or did you imagine there would be English readers as well?

I was in Chicago for the Nebula Awards in June but was too busy to attend the Hugo Awards ceremony. Yet The Three-Body Problem was awarded the Hugo Award so I was disappointed that I missed this opportunity. But I am delighted that the translator, Ken Liu, was able to receive the award. His excellent translation played a very important role in earning the award so I have always believed that we won the award together. I am of course very happy that my own work is so successful outside China. The genre of science fiction was introduced to China during the end of the Qing Dynasty by Westerners. One century later, China's science fiction work is finally being published and recognized in the West. But from another perspective, science fiction novels are the most global type of literature compared to other translated works. These works often involve many aspects of Chinese culture that may be foreign to Westerners so science fiction in translation should be easier for a Western audience to understand.
(17) And Sasquan, in the interests of promoting peace and world brotherhood… no, cancel that story. David D'Antonio, 2015 Hugo Ceremony Director, is still chasing after people to give them souvenir asterisks.
The 2015 Hugo Ceremony is over, and we're reminded that not every nominee could be present. During the Pre-Hugo Reception we offered all present their own 2015 Hugo Asterisk to commemorate an extraordinary year and signify the several records set (including the record number of Hugo voters). Should any of those nominees who couldn't be present desire one, we do have extras and will be happy to send one along. Please contact us at [email protected] at your earliest convenience. Unfortunately, that email list will be closed after two (2) months so we regret that we will not be able to fulfill requests after that time.

Sasquan attendees could get their own asterisk during the convention for a suggested donation to Sir Terry Pratchett's* favorite charity, The Orangutan Foundation. $2800 was raised and has been sent to help orangutans at Leakey Center.
(18) A photographer imagines the daily, mundane life of Darth Vader at Mashable.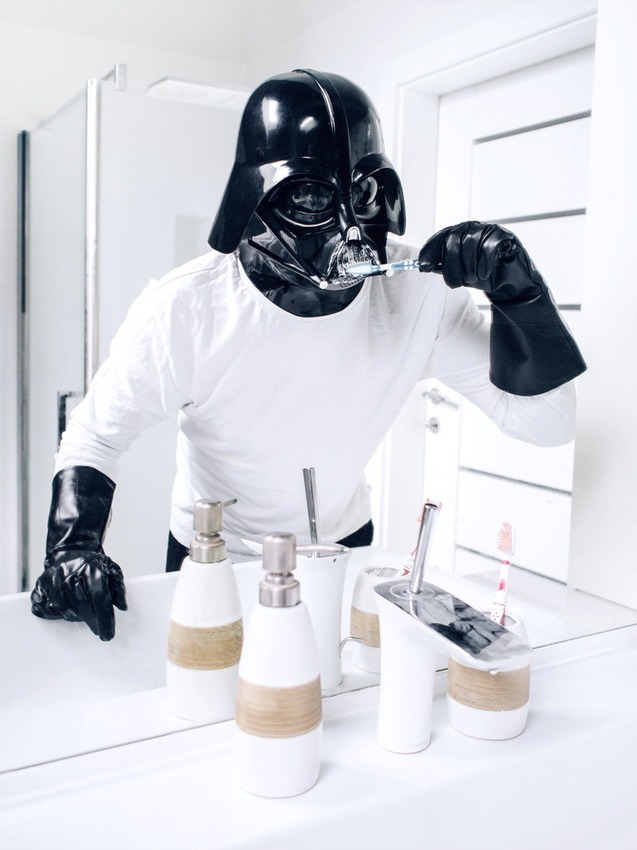 [Thanks to Andrew Porter, Daniel Dern, JJ, Alan T. Baumler, Michael J. Walsh, John King Tarpinian, and Paul Weimer for some of these stories. Title credit goes to File 770 contributing editor of the day Soon Lee.]