(1) PLACE YOUR BETS. "Here are the bookies' odds for the 2022 Nobel Prize in Literature" at Literary Hub.
Do you enjoy gambling—but, you know, in a cultured way? None of that racetrack nonsense or three card monte for you? Well you're in luck: the 2022 Nobel Prize in Literature will be announced next Thursday, October 6, and the bookies have begun taking bets. (You know literary prize season has truly begun when the Lit Hub editors start lurking on online betting sites.)

Here are a few names of genre interest among the 44 listed.

Salman Rushdie – 8/1
Stephen King — 10/1
Haruki Murakami — 14/1
Margaret Atwood — 16/1
Maryse Condé — 16/1
(2) FUTURE TENSE. The latest short story in the Future Tense Fiction series, published this past Saturday, is "Yellow," by B. Pladek, a story about risk-assessment technology, protest, and future conflicts over water.
It was published along with a response essay by health economist Lorens Helmchen, "How risk scores could shape health care".
If a medical treatment for a life-threatening disease had a 60 percent chance of success, but another treatment with a 50 percent success rate had a lower risk of bankrupting your family, which would you choose? What if the success rates were 95 and 90 percent? Would you change your answer?

How we use probabilities like these to guide our choices is at the heart of "Yellow," a new Future Tense Fiction story written by B. Pladek. The story's main character, Chase, works for a private company that helps people navigate these numbers…
(3) CLI-FI. "Is This the Way the World Ends?: PW Talks with Stephen Markley". A Q&A with the author of The Deluge, about future responses to global warming.
Why choose fiction to explore the subject?

Here is my truly arrogant answer that will embarrass me but is still the truth: every artist who has ever pursued a career with passion and commitment believes their art has the power to change everything. That's why we all do it. I read no shortage of nonfiction climate change books. I watched no shortage of earnest environmental documentaries. Many of them I don't even remember because you read about potential catastrophe, and sure, it sounds like a bummer, but it leaves no lasting emotional impact. The point of narrative, of art, is that it can reorient us emotionally. If done well, it can make vivid what is abstract. Given the enormity of the task ahead of everyone alive on this planet, we desperately need that reorientation.
(4) WOLVERINE, COME FORTH. Ryan Reynolds answers people who say, ""How can Wolverine be in Deadpool 3 when he died in Logan?" "Deadpool Update, Part Hugh".
Quick #Deadpool explainer video that tackles… 1) Timeline questions 2) Logan canon 3) MCU FAQ 4) Whether we can do this all day or not
(5) SEATTLE WORLDCON BID NEWS. SWOC, the Seattle Westercon Organizing Committee has awarded a grant of $5000 to the Seattle Worldcon in 2025 bid.
This grant will be used to promote, advertise, and recruit for the Seattle Worldcon Bid; to assist members of the bid in covering the costs of attending this year's SMOFCon in Montréal; and to co-sponsor a night of the SMOFCon hospitality suite.
(6) THAT'S HIM. This time Nick Stathopoulos is on the receiving end of an award-winning portrait. His friend Xavier Ghazi's artwork "Nick 2" won the Joshua Smith Memorial Award for Best in Show at a Drummoyne Art Society exhibition.
(7) WHEATON RETURN ENGAGEMENT. "Wil Wheaton presents and signs Still Just a Geek: An Annotated Memoir" at Vroman's Bookstore in Pasadena, CA on October 26 at 7:00 p.m. (And if this sounds familiar, he was there in August, too.)
From starring in Stand by Me to playing Wesley Crusher on Star Trek: The Next Generation to playing himself, in his second (third?) iconic role of Evil Wil Wheaton in The Big Bang Theory, to becoming a social media supernova, Wil Wheaton has charted a career course unlike anyone else, and has emerged as one of the most popular and well respected names in science fiction, fantasy and pop culture.

Back in 2001, Wil began blogging on wilwheaton.net. Believing himself to have fallen victim to the curse of the child actor, Wil felt relegated to the convention circuit, and didn't expect many would want to read about his random experiences and personal philosophies.

Yet, much to his surprise, people were reading. He still blogs, and now has an enormous following on social media with well over 3 million followers.

In Still Just a Geek, Wil revisits his 2004 collection of blog posts, Just a Geek, filled with insightful and often laugh-out-loud annotated comments, additional later writings, and all new material written for this publication. The result is an incredibly raw and honest memoir, in which Wil opens up about his life, about falling in love, about coming to grips with his past work, choices, and family, and finding fulfillment in the new phases of his career. From his times on the Enterprise to his struggles with depression to his starting a family and finding his passion–writing–Wil Wheaton is someone whose life is both a cautionary tale and a story of finding one's true purpose that should resonate with fans and aspiring artists alike.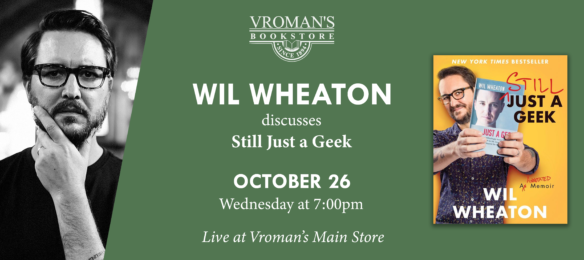 (8) TAKING NOTES. [Item by Martin Morse Wooster.] Well, I guess no Filer watches The Masked Singer because the figure of "The Knight" was revealed to be William Shatner! The Reveal: Knight / William Shatner | Season 8 Ep. 1 The Masked Singer.
(9) MEMORY LANE.
1964 – [By Cat Eldridge.] The Munsters premiered fifty-eight years ago this past weekend on CBS and I could hardly not write their series coming into existence, could I, after just doing the Addams Family? No, I could not.
I think that The Munsters had a better, sweeter family than the Addams Family. Every character here from Fred Gwynne as the sort of monster created by Frankenstein who was the head-of-the-household Herman Munster; Yvonne De Carlo as his vampire wife Lily; Al Lewis as Lily's father, Grandpa, the somewhat over-the-hill vampire; Beverley Owen (later replaced by Pat Priest) as their college-age niece Marilyn, who was a conventional human but the "ugly duckling" of the family; and Butch Patrick as their werewolf son Eddie, all worked perfectly.
On paper, it's a lot of movie tropes into one series and hope they work, but Allan Burns and Chris Hayward did a stellar job here. Burns had nothing before and Hayward had been responsible for the Dudley Do-Right of the Mounties segment of The Rocky and Bullwinkle Show. Yes, I remember both the segment and the series very fondly.
The creators intended it to be a satire of American suburban life, the wholesome TV family fare of the era, and traditional monster movies. It certainly was a satire of the first and the latter, but I'll be damned how it was a satire of the wholesome TV family fare of the early Sixties.
It achieved much higher ratings than the similarly themed Addams Family, which aired concurrently on ABC. Though seventy episodes were produced over its two years, it would be cancelled after ratings dropped to a series low due to competition from ABC's Batman.
It was rebooted as The Munsters Today in 1988 with John Schuck as Herman Munster and Lee Meriwether as Lily Munster. It lasted three seasons and seventy episodes. And then there was the very, very weird Mockingbird Lane pilot of a decade ago. I liked but it didn't go to series. And there's Rob Zombie's The Munsters which is on Netflix and gets a rave review here.
(10) TODAY'S BIRTHDAYS.
[Compiled by Cat Eldridge.]
Born September 28, 1913 — Ellis Peters. Nom de plume of the writer of The Cadfael Chronicles, which I'll admit I broke my rule of never watching a video adaption of a print series that I like. Derek Jacobi as Cadfael was damn perfect. She is here because she was the writer of two excellent haunting aka ghost novels, The City Lies Four-Square and By This Strange Fire, under her real name of Edith Pargeter. (Died 1995.)
Born September 28, 1923 — Erle Korshak. He's a reminder of how old fandom is. He discovered SF in 1934 with the August Astounding magazine and became a very serious collector in 1937 according to several sources. By 1939 he was a well-known fan and one of the leaders of the Moonstruck Press which was created to publish a bibliography of all fantasy books.  He was part of the leadership triumvirate of Chicon 1, the 1940 Worldcon. He later founded a publishing house whose first major work was Everett F. Bleiler's The Checklist of Fantastic Literature in the late Forties, a pioneering work of SF bibliography. This was followed by major works by Heinlein, Bester, Fredric Brown and other SF suthors. He was absent from fandom from the late 50s for thirty years, then rejoined fandom and was attending cons with his children.  He was inducted into the First Fandom Hall of Fame in 1996, and won the Barry R. Levin Science Fiction and Fantasy Literature Lifetime Collectors Award in 2001. He was a guest of honor of Chicon 8, however he died before the convention.(Died 2021.)
Born September 28, 1923 — William Windom. Commodore Matt Decker, commander of the doomed USS Constellation in "The Doomsday Machine" episode, one of the best Trek stories told. Norman Spinrad was the writer. Other genre appearances include being the President on Escape from the Planet of the Apes, The Major in "Five Characters in Search of an Exit" episode of Twilight Zone and Ben Victor in the "The Night of the Flying Pie Plate" story of The Wild Wild West. This is a sampling only! (Died 2012.)
Born September 28, 1932 — Michael G. Coney. British-born writer who spent the last half of his life in Canada. He's best remembered for his Hello Summer, Goodbye novel. I'm very fond of The Celestial Steam Locomotive and Gods of the Greataway which might be set on what could be Vancouver Island. His only Award was from the BSFA for Brontomek!, one of his Amorphs Universe works, although he was a 1996 Nebula nominee for his "Tea and Hamsters" novelette, and a five-time finalist for the Aurora Award. (Died 2005.)
Born September 28, 1935 — Ronald Lacey. He's very best remembered as Gestapo agent Major Arnold Ernst Toht in Raiders of the Lost Ark. (A series where they should've stopped with first film.) He's actually in Indiana Jones and the Last Crusade as Heinrich Himmler though it's an uncredited role. One of his first genre appearances was as the Strange Young Man in The Avengers episode "The Joker".  In that same period, he was the village idiot in The Fearless Vampire Killers which actually premiered as The Fearless Vampire Killers, or Pardon Me, But Your Teeth Are in My Neck. And he's in The Adventures of Buckaroo Banzai Across the 8th Dimension as President Widmark. This is but a thin wafer of his genre roles so do feel free to add your favorite. (Died 1991.)
Born September 28, 1938 — Ron Ellik. Writer and Editor, a well-known SF fan who was a co-editor with Terry Carr of the Hugo winning fanzine, Fanac, in the late 1950s. Ellik was also the co-author of The Universes of E.E. Smith with Bill Evans, which was largely a concordance of characters and the like. Fancyclopedia 3 notes that "He also had some fiction published professionally, and co-authored a Man from U.N.C.L.E. novelization." The Encyclopaedia of Science Fiction says he died in an auto accident the day before his wedding. (Died 1968.)
Born September 28, 1966 — Maria Pilar Canals-Barrera, 56. She's getting Birthday Honors for being the voice of Hawkgirl on Justice League and Justice League Unlimited. She's also voiced Commissioner Ellen Yindel in Batman: The Dark Knight Returns, and voiced Rio Morales, the mother of the Spider-Man, Miles Morales, on the Ultimate Spider-Man series. I just picked this to watch as it looks very good. 
Born September 28, 1982 — Tendai Huchu, 40. Zimbabwean author who's the editor along with Raman Mundair and Noel Chidwick of the 2020 issue of Shores of Infinity zine. He's also written a generous number of African centric stories of which "The Marriage Plot" won an African Speculative Fiction Society Nommo Award for African Speculative Fiction for Best Short Story (2017), as did his novel The Library Of The Dead (2022). That issue of Shoreline of Infinity (Issue 18, Summer 2020) is available from the usual digital suspects. His newest novel, Our Lady of Mysterious Ailments, came out in April this year.
(11) ONLINE ARCHIVE MOVES. "British comic fanzines archive 'The Fanscene Project' has a new online home" reports downthetubes.net.
An incredible project aiming to document the history of British comic fanzines and fandom, both as an online archive and in print, has a new home on the web.

Founded back in 2015 as the Classic UK Comic Zines site, artist and comic archivist David Hathaway-Price has been constantly adding to what is now The Fanscene Project.

Now residing at comicsfanzines.co.uk, the project is an online, read-only archive of British comic fanzines, published across the last 50 years, including, with the permission of their original editors, titles such as BEM, Comic Media News, Fantasy Trader, Infinity, Speakeasy, and many more. It even includes incredibly rare digital editions of very early zines such as Ka-Pow, published by Phil Clarke and Steve Moore back in 1967/68.

… The aim of The Fanscene Project is to create a digital repository of as many of the Comics Fanzines published in the UK as possible; fan publications containing work by artists and writers who would sometimes later move into, and shape, the industry that they loved….
(12) JEOPARDY! Unlike the contestants, Andrew Porter knew the right question to go with this answer on tonight's episode.
Category: Cliff Notes

Answer: "Dizzy sunless cliffs above the Great Abyss" paints a picture in H.P. Lovecraft's "At the Mountains of" this.

No one could ask, "What is Madness"?
(13) SMALL BANG THEORY. In the Washington Post, Planetary Society editorial director Rae Paoletts says the asteroid-smashing DART mission was an important achievement because it shows that planetary defense against asteroids is possible. "Three cheers for NASA's asteroid smasher".
…Asteroids are a notoriously sticky wicket. On one hand, they're remnants from the birth of our solar system; relics from the beginning of everything — or whatever our slice of that is. On the other, asteroids have caused inconceivable damage to our planet. Roughly 66 million years ago, a 6-mile-wide asteroid slammed off the coast of what is now Mexico's Yucatán Peninsula. A single asteroid robbed us of the chance to see pterodactyls soar across the sky, or to have them use us for food, depending on which way you look at it.

DART can't undo the damage of past asteroid impacts, but it can help us prevent them in the future. With DART's collision, scientists tested a planetary defense strategy known as the "kinetic impactor technique," which aims to move — but not destroy — an object….
(14) WHO'S THAT? These are IndieWire's nominees for the "Most Controversial Movie and TV Recastings Ever". Most are from sff productions.
Marvel Cinematic Universe — The Hulk
Edward Norton played Bruce Banner for the Marvel Cinematic Universe in 2008, starring in Louis Leterrier's "The Incredible Hulk." When it was revealed that Norton would not continue his journey in the growing multiverse, Marvel's Kevin Feige released a statement citing "the need for an actor who embodies [creativity and a] collaborative spirit." Norton has since said he had a great time doing the project and holds no ill-will toward Feige. Mark Ruffalo went on to play the lovable green giant in seven films with more to come.

Other notable MCU recastings include War Machine, originated by Terrence Howard in "Iron Man" and taken over by Don Cheadle; as well as Howard Stark, played by Gerard Sanders (in a non-speaking role), John Slattery, and Dominic Cooper.
(15) WILL THEY MAKE THE CUT? At Eclectic Theist, J. W. Wartick continues screening entries in the second annual Self-Published Science Fiction Competition: "SPSFC2 First Impressions: 'Mercury's Shadow,' 'Ever the Hero,' and 'A Hardness of Minds'".
The Self-Published Science Fiction Contest ("SPACEFIC") is underway, and my group is going through one of my favorite parts of the contest: sorting through a slush pile. Basically, we get a stack of books and need to sample them all to narrow down our selections for quarter- and semi-finalists. Here, I'll be going over my first impressions of some of these books. Please note my "Yes," "No," or "Maybe" vote is only indicative of my opinion and may not reflect the opinion of our whole group. Since we advance books as a group, it's possible a "Yes" from me may end up a "No" overall and vice versa. Let me know what you think of the books in the comments!
(16) A LOOK BEHIND AT A LOOK AHEAD. YouTube's The 1920s Channel presents The Future Of The 1920s.
"Futurism" is what people believed the future would be like at a given time. Similarly, "retrofuturism" is futurism of the past. Most people think of Victorian futurism (steampunk) and 1950s/1960s futurism (atompunk). 1920s futurism sits right in the middle, mostly forgotten. Technically, it's grouped in with "dieselpunk," which extends into the WWII period, but I think the aesthetic of the 1920s is a bit different. For example, in the 1920s version of the future, zeppelins and airships are all over the place, though by WWII, zeppelins were a thing of the past. In this video, I'll explain a little bit about the 1920s conception of the future, then show a lot of examples from a 1920s science and technology magazine called "Science And Invention."
[Thanks to John King Tarpinian, Andrew Porter, Chris Barkley, Michael Toman, Cat Eldridge, Mike Kennedy, Martin Morse Wooster, and JJ for some of these stories. Title credit belongs to File 770 contributing editor of the day Ingvar.]