By Mark L. Blackman: On the muggy evening of Wednesday, August 16, the monthly Fantastic Fiction Readings Series hosted authors Gregory Frost and Rajan Khanna at its venue, the very Red Room at the 2nd floor KGB Bar in Manhattan's East Village. (For those unfamiliar with the readings series, the Kraine Gallery Bar is red-walled with Soviet era posters and photos – no swastikas or Confederate flags there!) The gathering seemed smaller than usual, perhaps some regulars were still touring post-Worldcon.
The event opened, as customary, with Series co-host Matthew Kressel's exhortation to support the Bar by buying a drink or two (and tip), and announcing upcoming readers:
September 20: Katherine Vaz and Chris Sharp
October 18: James Patrick Kelly and Kai Ashante Wilson
November 15: Grady Hendrix and David Rice
December 16: N.K. Jemisin and Chris N. Brown
(All dates are the third Wednesday of the month. Details and lineup well into 2018 are available at the Series website.) He concluded by introducing the evening's first reader, a personal pleasure, as Raj Khanna is also a friend.
Khanna is an author, blogger, reviewer and podcast narrator. (As I've remarked previously, his soft voice is, as we heard, well-suited for narrating.) His post-apocalyptic airship adventure series, starting with Falling Sky (from which he read at the KGB back in December 2014) and Rising Tide, concluded in July 2017 with Raining Fire, from the middle of which he read. The trilogy is set in a post-apocalyptic near-future where fuel is so expensive that airships have come back, and, if that weren't cataclysmic enough, a global pandemic has reverted hordes of people to a violent, zombielike, animalistic (and, of course, hungry) state called Ferals. The hero (and narrator), Ben Gold, who used to own an airship, but is now grounded, encounters a settlement about to be overrun by Ferals. Sufficiently overcoming their suspicions (but they're keeping his gun), he works with them, using disparate parts from trucks and airships hurriedly to rig up a "junker" ("Frankensteinlike," it's dubbed "the Monster") on which to flee as their walls are burst through.
After an intermission, Series co-host Ellen Datlow (newly returned from Helsinki, where she was awarded another well-deserved Hugo) took the podium and introduced the second reader of the night.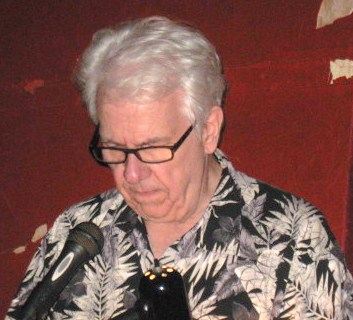 Gregory Frost is the author of Shadowbridge, Lord Tophet, Fitcher's Brides, The Pure Cold Light and Attack of the Jazz Giants, along with "a whole mess" of short stories of the fantastic. His collaboration with Michael Swanwick, "Lock Up Your Chickens and Daughters, Hard and Andy Are Come to Town" (whose title convulsed the audience), won an Asimov's Readers' Award for 2015. With Jonathan Maberry, Frost founded the Philadelphia branch of The Liars Club, "a collective of semi-deranged and often inebriated authors" (or so he claims). He read from an as-yet-unpublished piece from his "weird collaborate[ve]" series with Jonathan Maberry based upon their novella Rhymer, a "riff" on Thomas the Rhymer, the first two chapters of his origin story. Here, the boy encounters the faerie queen ("the Queen of Heaven") and her retinue, and his companion (Frost affected a Scots accent for his dialog) is taken. Thomas attempts a rescue, unsuccessfully.
Copies of Frost's Shadowbridge and Khanna's Raining Fire were for sale at the back of the room from the Word Bookstores of Greenpoint, Brooklyn (and Jersey City), and Frost had copies of his collection Attack of the Jazz Giants available.
Prior to the readings, as is her wont, Datlow had wended through the audience, snapping away; her photos of the event may be seen at the Series website, http://www.kgbfantasticfiction.org/.