(1) WAPO'S NEW SFF COLUMN. Silvia Moreno-Garcia and Lavie Tidhar have launched a new column on SFF in the Washington Post: "The weird, the wacky, the underappreciated: A new look at science fiction and fantasy".
Even 10 years ago, the fields of science fiction and fantasy were still overwhelmingly American and white. And, if you grew up speaking Spanish in Mexico City, (as I, Silvia, did), or Hebrew on a small kibbutz in Israel (as I, Lavie, did), it meant that the world of science fiction, filtered through translation, was as remote and alien as the other side of the moon. The very idea we could be writing novels like these seemed, well, fantastical.

Yet, somehow, here we are. The past decade has seen the science-fiction world change as more international voices enthusiastically jumped into the fray. Now, wonderful writers including Malaysian Zen Cho can write smart, funny fantasies such as "Sorcerer to the Crown"; after years of struggle, Nigerian Tade Thompson's ambitious Africa-set novel, "Rosewater," was published to wide acclaim and recently won the prestigious Arthur C. Clarke Award; and Chinese author Liu Cixin's "The Three-Body Problem," translated by Ken Liu, has become a bestseller and even has a recommendation from former president Barack Obama.
(2) LISTEN TO HURLEY. The title of Kameron's Hurley's latest podcast says it all: "GET TO WORK HURLEY: Episode 13. In this episode we discuss how to take notes, long-term career planning, and why it is books seem to get more difficult to write the more of them you write. I'll also be tackling some listener questions, from where to find more gooey biopunk to what I think of writers' unions".
(3) FIRESIDE CANCELLATIONS. The October 8 issue of Jason Sanford's Genre Grapevine reported —
…Fireside Press contacted a number of its authors and cancelled their pending book titles. The messages received by those authors said that due to unexpected changes at Fireside, the publisher had to re-evaluate their plans for the upcoming year. As a result Fireside was cancelling the contracts for multiple titles which had been accepted and contracted but not yet scheduled for publication. Fireside reverted the rights for these books to their authors, although no kill fee was paid because that wasn't in the contract.
Pablo Defendini, the Publisher of Fireside, responded to the report with a statement: "About our Acquisitions".
On Monday morning, I sent out messages reverting the rights on five unpublished and unannounced manuscripts that we acquired last year during our novel and novella acquisitions period. In the last day or so there's been lots of rumor and speculation, so I wanted to explain what's going on directly.

We've had some unexpected changes on the editorial front at Fireside this year. Any time there's a change like that, it affects workflow, capacity, and resourcing throughout, especially at very small operations like ours. Over the past few months, as I've reworked our editorial operations to account for working with more people than ever before, it's become clear to me that the amount of work that I'd previously thought Fireside could take on was unsustainable. Trying to take on too much work would have made living up to our obligations to our authors extremely challenging. It would have been bad both for Fireside and for these authors and their work. So rather than publishIng these books badly, I made the decision to cut down on our upcoming list.

This sucks no matter how you slice it, but it would have sucked more down the line. As I told each author, this is not a reflection on their work. There's a reason we were attracted to these manuscripts in the first place — they're great stories, and I have no doubt that they will find good homes. But I'd much rather revert the rights to these books back to their authors, than do a bad job publishing their work, or worse: sit on the rights until the contracts expired….
Meg Elison today said she is one of the authors whose contract was cancelled, and commented at length about how that was handled. Thread starts here.
(4) LEWIS QUEST. Matt Mikalatos, while "Introducing the Great C.S. Lewis Reread" at Tor.com, raises the suspicion that the series will be of great interest to all except to those who actually like Lewis's writing.
…Time passed, and over the years I've grown and changed, of course; recently my 16-year-old picked up my favorite Lewis book, Till We Have Faces. It's a beautiful novel about loss and faith and confronting the gods. My daughter told me it was good, but added, "He didn't like women much, did he?"

Okay, yes, that's a fair response. And there are certainly moments of deeply troubling racism in Lewis's books, too. And for those who aren't from a Christian background (and maybe some who are), the central Christian conceits can be off-putting (even Tolkien, who was a key player in Lewis's conversion, often disliked Lewis's sermonizing).

So why are we embarking on a massive re-read of Lewis's books?

Well, love them or hate them, the Narnia books played a key role in bringing children's literature back into the worlds of the fantastic. There was a strong emphasis on realism in Lewis's days, and too much imagination was seen as unhealthy for kids (though Baum, Barrie, and Nesbit might still be on the nursery shelf). The popularity of Narnia opened the door to more fantasy literature for children, and The Chronicles of Narnia still get placed on "Best Of" lists for children today….
(5) EMULATING WHO. Watch the full recreation of the missing Doctor Who 1965 episode Mission to the Unknown by the University of Central Lancashire. Find out more and watch the making-of here.
(6) A HOGWARTS TENURE APPLICATION. McSweeney's Alyse Knorr reveals "Professor Minerva McGonagall's Letter to the Tenure Committee".
…When I first applied for this position, did I know that my expected job duties would include dueling genocidal dark lords or battling Death Eaters in the Astronomy Tower? No. Did I do them anyway, even after being denied a cost of living adjustment to my salary for ten years in a row while also dealing with insidiously small-but-steady cuts to my annual conference travel budget? Yes. Do these accomplishments count as service to the student body, to the institution, or to humanity itself? Hard to say.

Not even saving the institution from an apocalyptic calamity orchestrated by a noseless neo-Nazi, however, can compare to the daily, ongoing, and, frankly, deeply disheartening struggle to protect our students from themselves….
(7) TODAY IN HISTORY.
October 9, 2010 — Monsterwolf debuted on Syfy. It stars Leonor Varela, Robert Picardo, and Marc Macaulay. It's a werewolf movie and Robert Picardo appeared in The Howling as a werewolf.
October 9, 2012 — Werewolf: The Beast Among Us was released on DVD. Starring Ed Quinn and Guy Wilson, it rated 37% at Rotten Tomatoes. Yes, a lot of werewolf films get released round Halloween.
October 9, 2015 — Pan was released by Warner Bros. Starring Hugh Jackman as Blackbeard and Levi Miller as Pan, it bombed at the box office. Rotten Tomatoes gives it a 27% approval rating.
(8) TODAY'S BIRTHDAYS.
[Compiled by Cat Eldridge.]
Born October 9, 1900 — Harry Bates. His 1940 short story "Farewell to the Master" was the basis of The Day the Earth Stood Still just over a decade later. And he edited Astounding Science Fiction from its inception in January 1930 until March 1933 when Clayton went bankrupt and the magazine was sold to Street and Smith. Other than The Day the Earth Stood Still, neither iBooks or Kindle has much by him. (Died 1981.)
Born October 9, 1936 — Brian Blessed, 83. Lots of genre appearances including Space 1999, Blake's 7, Doctor Who, Hamlet (as the a Ghost of Hamlet's father), MacGyver: Lost Treasure of Atlantis, Johnny and the Dead and Star Wars: Episode I – The Phantom Menace.
Born October 9, 1953 — Tony Shalhoub, 66. Two great genre roles, the first being Jack Jeebs in Men In Black, the second being more I think more nuanced one, Fred Kwan in Galaxy Quest. Actually, he's done three great genre roles as he voiced Master Splinter in Teenage Mutant Ninja Turtles and Teenage Mutant Ninja Turtles: Out of the Shadows.
Born October 9, 1954 — Scott Bakula, 65. Lead in two great SF series, Sam Beckett on Quantum Leap and Captain Jonathan Archer on Enterprise. He also starred as Nolan Wood who discovers the alien conspiracy in the remake of The Invaders.
Born October 9, 1956 — Robert Reed, 63. Extremely prolific short story writer with at least two hundred tales so far. And a number of novels as well, such as the superb Marrow series.
Born October 9, 1958 — Michael Paré, 61. I'll start off with his being in Streets of Fire but he's also been in The Philadelphia Expirement, Lunarcop, both BloodRayne films and Moon 44.
Born October 9, 1961 — Matt Wagner, 58. The Grendel Tales and Batman / Grendel Are very good as is Grendel vs. The Shadow stories he did a few years back. His run on Madame Xanadu was amazing too.
Born October 9, 1964 — Jacqueline Carey, 55. Author of the long-running mildly BDSM centered Kushiel's Legacy Universe which also includes the Moirin Trilogy. (Multiple Green Man reviewers used this phraseology in their approving reviews.) LOCUS in their December 2002 issue did an interview with her called "Jacqueline Carey: Existential BDSM". She did several stand-alone novels including the intriguingly entitled Miranda and Caliban.
Born October 9, 1964 — Guillermo del Toro, 55. Best films? Hellboy, Hellboy II and Pan's Labyrinth. Worst films? The Hobbit films. Hellboy II would make it solely for the Goblin's Market sequence.
Born October 9, 1979 — Brandon Routh, 40. The lead in Superman Returns, a film that got a very positive 75% rating on Rotten Tomatoes. Surprisingly it didn't make the final ballot for the Hugo Best Dramatic Presentation, Long Form when It was eligible. He's currently Ray Palmer, The Atom, in the Arrowverse.
(9) COMICS SECTION.
They're always the last to know.
(10) EIGHTY CANDLES. Let the BBC tell you about this survivor: "Marvel Comics at 80: From bankruptcy threat to billions at the box office".
…But that universe could have been lost forever when Marvel hit financial problems in the 1990s.

"The comics industry had been massively overvalued for years," says [Professor Chris Murray].

"Comic collectors had been buying multiple copies of issues, believing that they were going to be valuable in 10-20 years time so they were investing."
(11) TAKING THE TUBE. Steve Carper has a fascinating profile of "Gyro Gearloose's Little Helper" at Black Gate.
…The tiny figure, like those singers in the terrific documentary 20 Feet From Stardom, was a major talent in its own right. Like so much else in Disney comic history, the name was applied retroactively, because fans and followers needed a tag to put on the character. They had little to go on. At first, Barks seldom had Gyro even directly notice his shadow, much less address it. But even Barks occasionally nodded. There is an instance of Gyro calling it "Helper." And Helper morphed into Little Helper, which is the best term to search on. (It's Little Bulb in the Duck Tales cartoons.) Helper is canonical, because helper is how Barks thought of his creation, as quoted in Tom Andrae, Carl Barks and the Disney Comic Book: Unmasking the Myth of Modernity.
(12) THE CREEPIEST. Food Network calls these the "15 Limited-Edition Halloween Candies to Hunt for This Year". For example: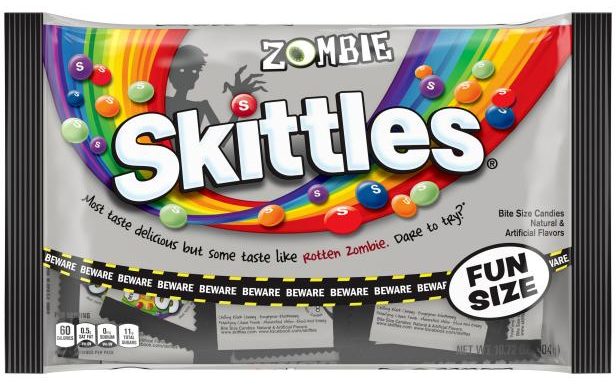 Zombie Skittles are the definition of trick or treat. This new bag of candy looks like regular ol' Skittles — but beware! Some of the candy pieces are sweet and fruity, while others taste like rotten eggs. So, brace yourself before you grab a handful. There's a good chance you'll get a mouthful of YUCK.
(13) HOLD THE PHONE. A prize for device power: "Nobel chemistry prize: Lithium-ion battery scientists honoured".
Three scientists have been awarded the 2019 Nobel Prize in Chemistry for the development of lithium-ion batteries.

John B Goodenough, M Stanley Whittingham and Akira Yoshino share the prize for their work on these rechargeable devices, which are used for portable electronics.

At the age of 97, Prof Goodenough is the oldest ever Nobel laureate.

Professor of chemistry Olof Ramström said lithium-ion batteries had "enabled the mobile world".

The trio will share the prize money of nine million kronor (£738,000).

The lithium-ion battery is a lightweight, rechargeable and powerful battery that is used in everything from mobile phones to laptops to electric cars.
(14) DON'T FORGET TO CENSOR YOURSELF. Looper is there when "South Park creators 'apologize' to the Chinese government after being erased from the internet". Once you learn how to fake sincerity, you've got it made.
…A recent episode of the adult-oriented animated series entitled "Band in China" was, well, banned in China after the country's government deemed it inappropriate (via The Hollywood Reporter). Every last clip of the episode, which critiques the ways in which Hollywood tends to adjust its content to avoid censorship from the Chinese government and features character Randy Marsh (Trey Parker) getting thrown in jail after he's caught selling drugs in China, has been scrubbed from China's intensely monitored internet — including from streaming services, fan pages dedicated to South Park, and social media platforms. All instances of discussion about the "Band in China" episode, official or otherwise, have also been removed from the Chinese internet.
(15) AT THE CORE. Atlas Obscura reveals that "Russia's Retro Lenin Museum Still Runs on Decades-Old Apple II Computers".
The versatility of the Apple II made it one of the most widespread personal computers of the 1970s and 80s. In schools, labs, and even command centers, these classic American computers kept a foothold even after the advent of more advanced machines. But of all the places you'd expect to find the computer that popularized The Oregon Trail, the mournful museum of a Communist leader is one of the most unlikely.

Lenin Museum in Gorki Leninskiye, located 20 miles south of Moscow, doesn't look hi-tech even by 1980s standards. But among black marble interiors, gilded display cases, and Soviet historical documents, there is an elaborate audiovisual show about the last years of Vladimir Lenin's life. Opened in 1987, it's still powered by vintage Apple technology….
(16) BRADBURY PROFILE. Thanks to YouTube, it's not too late to tune into Ray Bradbury – Story of a Writer, a 25-minute documentary from 1963 by David L. Wolper.
(17) FRIGHT NIGHT. Remember the week horror stars Bela Lugosi, Lon Chaney Jr. and Vampira were on the Red Skelton Show? Me neither, but YouTube does. (And it somehow seems appropriate that Geritol was the sponsor.) Dial B for Brush starts at about the 7:30 mark.
(18) DRAWN THAT WAY. In "The Real Fake Cameras of Toy Story 4" on YouTube, the Nerdwriter looks at how Toy Story 4 cinematographer Patrick Lim used analog cinematography techniques, including split diopter shots and anamorphic lenses, to improve the film.
[Thanks to Andy Leighton, Mlex, Lise Andreasen, Martin Morse Wooster, Mike Kennedy, Chip Hitchcock, Cat Eldridge, JJ, John King Tarpinian, Olav Rokne, SF Concatenation's Jonathan Cowie, and Andrew Porter for some of these stories. Title credit goes to File 770 contributing editor of the day Jon Meltzer.]