(1) SATURDAY AFTERNOON AT WORLDCON. Adam Rakunas is publicizing the availability of help for those who want it:
If anyone going to Worldcon wants someone to walk with on Saturday, a group of us will be escorting members gratis. Look for the pink shirts that say "I Am Here To Help." We will have routes that are accessible and will avoid the temper tantrum at the north entrance. pic.twitter.com/rfxCk2bT25

— Adam Rakunas (@rakdaddy) August 13, 2018
(2) NEWS CLIPPING. Barnes & Noble Sci-Fi & Fantasy reports that in 2019 Saga Press will publish Rivers Solomon's novel inspired by a song from 2017 Hugo nominee Clipping,—a group that includes Tony-winner Daveed Diggs. Thread starts here.
Also, to coincide with the publication of Rivers's novel, We intend to release a physical version of "The Deep" (mostly likely on vinyl) which will contain new music by us that relates to the novel.

— ???????? (@clppng) August 13, 2018
(3) BEAM UP MORE GOLD. Borys Kit, in "Chris Pine and Chris Hemsworth 'Star Trek 4' Future In Doubt as Talks Fall Through (Exclusive)"  in The Hollywood Reporter says that both Pine and Hemsworth (who was supposed to play Captain James T. Kirk's father) have said they won't be in Star Trek 4 because of pay issues.
The deal points came down to the usual suspect: money. Pine and Hemsworth, among Hollywood's A-list when starring in DC or Marvel movies, are said to be asking the studios to stick to existing deals. Paramount, according to insiders, contends that Star Trek is not like a Marvel or Star Wars movie and is trying to hold the line on a budget.

The actors, according to sources, insist they have deals in place and that the studios are reneging on them, forcing them to take pay cuts as they try to budget a movie that is following a mediocre performer.

Pine, at least, has had a deal in place for several years. The actor, now a key player in the Wonder Woman franchise, signed up for a fourth movie when he made his deal for 2016's Star Trek Beyond. Hemsworth has been attached to Star Trek 4 since Paramount, then run by the previous regime headed by Brad Grey, announced the fourth installment in 2016, although his exact status remains murky.
(4) SIGNING STORIES. Delilah S. Dawson gets a lot of great answers. Thread starts here.
Hey, writers! What's the weirdest thing that's ever happened to you at a signing or book event?

— Delilah S. Dawson (@DelilahSDawson) August 12, 2018
Includes a RedWombat sighting –
No big deal, I go to bed. The next day, we discover that one of his fans was following my Twitter because he knew we were on tour together, checked every hotel bar in a radius around the bookstore until he found the one with the soju, then lay in wait for the poor guy.

— The Wombat Resists (@UrsulaV) August 12, 2018
(5) IT'S THAT DAY. In Pogo, Walt Kelly had a running gag: "Be careful, Friday the 13th falls on a Sunday/ Monday/ Tuesday, etc. this month." Friday the 13th falls on a Monday in August.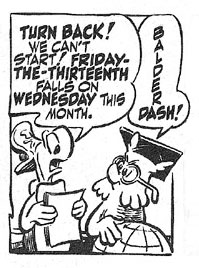 (6) A MODERN SAGA. Brought to you by Amal El-Mohtar.
Jars of Hellman's I sing, who, forced by Fate
& Millenials' unrelenting hate
Expell'd & exil'd, left the grocery store
Graced fridges, salads, sandwiches no more pic.twitter.com/WMtcSMxlHl

— Amal El-Mohtar (@tithenai) August 12, 2018
(7) THE BEST OF. James Davis Nicoll looks back at Del Rey Books' "Best of…" series in "A Survey of Some of the Best Science Fiction Ever Published (Thanks to Judy-Lynn Del Rey)" at Tor,com, although some of the humor made me wonder if he really liked all the collections. (Which I suppose he did, otherwise why write the piece?) Like this note:
John Brunner's fiction covered a spectrum ranging from morose to intensely gloomy. Readers intrigued by this collection who want to enjoy his strengths at novel length should seek out Brunner's thematically-related SF standalone novels: The Jagged Orbit, The Sheep Look Up, Stand on Zanzibar, and The Shockwave Rider. Each book tackles One Big Issue (racial conflict, pollution, overpopulation, and future shock, respectively).
(8) HUGHART OKAY. The query about author Barry Hughart's well-being in the August 4 Scroll (item 5) has been answered, and the news is good. Bill Schafer of Subterranean Press replied today —
Dear Mr. Glyer,

In response to your recent thread about Barry Hughart's whereabouts…

I am happy to report I just got off the phone with Barry Hughart, who is very much still with us. (He is terrible about responding to emails, which led me into my email archives to dig out his phone number.)

Oddly enough, we've been doing business for ten years or more, and this is the first time we've spoken.

Best,

Bill
(9) ROHAN OBIT. A note about the passing of Michael Scott Rohan (1951-2018) at the SF Encyclopedia.
Michael Scott Rohan died in hospital in his home town of Edlnburgh on 12 August 2018; he was 67. Although his first novel Run to the Stars (1983, pictured) was a lively science-fiction adventure, his considerable reputation rests mainly on the Winter of the World fantasy sequence beginning with The Anvil of Ice (1986) and the Spiral science-fantasies beginning with Chase the Morning (1990).

Speaking personally, Mike Rohan was an old and valued friend whose unexpected death leaves an aching hole in the world. — David Langford
(10) TODAY IN HISTORY
August 13, 1942 — Disney's Bambi premiered in New York City.
August 13, 1953 — The original War Of The Worlds was released in New York City.
(11) TODAY'S BIRTHDAYS
Born August 13, 1899 – Alfred Hitchcock. Let's see… The Birds and Psycho. Y'all think anything else might be loosely be genre which I include horror in?
Born August 13 – Kevin Tighe, 74. First genre role was in This Immortal series, nearly fifty years ago; appeared also in The Six Million Dollar Man, Tales from the Crypt, Escape to Witch Mountain, The Outer Limits, Star Trek: Voyager, Strange World, The 4400, Lost and Salem. 
Born August 13 –Danny Bonaduce, 59. First genre role was in The Ghost & Mrs. Muir; later roles included acting in Bewitched, Shazam!, Fantasy Island (original series), Sabrina, the Teenage Witch and Bigfoot. Voice work includes Dr. Dolittle, Fred Flintstone and Friends and Goober and the Ghost Chasers.
Born August 13 – John Slattery, 56. Howard Stark in the MCU film franchise, appeared in The Adjustment Bureau film based loosely I suspect of the Philip K. Dick short story 'Adjustment Team', 3rd Rock, From the Earth to the Moon miniseries and Flashpoint.
Born August 13 – Michael De Luca, 53. Producer, second Suicide Squad film, Childhood's End, Ghost Rider and Ghost Rider: Spirit of Vengeance, Dracula Untold, Lost in Space, Blade and Blade II, Pleasantville and Zathura: A Space Adventure which is not a complete listing. Also writer for an episode of Star Trek: Voyager, the first Dredd film (oh well), the Freddy's Nightmares series and the Dark Justice series which though not genre was rather fun.
Born August 13 – Sebastian Stan, 36. Bucky Barnes / Winter Soldier in the MCU film franchise; also appeared in Once Upon a Time series, The Martian, The Apparition, Ares III, and Kings, a contemporary alternate-history series about a man who rises to become the King of his nation, based on the biblical story of King David.
Born August 13 – Sara Serraiocco, 28. Currently in Counterpoint, a cross-universe Cold War thriller. That's it.
(12) COMICS SECTION.
(13) MEDICAL ADVICE. At Dorkly, "Two Doctors Figured Out How To Treat A Centaur Having a Heart Attack". I hope Rick Riordan is taking notes.
Case in point: centaurs – what's THEIR deal? Half man, half horse, and ALL anatomical mysteries. See, the way centaurs are broken down is that it's the torso 'n up part of a human combined with the whole body of a horse (minus the head and neck). But that presents a problem, because (anatomically-speaking) the two halves share a whole bunch of organs, namely the heart.

So a doctor (@FredWuMD) took to Twitter to ask fellow medical professionals an incredibly important question – if a centaur was in the midst of a cardiac arrest, where would you presume the heart is? Where would you use defibrillator pads?
(14) WHAT'S ON HIS MIND? Mike Alger says: "Weekend project: By combining a 3D scan with an MRI (don't worry I'm fine), I can now step out of my body and legitimately look into my head at my own brain."
Thread starts here. Mlex says, "This reminded me of Ted Chiang's story, 'Exhalation', in Lightspeed Magazine."
Under the skin: an MRI session can be easily exported to images. Rather than an admittedly more appropriate voxel approach that I'm afraid of, I lined up the images on quads and made a shader to adjust their opacity based on viewing angle and distance. pic.twitter.com/Yuq2kzIBaq

— Mike Alger (@MikeAlgerXR) August 13, 2018
(15) COSTUMING HISTORY. The International Costumers Gallery continues its series, "Convention Costuming History: The Post WWII Years – 1946".
…The Pacificon Convention News, issue #2 promised a Costume Ball, essentially acknowledging how much a part of the convention wearing costumes had become. Hearkening back to the pre-war events, it anticipated "BEMs and MONSTERS from every solar system and dimension; famous characters from the stories you have read and loved and every kind of costume that the fertile mentalities of fen (the best fertilized minds in existence) do be able to thunk up<sic>."(2) Whether it was actually a "ball" or just a party is not clear.

Participants and costumes reported were Myrtle Douglas winning first prize for her Snake Mother dress (3)(4) and Arthur Joquel II (5) dressed as a "high priest", winning a prize for "characterization". Fan and fanzine writer Dale Hart's "Gray Lensman" costume was judged "most ingenious". (6)
(16) THE GREAT WALL OF HYDROGEN. The New Horizons probe is looking for evidence of it: "NASA spotted a vast, glowing 'hydrogen wall' at the edge of our solar system".
There's a "hydrogen wall" at the edge of our solar system, and NASA scientists think their New Horizons spacecraft can see it.

That hydrogen wall is the outer boundary of our home system, the place where our sun's bubble of solar wind ends and where a mass of interstellar matter too small to bust through that wind builds up, pressing inward….

What New Horizons definitely sees, the researchers reported in a paper published Aug. 7 in the journal Geophysical Research Letters, is some extra ultraviolet light — the kind the researchers would expect such a wall of galactic hydrogen to produce. That replicates an ultraviolet signal the two Voyager spacecraft — NASA's farthest-traveling probes, which launched in the late 1970s — spotted all the way back in 1992. [Images: Dust Grains from Interstellar Space]

However, the researchers cautioned, that signal isn't a sure sign that New Horizons has seen the hydrogen wall, or that Voyager did. All three probes could have actually detected the ultraviolet light from some other source, emanating from much deeper in the galaxy, the researchers wrote.
(17) SEEING SPOTS. Lasers been berry berry good to me. NPR: "Growers Are Beaming Over The Success Of Lasers To Stave Off Thieving Birds".
During every berry-picking season in the Pacific Northwest, blueberry and raspberry growers fight to prevent birds from gobbling up the crop before harvest. This year, some farmers are trying something new to scare away the thieving birds: lasers….

The lasers cross over in erratic patterns. The sweeping green laser beams emanate from what look like security cameras atop metal poles.

They also work during the daytime. But in sunlight, the human eye can only see green dots dancing across the berry-laden bushes.
(18) SFFANZ 500. Congratulations to the Science Fiction and Fantasy Association of New Zealand (SFFANZ) on their blog's 500th post – "SF Writer at the Manawatu Writers Festival + 500th Post".
A heads up for SF fans about the Manawatu Writers' Festival (Sept 7 – 11, 2018). This year they have a session with one of NZ's longest running successful writers, Lyn Mc Conchie.

Lyn McConchie is an internationally successful author, who has had 44 books published, 300+ short stories, and 150+ articles. Her work has appeared in English, Polish, Russian, Spanish, and from publishers there as well as in America, Australia, New Zealand, and the Irish Republic. Lyn isn't in any ruts, she writes mysteries, SF/F, animal tales, post-apocalypse, YA, picture books, and humorous and scholarly non-fiction and she has no plans to stop any time soon. Lyn's latest book, Coal & Ashes, is is one of her apocalyptic stories, set in Australia, one of a series.
(19) THERAPEUTIC POOH. The LA Times profiles Christopher Robin: "With 'Christopher Robin,' Winnie the Pooh faces his greatest challenge yet: A marriage in crisis".
So many Disney films follow a child or young adult suddenly thrown into a grown-up world and forced to overcome all of its headaches. "Christopher Robin," however, turns a childhood hero of those who grew up admiring A.A. Milne's "Winnie the Pooh" tales into a depressed and overwhelmed adult — a man whose youthful imagination ultimately proved no match for the realities of war, fatherhood and a thankless job.

In the film, an old and familiar pal comes to the rescue, but is Winnie the Pooh — a plump stuffed bear whose biggest bothers often involved stealing honey from a bee — ready to fix the life of a workaholic whose marriage is entering crisis mode? Or, perhaps more accurately, are Pooh fans ready to see it?

Those who worked on "Christopher Robin" say the mission was to tap into the original Milne template, one that mixed comedy and complex emotions to deliver patient life lessons. The ultimate goal of the film: to dispel any notion that Winnie the Pooh is simply kid stuff.

"I wouldn't be ashamed to be a grown man going to see a 'Winnie the Pooh' movie in the theater with no child next to me, so let's make sure we're making that movie," said Alex Ross Perry, a filmmaker with several acclaimed indies under his belt and one of three credited screenwriters on the picture. "It has to be completely logical in that Pixar sense, where adults can go see it in a roomful of kids, but it doesn't feel like you're seeing a kids movie."
(20) NOW YOU'RE TALKING. John Scalzi boosts a great idea —
I do suspect sometime in the reasonably near future we're getting a "Disney Princesses" movie where they all involved in some amazing "Ocean's"-like heist caper. And I for one am here for it. pic.twitter.com/XpoRDMwMXt

— John Scalzi (@scalzi) August 13, 2018
(21) EYE-OPENING COLLECTIBLE. Something to find a Worldcon 76 –
Find me at #worldcon76 this weekend in San Jose and get your "The Book Was Better" ribbon! ? @InktoFilm @worldcon2018
.#worldcon #inktofilm #podcastinglife #lithappens #podernfamily #subscribe #adaptations #bookstagram #convention #writersofinstagram #writerslife #booklovers pic.twitter.com/igrb7y3jel

— Luke Elliott @ WorldCon (@LuminousLuke) August 13, 2018
(22) THE TRAVELER. Galactic Journey's Gideon Marcus will interrupt his daily commute to 1963 in order to appear at Worldcon 76 –
Coming to #WorldCon? Don't miss Galactic Journey's "Come Time Travel with Me" panel. Blast back… to 1963! Friday at 1PM, Room 210B. pic.twitter.com/d07MOxOVUe

— Galactic Journey (@journeygalactic) August 13, 2018
(23) RADIO ACTIVITY. SF Concatenation's Jonathan Cowie tuned into BBC Radio 4 this weekend. He picked out highlights you can access online.
Looks like Dan Dare is a full blown radio series consisting of a number of linked  two-part adventures. Next up next Sunday will be on Radio 4 Extra and shortly after for a month on BBC i-Player linked off here.
Episode 1
Dan Dare, The Red Moon Mystery Episode 1 of 2
4 Extra Debut. Infected by the Mekon's virus, Dan's crew orbit Earth until the Inter-Planet Space Force orders them to Mars. Stars Ed Stoppard

Next Sunday 18:00
Also this weekend we had on BBC Radio 4
Open Book  "Claire Fuller, Neil Gaiman, Iranian fiction"
Claire Fuller talks to Mariella Frostrup about her new novel Bitter Orange and the appeal of the crumbling country house as a setting.

Neil Gaiman explains why forgotten classic Lud-in-the-Mist by Hope Mirrlees deserves a wider readership.

What does the combination of sanctions and censorship mean for Iran's writers? The Guardian's Saeed Kamali Dehghan and publisher Azadeh Parsapour discuss.

And Carrie Plitt, agent at Felicity Bryan Associates recommends Sally Rooney's Normal People for our monthly Editor's Tip.
This is available to listen to for next 4 weeks
[Thanks to JJ, David Langford, Jonathan Cowie, Chip Hitchcock, Mike Kennedy, Martin Morse Wooster, Carl Slaughter, Andrew Porter, Leo Doroschenko, and Cat Eldridge for some of these stories, Title credit goes to File 770 contributing editor of the day Soon Lee.]